GUIDES
NY Museums By Location
Geographical Guide
Do you want to stay near your hotel / knock around the Village or explore the Lower East Side? Plan your museum crawl geographically with our neighborhood-by-neighborhood guide.
NY Museums By Subject
Guide to Fields of Interest
Are you more drawn to dinosaurs / contemporary art or Native American history today? Search out museums in your area of interest with our subject guide.
NY Museums By Name
Alphabetical Guide
New York's major museums from "A" to "Z"
Museums by Day / Theatre by Night!
The New York Theatre Wire
Our "sister" site, featuring news of what's playing on New York's stages.
Community Tourism
Our Neighborhood Guide
Tourists and New Yorkers alike want to know the "real New York." Thus the need for community tourism. As opposed to mass market tourism / community tourism is organized by the stewards of their communities. These tours take visitors into areas not on the typical tourist map and connect them to local music / immigrant history / parks / waterways / architecture / cuisine / artists / murals / and one-of-a-kind stores. To help popularize community tourism in New York / we have created this / the City's first online guide.
Join our Members' Privileges Club!
Members are eligible for free museum tickets / discounts on admissions / memberships / shops and dining rooms / invitations to special events / tours and lectures / special prices on art books and reproductions / and much more! To receive our (infrequent / but very exciting) invitations / CLICK HERE to send us an email. Put SUBSCRIBE_CC in the subject line and your email address as the message.
---
THE MUSEUM GAZETTEER
Whitney Biennial 2022
It's interesting to see how political art changes. This year's Whitney Biennial, rather than in-your-face commentary on American injustice here and abroad (including at the 2019 biennial black football players taking the knee), my favorites here were more subtle takes, one on the consumer culture, another on the military and a third that rivets your eyes on U.S. corporate destruction abroad. By Lucy Komisar.
Whitney Bienniel--The Zombies: Walmart, Apple, Disney. "La horda" (The horde) 2020.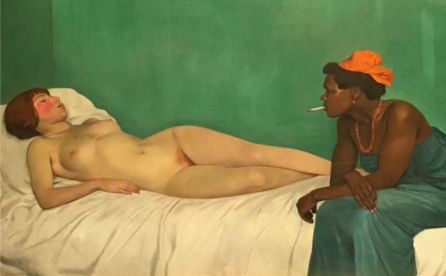 Félix Vallotton, The White and the Black (La Blanche et la Noire), 1913.
Oil on canvas, 114 x 147 cm. Photo by Lyle Andrew Michael.
Félix Vallotton at the MET
Disquiet best describes Felix Vallotton's exhibition, "Painter of Disquiet," the first of its kind in America in nearly 30 years. Prior to this showing of fin-de-siècle Paris, most art enthusiasts like us were unfamiliar with the works of Vallotton. They comprise a series of portraits, personal life, domestic scenes, still lives, nudes and landscapes through a variety of media, techniques and palettes. Thanks to the MET, the Royal Academy of Arts, London and Fondation Félix Vallotton, Lausanne, the Swiss-born Vallotton (1865–1925) will remain impressed on the mind.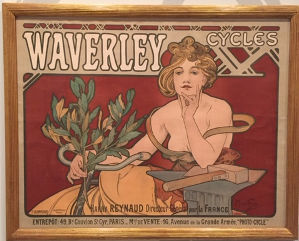 POSTER HOUSE: Alphonse Mucha's poster for Waverley Bicycles. Photo by Quinn Calcote.
The Poster House Museum
The Poster House opened June 20, 2019 with an opening exhibit of 106 pieces of work by late 19th century/early 20th century graphic designer Alphonse Mucha and the early work of the German graphic design collective, Cyan. This is a landmark in the world of posters, being the first exhibit to feature Mucha's work in America since 1921 and the first American exhibition of Cyan's work. These exhibits are on view through October 6. By Quinn Calcote.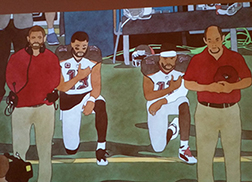 "National Anthem 2018" by Kota Ezawa. Photo by Lucy Komisar.
Whitney Biennial attacks board member for producing anti-personnel weapons!
"Triple Chaser." The posted description said: "When US agents fired tear gas grenades at civilians along the San Diego-Tijuana border November 2018, photographs showed that the weapons were made by the Safariland Group, one of the world's major manufacturers of co-called less-lethal munitions. The Safariland Group is owned by Warren B. Kanders. Kanders is a vice chair of the board of trustees of the Whitney Museum of American Art." Reviewed by Lucy Komisar.
"So we can question her." Museum visitors are at the side, viewing the reverse screen, photo Lucy Komisar.
Poitras exhibit at Whitney turns U.S. govt threat to liberty into political art
Art as politics reaches new intensities in the Whitney Museum's disturbing and powerful new exhibit of film maker Laura Poitras' selection of videos and documents to define the U.S. government's threats to liberty after 9/11. stro Noise, the name of the show, comes from the faint background disturbances of thermal radiation left over from the Big Bang, the start of our universe. Reviewed by Lucy Komisar.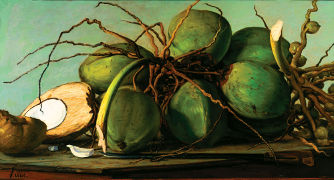 Francisco Oller (Puerto Rican, 1833–1917). Still Life with Coconuts (Naturaleza muerta con cocos), circa 1893. Oil on canvas, 273/4 x 441/4 in. (70.5 x 112.4 cm), framed. Private collection, New Jersey.
Francisco Oller and His Transatlantic World at the Brooklyn Museum
For most of us Impressionism calls to mind French painters such as Claude Monet and Edgar Degas. Now, thanks to Brooklyn Museum's Impressionism and the Caribbean: Francisco Oller and His Transatlantic World, many of us will know better. By Paulanne Simmons.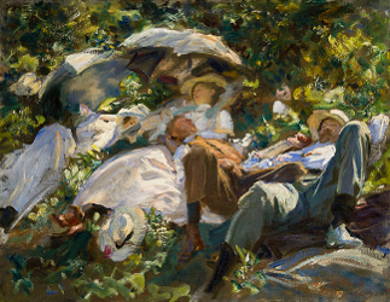 John Singer Sargent, "Group with Parasols (Siest)," around 1904 – 05.
Sargent: Portraits of Artists and Friends
From July 30 to October 4, 2015, ninety of Sargent's portraits are on display at the Metropolitan Museum of Art. All of Sargent's portraits, commissioned or not, were wonderfully personalized to the sitter's physical appearance and individual aura. "Sargent: Portraits of Artists and Friends" gives a deep insight into a great artists process, and shows off the masterful craft of a talented portraitist who cared deeply for capturing these different sides of a person. By Julia Slaff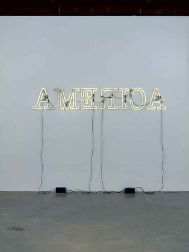 Glenn Ligon's neon relief sculpture "Rückenfigur" at the Whitney Museum until September 27, 2015.
The "new" Whitney Museum of American Art Exhibition, "America is Hard to See" -- Sixth, Fifth, and Other Film Floors
The final part of a three part report on The Whitney Museum's opening exhibition at its new trendy location. "America is Hard To See" is continued on the sixth, fifth and third floors. Exploring the layers of American art from the 1950s to the present day, the exhibit continues to try and solve the mystery of American art's parameters. The forms of the art displayed reflect the changing historical tides and self-image of the nation. By Julia Slaff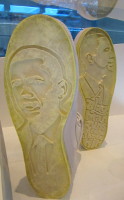 Sneaker sole: "Obama Force One" by Jimm Lasser (2008). Photo by Maia Sacca-Schaeffer.
Two views of "The Rise of Sneaker Culture" at the Brooklyn Museum
Sneakers are a way of life. As we ride the subway each day, our eyes are drawn to the colorful row of feet across from us. Sequins, studs, stripes- each shoe is incredibly different and is a means of self-expression. It hasn't always been this way though. The Brooklyn Museum's "The Rise of Sneaker Culture" is an interesting combination of a cultural-artifact review and analysis of social history. By Maia Sacca-Schaeffer and Julia Slaff.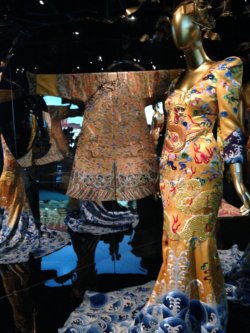 Chinese Dragon Robers and Yves Saint Laurent by Tom Ford. Photo by Rosalie Baijer.
"China: Through the Looking Glass" at the Metropolitan Museum of Art
How the East was an inspiration with its imagination, art and culture is magnificently showed in an exceptional fashion show. This exclusive exhibition in the Metropolitan Museum of Art shows us Chinese imagery in art, film and fashion and how the western fashion world got inspired by the beautiful, artistic cultural tradition of the East. By Rosalie Baijer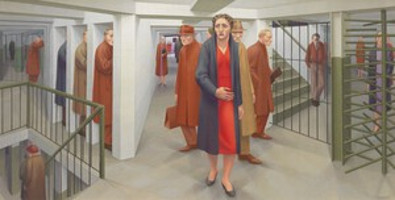 George Tooker (1920-2011), "The Subway," 1950, Photo Courtesy of the Whitney Museum of American Art, New York
The "new" Whitney Museum of American Art Exhibition,"America is Hard to See" -- Eighth and Seventh Floors
"America is Hard to See" is displayed throughout the new downtown Whitney location. The eighth and seventh floors of the new location display early works from the vast Whitney collection. Paintings, sculptures, prints, and photographs from 1910 to 1960 are shown throughout the upstairs galleries. The top floor "chapters" of the exhibition help to answer the inquiry, what is American Art? by Julia Slaff.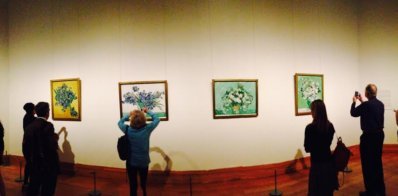 Panorama "Van Gogh: Irises and Roses." Photo by Rosalie Baijer.
"Irises and Roses," a revelation of color by Vincent van Gogh.
A Dutch woman in New York savors her favorite artist's exhibition at the Met. By Rosalie Baijer.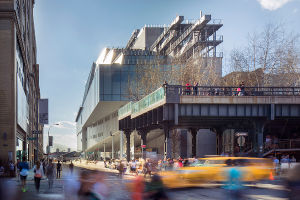 The new Whitney. Photo by Nic Lehoux.
The Whitney Museum: "America is Hard to See" offers an overview of the American Art tradition.
May 1, 2015 was the opening day of The "new" Whitney Museum of American Art, in the trendy Meat-Packing District on 99 Gansevoort Street. Even 18 days after its Downtown inauguration, a block-long line of museum-goers anxiously waited outside the Whitney's front doors to purchase tickets at 10:30 in the morning. "America is Hard to See" is the museum's premier exhibition, on display from May 1 to September 27, 2015. It asks the question: What is American Art? By Julia Slaff.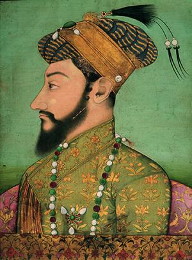 Prince Aurangzeb. Aurangabad ca. 1653-55.
"Sultans of Deccan India, 1500-1700" at The Met
The Met's "Sultans of Deccan India, 1500-1700: Opulence and Fantasy" is aptly named. Opulence and fantasy perfectly characterize the art of India's Deccan courts during the rule of its sultans in the sixteenth and seventeenth centuries. By Rosalie Baijer.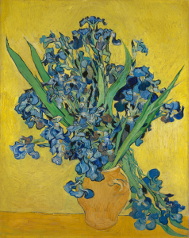 Vincent van Gogh, "Irises" (1890)
A Morning at the Met - Van Gogh and Huyghe: Six Degrees of Separation?
Monday May, 11 was the opening of two of the Metropolitan Museum of Art's important summer exhibitions, "Van Gogh: Irises and Roses" and "The Roof Garden Commission: Pierre Huyghe." Though the two artists are separated by space and time, they employ ecology as a primary subject in their work. By Julia Slaff.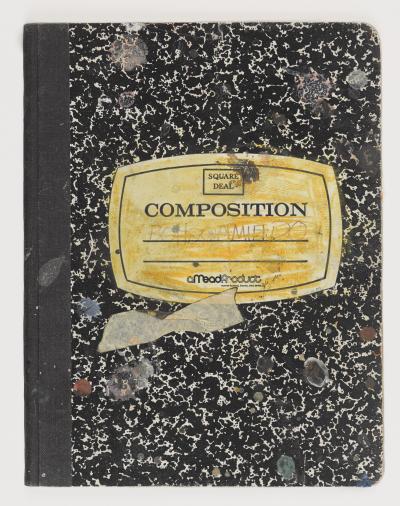 Jean-Michel Basquiat (American, 1960–1988). Untitled Notebook(front cover), 1980–81. Mixed media on board, 9 5/8 x 7 5/8 x 1/4 in. (24.4 x 19.4 x .6 cm). Collection of Larry Warsh.
"Basquiat: The Unknown Notebooks"
This exhibition at the Brooklyn Museum illuminates Basquiat's talent to merge words with images and to bring them together into extraordinary creations. When you leave the exhibition, you're acquainted with the real Basquiat. By Rosalie Baijer.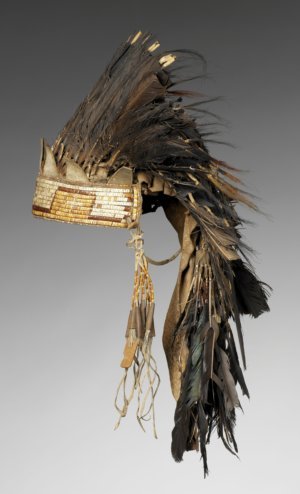 Feather Headdress (18th century) , Eastern Plains or Western Great Lakes artists. Photo by Musée du quai Branly/Patrick Gries, Bruno Descoings.
"Pains Indians: Artists of Earth and Sky" at the Metropolitan Museum of Art.
This landmark exhibition of Plains Indian Art is a beautiful and honest look over four centuries, showing us the real beauty of both art and history of Native America. By Rosalie Baijer.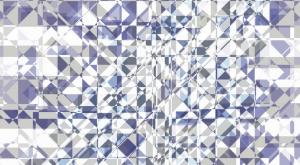 Depthforms
"Depthforms" at FiveMyles Gallery
"Depthforms" by Alex Cornelius and Yu Nong Khew is a game of flatness and depth that makes the observer question his/her own perceptions. By Tatiana Ronderos.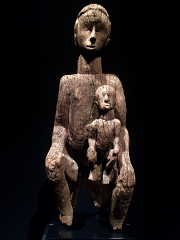 Seated Mother and Child in "Warriors and Mothers: Epic Mbembe Art." Photo by Line Krogh.
"Warriors and Mothers: Epic Mbembe Art" at the Metropolitan Museum of Art
The exhibition "Warriors and Mothers: Epic Mbembe Art" is filled with a lot of history and for the first time, it's possible to experience these Mbembe wood sculptures in New York. By Line Krogh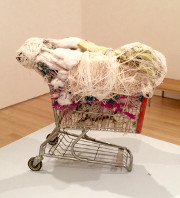 "Judith Scott - Bound and Unbound." Photo by Line Krogh.
"Judith Scott - Bound and Unbound" at Brooklyn Museum
The unique thing about this exhibition is that its works were made by a woman with Down syndrome, which may explain the special and different choices of materials. By Line Krogh.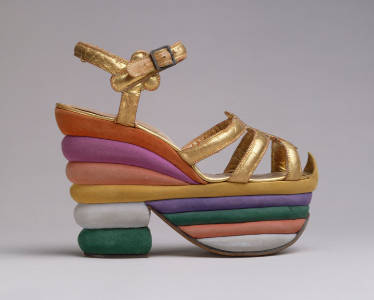 "Killer Heels." Salvatore Ferragamo (Italian 1898-1960) Platform Sandal, 1930, Leather, cork. The Metropolitan Museum of Art, New York.
"Killer Heels." The Art of the High-Heeled Shoe
It seems many women are happy to trade comfort for provocative good looks, and "Killer Heels: The Art of the High-Heeled Shoe," at the Brooklyn Museum through Feb. 15, shows why. By Paulanne Simmons.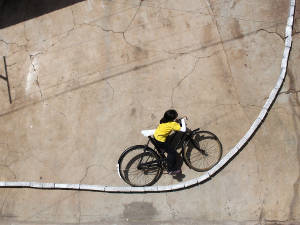 Parabolic Bike, 2010, digital animation, 2:43 minutes. Courtesy of the artist and Lehmann Maupin, New York and Hong Kong © Robin Rhode.
"Animating The Everyday:" Robin Rhode at the Neuberger Museum of Art
The Neuberger Museum of Art in Purchase, New York, less than an hour north of New York City, is known especially for their beautifully curated exhibitions, as well as their intelligently timed choices – always with ten fingers on the pulse of the art world – of hot-button subjects and important contemporary artists, both emerging and established. The museum's current "must see" exhibition, "Animating The Everyday," is a ten-year survey of the work of South African born, Berlin based artist Robin Rhode. By Edward Rubin.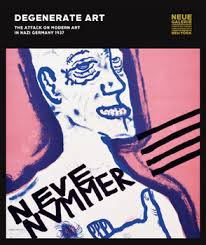 "Degenerate Art: The Attack on Modern Art in Nazi Germany, 1937" catalogue, Prestel-USA publishers
Neue Galerie: "Degenerate Art: The Attack on Modern Art in Nazi Germany, 1937
From March 13 to June 30, 2014 the Neue Galerie is presenting "Degenerate Art: The Attack on Modern Art in Nazi Germany, 1937." This is the first major U.S museum exhibition devoted to the topic of "Degenerate Art" since the 1991 presentation at the Los Angeles County Museum of Art. The striking installation attempts to exorcise the Nazis' artistic eugenics. By Claire Taddei.

Benny Andrews (American, 1930–2006). Witness (detail), 1968.


Witness: Art and Civil Rights in the Sixties
The Civil Rights Movement was a time of turbulence. It also was a time of great artistic expression. The Brooklyn Museum's new exhibit, "Witness: Art and Civil Rights in the Sixties," documents both. By Paulanne Simmons.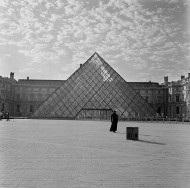 Carrie Mae Weems: The Louvre (from "The Museum Series"), 2006-present.
Carrie Mae Weems: The Museum Series at The Studio Museum in Harlem
The Studio Museum in Harlem is a small museum you hardly notice when you go by unless you are looking for it.
Last weekend I went looking for this hidden gem and was amazed by all the different art works and installations I found. By Ina Stinus.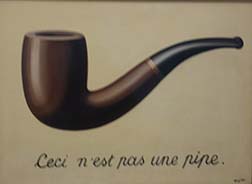 "The Treachery of Images," photo Lucy Komisar.
Magritte at MOMA: the Mystery of the Ordinary 1926-1938
Everybody knows the famous bowler hat that is the icon of Belgian painter René Magritte. That makes it especially fascinating to see the trajectory of the artist during his prime surrealist period, thirteen years between the world wars. Magritte said himself in a 1938 lecture that those years were the most crucial of his work. This is one of the Museum of Modern Art's major shows. By Lucy Komisar.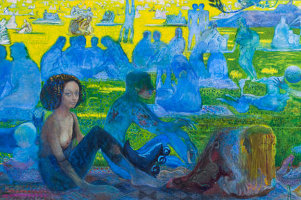 Janet Ruttenberg, detail of ""Roller Blades," oil on canvas.
Janet Ruttenberg's Paintings Celebrate Central Park
Picturing Central Park, at The Museum of the City of New York, includes 17 major works, that range from realistic to fantastical, monumental to more intimate, mixed media combinations, to traditional oils and watercolors. All of the works are bold, chromatically intense and innovative. By Paulanne Simmons.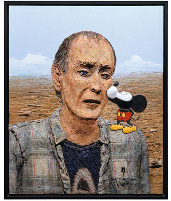 Llyn Foulkes, "The Corporate Kiss," 2001.
Llyn Foulkes career retrospective at The New Museum
An underappreciated name on the East Coast, contemporary artist Llyn Foulkes is far better known out west for his diverse array of works. Born in Yakima, Washington, Foulkes made a name for himself in Los Angeles, where he had his first solo exhibition in 1961. The recently opened exhibition at The New Museum at 235 Bowery serves as a career retrospective for Foulkes, while also being Foulkes' first exhibition at a New York museum, featuring a huge diversity in medium, subject matter, and style. By William Gutierrez.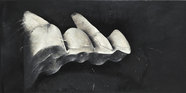 Jay DeFeo (1929–1989), Crescent Bridge II, 1970–72. Synthetic polymer and mixed media on plywood, 48 × 96 in. (121.9 × 243.8 cm). Whitney Museum of American Art, New York; purchase 2002.329. © 2012 The Jay DeFeo Trust / Artists Rights Society (ARS), New York. Photograph by Sheldan C. Collins
Jay De Feo retrospective at the Whitney
Jay DeFeo (1929–1989) set a fiercely independent course, and the astoundingly diverse range of art she created over more than forty-five years defies categorization. She made works that can be measured either in inches or in feet, in ounces or in tons, and which range from painting, drawing, jewelry, and photography to various hybrids that confound traditional classifications.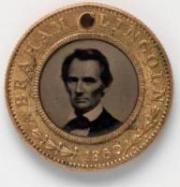 "Presidential Campaign Medal with Portraits of Abraham Lincoln and Hannibal Hamlin, Unknown artist after an 1860 carte de visite portrait by Mathew B. Brady, 1860.
History Through Photography
Next July will mark the sesquicentennial (150th anniversary) of the Battle of Gettysburg and it is soon after the hit of Steven Spielberg's last movie "Lincoln." Now the Met Museum offers, in its turn, to explore the Civil War through the lens of a camera with the exhibition "Photography and the American Civil War," on view through September 2, 2013. By Adele Bossard.
John Singer Sargent (American, 1856-1925). "In a Medici Villa," 1906.
Sargent's Watercolors Dazzle at the Brooklyn Museum
For the first time, John Singer Sargent's watercolors from the Brooklyn Museum and the Museum of Fine Arts, Boston have been united in the exhibition, "John Singer Sargent Watercolors," now at the Brooklyn Museum until July 28, 2013. By Paulanne Simmons.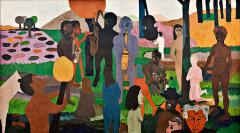 Bob Thompson, "Garden of Music," 1960. Photo courtesy of Michael Rosenfeld.
The Whitney Museum Plays the Blues
The blues has become one of America's basic music language. Since the publication of W. C. Handy's "St Louis Blues" sheet music in 1914, known to be the song that popularized the blues, it has swept through the globe and is now ubiquitous in jazz, rhythm & blues and rock'n roll. With its new exhibition, "Blues for Smoke," on view until April 28, 2013, the Whitney Museum of American Art explores a large array of contemporary art, from the 1950s to the present, through the lens of blues as an artistic sensibility and cultural idiom. By Adele Bossard.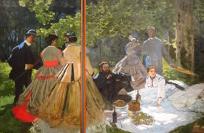 Claude Monet, "Lucheon on the Grass" (1865-66) at the Metropolitan Museum of Art. Photo by Adele Bossard.
"Impressionism, Fashion and Modernity" at the Met Museum
While the Autumn/Winter fashion season opened a few days ago with the New York "Fashion Week," the Metropolitan offered a new eye on fashion with its new exhibition "Impressionism, Fashion and Modernity," that focused on the defining role of fashion in the works of the Impressionist painters and their contemporaries. By Adele Bossard.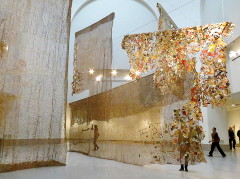 "Gli" (Wall) by El Anatsui, 2012 as part of the exhibition "Gravity and Grave: Monumental Works by El Anatsui" at the Brooklyn Museum. Photo by Adele Bossard.
Tribute to El Anatsui at the Brooklyn Museum
In the fifth floor of the Brooklyn Museum are hanging some gigantic colorful fabrics made of garbage. This is the trademark of the African artist El Anatsui, whose new exhibition "Gravity and Grace: Monumental Works by El Anatsui," on view through August 4, 2013, is the first solo exhibition in New York. By Adele Bossard.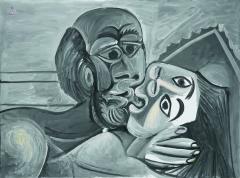 "Picasso Black and White" at the Guggenheim Museum -- Pablo Picasso, "The Kiss," Oil on Canvas, Mougins, 1969.
Rediscovering Picasso, But Without Colors
It is quite unusual to think of Picasso's work as composed of a black and white palette. But Picasso once claimed that "color weakens" and his exploitation of the black and white colors transcends all the established periods that have been assigned to his artistic career. The exhibition "Picasso Black and White" at the R. Solomon Guggenheim Museum in New York pays tribute to this facet of his prolific career, featuring 118 black and white paintings, sculptures or works on paper, realized between 1904 and 1971. By Adele Bossard.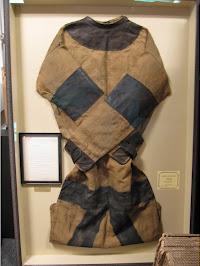 Harry Houdini's straitjacket from which he dangled from the ceiling, on display at the Houdini Museum in New York. Photo courtesy of the Houdini Museum.
A New Museum Dedicated to the Great Magician Harry Houdini
As the CEO of Fantasma Toys, Inc., Roger Dreyer created the Midtown magic shop "Fantasma Magic" in 2001. He has always been a great fan of Harry Houdini, the famous illusionist and magician, and has spent a major part of his life gathering the world's second-largest Houdini collection. In 2010, he decided to transform the hall of his Fantasma Magic shop into the first Houdini Museum in New York. By Adèle Bossard.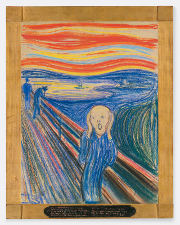 Edvard Munch. The Scream. Pastel on board. 1895. © 2012 The Munch Museum/The Munch-Ellingsen Group/Artists Rights Society (ARS), New York
After 100 Years, MoMA can Still Hear You "Scream!"
The Mona Lisa. Starry Starry Night. American Gothic. These are just some of the most memorable and iconic paintings from art history, notably seen and spoofed in movies, book covers, and even wallpapers on laptops and iPhones. No list of historical paintings would be complete, however, without including the hauntingly beautiful, and truly paradoxical portrait of Edvard Munch's "The Scream." By Joseph Urick.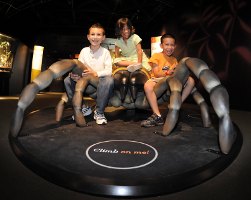 ARACHNO-FUN -- Everybody enjoys a photo op at this spider sculpture at Museum of Natural History.
Creepy, Crawly & Totally Fabulous
Ed Rubin likes spiders, he confesses, and so he was drawn to "Spiders Alive!" at the American Museum of Natural History. For eons, writers, artists, as well as filmmakers have delighted in the creepy, crawly little buggers. This exhibition offers works of art from countless sources and enough live specimins to fascinate or horrify just about everybody.
"LIGHT & LANDSCAPE" AT STORM KING ART CENTER -- Alyson Shotz, "Mirror Fence," 2003. Acrylic, wood, aluminum, stainless steel, 36" x 130. Courtesy of artist and Derek Eller Gallery, New York. Photograph: Jerry L. Thompson.
"Light & Landscape" at Storm King Art Center
With 500 acres of rolling meadows and wooded groves Storm King Art Center in Mountainville, one hour north of New York City – arguably North America's most beautiful sculpture park – just keeps getting better and better. Just when one asks what else Storm King can do that they haven't already done in the past fifty-two years since their founding – you know how we all crave the new – like a magician pulling a rabbit out of a hat, they surprise us with "Light & Landscape," a thrilling exhibition that smacks of magic mixed with a heady dollop of science, physics, and ecological concerns. By Edward Rubin.
Anemone 2 (2010) Direct Print in Dibond 170cm x 70cm.
Ruth Peche at the Fundacion Pons in Madrid
Madrid-based visionary artist Ruth Peche has taken root in "Deep Entropy," the artist's breathtakingly beautiful, sea creature-featured, suite of underwater artworks organized and curated by HUMA3 at the Fundacion Pons in Madrid on May 17 – June 1, 2012. By Edward Rubin.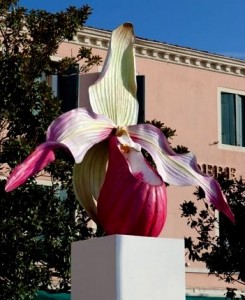 Marc Quinn (England), The Chromatic Archaeology of Desire (2008) Painted Bronze. Photo: Sergio Martucci
The Flowering of Art on the Lido di Venezia
Each year, OPEN, one of the most entertaining art exhibitions in the art world, peppers the beautiful island of Lido with unexpected and imaginative sculptures and installations. Essentially an outdoor walking tour with a few in-hotel installations, OPEN begins the minute you disembark from the vaporetto onto the Piazzale St. Maria Elisabetta. It continues along the shop and restaurant laden Via Lepanto, morphs into the lushly planted promenade of Lungomare G. Marconi, and ends overlooking the beach, at the very chic Hotel Westin Excelsior, the infamous hangout of the Venice Film Festival crowd. This year Madonna and George Clooney, followed by lusting hordes of screaming acolytes, was all the rage. By Ed Rubin.
Past Museum Gazetteer Articles
---
THE GALLERY GAZETTEER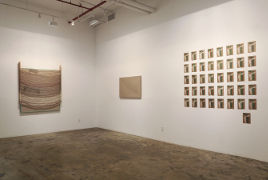 "Needlepoint" presented by Chambers Fine Arts. Lucy Liu's works from left to right:"World Inside Rainbow" (2012), "Belong" (2010), "41" (2010). Photo provided by Chambers Fine Arts.
"Needlepoint" and "Chambers Review II": Chinese artists, innovation and the inheritance of Chinese traditional culture
Chambers Fine Arts presented two exhibitions, "Needlepoint" and "Chambers Review II" June 3 to June 22. "Needlepoint" is an exhibition of works by six artists in China: Cui Fei, Fu Xiaotong, Hong Lei, Lucy Liu and Wu Jian'an. They utilize traditional Chinese art as the theme to create their own works. "Chambers Fine Arts" basically has the same concept as "Needlepoint," but with more artists, including Cui Fei, Fu Xiaotong, Gama, Guo Hongwei, Hong Lei, Ho Sintung, Lucy Liu, Wu Jian'an and Zhao Zhao. Through these two exhibitions, we marvel how these Chinese artists continue to bring Chinese traditional culture to an international platform. By Tianxue Bian.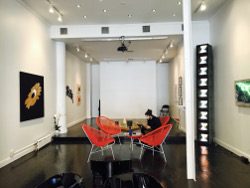 Gene Kaufman's new gallery and theater "North of History." Photo by Rachel Beck.
North of History: Finding the Crossroads between Theater and Art
With originality and vision, Gene Kaufman has created a space that beautifully intersects theater and art. Located quite literally north of history (north of the Museum of Natural History), this dual space acts as a beautiful and inspiring art gallery by day, and like Cinderella, magically transforms into a cozy and intimate theater at night. By Rachel Beck.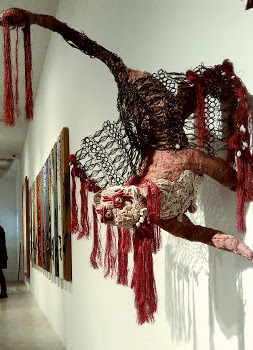 "Hanuman's flight is evolution's climb" by Rina Banerjee. Photo by Kamoier Williams
South Asia Joins Africa in New York: Interwoven Dialogues, Patterns and Textiles.
"All of the artists are superstars in their own right, but they have never been put together like this in such a small scale," says curator Awam Kmpka, as he explains how this concept turned into a collaborative exhibit at Aicon Gallery. Ten artists came together from Morocco, Senegal, India, Nigeria, Algeria, Pakistan and Ghana, to make statements about the human condition using textiles as their motif. By Kamoier Williams.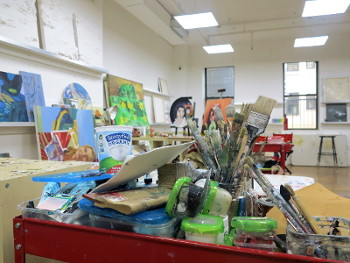 Art supplies of a SmART Space Studio member.
Photo by Kamoier Williams.
Studio Shares: Practical, Comfortable Co-Working Space for Artists
People know about time shares for sharing vacation rentals, and gym memberships for shared workout spaces. But who has heard about studio shares for art studio rentals? In 2017, it is still extremely difficult for artists to find affordable studio space with rising rents pushing businesses and families out of New York City. That's where SmArt Space Studios comes in. By Kamoier Williams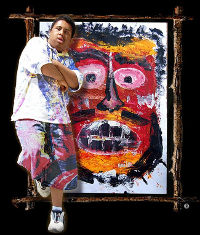 Haile King Rubie and "Rage" (2015)
"Haile King Rubie: Speaking Colors"
After spending the better part of an hour studying the paintings of Haile King Rubie at his first solo show, "Speaking Colors" (July 27-August 17, 2017) at the newly opened Clara Frances Gallery in Harlem, I was struck by the depth of feeling that Rubie was able to paint into each of his canvases. It is rare to find a painting that not only feels alive and talks to you, but works its way into your heart. And here, in this exhibition, the twenty-six year old, Harlem based artist gives us 12 such paintings plus, each one telling a story that deeply mirrors his own life experiences, inside, out, and around. Add to this curator Julia Slaff's intelligently written story-telling wall texts and labels and what you have is a near-perfect installation.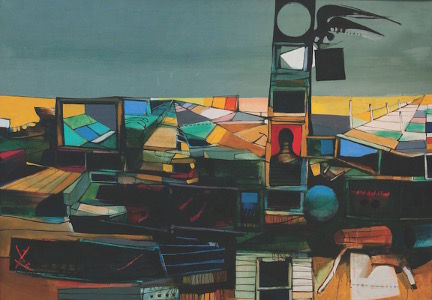 From "On the Front Lines," John Hultberg, The Tower, 1955, oil on linen, 54 x 76 inches.
"On the Front Lines: Military Veterans at The Art Students League of New York"
This summer, from June 19 to July 29, 2015, the Phyllis Harriman Mason Gallery, lobby, main office and cafe are showing "On the Front Lines: Military Veterans at The Art Students League." The exhibition is a unique evaluation on the GI Bill's impact upon American art following World War II. By Julia Slaff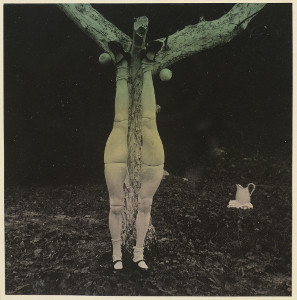 Hans Bellmer, "La Poupée (L'attente Latente)" , 1949. Vintage hand colored gelatin silver print. Photos by Jeffrey Sturges. Seen in "That Obscure Object of Desire."
"That Obscure Object of Desire"
With animate and inanimate provocative woman's body images, "That Obscure Object of Desire" at Luxembourg & Dayan gallery reveals the fatality of the eternal quest of desire. The exhibition explores the dark side of desire and the woman's position as an object of fantasies, frustrations and fetish. By Claire Taddei.
"Crows are chased and the chasing crows are destined to be chased as well, Divisions in Perspective - Light and Dark," 2014. Digital installation, 3 minutes 40 seconds. Photo by Claire Taddei.
"Ultra Subjective Space"
Pace Gallery is presenting"Ultra Subjective Space" at 508 and 510 West 25th Street from July 17 to August 15, 2014. "Ultra Subjective Space" is the first U.S exhibition of Japanese collaborative digital artists, teamLab. With five digital installations and one immersive installation, this exhibition navigates through art, technology and design with poetry and elegance. By Claire Taddei.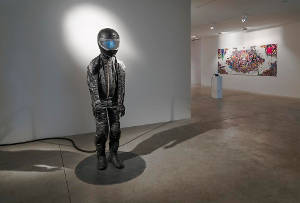 Left to Right: Yusuke Suga, Mediator, 2013. Kazuki Umezawa, AR image core involving all, 2013. Digital print on tarpaulin sheet, 2iPads, 59.06 x 137.8 inches. Photo by Friedman Benda Gallery.
"Duality of Existence – Post Fukushima"
The Japanese identity has long been questioned and dissected through Japanese art; its discourse is abundant in conceptual, aesthetic and literary meaning. The works presented at the Friedman Benda gallery attest to the creative muscle of the Japanese contemporary art scene, particularly in terms of the integration of technology with traditional media now that we are in the digital epoch. However, this exhibition reveals the blunder of a title too ambitious. By Claire Taddei.

Left to right Jean-Michel Basquiat, Untitled, 1982. Oilstick on paper. 63½ x 44 inches (161.3 x 111.8 cm). © The Estate of Jean-Michel Basquiat. Cy Twombly, Untitled, 1969. Graphite, wax crayon, felt-tip pen and colored pencil on paper. 23 x 30¾ inches (58.4 x 78.1 cm). © Cy Twombly Foundation. Egon Schiele, Self-Portrait in Green Sbirt with Closed eyes, 1914. Gouache and pencil on paper. 19? x 12½ inches (48.5 x 32 cm).
"Poetics of the Gesture: Schiele, Twombly, Basquiat"
From May 2 to June 14, 2014 Nahmad Contemporary is presenting "Poetics of the Gesture: Schiele, Twombly, Basquiat," the first exhibition which attempts to examine the similarities between three of the most influential twentieth century artists of their respective generations, the Austrian expressionist Egon Schiele, the American postwar artist, Cy Twombly and the American neo-expressionnist Jean-Michel Basquiat. By Claire Taddei.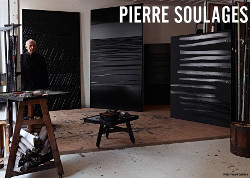 Pierre Soulages in his studio. Photo by Vincent Cunillère.
Pierre Soulages
From April 24th to June 27th, 2014, Dominique Lévy and Galerie Perrotin are jointly presenting "Pierre Soulages", the first American exhibition in ten years devoted to the most significant and internationally recognized living artist of France. A major representative of French abstractionism, Soulages is distinguished by his use of black. It is both aesthetic and philosophical; it has always been part of his work. By Claire Taddei.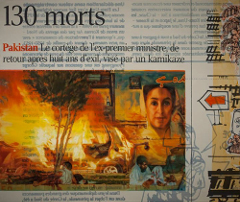 Xie Xiaoze: November 21, 2012, Wenling, Zhejiang (Nail House No. 1), 2013, Oil on aluminum panel.
Grey and thought-provoking perspectives at Chambers Fine Arts
The exhibition by Xie Xiaoze is a mixture of paintings of old stacks of Chinese newspapers or documents, front pages of world known newspapers with horrifying current news stories and a room with seven small paintings of minor and big disasters. By Ina Stinus.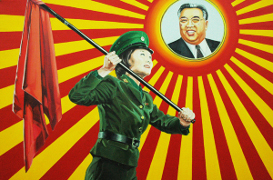 "In Honor of The Great Leader Father". By Kim Il Soon aka Mina Cheon.
"Choco·Pie Propaganda; From North Korea With Love."
This amazing art project is a political statement, a cry for peace, a collection of beautiful, colorful paintings and best of all, it also contains a lot of Choco·Pies for the guests to eat. By Ina Stinus.
"The Smith Street Print Project": The artistic re-invention of tattoo art
In April 2012 the four creative souls behind the Smith Street Tattoo Parlour in Brooklyn decided to close their shop for one week to focus on their artistic development. They participated in the first Raking Light Projects artist-in-residence program at Mullowney Printing , San Francisco, where they were guided by the Print Master himself, Paul Mullowney. For seven 18-hours work days the four artists would etch and carve sensitive sheets in order to make true fine art prints. The work has resulted in four individual amazing projects that when put together form an even greater common artistic project, which is defiantly worth defying the cold to see. By Ina Stinus.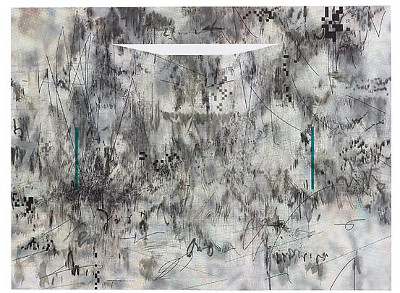 Julie Mehretu, "Insile," 2013. Photo courtesy of the Marian Goodman Gallery.
"Liminal Squared" by Julie Mehretu at the Marian Goodman Gallery
In "Liminal Squared," Julie Mehretu's latest show at the Marian Goodman Gallery on W 57 Street, she presents a small number of huge, nonrepresentational paintings that blur the lines between landscape, architectural drawing, and pure abstraction. By William Gutierrez.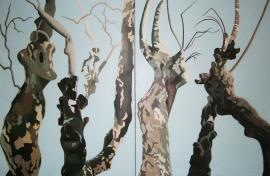 Mary Hrbacek, "Creature Camouflage Diptych," Acrylic on linen. Photo courtesy of the artist.
"Peopled Forest of My Mind"
Mary Hrbacek's solo exhibition "Peopled Forest of My Mind" curated by Elga Wimmer on view at the Creon Gallery in New York City from April 10 to 30, 2013, features Hrbacek's new, very small and very large, personified tree paintings. Inspired by her dense dramatic charcoal drawing, executed on stark white paper, Hrbacek cultivates eerie hybrid plant forms as they emerge through the drawing process, coaxing these unfathomable figural apparitions into coherent energized human-like entities that disclose the organic origins of all natural systems. The works stress our primal link to nature in an increasingly high tech global existence. Edward Rubin's conversation with the Artist Mary Hrbacek.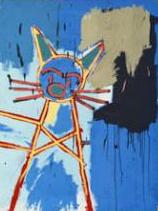 Jean-Michel Basquiat, "Frogmen" (detail), 1983. Photo courtesy of the Estate of Jean-Michel Basquiat/ADAGP.
Jean-Michel Basquiat is Back Home
The Gagosian Gallery's new exhibition is worth braving the winter winds around Chelsea Piers. It explores the work of the great New Yorker vanguard artist Jean-Michel Basquiat and takes place just next door to the Mary Boone Gallery, an annex of the gallery of the same name where he had his first solo show back in 1984. By Adele Bossard.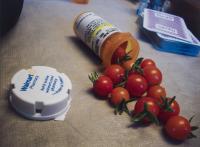 Gene Beery, "Untitled," 1990s/2000s.
"Early Paintings and Recent Photographs" by Gene Beery
While it still is too chilly for a springtime, the Algus Greenspon Gallery offers a warm refuge where sunny light pierces through the ceiling windows. Located in the heart of the pleasant West Village neighborhood, the gallery presents an exhibition of early paintings and recent photographs by Gene Beery until April 27, 2013. By Adele Bossard.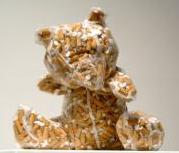 "Dependance" by the Quebec artist Patrick Berube as part of the Brooklyn/Montreal exhibition.
Brooklyn and Montreal are Getting Closer
The artistic exchange between Brooklyn and Montreal is the first one in a decade to bring together artists of these two leading north American cities. First on display in Montreal in the fall of 2012, the exhibition has just arrived in Brooklyn, with 40 artists featured in eight different venues. By Adele Bossard.
Lights by Kevin Adams and scenic design by Christine Jones in the Broadway musical "American Idiot." In "From the Edge,"currently on display at La MaMa La Galleria.
"From the Edge: Performance Design in the Divided States of America"
The exhibition "From the Edge,"currently on display at La MaMa La Galleria, compiles pictures and work from 37 American theatrical productions. Commissioned and sponsored by the USITT (United States Institute for Theater Technology), this exhibition represented the United States at the 2011 Prague Quadrennial, a world celebration of performance design and theater architecture. By Adele Bossard.
Untitled, From the Series "There is something I don't know" by Jitka Hanzlová, 2011. Photo by Adele Bossard.
Jitka Hanzlová's Time Travel at the Yancey Richardson Gallery
Jitka Hanzlová's work has something of a travel back in time. Her current exhibition "There is something I don't know," at the Yancey Richardson Gallery is made up of several portraits of men and women facing the camera and looking to it in a three quarter or full profile, with a dark background reduced to the minimum. For this series, Ms Hanzlová has captures contemporary people in a background from the Renaissance, giving to the pictures a touch of timelessness. By Adèle Bossard.
The Craft of Turning Nature into Art
Edward Rubin talks with artist Joyce Melander-Dayton.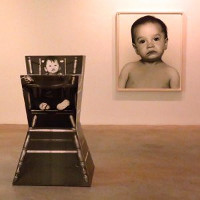 "Cerise" by Richard Artschwager, 2002 and "Michael Anthony Fisher" by Edward Mapplethorpe, 2011. Photo by Adele Bossard.
Visually Conversing at the Fisher Landau Center for Art
"Visual Conversations" is culled from the collection that Emily Fisher Landau bestowed on the Whitney Museum and highlights numerous artists she has been collecting in depth. With different works for each artist, it opens a dialogue among them and brings together various stages of their creative process. The "visual conversation" can exist as a time line between various artworks by the same artist, brought together for the first time, or between different artists, echoing each other. By Adèle Bossard.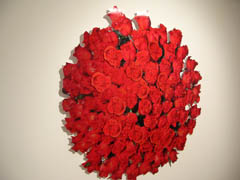 Janet Bellotto-- Bliss or Torture Lenticular
Following the Lure of the Scent
The Lure, Dubai/Toronto based artist Janet Bellotto's exhibition at the De Luca Fine Arts Gallery, intellectually engaging in the infinite number of ideas that it conjures up, is at its very root, sensuous, seductive, and romantic, albeit in a self-contained and carefully orchestrated manner — meaning that despite the traditional feminine aesthetic inherent in the work – read flowers and perfumed fragrances – there is not one ounce of sentimental gush or sappiness. By Ed Rubin.
Past Gallery Gazetteer Articles
---
LONEY'S ARTS RAMBLES
by Glenn Loney
NOVEMBER, 2015 RAMBLES ROUND RAMBLES ROUND THE MAJOR AUCTION HOUSES
Christie's: The Art People. Six New World Auction Records Set in Latin American Art Sale! November Sale Week of Impressionist, Modern, Post War, & Contemporary Artworks Totals $1.1 Billion.Bonhams has had some Major Sales of Amazing Artworks, Antiquities, & Bibliophilic Rarities, but they do not provide Actual Sales Specifics or Totals. 16,000 Visitors flock to Sotheby's Galleries, but One Million Plus click onto Sothebys.com.
GLENN LONEY'S OCTOBER, 2015 RAMBLES ROUND MUSEUMS, GALLERIES, INSTALAYIONS, & AUCTIONS
Amost $23 Million Achieved in London Sale of Selections from the LAC!. THOUGHTS & DOGMA: Creating Conflict. Amazing Riches in Sotheby's Decorative Arts Week for Fall 2015. A Balthazar of Chateau Margaux 2009 Sells at Sotheby's for $98,000!. ANDREA DEL SARTO: The Renaissance Workshop in Action. ANCIENT EGYPT TRANSFORMED: The Middle Kingdom. CELEBRATING THE ARTS OF JAPAN: The Mary Griggs Burke Collection. FASHION & VIRTUE: Textile Patterns & The Print Revolution, 1520-1620. MARTIN PURYEAR: Multiple Dimensions. WENDELL CASTLE REMASTERED. JAPANESE KOGEI , Future Forward. Out of Lebanon: Videos, Photos, 3 D Constructs, Paintings, Walk Throughs, You Name It JOAQUIN TORRES GARCIA: The Arcadian Modern. JIM SHAW: The End Is Here .BARBARA ROSSI: Poor Traits BERLIN METROPOLIS: 1918-1933
GLENN LONEY'S SEPTEMBER, 2015 RAMBLES ROUND MUSEUMS, GALLERIES, INSTALLATIONS, & AUCTIONS
Willie Hearst's Descendants Send a Rare & Important Imperial Gilt Bronze Ritual Bell for Auction!, PHILIPPINE GOLD: Treasures of Forgotten Kingdoms, The Creation of the Mughal Gardens at Agra, REVISIONS - Zen for Film, SWEDISH WOODEN TOYS, KONGO: Power & Majesty, IN & OUT OF THE STUDIO: Photographic Portraits from West Africa, THE AFTERMATH OF CONFLICT: Jo Ractliffe's Photographs of Angola & South Africa, GRAND ILLUSIONS: Staged Photography from the Met Collection, SARGENT: Portraits of Artists & Friends, THE AFFORDABLE ART FAIR, ERNEST HEMINGWAY: Between Two Wars, ALICE: 150 Years of Wonderland, AFFORDABLE NEW YORK: A Housing Legacy, LOOT: Mad About Jewelry, PICASSO SCULPTURE, ARCHIBALD MOTLEY: Jazz Age Modernist.
GLENN LONEY'S MAY, 2015 RAMBLES ROUND MUSEUMS, GALLERIES , INSTALLATIONS, & AUCTIONS
Wrong Way Jackson Pollock Hung Vertically at New Whitney on the Hudson River!, Up on Audubon Terrace, Philippe de Montebello Will Put El Greco & Velázquez on the Tour Map!, The Frick Collection Greets Sunny June with Lord Leighton' Flaming June!, Rock Center's Summer Mall Installation Focuses on Five Death Masks, Russian Works of Art Earn Over $5 Milllion, Including Fabulous Fabergé Fantasies, The Third Koch Brother - William I. Koch - Puts American Art on The Auction Market, Christie's Week of Impressionist, Modern, Post War, & Contemporary Sales Totals $1.726 Billion!, Christie's Latin American Art Auction Achieves Over $25 Million, With Ten World Records Set, More Modern Artist Records at Christie's, Decorative Arts LA Auction - $185,000 Wins a Demetre Chiparus Thaïs Art Deco Figurine!, Diamonds in June - Million Plus Bid Suggested for Important Diamond Rivière Necklace. , Latin American Art Evening Sales Total $16 Plus Million - Eight Records Set: $3 Million for Rufino Tamayo's La Familia!, May Sales of Impressionist & Modern Art Earn Total of $420 Million, Norman Rockwell's The Bookworm Wins with a Bid of almost $4 Million in American Art Auction, Mark Rothko Tops Sales of Contemporary Art with $46.5 Million Bid, For Francis Bacon's Seated Woman, an Anonymous Phone Bidder Paid $28 Million!, HOW POSTERS WORK, Public Presentation of Proposed Potential Frick Exhibition Enlargement & Amenities Enhancement - with Free Public Tour of Previously Proscribed Frick Family Domains!, The World of Louis Comfort Tiffany, SULTANS OF DECCAN INDIA, 1500 1700: Opulence & Fantasy, CHINA: Through The Looking Glass, THE ROOF GARDEN COMMISSION: Pierre Huyghe, VAN GOGH: Irises & Roses, HIDDEN LIKENESS: Photographer Emmet Gowin at the Morgan, YOKO ONO: One Woman Show, 1960 1971, ART ON CAMERA: Photographs by Shunk Kender, 1960 1971, FROM BAUHAUS TO BUENOS AIRES: Grete Stern & Horacio Coppola, RUSSIAN MODERNISM: Cross Currents of German & Russian Art, 1907 1917, SURROUND AUDIENCE: The 2015 Triennial, IDEAS CITY FESTIVAL: The 2015 Triennial.
GLENN LONEY'S APRIL, 2015 RAMBLES
AFTER 56 YEARS, A RETURN TO ARABIA'S DESERT SANDS…, SOME SIBILLANT SAUDI SYLLABLES…, Danger for Security Police Who Wear Black Uniforms!, Visual Equality Among Sa'udi Men:Everyone Looks Alike-Even Some Princes!, ABSOLUTELY NO THEATRE IN THE SAUDI KINGDOM! ALSO NO ALCHOHOL-TRY MINT TEA OR COCA COLA© INSTEAD!, How Can You Make a Selfie When You Are Sheathed in Black from Head to Toe?
GLENN LONEY'S MARCH, 2015 RAMBLES
ONWARD/UPWARD/DOWNWARD WITH INDEPENDENT MOROCCO!, April in Paris? No! No! Morocco in January!, Arrive in Casablanca, But Go Directly to Rabat-The Administrative Capital…, Rambling Round Rabat: No Rebates for Shattered Sultanic Ruins…, MEKNES: Onward To The Medina & Market- But Mainly March Off To the Multi Arched Medieval Graneries…, VOLOUBILIS: Ancient Roman Ruins in Voloubilis- Trajan's Empire Extended Only This Far West in Africa…, FEZ: Fussing Around in Fez- Three Towns; Three Different Eras; Different Sites & Sights…, Frozen Out of the Atlas Mountains: Snow Plows To The Rescue- Followed by the Sahara Desert Camp & Erg Chebbi…, A Camel Ride in the Sahara Sunset- Then Freezing to Death in a Fake Bedouin Encampment…, KASBAHS: Come With Me To The Kasbah- But Bring a Blanket & Something Savory To Nibble…, MARRAKESH: Meeting Marvelous Medieval Marrakesh- Where Magnificent Arab Calligraphies Ready Made…
GLENN LONEY'S FEBRUARY, 2015 RAMBLES
On Its 70th Anniversary, WORLD WAR II Comes Back To Life at Bonhams: Enola Gay Anyone?, At AMNH—The American Museum of Natural History: LIFE AT THE LIMITS: Stories of Amazing Species, At The Brooklyn Museum of Art: BASQUIAT: The Unknown Notebooks, At The Bard Graduate Center Gallery: FASHIONING THE BODY: An Intimate History of the Silhouette, THE INTERFACE EXPERIENCE: Forty Years of Personal Computing, At The Galerie St. Etienne: LEONARD BASKIN: Wunderkammer, At The Jewish Museum: REVOLUTION OF THE EYE: Modern Art &The Birth of American Television, Also at the Jewish Museum: REPETITION & DIFFERENCE, At LCLPA—The Lincoln Center Library for The Performing Arts: SINATRA: An American Icon, Harlem is… THEATER: 1821 to NOW, At MMA—The Metropolitan Museum of Art: THE PLAINS INDIANS: Artists of Earth & Sky, At MCNY—The Museum of the City of New York: SAVING PLACE: 50 Years of New York City Landmarks, At MoMA—The Museum of Modern Art: SCENES FOR A NEW HERITAGE: Contemporary Art from The Collection, At The Neue Galerie: GUSTAV KLIMT & ADELE BLOCH BAUER: The Woman in Gold, At WMAA—The Whitney Museum of American Art: PLAY IT ON YOUR RENZO PIANO!
GLENN LONEY'S JANUARY, 2015 RAMBLES
At The Asia Society: TAKAHIRO IWASKAI: In Focus, BUDDHIST ART OF MYANMAR, At The Brooklyn Museum of Art: KEHIND WILEY: A New Republic, At The CUNY Grad Center's James Gallery: SPECTERS OF COMMUNISM: Contemporary Russian Art, At The Frick Collection: COYPEL'S DON QUIXOTE TAPESTRIES: Illustrating a Spanish Novel in Eighteenth Century France, At The Galerie St Etienne: ALTERNATE HISTORIES: Celebrating the 75th Anniversary of the Galerie St Etienne, At The Grolier Club: ALDUS MANUTIUS: A Legacy More Lasting Than Bronze, LITERATURE OF THE LIBERATION: The French Experience in Print--1944 46, At LCLPA--The Lincoln Center Library for The Performing Arts' Vincent Astor Gallery: BROADWAY REVEALED: Behind the Theatre Curtain, At MMA--The Metropolitan Museum of Art: CAPTAIN LINNAEUS TRIPE: Photographer of India & Burma--1832 1860, At The MLM--The Morgan Library & Museum: The World Monuments Fund 2015 Paul Mellon Lecture, RENAISSANCE & BAROQUE ROME: The Art of Urban Form, LINCOLN SPEAKS: Words That Transformed a Nation, PIRANESI & THE TEMPLES OF PAESTUM: Drawings from Sir John Soane's Museum, HEBREW ILLUMINATION FOR OUR TIME: The Art of Barbara Wolff, EMBRACING MODERNISM: Ten Years of Drawing Acquisitions, At MCNY--The Museum of the City of New York: EVERYTHING IS DESIGN: The Work of Paul Rand, SAVING PLACE: 50 Years of New York City Landmarks, At The Park Avenue Armory: WAS--The Annual Winter Antiques Show: A Benefit for the East Side House Settlement.
GLENN LONEY'S JUNE ARTS RAMBLES
At Christie's Auction House: Latin American Art Works Total $17.6 Million: Fat People Artist Botero Totals $3.4 Million! , Christie's Auction of Old Masters Racks Up Nearly $18 Million in Sales! , Before Classic Greek Statues Were Cycladic Marbles: Sales Leaders in Antiquities Auction. , Last Chance to Own Your Own Vermeer! Saint Praxedis Goes On the Block in London, in July , Lavish Tiffany Lamps & Elegant Art Deco Designs Win $6 Million in Christie's 20th Century Sales! , Special Press Preview for Historic 1958 Microchip at Christie's! , Sir Arthur Conan Doyle's Black Peter Manuscript Wins $317,000; Salinger Letters Earn $185,000 First Impressions at Christie's in July Sale: Something Affordable for Everyone! , At Bonhams Auction House: THE STORY OF THE 20TH CENTURY , WORLD WAR II , Tiffany Studios' Laburnam Lamp "Shined Brightly" at Bonhams: Sold for $425,000! , Looking Forward to August Auction: National Gold Banknotes of California On the Block! , At The Frick Collection: At Long Last, Upstairs/Downstairs in the Frick Mansion: How Gilded Age Robber Barons Lived! , MEN IN ARMOR: El Greco & Pulzone, Face to Face , At The Guggenheim Museum: UNDER THE SAME SUN: Art from Latin America Today , ITALIAN FUTURISM 1909 1944: Reconstructing The Universe , At MMoA--The Metropolitan Museum of Art: GARY WINOGRAND, At The Morgan Library & Museum: MARKS OF GENIUS: Treasures from the Bodleian Library , A CERTAIN SLANT OF LIGHT: Spencer Finch at the Morgan , First The Venice Biennale, Then the Whitney Biennial, & Now: The MAD Biennial! , At MoMA--The Museum of Modern Art: SITES OF REASON: A Selection of Recent Acquisitions , At NYHS--The New York Historical Society: MADELINE IN NEW YORK: The Art of Ludwig Bemelmans , "I LIVE. SEND HELP": 100 Years of the American Jewish Joint Distribution Committee , THE WORKS: Salon Style at The New York Historical Society , At The Whitney Museum of American Art: JEFF KOONS: A Retrospective.
GLENN LONEY'S MAY, 2014 RAMBLES: MUSEUMS, GALLERIES, INSTALLATIONS, & AUCTIONS--
New Book in Town: The Supermodel & the Brillo Box--Secrets of the Auction Business! At Christie's Auction House, At Bonhams Auction House, At Sotheby's Auction House, AI WEI WEI: According to What? CHICAGO IN L. A.: Judy Chicago's Early Work, 1963 74, SWOON: Submerged Motherlands, A Story of Two Museums: An Ethnographic Exhibition, The Poetry of Parmigianino's "Schiava Turca", ENGLIGHTENMENT & BEAUTY: Sculptures by Houdon & Clodion, THE POWER OF WORDS & IMAGES IN A WORLD AT WAR, URS FISCHER, LAUNCHPAD FOR THE AMERICAN THEATRE: The O'Neill Since 1964, GOYA & THE ALTAMIRA FAMILY, CHARLES JAMES: Beyond Fashion, THE PRE RAPHAELITE LEGACY: British Art & Design, LOST KINGDOMS: Hindu Buddhist Sculpture of Early Southeast Asia, GATSBY TO GARP: Modern Masterpieces from the Carter Burden Collection, A DIALOGUE WITH NATURE: Romantic Landscapes from Britain & Germany, MIRACLES IN MINIATURE: The Art of the Master of Claude de France, Rembrandt Now On Line at the Morgan: Study His Etchings in the Privacy of Your Own Home!, MULTIPLE EXPOSURES: Jewelry & Photography, HOMEFRONT & BATTLEFIELD: Quilts & Context in the Civil War, SPRING MASTERS NEW YORK.
SHOWS AND EXHIBITIONS AROUND TOWN IN MAY, 2014
Kevin Murphy & Laurence O'Keefe's HEATHERS: The Musical, Robert L. Freeman & Steven Lutvak's A GENTLEMAN'S GUIDE TO LOVE & MURDER, Robert Sternin & Prudence Fraser's UNDER MY SKIN, James MacMillan's "SINCE IT WAS THE DAY OF PREPARATION" Religious Caution Advised, Richard Brinsley Sheridan's THE RIVALS, Christian Rizzo's Lyon Opera Ballet in ni fleurs, ni ford mustang Unrate able; Not Unbeat able, Jeff Blumenkrantz's MOVING RIGHT ALONG: The World of Jeff Blumenkrantz, David Lang's battle hymns, Anthony Giardina's THE CITY OF CONVERSATION, Terry Teachout's SATCHMO AT THE WALDORF, ISH's Amsterdam Inspired HYPERISH, Anton Dudley & Stephanie DiMaggio's 17 ORCHARD POINT, Gardner McKay's SEA MARKS, Carole J. Bruford's SHADES OF BLUE, Jon Robin Baitz's THE SUBSTANCE OF FIRE, BAM & Brooklyn's DANCE AFRICA FESTIVAL, Gene Ionesco's THE KILLER, A Story of Two Museums: An Ethnographic Exhibition, The Poetry of Parmigianino's "Schiava Turca", ENGLIGHTENMENT & BEAUTY: Sculptures by Houdon & Clodion, THE POWER OF WORDS & IMAGES IN A WORLD AT WAR, URS FISCHER, LAUNCHPAD FOR THE AMERICAN THEATRE: The O'Neill Since 1964, CHARLES JAMES: Beyond Fashion, THE PRE RAPHAELITE LEGACY: British Art & Design, LOST KINGDOMS: Hindu Buddhist Sculpture of Early Southeast Asia…, GATSBY TO GARP: Modern Masterpieces from the Carter Burden Collection, A DIALOGUE WITH NATURE: Romantic Landscapes from Britain & Germany, MIRACLES IN MINIATURE: The Art of the Master of Claude de France, Rembrandt Now On Line at the Morgan: Study His Etchings in the Privacy of Your Own Home!, MULTIPLE EXPOSURES: Jewelry & Photography, HOMEFRONT & BATTLEFIELD: Quilts & Context in the Civil War, SPRING MASTERS NEW YORK.
GLENN LONEY'S APRIL, 2014 RAMBLES ROUND MUSEUMS, GALLERIES, INSTALLATIONS, & AUCTIONS
At Christie's Auction House, Collection of Edwin & Lindy Bergman--"Hallmarks of the Chicago Art Scene"--Now at Christie's, Seagram's Heir, Edgar Bronfman, Collected Picasso Ceramics: Soon Up for On Line Auction!, Nearly $5 Million Total in Christie's Ninetheenth Century European Art Auction!, At Bonhams Auction House, Also at Bonham's: $1.3 Million for Eric Caren Archive Printed Treasures!, CARRYING COCA: 1,500 Years of Andean Chuspas, WATERWEAVERS: The River in Contemporary Columbian Visual & Material Culture, At One Remove from the Brooklyn Museum of Art, THE ROOF GARDEN COMMISSION: Dan Graham with Günther Vogt, LOST KINGDOMS: Hindu Buddhist Sculpture of Early Southeast Asia, 5th to 8th Century, OUT OF CHARACTER: Decoding Chinese Calligraphy--Selections from the Collection of Akiko Yamazaki & Jerry Yang, ALIBIS: Sigmar Polke, 1963 2010, LYGIA CLARK: The Abandonment of Art, 1948 1988, AIPAD Photography Show New York, JEWISH LEGACY OF CAPE VERDE: Preservation of Memory.
March 2014 Rambles Round Museums, Galleries, Installations & Auctions
No! No! Don't Throw Away Any of the Scraps in Jean Michel's Waste Basket: Collectible Gold!, How Much Would You Bid on Van Cliburn's Bechstein? Even If You Cannot Read Music?, Rockwell Wasn't the Only Cover Man for The Saturday Evening Post: Falter Doesn't Falter!, Christie's First "Open" of Post War & Contemporary Art Auction Totals Almost $12 Million!, Millions Bid & Accepted by Auction Houses During Fabulous Asia Week!, Barry Friedman's Eclectic Eye Has Spotted a Lot of Decorative Goodies: $5 Million Plus…, Other Folks Drinking Seagram's Enabled Edgar M. Bronfman To Amass a Fabulous Collection…, Asia Week Not Neglected at Bonhams on Madison! Tibetan Mandala Almost Makes a Million!, NALINI MALANI: Transgressions, HIMALAYAN SCULPTURES, CREATING A TIBETAN SAND MANDALA, GOLDEN VISIONS OF DENSATIL: A Tibetan Buddhist Monastery, WITNESS: Art & Civil Rights in the Sixties, Coming to Eastern Parkway/Brooklyn Museum in April, Theodore Low De Vinne & the Art Preservation of All Arts, THE PASSIONS OF JEAN BAPTISTE CARPEAUX, LUCAS SAMARAS: Offerings from a Restless Soul, RE COLLECTION, ROBERT HEINECKEN: Object Matter, JASPER JOHNS: Regrets, DEGENERATE ART: The Attack on Modern Art in Nazi Germany, 1937, Rumaging in the Stalls of Trödelhändel & in Munich Attics, , Emil Nolde & the "Unpainted Paintings" in Salzburg, , Across the Baltic with an Ernst Barlach Sculpture, , The Cornelius Gurlitt Hoard in Munich, , BILL CUNNINGHAM: Façades, THE BLACK FIVES, AUDUBON'S AVIARY: Parts Unknown [Part II of the Complete Flock], BARBARA 14, THE WHITNEY 2014 BIENNIAL.
February 2014 Arts Rambles
At Christie's Auction House, TITIAN MEETS WEST SIDE STORY: The Work of Edward Melcarth, FOOL OF MYSELF: Photos of Kevin W. Burns,
RADIANT LIGHT: Stained Glass from Canterbury Cathedral, THE LITTLE PRINCE: A New York Story, A COLLECTIVE INVENTION: Photographs at Play, VISIONS & NIGHTMARES: Four Centuries of Spanish Drawings, MEDIUM AS MUSE: Woodcuts & The Modern Book & GAUGUIN: Metamorphoses.
January 2014 Arts Rambles
At Christie's Auction House, At Bonhams Auction House, MYSTERIES OF THE UNSEEN WORLD, DARK UNIVERSE, Report on the Reconstruction of the Past, Renaissance & Baroque Bronzes from the Hill Collection, MODERN FURIES,The Lessons & Legacy of World War I, ANTONIO CANOVA,The Seven Last Works, CHARLES MARVILLE,Photographer of Paris, PARIS AS A MUSE,Photography, 1840's 1930s, GRIDIRON GREATS,Vintage Football Cards in the Collection of Jefferson R. Burdick, MoMA To Destroy Award Winning Super Modern Former Museum of American Folk Art, Life After Death, FRANK LLOYD WRIGHT & THE CITY,Density Vs. Dispersal, THE WINTER ANTIQUES SHOW & Diamond Jubilee Celebrating Sixty Years!
December 2013 Arts Rambles
At Christie's Auction House, At Bonhams Auction House, Cleopatra's Needle,
Jewels by JAR, INK ART Past as Present in Contemporary China, METROPOLITAN VANITIES The History of the Dressing Table,
THE AMERICAN WEST IN BRONZE, 1850-1925 & ILEANA SONNABEND: Ambassador for The New.
November 2013 Arts Rambles
At Christie's Auction House, At Bonhams Auction House, THE POWER OF POISON, At BRIC in Downtown Brooklyn, WAR/PHOTOGRAPHY Images of Armed Conflict & Its Aftermath, THERESA BERNSTEIN A Century in Art, EXTRAORDINARY WOMEN IN SCIENCE & MEDICINE Four Centuries of Achievement, Famous, Infamous, & Forgotten Political Cartoons Upstairs!, ART SPIEGELMAN'S CO MIX A Retrospective,
Claire Fontaine's Using Walls, Floors, & Ceilings, Masterpieces & Curiosities, SIGHTS & SOUNDS Global Film & Video, VENETIAN GLASS BY CARLO SCARPI The Venini Company, 1932-1947, ISA GENSKEN Retrospective, ISAAC JULIEN Ten Thousand Waves & Second Edition of The Salon Art & Design.
October 2013 Arts Rambles
At the Auction Houses, At Bonham's on Madison, At Christie's at Rock Center, At the AVENUE Antiques, Art, & Design at the Armory Show,
THE FASHION WORLD OF JEAN PAUL GAULTIER From the Sidewalk to the Catwalk, Saving Faces, VERMEER, REMBRANDT, & HALS Masterpieces of Dutch Painting from the Mauritshuis, Rob & Nick Carter's Transforming Still Life Painting, The Girl with a Pearl Now Collectible Merchandise!, Inauguration of the Louis Rachow Distinguished Service Award in Performing Arts Librarianship, THE LINE KING Al Hirschfeld at the New York Public Library's Lincoln Center Facility, PIONEERING POET OF LIGHT Florence Vandamm & The Vandamm Studio, SILLA Korea's Golden Kingdom, WILLIAM KENTRIDGE The Refusal of Time, EDGAR ALLAN POE Terror of the Soul, LEONARDO DA VINCI Treasures from the Biblioteca Reale, Turin, OUT OF HAND Materializing the Post Digital, VASILY KANDINSKY From Blaue Reiter to the Bauhaus, 1910-1925,
BEAUTY'S LEGACY Gilded Age Portraits in America, THE ARMORY SHOW AT 100 When New York Exploded into the Modern World,
At the TNC Gallery, RITUALS OF RENTED ISLAND, Object Theatre, Loft Performance & The New Psychodrama--Manhattan, 1970-1980.
September 2013 Arts Rambles
BEHIND CLOSED DOORS, WANGECHI MUTU: A Fantastic Journey, World Monuments Fund--Jewish Heritage Program, Saving Chassidic Synagogues in Southeast Poland, The David Berg Rare Book Room, How About That $387,750 On Line Bid for APPLE 1, Hand Built by Steve Wozniak Himself!, Asian Art Week at Christie's Achieves $71.5 Million Total: Four Days with Eight Sales!, First Christie's Auction in Shanghai: First Picasso Ever Sold at Auction in Mainland China, Christie's First Open Auction of Post War & Contemporary Art Earns $13.6 Million., MULTIPLICATION OF HORIZONS: [Plus] The Iceland Project, CZECH NATURE IN NEW YORK, DAVID D'ANGERS: Making the Modern Monument, KÄTHE KOLLWITZ: The Complete Print Cycles, CHAGALL: Love, War, & Exile, threeASFOUR: MER KA BA, ELAINE REICHEK: A Postcolonial Kinderhood Revisited, JULIA MARGARET CAMERON, MEDIEVAL CHURCH TREASURES FROM HILDESHEIM, INTERWOVEN GLOBE: The Worldwide Textile Trade, 1500 1800, BALTHUS: Cats & Girls, ARTISTS & AMATEURS: Etching in 18th Century France, MASTERPIECES OF TIBETAN & NEPALESE ART: Recent Acquisitions, FEATHERED WALLS: Hangings from Ancient Peru, BRUSH WRITING IN THE ARTS OF JAPAN, FIFTY YEARS OF COLLECTING ISLAMIC ART, TIEPOLO, GUARDI, & THEIR WORLD: Eighteenth Century Venetian Drawings,
MAGRITTE: The Mystery of the Ordinary, 1926 1938, NEW PHOTOGRAPY 2013: Adam Broomberg & Aliver Chanarin, Brendan Fowler, Annette Kelm, Lisa Oppenheim, Anna Ostoya, Josephine Pryde, Eileen Quinlan, DANTE FERRETTI: Design & Construction for Cinema, FOUR SEASONS: [Arcimboldo--Enlarged by Philip Haas], WILD MEDICINE: Healing Plants Around the World, Featuring The Italian Renaissance Garden, BEAUTY'S LEGACY: Gilded Age Portraits in America, Around the Town with the Public Art Fund, T. J. WILCOX: In the Air, ROBERT INDIANA: Beyond LOVE & TEST PATTERN.
The Bayreuth Wagner Festival 2013
THIS WAS THE BAYREUTH WAGNER FESTIVAL THAT WAS..., Closed for Restorations: Haus Wahnfried & Margravine Wilhelmine's Baroque Opera House, Richard Wagner's LOHENGRIN, Richard Wagner's DER FLIGENDE HOLLÄNDER,
Richard Wagner's DER RING DES NIBELUNGEN, WAGNER FOR KIDS & KINDER: ON BOARD WITH TRISTAN & THAT IRISCHE KIND.
Bregenz Festival 2013
Report for The Bregenz Festival of July/August 2013, Austria's President Dr. Heinz Fischer Invokes the Festival Theme: Toward the Light, WA Mozart's DIE ZAUBERFLÖTE, André Tchaikowsky's DER KAUFMANN VON VENEDIG , Speaking & Singing Shakespeare's Less Loved Sonnets.
The Munich Festival of June/July 2013
THIS WAS THE MUNICH FESTIVAL THAT WAS…, Kander & Ebb's CABARET, Giuseppe Verdi's SIMON BOCCANEGRA, Giuseppe Verdi's RIGOLETTO, Richard Wagner's TRISTAN UND ISOLDE, Richard Wagner's SIEGFRIED, Get a Lump of Rheingold…, Now for The Valkyries: DIE WALKÜRE, Modest Mussorgsky's BORIS GODUNOV, George Benjamin's WRITTEN ON SKIN
June, 2013 Roundup
Are You Ready for the End of Times? The Man of Steel Certainly Is!, A Regional Theatre TONY for Boston's Huntington Theatre & a Brilliant Play Production., Gina Gionfriddo's RAPTURE, BLISTER, BURN, NC Hunter's A PICTURE OF AUTUMN, Rod McLachlan's GOOD TELEVISION, Rosen, Saxe, & Moore's VENICE, Moe Angelos' SONTAG: REBORN, Early Music in Boston: Baroque Opera & Other Treats for The Music Critics of North America., Georg Frideric Händel's ALMIRA, Charpentier's LA DESCENT D'ORPHÉE AUX ENFERS & LA COURONNE DE FLEURS, Jenny Schwartz' SOMEWHERE FUN, Steven Levenson's THE UNAVOIDABLE DISAPPEARANCE OF TOM DURNIN , Richard Greenberg's FAR FROM HEAVEN, Neil Benjamin's THE EXPLORER'S CLUB, Bronson Howard's THE HENRIETTA, John Guare's THREE KINDS OF EXILE Not Seen, So No Rating, James Joyce's adapted GIBRALTAR, Neil LaBute's REASONS TO BE HAPPY, Thomas Lanier Williams' THE TWO CHARACTER PLAY Performances Cancelled, Chris Marlowe or Bill Shakespeare's THE COMEDY OF ERRORS, MORE PASSING GLANCES AT THE MUSEUMS, GALLERIES, & SPECIAL EVENTS, More Broken Records at Christie's Auction House: $21 Million Plus for Latin American Art!, Sensation on Sunset! Mrs. Sidney Sheldon's Doll Collection Up for Auction at Bonhams LA!, Bulletin Just In from the LA Sale!, Israeli Pride Day Parade on Fifth Avenue Blocks the M1, M2, M3, M4 & M72 at 72nd Street, Le Corbusier at MoMA: An Architectural Life's Work on Parade--with Models Galore!, At Christie's, Two Million Dollars for an Egyptian Bronze Cat--But No Kitty Litter, Ship Ahoy! Set Sail for Bonhams Fine Maritime Paintings & Full Speed Ahead!, Even in Death, Richard Artschwager Is Still with The Whitney Museum of American Art!, Amazements at the Park Avenue Armory: Do Your Really Want To See Snow White Get Raped?, Triple Play at the Met: Bronze Boxer, Sculptor Ken Price, & Five Centuries of Decorative Arts!, Let's Hear It for Ken Price, Maker of Colorful Blobs!, Down into the Met Vaults for Some Centuries Old Furniture Designs & Room Interiors, Celebrating Children's Books at the NYPL's Steven Schwarzman Marble Palace, Federico Garcia Lorca: Back Tomorrow, Poet in New York, Let's Try Another Alteration on that Print Plate: Mary Cassatt at Work in Paris, William Shakespeare: From Stratford Upon Avon to the NYPL--But Only for a Day, Edward Armitage, RA, at Hirschl & Adler: Where Are My Ancestor's Crimean War Corpses?, The Oldest Library in New York City Shows Its Rarities in Extraordinary Gifts., Bulletin from Ben Katchor! When You Are on Ben's E Mail List, You Never Know What's Next, Let's Hear It for Contemporary Canopic Jars! Forget about the Pharaohs, Laying Down the Law: Alma Law's Amazing Archive of Russian Theatre Incunabula at Bonhams!, More Broken Records at Christie's! Tiffany Lamp Shades Always Popular!, At the Met Museum: Run of the Mill Photographs from 1969 to Now: Everyday Epiphanies, Ancient Persian Epiphanies: The Cyrus Cylinder & the Rise & Fall of Dynasties
May, 2013 Roundup
Mark Nadler's I'M A STRANGER HERE MYSELF, Leos Janácek's THE CUNNING LITTLE VIXEN, JM Barrie's THIS SIDE OF NEVERLAND, Richard Foreman's OLD FASHIONED PROSTITUTES (A True Romance) #!§#¥, David Bruce & Glyn Maxwell's THE FIREWORK MAKER'S DAUGHTER, Stephen Sondheim's SIDE BY SIDE BY SONDHEIM: A Musical Entertainment, Jason Robert Brown's THE LAST FIVE YEARS, Julia Jordan & Juliana Nash's MURDER HEART BALLAD, David Willinger's Version of Saroyan's Rock Wagram, Now Known as THE UPPER LIP, Richard Nelson's NIKOLAI & THE OTHERS, Ernest Abuba's DOJOJI: The Man Inside the Bell, Conor McPherson's THE WIER, Henrik Ibsen's THE MASTER BUILDER, Bertolt Brecht's Der Caucasischen Kreiderkreis, Tom Attea's BENEDICTUS, Mark Brown's Version of Jules Verne's AROUND THE WORLD IN 80 DAYS, Does Matthew Barney need a Restraining Order? Morgan Library Offers Subliming Vessel, Press Preview at Christie's: When Did Picasso Find Time for Love & So Many Ceramic Plates?, At the Whitney: I, YOU, WE…, New Sales Records at Bonhams & Christies, At the Jewish Museum: Long Dead Appropriation Artist Jack Goldstein Has Vinyl Disks On View!, At Grand Central Terminal: The Grand Centennial Parade of Trains!, More Millions Paid at Manhattan Auctions: Christie's & Bonhams Keep Setting Records!, Meanwhile, Over at Christie's: Impressionist & Modern Art Win Totals of $158 Million!, Saving Wildlife & The Environment with Leonardo DiCaprio's 11th Hour Auction, At the Met Museum: Land Marks on the Wall--Blood on the Roof!, Nothing of Jeff Koons, of Bamboo, or Simply Monumental on the Met's Roof: Blood Patterns, Not Pin the Tail on the Donkey, But Search for the Unicorn at the Met's Cloisters!, The Last Supper at the Morgan: Celebration of the Holy Eucharist in Medieval Manuscripts, At the Met Museum: More About the War Beween the States--American Art & The Civil War: Including Generous Lendings from the Museum of The Confederacy, Located in Virginia!, Paul Krugman at the CUNY Graduate Center, That Place with the Upside Down Flags, Tribal Arts Week at Bonhams: Not the Whole Canoe, Only the Prow!, All Time World Record for Art Auction Sales Set at Christie's: $638.6 Million!, At the Whitney: Hopper Drawings & David Hockney: The Jugglers, David Hockney Shows his Jugglers Video on Floor Two of the Whitney!, New Ways of Thinking about Contemporary Portraiture on the Whitney's First Floor!, More World Records Shattered at Christie's: $828.8 Million Finds Safe Haven in Artworks!, Tour the Morgan Library/Museum on Your Cell Phone, Thanks to Google's Art Project!, Monster Show at Met Museum of Old Masters: From 1300 AD To 1800 CE--Out of the Vaults!, Kolo Moser at the Neue Galerie: Die Wiener Werkstätte Lives Again!, Theatre Folk at Sardi's OCC Get Together: Cicely Tyson, Nathan Lane, Andrea Martin, & Others!, NY Philharmonic at St. John the Divine: Not as Tough as Being a Canterbury Pilgrim, At the Morgan Library/Museum: Old Masters, Newly Acquired, More Museum Notes: American Folk Art's Innovative Former Home Facing Destruction, While Its Palazzo del Mondo Is Off To the Venice Biennale!, End of Month Auction House Sales Results: Bonhams & Christie's Break Records Again.
April, 2013 Roundup
63rd Annual Awards: Outer Critics Circle Announce 2012 13 Season Nominees / THE 37th HUMANA FESTIVAL: Showcasing New Plays on Main Street in Louisville / Theatre Journalism & Drama Criticism Re Invent Themselves in the Digital Age! / THE PANEL: Charting the Course: New Play Directors in Conversation / A Big Kentucky Welcome To the Humana Festival: Greetings! / Branden Jacobs Jenkins' APPROPRIATE / Mallery Avidon's O GURU GURU GURU, or why I don't want to go to Yoga Class with you / Jeff Augustin's CRY OLD KINGDOM / Sam Marks' THE DELLING SHORE / Will Eno's GNIT Minus Stars / Rinnie Grof / Lucas Hnath / & Anne Washburne's SLEEP ROCK THY BRAIN / THE FAMOUS HUMANA TEN MINUTE PLAYS / Sarah Ruhl's TWO CONVERSATIONS OVERHEARD ON AIRPLANES / Emily Schwend's HALFWAY / Jonathan Josephson's 27 WAYS I DIDN'T SAY "HI" TO LAURENCE FISHBURNE / Re Fighting the Civil War at the Met Museum: But in Vintage Photos / Not with Pot Shots / Islamic Art: Making the Invisible Visible-- / SALVAGING THE PAST: Georges Hoentschel & French Decorative Arts from the Met Museum / CONFLUENCES: An American Expedition to Northern Burma, 1935 / At the Leslie & Lohman Museum: Paul Thek & His Circle in the 1950s / At the Met Museum: Diego Velázquez' Portrait of Duke Francesco I d'Este / At MoMA: CLAES OLDENBURG--Seminal Works: The Street, The Store, & the Mouse Museum! / At the Galerie St. Etienne: FACE TIME: Self & Identity in Expressionist Portraiture / Sam Maloof at Bonham's: Iconic Rocking Chair Sells for $43,750! / Meanwhile / Over at Christie's in Rock Center: the delighted eye Sets Man Ray Record! / The Show of Shows over at the Park Avenue Armory: The Annual NY Antiquarian Book Fair. / Bill Irwin & David Shiner's OLD HATS / Mark Janas & DISCOVER OPERA!'s MUSILDA / Roald Dahl's MATILDA / THE MUSICAL / Tanya Barfield's THE CALL / CRUNCH WEEK FOR THE OUTER CRITICS CIRCLE / Berry Gordy's MOTOWN / Douglas Carter Beane's THE NANCE / Richard Greenberg's THE ASSEMBLED PARTIES / David Byrne & Fatboy Slim's HERE LIES LOVE / Frank Wildhorn & Leslie Bricusse's JEKYLL & HYDE / Alan Cumming's MACBETH / Lyle Kessler's ORPHANS / Clifford Odets' THE BIG KNIFE / Colm Toibin's THE TESTAMENT OF MARY / Horton Foote's THE TRIP TO BOUNTIFUL / John Logan's I'LL EAT YOU LAST: A Chat with Sue Mengers / Stephen Schwartz's PIPPIN / At Christie's: The Power of Pink: The Princie Diamond Sells for $39,323,750 / Speaking of Christie's: How About $5 Million+ for Russian Works of Art? / Building the Blue Box--with White Ribbon--over the Rock Center Skating Rink! / Silent Stone Sentinels Stand Tall Behind Rock Center's Blue Box / August Strindberg's THE DANCE OF DEATH / Jacques Offenbach's LA PÉRICHOLE / Five Major New Exhibitions at the Brooklyn Museum: / Bright Orange Walls for the Delicate Watercolors of John Singer Sargent! / What To Do with Old Tin Can Lids! Monumental Works by El Anatsui! / Considering Life, Death & Transformation in the Americas / Braddock, PA in Decline, Documented by LaToya Ruby Frazier in A Haunted Capital / From the Archives: Fine Lines: American Drawings from the Brooklyn Museum. / Not To Worry: There Are Even More Brooklyn Museum Special Exhibitions On Offer! / Bonhams & Christie's Stage Unusual Auctions: / The Treasures of the Late Larry Hagman / Better Known as JR Ewing On Sale! / How About A Palladian Villa by Michael J. Smith at Christie's? / Bert Brecht & Kurt Weill's MAHAGONNY / Jonathan Tolins' BUYER & CELLAR / Wright & Forrest's SONG OF NORWAY.
February, 2013 Roundup
Now Legal, but You can get High on Theater as well! / Shakespeare in the Shadow of the Rockies / Don't Mess with My Head! Re Programming Ed's Memories / THE OUTSIDER ART FAIR 2013: Outlandish/Inlandish & Almost at The Chelsea Piers / Polish Priest Learns Spanish, While His Orphan Charge Becomes Roller Derby Charger. / At the Met Museum: A Trio of Mini Exhibitions & a Website Enrichment / Blues Lovers & Video Addicts Should Flock To the Whitney To See & Hear BLUES FOR SMOKE! / It's All About Inheritance: Who Will Get Big Daddy's Rich Plantation--No Neck Monsters? / CAN VENICE BE SAVED? / New MoMA Show: Dieter Roth's Wait, Later This Will Be Nothing / Remarkable Baronial Hall Dominates Juilliard Production of Marital Misfires Somewhere in Italy. / MISS LA LA ALOFT: Edgar Degas' Painting of Black Prussian Aerialist at Cirque Fernando / GOD HATES FAGS! Did Organized Religion Help Kill Matthew Shepard? Talking To Locals / Who Was That Masked Man with That Flowing Black Cape? ZORRO, of course, But from the UK / For a "Good Time," Call The New York City Opera: Oral Sex Onstage / at BAM, Plus 24 Naked Men! / Impressionism & Fashion at the Met! Manet & Monet were not only into Bustles & Corsets / Marilyn "Jackie" Horne Conducts a Masterful Master Class at Manhattan School of Music! / At the Guggenheim: Lots of Food & Lots of Talk & Talkers about "Art Mapping" in SE Asia / Seven Ages of Man in Shakespeare, but Five Stages of Women Characters! / ANDY WARHOL Art Artifacts Up for On Line Bidding at Christie's! / At the Grolier: A Plenitude of Handsome "Little Magazines," with Beardsley & Elbert Hubbard / Clockwork Precision Marks the Cast Work in the Hilarious Revival of Ives' Six Timed Parodies / A Largely Overlooked & Forgotten Irish Playwright Gets a Second / Chance at Mint Theatre. / There's Evil Onstage at BAM: Governess Battles Ghosts for Possession of Orphan Children / Piero Della Francesca in America? When Did He Arrive? How Did He Get Through Customs? / Trio of New Shows at the Met: Cambodian Rattan, Plain or Fancy, & Southern Poverty Photos. / Muni Art Society Faces New Challenges: After Hurricane Sandy, Sustainability & Livability. / My Old UC/Berkeley Artist/Designer/Friend, Jay DeFeo, Back at the Whitney! / Old Testament Sings Aloud: Mendelssohn's Elijah Electrifies at the Manhattan School / Ronald Lauder's "Magnificent Obsession" with German/Austrian Expressionism at Neue Galerie! / Elite Private School Then & Now: Making Boys into Men Doesn't Always Work.
January, 2013 Roundup
Peter Brook's THE SUIT, Martin Moran's ALL THE RAGE, DRAWING SURREALISM: The Art of Drawing as Manifest in the Creation of Surrealist Ikons, ALBRECHT DÜRER VERY BIG AT CHRISTIE'S: World Record for His Rhinoceros Woodcut!, Americana Week at Christie's Totals $15 Million: Edward Hicks' Wm. Penn Fetches $2.5 Million!, RENAISSANCE: Old Masters Week at Christie's, with the Walls Crowded with Masterpieces!, CHRISTIE'S OLD MASTERS WEEK EARNS TOTAL OF $88.4 MILLION, William Inge's PICNIC, Ettore Scola, Ruggero Maccari & Gigliola Fantoni's WORKING ON A SPECIAL DAY, Aaron Posner's Adaptation of Chaim Potok's MY NAME IS ASHER LEV, FORTUNY Y MADRAZO: An Artistic Legacy, Own a Piece of Tatzu Nishi? Discovering Columbus Amethyst Velvet, Couch & LED TV For Sale!
Drying Out with the Arts after Hurricane Sandy
What--in God's Name--Are We To Do about Acts of God? Will NYC Survive Another Hurricane?, Tuesday, 6 November 2012, Was Election Day: If You Think Hurricane Sandy was Traumatic, Whatever Became of Armistice Day? Veterans' Day Suggests Our Wars Will Never Stop, Already, Another Thanksgiving Day--But Still an Unlucky Day for Big Breasted Turkeys, Nationwide, Ayad Akhtar's DISGRACED, Neither Snow nor Sleet nor Hurricane Sandy Kept Fine Print Dealers from the Armory Show!, Charlie Strouse, Tommy Meehan, & Marty Charnin's ANNIE, Tony Chekhov's IVANOV, James McManus' BLOOD BROTHERS, Three Chaffers & a Cragin's SON OF A GUN, Beatrix Potter at the Morgan: How About Getting a Letter with Peter Rabbit Looking Out at You!, August Strindberg's THE STRONGER & CASPER'S FAT TUESDAY, Richard Nelson's SORRY, Aurelian Bory's SANS OBJET, The French Take Over the Park Avenue Armory for The Salon: Art & Design! , Andy Warhol Artifacts Cram Christie's Galleries, Plus Big Bucks for Impressionism & Modernism., Talk About Tax Cuts for The Rich! Sales Totals at Christies for the Warhol Week: $525 Million, Michael John LaChiusa's GIANT, Kev & Wil B's BLACK VIOLIN, Forget Pearl Harbor! Celebrate the Post War Transformation of Tokyo as an Avant Garde Nexus!, Out of the Ashcan & Onto Museum Walls: George Bellows, Graduate of the Ashcan School, Concealed Compartments? Roentgen Desks & Cabinets Are Crammed With Trick Drawers, Tommy Meehan & Chris Curtis' CHAPLIN, Eve Ensler's EMOTIONAL CREATURE, Daniele Finzi Pasca's DONKA: A LETTER TO CHEKHOV, Joshua Elias Harmon's BAD JEWS, Ivo van Hove's Modernised Shakespeare/Marlowe ROMAN TRAGEDIES, Bruce Graham's THE OUTGOING TIDE, Celebrating Aromas at MAD: The Art of Scent--1889 2012, Charles Morey's FIGARO, Christopher Durang's VANYA & SONIA & MASHA & SPIKE, August Wilson's THE PIANO LESSON, Linda Christian Sells for Half a Million Dollars: Formerly "Lost" Diego Rivera Portrait at Christie's!, Kathie Lee Gifford & Friends' SCANDALOUS: The Life & Trials of Aimee Semple McPherson, Colorful Canvasses Now On View at the Met Museum: MATISSE: In Search of True Painting , African Masks Again! Modernists & Primitives: AFRICAN ART: New York & The Avant Garde., Theresa Rebeck's DEAD ACCOUNTS, Joseph Robinette & Jean Shepherd's A CHRISTMAS STORY, Ruth & Augustus Goetz's Adaptation of Henry James's Washington Square: THE HEIRESS, American Masterworks in the Bohemian National Home, Near the New Second Ave Subway, More Records Broken at Christie's Auction House: Edward Hopper Sold for $9.5 Million On Line!, Food Over the Ages & Around the World: But No Ethnic Eats Mornings: Global Kitchen at AMNH., Bogart & Clarke's THE TROJAN WOMEN (After Euripides), David Henry Huang's GOLDEN CHILD, "Mad" King Ludwig II of Bavaria Will Be Back in Richard Wagner's Wahnfried Villa This Summer!
October Roundup
At the Frick: Mantegna to Matisse: Master Drawings from the Courtauld in London, BASHFORD DEAN & THE CREATION OF THE ARMS & ARMOUR DEPARTMENT!, Also At the Met Museum: Bernini in the Basement!, At MoMA: ALINA SZAPOCZNIKOW: Sculpture Undone, 1955 1972, Birdhead, Zoe Crosher, Shirana Shahbazi & Michele Abeles, Amazement at the Whitney: WADE GUYTON OS, Craig Wright's GRACE, Ed Rostand's CYRANO DE BERGERAC, Gene Ionesco's RHINOCEROS, Mario Fratti's SUICIDE CLUB & THREE SISTERS & A PRIEST, Steven Cosson & Michael Friedman's PARIS COMMUNE, From Salvation Army Soup Kitchen to Performing Arts Powerhouse: Thank you, Hugh Hardy!, Dark Doings in the Dark Room: FAKING IT: Manipulated Photography before Photoshop, ROBERT WILSON/PHILIP GLASS: Einstein on the Beach, DÜRER TO DE KOONING: 100 Master Drawings from Munich, JOSEF ALBERS IN AMERICA: Painting on Paper, Stephen Belber's DON'T GO GENTLE, At the Asia Society: CHINA CLOSE UP All Year Long!, BOUND UNBOUND: Lin Tianmiao--The Obsessive Thread Binder, Simon Stephens' HARPER REGAN, Circolombia's URBAN, Deanna Jent's FALLING, WW II & NYC: How New York City Helped Defeat the Japs & the Nazis!, The Hudson River School returns to Central Park West!, A Brief Brush with Daniel Brush at MAD: Gold/Silver/Diamonds--Blue Steel/Gold Light , Sitting in Chris Columbus' Sitting Room on Columbus Circle!, Pigpen Theatre's THE OLD MAN & THE OLD MOON, Brian Friel's LOVERS, Colman Domingo's WILD WITH HAPPY, Joe Papp Would Have Been Proud!, Ernie Lubitsch'sTHE LOVES OF PHARAOH, Daisy Foote's HIM, Teddy Roosevelt Rides Again! $40 Million Restoration of Memorial & North American Mammals!, Edvard Munch Screams Again at MoMA: Only On Loan for Six Months! Otherwise, Oslo!, The Art of Richard Artschwager Pre empts an Entire Floor at Whitney Museum!, At the Guggenheim: Picasso's Black & White Artworks, Plus: Looking Ahead at Guggenheim Museums Worldwide, The Builders Association's HOUSE/DIVIDED, Millionaires Buy Treasures of Other Millionaires at Christie's: Artworks & Furniture Recycled!, Not Porn! Anxiety Rather Than Arousal: Egon Schiele's Women at Galerie St. Etienne, Edward Albee's Steppenwolf WHO'S AFRAID OF VIRGINIA WOOLF?, Theatre Rites' MOJO, Brian Freel's THE FREEDOM OF THE CITY, Hurricane Watch: Vintage Vincent Van Gogh Portrait On Loan at the Frick Collection!
September Roundup
Back from a summer's round of European festivals, Glenn Loney offers September's Show Notes and brief observations on museum & gallery shows.
Nuremberg Diary 2012
Dürer on display in his home town, My Very Own Dürer Experience: Coming to War Torn Europe in the 1950s, My Dear Late Friend: Matthew Matthias Prechtl.
Vienna: Celebrating Gustav Klimt on his 150th Anniversary!
The Beethoven Frieze at Secession , At the Leopold Museum: Klimt Up Close & Personal, 150 Jahre Gustav Klimt at the Obere Belvedere, AT MUMOK—THE LUDWIG MUSEUM OF MODERN ART: ART & FASHION SINCE MODERNISM!, AT VIENNA'S MAK, KLIMT HAD ALREADY COME & GONE AWAY AGAIN, MADE 4 YOU: Design for Change, DINGE: schlict und einfach—THINGS: plain & simple…, From Palais Liechtenstein in Vienna to the Principality of Liechtenstein.
Report from Berlin's DDR Past in Summer 2012
Two museums from Berlin's postwar years as a divided city: The Stasi Museum and The DDR Museum.
The Hundred Day Art Show that is: dOCUMENTA (13)
The Good News is that the Missing Head of the great Herkules Denkmal that stands high above the City of Kassel has been restored! Few who come to Kassel to see dOCUMENTA (13), however, even realize that Herkules is silently standing High Above them, looking down on what passes for Contemporary Art in the Land of Hesse in 2012. It may seem Odd that—in 2012—this is the 13th dOCUMENTA. But the 13 has nothing to do with this Actual Year—possibly even less to do with Art as it was once Understood—but only that this is the Thirtheenth of these wide ranging Art Exhibitions.
A Farewell to Salzberg, If Not to Arms?
Visual Arts & Museum Shows On View During the Salzburg Festival 2012, The Trapp Family Lives Again at the Panorama: Reality & The Sound of Music Special Exhibition., At Salzburg's MoMA—or Museum der Moderne: John Cage und…, At The Rupertinum of the Museum der Moderne: Merce Cunningham Dance Movement Photos!, Celebrating Marcus Sitticus in the Dom Museum, Curtains—on 2 September—for Salzburg's Barock Museum in the Mirabel Gardens!, Die Kunst zu Wohnen—Good Housekeeping in the Late 18th Century…, Sunday, Bloody Sunday in Salzburg: Not a Creature was Stirring, Only Some Masses …, See Some of the Austrian Alps!
June wasn't bustin' out all over!
Going Crazy at MAD: New Shows Feature American Indian Art & Elegant Jewelry! Plus: June theater roundup.
This was the Tornado that was and still is!
Report for The Trip to Branson & Dolly Parton's Dixie Stampede in May 2012
That was the Art Safari that Was!
Report on The Trip to Bentonville & Crystal-Bridges-Museum in May 2012.
Mayday! Mayday!
"Clybourne Park" is Raisin in the Sun territory, with racial problems, Spring Season Double Header at the Jewish Museum and more!
April is the Cruelest Month, Again!
"Newsies" at the Nederlander, Gore Vidal's "The Best Man," Artists from Shanghai at Asia Society, Masterworks at the Frick and more!
February Arts Rambles
Philippe Entremont Conducts, With Three Outstanding Young Pianists in Mozart Concertos!, Mellon Lecture at the Morgan: Fantastic Photos of Farnese Gallery in French Embassy in Rome, Collegiate Choral Sing Bruckner's Te Deum at Carnegie: Anything But TeDious!, Too Many Unresolved Plot Lines in Instinct on Theatre Row: What's It All About?, Little Known Rossinis at Juilliard: Silken Ladders & Repudiated Marriage Contracts, Renoir's Full Length French Dancers at the Frick!, Charles Ryskamp Lives Again at the Frick!, Demented & Defeated Artist in the Desert at Repertorio…, Take Your Medicine! Primary Stages Prescribes RX at 59E59…, Mile High New Play Interlude in Denver!, Prints, Prints, & More Prints at MoMA: Even Hanging on Wash Lines!, Vistas of Endless Lottery Ticket Mosaic Space: Ghost of a Dream/forever, almost at Davidson!, NY City Opera Lives Again! Jonathan Miller's La Traviata at BAM!, Masterful Kurt Masur Master Class in Conducting at Manhattan School, THE ANNUAL: 2012—At the National Academy! Not To Be Confused with the Whitney Biennial…, Rufus Wainwright's Prima Donna Takes a Bow at BAM!, The Steins Collect & Degas Draws at the Met Museum:, What Is It about Those Art Loving Jews? A Genius for Collecting Avant Garde: Cones & Steins!, The Civil War Revisited at the Grolier: Is That the Appomattox Courthouse?, Way Out West on 42nd Street: CQ/CX—The Atlantic at the Peter Norton Space, Crushed Auto Bumpers & Colorful Crumpled Truck Bodies: Chamberlain at the Guggenheim, Learning How To Drive All Over Again: Paula Vogel's Behind the Wheel Play Revived, More Arts Treasures Up for Grabs [or Bids] at Christie's, Freshly Minted Rutherford & Son Revival at the Mint Theatre!, At the New City, "Christopher Marlowe's" Julius Caesar?, The Set Implodes & Explodes—With Some Assistance—in Assistance at Playwrights Horizons, Gingerbread Ahead! Amato Hansel & Gretel at the Manhattan School!
Past columns: Loney's Museum Notes
---
OUT OF TOWN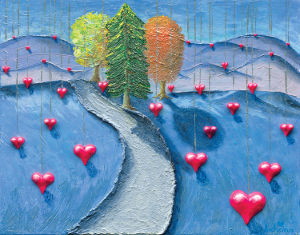 "Dripping Hearts" (Photograph by Will Drescher)
Autumn de Forest at the Butler Institute of American Art
"Autumn de Forest: The Tradition Continues," which opened at the Butler Institute of American Art's Mesaros Gallery in Youngstown, Ohio, on April 10, is noteworthy because the painter, now fourteen, has been painting since she was five. By Nancy Kempf.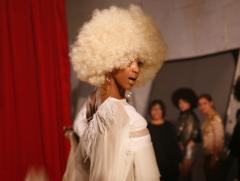 Carrie Mae Weems. Afro-Chic (video still), 2010. Photo courtesy of the artist and Jack Shainman.
The Many Shades of Black
Carrie Mae Weems, whose subjects she examines from every conceivable angle, are race, gender, class, identity, culture, history and institutional power – in short, what it ultimately means to be a human being, past and present – is currently presenting three decades of her work at the Frist Center For The Visual Arts in Nashville, Tennessee. By Edward Rubin.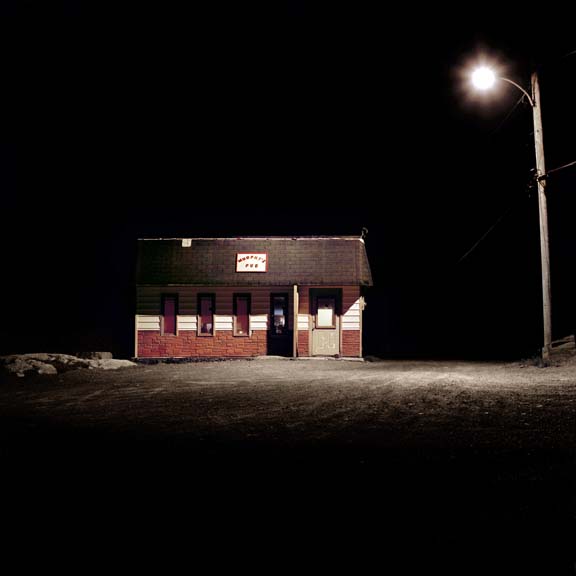 Photo By Scott Walden in "In The End A Good Story Is All That Remains," an exhibition of New York Artists at Fran Hill Gallery in Toronto.
In The End A Good Story Is All That Remains: Eight New York Artists Figuratively Speaking
"In The End A Good Story Is All That Remains" comprises the recent work of an eclectic group of eight New York City-based artists. As its title and subtitle imply, the human figure informs storytelling, whose attendant connotations of fantasy, intimacy, and attentiveness set the exhibition's tone. By Earl Miller.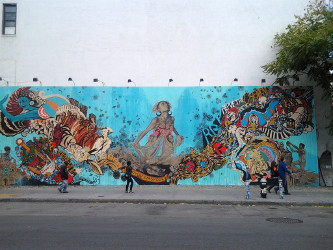 Recovery Diaspora by @swoonhq. Photo by @venusinorbit. This mural depicts the tremendous and inspiring way that the community came together to recover from Hurricane Sandy. Today, over 9 million people in Central and Southern Philippines experience similar devastation with Typhoon Haiyan. Please go to www.nafconusa.org to donate. Please send your love and positive thoughts to the victims and their families. Maraming salamat! Bowery Mural, East Houston and Bowery, NoHo, Downtown Manhattan, NYC.
ISSUES AND ANSWERS
"The Art for Social Justice Project"
Finishing law school in 2012 was, in so many ways, a huge victory and emancipation. After overcoming the numerous obstacles that come with a brush with the criminal justice system, I felt hugely empowered and inspired to help others with similar experiences. By Angela Torregoza.