"In Honor of The Great Leader Father". By Kim Il Soon aka Mina Cheon.
Choco·Pie Propaganda: From North Korea With Love.

This amazing art project is a political statement, a cry for peace, a collection of beautiful, colorful paintings and best of all, it also contains a lot of Choco·Pies for the guests to eat.
The woman behind it all is Mina Cheon (aka "Kim Il Soon"), who is a Korean-American new media artist, scholar, and educator. Since 1997, she has been living between Baltimore, New York, and Seoul, Korea.
The first floor of the exhibition is a big white room with very colorful paintings of what on the first sight look as propagandistic paintings of North Korea's leader and the military. But at a closer look all the bright paintings are parodic paintings of North Korea's former and current leader and self portraits of Mina Cheon's North Korean artistic identity Kim Il Soon. The room consists of paintings of military positions repeated in front of bright colored flags, "Lil' Kim" (Kim Jong-un) on the cover of Time Magazine, Kim Il Soon as a farmer in The Seven Years Plan and a painting of Kim Il Soon holding a North Korean rifle while she is embracing a portrait of Kim Jong-il.
Let's Eat Choco·Pie Together. By Kim Il Soon aka Mina Cheon.
Mina Cheon states that Kim Il Soon is a concept "born of the necessity to promote global peace and Korean reunification." With ironic titles as "Strength and Military," "In Honor of The Great Leader Father" and "Happy North Korean Girl" this exhibition is full of hope, irony and contradiction. The paintings are pop art meeting activism and propaganda posters. It is a bright and colorful universe, yet one can't help get a sense that there is a deeper and very important message in these paintings.
In the basement the installation of 10,000 Choco·Pies "Eat Choco·Pie Together" takes up almost all the floor space. At the Kaesong Industrial Complex, one of the key symbols of cooperation between North and South Korea, the factory owner used Choco·Pies as a way of rewarding his North Korean workers instead of cash bonuses (cash is forbidden). The shutdown of the Kaesong Industrial Complex in 2013 led to an extreme increase in the price of a Choco·Pie and it is now the most sought after consumer object in North Korea.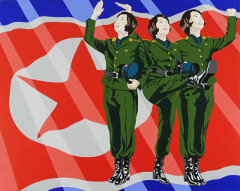 Three Graces. By Kim Il Soon aka Mina Cheon.
The exhibition is a powerful mixture of beautiful, bright colors, important political messages, an artistic approach to a world problem and most of all a wish for peace. You exit the exhibition with gained knowledge on the divided country, a taste of Choco·Pie in your mouth and a desire to know more.


If you go:
CHOCO·PIE PROPAGANDA
MINA CHEON AKA KIM IL SOON
From North Korea with Love
Ethan Cohen Fine Arts
251 W. 19th St.
www.ecfa.com
January 23 - February 28, 2014
Free admission