The Aicon Gallery is located at 35 Great Jones Street in Manhattan's East Village and opened as a gallery space in 2002. I had a conversation there with Curator Awam Kmpka on November 30 at the opening of "Interwoven Dialogues: Contemporary Art from Africa and South Asia." Kmpka related, "The owner of this gallery and I have been talking for a while about possible collaborations. We said, 'Why don't we have a south to south conversation where it's Africans and Asians and not just Europeans all the time?'" That was the impulse to develop this collaboration of artists in this ongoing exhibit.

The exhibit features works comprised of ten artists, some of whom are from Nigeria, Morocco, Senegal, Ghana and Algeria. The others are from India and Pakistan. Some of the African artists were chosen by Kmkpa and brought into this exhibition after previously working with him.
The press release says, "The exhibition is anchored around two concepts – (1) an exploration of the tactile quality of fabric and other related material and how it affects image-making and, (2) the design elements that infuse African and South Asian art which are in turn informed by a broad-ranging, innovative pattern-making traditions."
"All of the artists are superstars in their own right, but they have never been put together like this in such a small scale. We use textiles as the motif and it shows how they are designed to make statements about the human condition," Kmkpa added.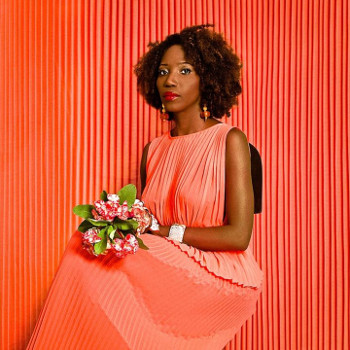 "Adama (Adama Paris" by Omar V Diop.
Photo by Aicon Gallery
As you walk into the galleries from door, you are greeted by "Adama (Adama Paris)," a pigment inkjet print piece made in 2013 and used as the face of the exhibition. It was created by one of the African artists, Omar V Diop of Senegal.

The exhibit suits the vision of The Aicon Gallery. Their website states that they "provide a vital platform for Modern and Contemporary artists from South Asia as well as the Middle East and, finally, diasporic artists to realize their vision in a global and ever-shifting world. Alongside in-depth, focused solo shows, the gallery presents a program of curated group exhibitions that are international in their scope and ambition. Following recent debates in institutional curating, the program deliberately links together art produced recently with art made in the latter half of the 20th Century."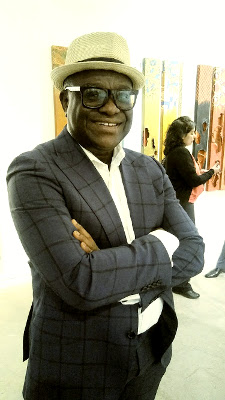 Awam Kmkpa
Photo by Kamoier Williams.
Not only is Awam Kmkpa this exhibition's curator, but he is a renowned Nigerian actor, author, documentary filmmaker, a dramatist and a global visiting associate professor of dramatic arts at NYU Tish School of the Arts, teaching drama and curatorial theory.

He explained to me the contex of some of the pieces that were close to where we stood.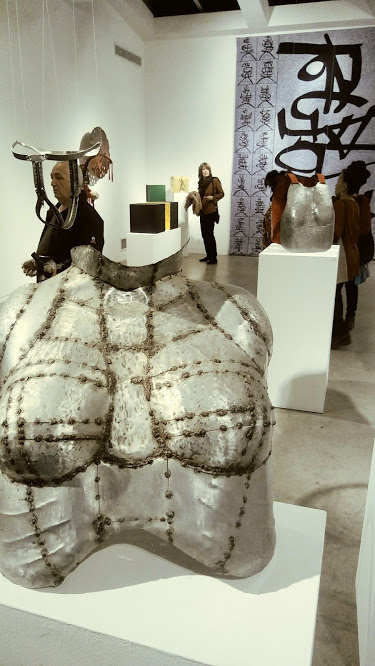 "Body Bust" by Naiza Khan.
Photo by Kamoier Williams
This is a peice by Naiza Khan (b. 1968, Pakistan). "She lived in London, and her work is a statement on the male gaze of the female body" Kmpka said, referring to this armory pieces called "Body Bust", with "Body-bullet" platformed close by. Both peices are made of galvanized steel. She also had two suspended pieces called "Chasity Belt I and II" made with metal and fabric zips.
While the exhibition featured seven of Naiza's pieces, the gallery included additional photographs on their website of Khan posing with the work. Kmpka adds, "It's addressing how some men like the idea that a woman's body should be contained."
Naiza Khan's photographs. Photo by Aicon Gallery
"This man works with divine calligraphy. He is using Arabic caligraphy artistically and keeps textile as the template." Kmpka was referring to "La Prière de l'Absente," a large fabric composition designed in 2014 by famed Algerian artist Rachid Koraïchi. The hanging work is roughly twelve feet by nine feet in size and its title, "La Prière de l'Absente," translates from French to "The Prayer of the Absentee."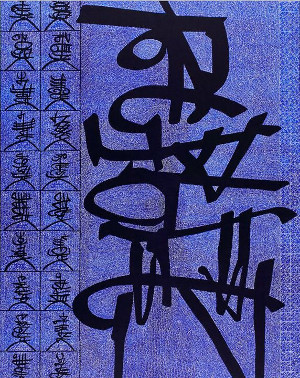 "La Prière de l'Absente,"
by Rachid Koraïchi. Photo by Aicon Gallery
We also admired the two portraits by Omar Victor Diop of Senegal, creator of the exhibition's cover photo, and his two additional inkjet prints on Hahnemuhle paper. Kmpka explained, "The subject of these is not just the human being, but it is also the use of patterns and geometries. When he sets up his studio, he rehearses the space and lets the patterns determine what the subject will wear, and how they will pose."
My conversation with Kmpka really left a heavy impression when he explained to me the context of Peju Alatise's peice titled "Lost". It's comprised of mixed media pieces created in 2015 that combine painting and sculpture.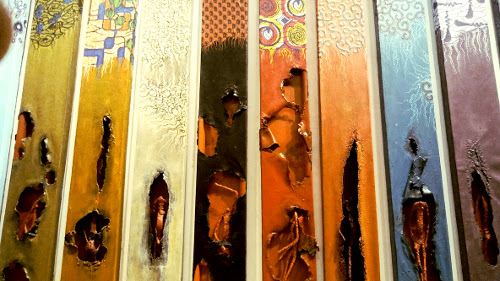 Photo by Kamoier Williams
He said, "Her work is mostly about women's oppression. This piece is about the young girls who were kidnapped in Nigeria."

He beckoned to the patterns at the top of the sectioned canvases and swept his hand reaching toward the bottom saying, "Beyond all the beauty and glamour of the country [Nigeria], there are people who are lost and really suffering. It's as if the human figures at the bottom are breaking out for attention." Peju Alatise is not only a visual artist and sculpture, but she is recognized as one of Nigeria's most political architects.
After my talk with Kmpka, I had a clearer outlook on the exhibition and I walked around the gallery to get a closer study of each piece.
I couldn't help but eavesdrop on some of the conversations I heard among all the attendees.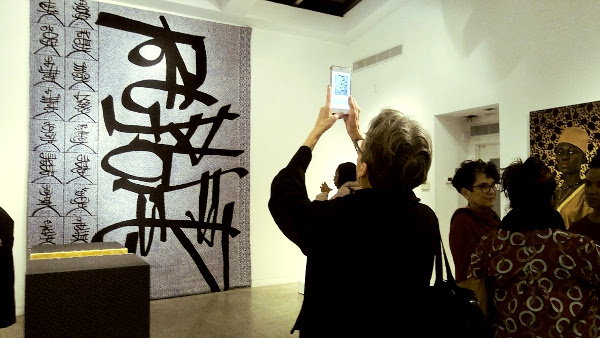 Photo by Kamoier Williams
The conversations I heard were a personification of the "Interwoven Dialogue" that Aicon Gallery and Awam Kmkpa wanted to achieve. They truly created an event to influence people of different races, ages, professions, and interests whether their interests lie in politics, intricate artistic designs, embroidery techniques or environmental concerns. Every discussion led back to one answering one underlying concern: How do you feel about the current condition of humanity?
These are all artists featured in the exhibition.

Peju Alatise (b. 1975, Nigeria)
Rina Banerjee (b. 1963, India)
Omar Victor Diop (b. 1980, Senegal)
Hassan Hajjaj (b. 1961, Morocco)
Aisha Khalid (b. 1972, Pakistan)
Naiza Khan (b. 1968, Pakistan)
Rachid Koraïchi (b. 1947, Algeria)
Abdoulaye Ndoye (b. 1951, Senegal)
Mithu Sen (b. 1971, India)
Rikki Wemega-Kwawu (b. 1959, Ghana)
IF YOU GO
November 30, 2017 to January 6, 2018
Tuesday - Saturday, 10am - 6pm
Aicon Gallery, New York
35 Great Jones Street
New York, NY 10012
212-725-6092
newyork@aicongallery.com