January 2012 Roundup
Digital & Design Wonders at Newly Recreated New York Historical Society!, Our Own Grandma Moses Foremost among Outstanding Outsider Artists at Galerie St. Etienne, Rosemary Harris Lives On The Road To Mecca, But Watch Out for Sudafrikaanse Dominies!, George Washington Crosses the Delware Once Again in Met's New American Wing!, On Auction at Christie's: Fugitive Treasures from the American Wing?, Free Ai Wei Wei in Bregenz Last Summer, But Now He's On Display Near Frank Ghery…, Shuffling Through The Picture Box Yields Nostalgia, But Not Powerful Plot Inspirations, Sparse Pickings in Contemporary Art at Phillips de Pury: Haring, Rauschenberg, etc, At Stanford, Be Careful With Whom You Room: Outside People May Prove a Problem!, Stage Stars' Fashionable Costumes & Hats Excited the Matinée Ladies: Play Pictorial at Bard, Dropping by Bonhams' To Check on Forthcoming Auction Treasures…, Close Up Space: Literary Editor & English Prof from Hell: Bad Dad's Daughter Speaks Russian…, Rembrandt & Friends at the Morgan: Bold Strokes in Vivid Centuries Old Inks!, Weegee Lenses Murder + Historic Magnum Contact Sheets at International Photography Show, Armory's Winter Antiques Show Echoes Met Museum's American Wing Treasures, Kevin Spacey Astonishes in Richard III at BAM: A Bum Back & a Bum Leg Don't Deter Him…, Master Scroll Painter Fu Baoshi Survives Two Revolutions, Outsider Art & Effortful Amateurs at Metropolitan Pavilion: How About Tramp Art?, Outsider Art & Self Taught Artists at the Outsider Art Fair down on West 34!, Roy Arias Sponsors International Theatre Fest, But Match Doesn't Strike a Light…, In Russian Transport, Lad Drives Under Age "Models" from JFK, Working for Russki Mafia Uncle, Cynthia Nixon Shaves Her Head for Wit, But the Brain Is Still Sharp…, Why Didn't Martin Luther King Create Porgy & Bess: Who's This White Guy, Anyway?, From William Christie & Enchanted Island at the Met to Baroque Opera at Juilliard's Tully Hall, Look Back in Anger Revived, But Young Brits Have More Cause for Anger Now Than Then…, Thundering Thunderbirds Take Over New City: Impressive Amer Ind Dances & Rituals, Cultured Pearl of a Play at the Pearl: GBS's The Philanderer: Lessons To Be Learnt!, Phantom of the Opera breaks records.
December in New York
Let's Beat Those Commie Russkis! The CIA Covertly Arms What Became the Taliban!, Shen Wei Finds Artful Ways To Fill the Park Avenue Armory with Dance Arts, Getting Falling Down Drunk & Trashing a Motel Room on Derby Day…, The Monstrous Golem Comes from Prague to East Fourth Street: Be Clay Once Again!, Rent Began Life at the New York Theatre Workshop: Will Once Move to Broadway?, Antiquities at Christie's: Headless Statues & Bronze Man Without a Leg To Stand on!, James DePriest at Carnegie Hall: Siwoo Kim Is Juilliard Orchestra Violin Soloist!, Stick Fly at the Cort: Family Problems for Prosperous Blacks on Martha's Vineyard!, One of Those Coen Brothers Returns: Happy Hour on West 42nd Not So Much Fun…, All Women Are Not Like That, Amadeus: Così fan tutte at the Manhattan School, Beckett's Krapp's Last Tape at BAM: Not Sam's Last Crap, by Any Means, Ay, Federico! Lorca's Bow Tie at the Duke: Young Artists in New York Tie It On!, Ana Tzarev Explodes Her Paint Tubes To Celebrate Russian Fairytales, For Booklovers & Others at the Grolier: Imperial French Type Dies in Many Languages…, Sex in All Its Possible Forms & Positions: Burning Down on Theatre Row!, No Calorie Counts on the Meat Pies in Titus Andronicus: Don't Eat Your Kids!, Maple & Vine Is Not Hollywood & Vine: It's a Made Up 1950s "Family Values" Town!, The Frick's New Glassed Portico: Looking Out on the Forbidden Garden, Afternoon at the Asia Society: Sarah Sze's Fine Lines, Plus Coins on the Floor…, A Moment at MoMA: Sanja Ivekovic--Women's Issues/Women's Photo Portraits!, Brooklyn Museum Library & Others at Bonham's: Librarians' Night Among Autographs, On a Clear Day, You Can See Harry Connick, Jr!, Potential Brain Damage at the Park Ave Armory: STREB…Falling on Mats from Heights!, Juilliard at Tully: From Mozart's Jupiter To Prokofiev's Romeo & Juliet, Shanghai Cirque at New Vic: Everything That Streb Was Not!, Elizabeth Taylor's Jewels Dazzle at Christie's Sale: $156.8 Million, Plus Luggage!, A Bread & Puppet Christmas with Two Quite Different Shows: Attica for Xmas?, Three Met Press Previews: Renaissance Portraits, Duncan Phyfe, Plus Amer Ind Artifacts, Chopping Down The Cherry Orchard Down on East 13th! But No Axe Sounds?, Once, There Was Carmen Jones: Now We Have Lysistrata Jones, Who's No Relation…, Bonnie & Clyde: Where Is Faye Dunaway When We Need Her? Warren Beatty?
Turkey Week and End of November
Juilliard Chamber Symphony at Alice Tully: Standing Violinists, Sitting Cellos!; Peter Brook's Beckettian Fragments at Barishnikov: Gestures & Words…; Weak King Richard II Surrounded by Favorites at Court: Gay Buddies Bad Policy!; Who's Banging on That Door? Who Fucked Up on That Military Mission?; Challenge To Book of Mormon: Musical Version of Silence of the Lambs!; The Horrors & Joys of Gay Marriage! Standing on Ceremony Comes Out of the Closet!; The Great War Re Visited: The Blue Flower Sings of Lives Destroyed & Collaged.; Into the Woods with Wild Animals You Should Know: Watch Out for Feral Teenage Boys!; Japanese Narratives at the Met Museum: Plus Fabergé, Renaissance Venice + More…; Important American Paintings & Sculptures at Christie's: Rich Collectors Need Cash?; Suicide, Incorporated Appropriately Sited in the Black Box at the Pels on 46th & Sixth.; Seminar with Alan Rickman at the Golden: $5,000 Apiece To Learn How To Write Fiction?; Moses Confronts Pharaoh at Carnegie Hall: Not the Aida Legend: Rossini, Not Verdi!; Hanging Boys & Hanging Artworks In Guggenheim Rotunda + Stuffed Dead Horses!
Town Hall to MoMa and More
No Performer Mikes on stage at Town Hall: Scott Siegel's Broadway Unplugged 2011!; Into Space & Beyond Planet Earth at Museum of Natural History: Just Press the Button!; No Cantonese, If You Please: Try To Learn Ch'inglish—But It Loses In Translation…; Why Are There No Skinny Boteros? Acres of Latin American Art at Christie's!; Cowardian Comedy of Manners Elegant But Mannered: Kim Cattrall in Private Lives.; The Usual Suspects in MoMA's Contemporary Galleries: From 1980 to NOW…; New Maxwell Davies Opera: Students Under Oppression: From Hitler to Mao to Ole' Miss.; Gender Bending American Art at Brooklyn Museum: HIDE/SEEK—Who's Gay or Not?; Look Where It Comes Again! Not Hamlet's Ghost, but the Specter of GODSPELL!; Who Would Believe John Malkovich as a Viennese Serial Killer? With an Orchestra?; Lusty Dancing for Lughnasa, But Tragic Lives for Brian Friel's Ballybeg Mundys…; Musical Sunday Downhill From Riverside Church: Opera Scenes & Eschenbach.; Don't Take It Straight! Milk Like Sugar at Playwrights' Horizons!
From Diego Rivera to Orwell and more
Diego Rivera's 1930s MoMA Murals Again at MoMA: But No Frida Kahlo…, Two Nights Downhill from Grant's Tomb: Creationism from Haydn + Opera Arias!, New York City's Oldest Museum Now Its Most Digitally Modern: NY Historical Society, Art Plunderer Sherrie Levine Uses Walker Evans, Plywood, & Four Billiard Tables…, The Tower of Brooklyn Could Be Our Tower of Babble On: BAM's Brooklyn Babylon, On Forty Second Street, Once Again TAPS IS TOPS! Untapped at the New Victory, PETA Alert! Check Out Venus in Fur! Did Any Foxes Die for This S&M Romp?, Park Avenue Armory Transformed with Pavilion of Art & Design New York: Deco & More!, Atmosphere of Memory Not So Spherical--Nor Empirical…, Before 1984: George Orwell on British Imperialism in Burmese Days.
There wasn't any post-Halloween letdown
In the Depths of The Great Depression, Lefty Lenses at Work in the NY Photo League…, Which Is Worse: To Be a Foster Child or To Be Adopted? How About A Charity Case?, Stunning Auction Catalogues at Phillips de Pury: Own Your Own Art Gallery for Only $35!, Giant White Ghosts on Chicken Footed Stilts Save Shackleton Puppets at BAM!, Swedenborgian Angels Dance Once Again: Not at BAM, But at LaMaMa's Ellen Stewart…, Print Fair at Park Ave Armory: Penny Plain/Tuppence Colored Not So Cheap Anymore!, The Good Old Days at Judson Hall Live Again: Queen of the Mist Subtly Sings…, Sam Waterston Bravely Climbs That Final Actors Mountain: KING LEAR, Around the Corner from Ladurée/Paris: Mental Earth Growths & Smears at Knoedler!, Other Desert Cities, Reborn from Lincoln Center, Now in the Tiny Little Booth Theatre!, Brits Off Broadway at 59E59: Hop on Over To See Bunny!
What went on around the October snows?
Last Week, Islamic Art at the Morgan; This Week, More at the Met Museum!, Splintered Souls Over on West 43rd Street: Call Beth Israel!, Ronald Lauder's Treasures at Neue Galerie: All That Money Can Buy…, Sons of the Prophet: Not Sa'udi Arabs, But Lebanese, If You Please!, Nicole Awai's Almost Undone Show Almost Over…, Pete Gurney's 1974 Children Come Home To Roost at Beckett, Flaming Twenties Live Again in Brooklyn: Youth and Beauty!, Ingmar Bergman's Cries & Whispers Drastically Deconstructed at BAM!, Silver Screen/Silver Prints: Hollywood Glamour at the Grolier Society!, Film Noir Fashions on Parade at Lincoln Center Performing Arts Library, Chris Marlowe's Love's Labour's Not at All Lost at Public Theatre…, Master Pianist Alfred Brendel Gives a Master Class at Juilliard!
All around, it was a bad week.
Visible In the Flesh Ghost in the Machine at New City: How Did She Die?, There's the Grand Canal in Venice; Then There's the Root Canal Over on East 40th…, Woody Allen, Ethan Coen, & Elaine May Pen Plays, Relatively Speaking…, Islamic Manuscript Illuminations at the Morgan: But The Prophet Nixed Human Images!, Beijing Dance Theatre Ensemble Moves Through a Haze at BAM!, Young Gay Jewish Playwright Makes a Submission to the Humana Festival, Shtetl Tales: The Learning Play of Rabbi Levi Yitzhok, Son of Sarah, of Berditchev…, Very Athletic [Abridged] Complete World of Sports at the New Vic: Olympics, Anyone?, Meanwhile, in Future Holiday Destination, Libya, They Shot the Bad Guy!
A good "Cymbeline," Steichen's Vintage Photos and more
Broadway's Own Paul Gemignani Gives Our Regards to Broadway from MSM…, Steichen's Vintage Photos & Stieglitz's Artists Emerge from Met Museum Vaults!, Stop! Don't Take That Bus! Watch Out for Born Again Christians & Arson!, Man & Boy on 42nd Street: Father Pimps Son To Save Big Business Deal!, Thursday Gallery Night on 57th Street: So Much Art—So Little Time To See It!, AIDS Support Group Metaphorically on the Raft of the Medusa: Shark Alert!, Marta Eggerth Still Singing at 99: The Queen of Viennese Operetta Returns!, Garment Workers: Awake & Sing! Pins & Needles Revue Makes a Comeback!, Best Cymbeline Staging Ever by Fiasco Theatre Definitely No Fiasco…, Chinese Slave Labor Children Made Your iPad: Mike Daisey's Steve Jobs Takedown.
From Picassos to actress Zoe Kazan
Savoring Early Picassos at the Frick: From Collage to Cubism & Onward!, With Woodie King at the Castillo: New Federal Moves To 42nd Street!, David Smith's Steel Constructions at the Whitney: Welders of the World Unite!, Martin Luther King's Last Night at the Lorraine Motel: Early Check Out—, Actress Zoe Kazan Writes a Play: We Live Here at Manhattan Theatre Club, Could Edgar Bergen Have Done This: A Singing Ventriloquist in a Musical?, Nicky Silver Strikes Again: Linda Lavin Is Your Basic Jewish Mother!, Another Kind of Jewish Mother at 59E59: She Deserts Her Husband for a Paramour!
Fall/Winter 2010 Roundup
Metropolitan Museum, Stieglitz, Steichen, Strand, Haremhab: The General Who Became Pharaoh, Our Future is in the Air, American Museum of Natural History, Brain: The Inside Story, Knoedler, The Grenfell Press: Thirty Years of Collaboration, Guggenheim Museum Chaos & Classicism: Art in France, Italy, & Germany, 1918-1936, Frederick Brosen: Recent Watercolors, Whitney Museum, Charles LeDray: workworkworkworkwork, Modern Life: Edward Hopper & His Time, Jewish Museum, Houdini: Art & Magic, Kips Bay Decorator Show House, MoMA, On Line: Drawing Through the 20th Century, Lincoln Center for the Performing Arts, Alwin Nikolais' Total Theatre of Motion, Park Avenue Armony, IFPDA Print Fair 2010, Brooklyn Museum, Norman Rockwell: Behind the Camera, Vilcek Foundation, Toshiko Nishikawa: Senbazuru.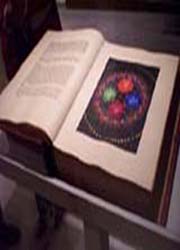 One of Zürich's Rarest of Books was locked in a Bank Vault for decades, never to be seen. Now, however, the book itself & the remarkable facsimile that has been digitally created from it is now on view here in Manhattan at the Rubin Museum! closes Jan 25th 2010.
Four hundred years of Hudson up the river!
Rare Books Pay a Visit to Manhattan for a 600th Anniversary!, Don't Judge a Red Book by Its Cover?, Architectural Phantasies Hidden Away at the Met Museum!, Lincoln & John Brown on Central Park West:, Hall a Century for the Guggenheim, also Lincoln Center!, Feminist Jewish Artists Confront Orthodoxy!, From Ceramic Clays to Kaolin Porcelains:, Celebrating the Arts in the Former B. Altman Building.
Francis Bacon (British, 1909–1992). Self Portrait, 1973. Oil on canvas, 77 15/16 x 58 1/16 in. (198 x 147.5 cm)

It will be a very busy cultural summer in New York...
At the Ana Tzarev Gallery, At the Brooklyn Museum, At the Cooper-Hewitt National Museum of Design, At the Frick Collection, At the Galerie St. Etienne, At the Grolier Club, At the Guggenheim Museum, At the Irish Arts Center, At the Jewish Museum, At Knoedler & Company, At the Metropolitan Museum of Art, At the Morgan Library & Museum, At MAD/The Museum of Arts & Design, At the Municipal Art Society, At the Neue-Gallerie, At the New-York Historical Society, At the Park Avenue Armory, At the UBS Gallery.
Ernst Ludwig Kirchner (1880 1938). Berlin Street Scene (Berliner Strassenszene), 1913 14 Oil on canvas, 121 cm x 95 cm (47 5/8 x 37 3/8 in.). Neue Galerie New York and Private Collection, New York.
Spring is coming, discover European painting.
Asian Journeys: Collecting Art in Post-War America / Unearthing the Truth: Epypt's Pagan & Coptic Sculpture / Hernan Bas: Works from the Rubell Family Collection / Arthur Szyk Illuminated—New York / Masterpieces of European Painting: from the Norton Simon Museum / The Third Mind: American Artists Contemplate Asia, 1860-1989 / Reclaimed: Paintings from the Collection of Jacques Goudstikker / The Danube Exodus: the Rippling Currents of the River / John Gerrard: Knoedler Project / Dance Theatre of Harlem: 40 Years of Firsts / Madison Square Art 2009: Shannon Plumb: The Park / Raphael to Renoir: Drawings from the Collection of Jean Bonna / Pierre Bonnard: The Late Interiors / Cast in Bronze: French Sculpture from Renaissance To Revolution / On the Money: Cartoons for The New Yorker / The Thaw Collection of Master Drawings / Studying Nature: Oil Sketches from the Thaw Collection / Martin Kippenberger: The Problem Perspective / Klara Liden: Projects 89 / Brücke: The Birth of Expressionism in Dresden & Berlin, 1905-1913 / The Orchid Show: Brazilian Modern / Audubon's Aviary: Some Things Old, Some Things Borrowed, but Most Things New / New Children's Center in Operation! / Sir Norman Foster To Design New Central-Library! / Sanford Smith's 21st Annual Works on Paper / Placing Avery: Paintings & Prints from Neuberger Museum of Art / Jenny Holzer: Protect Protect
At the American Folk Art Museum / MARTIN RAMIREZ, The Last Works / At the Ana Tzarev Gallery / SEE THE WORLD THROUGH THE EYES OF ANA TZAREV, JOURNEY OF DISCOVERY / At the Bard Graduate Center Gallery / 'TWIXT ART & NATURE, English Embroidery from The Metropolitan Museum of Art, 1580-1700 / At Bonhams / At the Brooklyn Museum / THE BLACK LIST PROJECT, Timothy Greenfield Sanders & Elvis Mitchell / At the Maxwell Davidson Gallery / MEL ROSAS, La Calle Desconocida (The Unknown Street) / At the Galerie St. Etienne / "THEY TAUGHT THEMSELVES," American Self Taught Painters Between the World Wars / At the Leslie/Lohman Gay Art Foundation / IMAGES FROM THE TRIANGLE, The AIDS Paintings of Peter Harvey / At Knoedler & Company / JOHN WALKER, Drawings, 1973-1975 / At the Lincoln Center Performing Arts Library & Museum / CURTAIN CALL, Celebrating a Century of Women Designing for Live Performance / At the Metropolitan Museum of Art / BEYOND BABYLON, Art, Trade, & Diplomacy in the Second Millennium BC / CHOIRS OF ANGELS, Painting in Italian Choir Books, 1300-1500 / CALDER JEWELRY / Mary & Michael Jahars Galleries for Byzantine Art, & The Medieval European Art Gallery / At the Morgan Library & Museum / PROTECTING THE WORD, Bookbindings at the Morgan / At MoMA/The Museum of Modern Art / PIPILOTTI RIST, Pour Your Body Out (7354 Cubic Meters) / MARLENE DUMAS, Measuring Your Own Grave / ARTIST'S CHOICE, VIK MUNIZ, REBUS / Sanford Smith's Special Shows / 23rd Annual Modernism at the Park Avenue Armory, A Century of Style & Design, 1905-2005 / Outsider Art Fair at the 34th Street Mart / At the UBS Gallery HEYDAY, Frederick W. Glasier's American Circus, 1890-1925.
"Earth Info" in CLIMATE CHANGE: The Threat To Life & A New Energy Future. Through August 16, 2009 at American Museum of Natural History.
Strange Bed Fellows and More
Between the Sheets with Gregor Samsa & Franz Kafka!, THE ANGEL IN THE ARK:Or A Dream of Hay-Fever Transmuted Into A Revelation…, THE DREAM THAT SAVED MY LIFE!, Changing Dream-Channels at Mid-Night: From Bad to Worse!, DREAMING THE FUTURE—OR WISH-FULL THINKING?, Imperfect Mental-Telepathy—From the Sierra Foothills to El Salvador:, A NEW WAY TO SALUTE EXHIBITIONS & SHOWS PAST & PRESENT:, Up in Central Park: ZAHA HADID & MOBILE ART:, ZAHA HADID:MOBILE ART PAVILION FOR CHANEL; Museum Roundup: what's playing at American Folk Art Museum, American Museum of Natural History, Asia Society, Bard Graduate Center Gallery, Brooklyn Museum, At Christie's, Cooper-Hewitt National Museum of Design, Fashion Institute Museum, Frick Collection, Galerie St. Etienne, Guggenheim Museum, ICP/International Center of Photography, Japan Society, Jewish Museum, Lincoln Center Performing Arts Library & Museum, Metropolitan Museum of Art, Morgan Library & Museum, At MoMA/The Museum of Modern Art, Municipal Art Society, Museum of the City of New York, Museum of TV & Radio, National Academy Museum, Neue Gallerie, New York Botanical Garden, New-York Historical Society, New York Public Library, Rubin Museum of Art, At Sotheby's, Whitney Museum of American Art, UBS Art Gallery, Park Avenue Armory.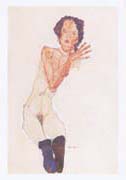 Egon Schiele. Female Nude.1911. Gouache, watercolor and pencil.
No Smiles of a Summer-Night: Agony Only
On the East-River: Olafur Eliasson's New York City Waterfalls, THOMAS HOPE: Regency Designer, FRICK'S VERMEERS REUNITED, RECENT ACQUISITIONS(And Some Thoughts on the Current Art-Market), LOUISE BOURGEOISE, TAKE ME OUT TO THE BALLGAME:10 YEARS OF MUSIC, MUSICIANS, and THE NATIONAL PASTIME, RICHARD DEACON: ASSEMBLY, J. M. W. TURNER, MEDIEVAL and RENAISSANCE TREASURESFROM THE VICTORIA and ALBERT MUSEUM, THE ART OF THE ROYAL COURT:Treasures in Pietre-Dure from the Palaces of Europe, FRAMING A CENTURY: Master Photographers, 1840-1940, MASTERPIECES OF MODERN DESIGN:Selections from the Collection, FRANCESCO CLEMENTE: THE SOPRANOS, PRAYER-BOOK OF QUEEN CLAUDE DE FRANCE, DALI: Painting and Film, GEO/METRIC: Prints and Drawings from the Collection, HOME DELIVERY: Fabricating the Modern Dwelling, HENRY MOORE IN AMERICA: The Monumental Sculpture of Henry Moore, DARWIN'S GARDEN: An Evolutionary Adventure, THE PARK AVENUE ARMORY, WHAT MY DAD GAVE ME, BUCKMINSTER FULLER: Starting with the Universe, PAUL McCARTHY: Central Symmetrical Rotation Movement--Three Installations, Two-Films.
Olafur Eliasson, One-way colour tunnel, 2007, Site-specific sculpture, Courtesy the artist; Tanya Bonakdar Gallery, New York; and neugerriemschneider, Berlin, © 2007 Olafur Eliasson.
The Horse Exhibition, History of Navigation and More
MUSIC-BOXES ON SHOW AT STEUBEN ON MADISON!, DARGERISM: Contemporary Artists & Henry Darger, ASA AMES: Occupation Sculpturing, EARL CUNNINGHAM'S AMERICA: America's Rural Past, THE HORSE, ©MURAKAMI, THE ARNHOLD COLLECTION OF MEISSEN PORCELAIN, 1710-50, HOPE OR MENACE? Communism in Germany Between the Wars, CHUCK CLOSE PHILIP GLASS 40 EARS, ACTION/ABSTRACTION: Pollock, De Kooning, & American Art, 1940-1976, NEW YORK STORY: Jerome Robbins & His World SUPERHEROES, JEFF KOONS ON THE ROOF, THE NORMANDIE'S THE HISTORY OF NAVIGATION TO BE RE-INSTALLED! ILLUMINATING THE MEDIEVAL HUNT, PHILIP GUSTON: Works on Paper, NEW YORK CITY MASTERWORK AWARDS, CATHOLICS IN NEW YORK 1808-1946, TAKE YOUR TIME: Olafur Eliasson, JAZZ SCORE, GEORGE LOIS: The Esquire Covers, ATELIERS JEAN PROUVÉ, IENER WERKSTÄTTE JEWELRY, DARWIN'S GARDEN & HENRY MOORE SCULPTURES, ALLURE OF THE EAST: Orientalism in New York, 1850-1930,WOVEN SPLENDOR FROM TIMBUCTU TO TIBET:, Exotic Rugs & Textiles from New York Collectors, EMINENT DOMAIN: Contemparary Photography & the City, JOHN MILTON AT 400: A Life Beyond Life, WATERCOLORS FROM THE HIGHGROVE FLORILEGIUM:, Botanical Paintings from the Garden of HRH The Prince of Wales, ON PAPER: The Lincoln Center/List Collection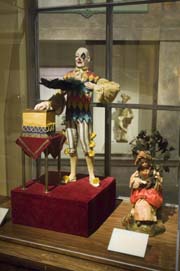 From the Guinness Collection of Musical Machines & Automata in Morris Museum, Morristown, NJ: Clown Illusionist Made by Jean or Henry Phalibois, Paris, France c. 1890-1900 33 ½" x 15 ¾" x 19 1/8"
Spring Roundup
MUSEUM WONDERS ACROSS THE HUDSON, THE GREEN HOUSE: New Directions in Sustainable Architecture & Design, MUSICAL-MACHINES & LIVING-DOLLS, GILDEN LIONS & JEWELED HORSES: The Synagogue to the Carousel, DESIGNED FOR PLEASURE: The World of Edo Japan in Prints & Paintings, 1680-1860, FIRST UNDER HEAVEN: Korean Ceramics from the Mr & Mrs John D Rockefeller 3rd Collection, THE SHAPE OF THINGS: Chinese & Japanese Art, SHAKER DESIGN: Out of This World, ENCHANTED STORIES: Chinese Shadow Theatre in Shaanxi, ART CABINET, ASIAN ART WEEK & Then Some, ROCOCO: The Continuing Curve, 1730-2008, CAMPANA BROTHERS SELECT: Works from the Permanent-Collection, PARMIGIANINO'S ANTEA: A Beautiful Artifice, TRANSFORMING REALITY: Pattern & Design in Modern & Self-Taught Art, CAI GUO-QIANG: I Want to Believe, WARHOL'S JEWS: Ten Portraits Reconsidered, ART, IMAGE, & WARHOL CONNECTIONS, WRITING TO CHARACTER: Songwriters & the Tony Awards©, OLIA LIALINA & DRAGAN ESPENSCHIED: Online Newspapers: New York Edition, NEW GALLERIES FOR 19TH & EARLY 20TH CENTURY PAINTINGS & SCULPTURE, POUSSIN & NATURE: Arcadian Visions, GUSTAVE COURBET, JASPER JOHNS: Gray, RADIANCE FROM THE RAIN-FOREST: Featherwork in Ancient Peru, BEAUTY & LEARNING: Korean Painted-Screens, blog.mode: addressing fashion, CLOSE ENCOUNTERS: Irving Penn-Portraits of Artists & Writers, MICHELANGELO, VASARI, & THEIR CONTEMPORARIES: Drawings from the Uffizi, LUCIAN FREUD: The Painter's Etchings, COLOR-CHART: Reinventing Color, 1950 to Today, DESIGN & THE ELASTIC MIND, BEAUTY SURROUNDS US, LISTENING TO OUR ANCESTORS: The Art of Native Life along the North-Pacific-Coast, AUDUBON'S AVIARY: Portraits of Endangered-Species, Chatsworth Is Not in Devon, JOSIAH WEDGEWOOD & HIS CIRCLE, THE WHITNEY BIENNIAL 2008, When Madison Avenue Was Still Wilderness, OTHER VENUES/OTHER EVENTS: Some Sanford L. Smith Shows: The Outsider Art Fair 2008 at the Puck Bldg, The 20th Anniversary of Works on Paper at the Park Avenue Armory
Fog Curtain, water:h20=life, The American Museum of Natural History, New York.
From Basic Nature of Life to Drawing Beliefs 2007
At the American Museum of Natural History: WATER: H2O=Life, At the Bard Graduate Center Gallery: FAGILE DIPLOMACY: Meissen Porcelain for European Courts, At Christie's: Headline: Matisse Sells for $. Million, At the Frick Collection: GABRIEL DE SAINT-AUBIN, Fragonard Panels Re-Hung in Refurbished Fragonard Room, At GalleryMet/Metropolitan Opera: Hansel and Gretel, At the Guggenheim Museum: FOTO: Modernity in Central Europe, At the Jewish Museum: FROM THE NEW YORKER TO SHREK: The Art of William Steig, At the Leslie and Loman Gallery: STAGESTRUCK: The Magic of Theatre Design, At the Lincoln Center Performing Arts Library and Museum: LINCOLN KIRSTEIN: Alchemist, GRAZIELLA VIGO CAPTURES VERDI ON STAGE, At the Metropolitan Museum of Art: TAPESTRY IN THE BAROQUE: Threads of Splendor, GIFTS FOR THE GODS: Images from Egyptian Temples, THE GATES OF PARADISE: Lorenzo Ghiberti's Renaissance Masterpiece, SILVERSMITHS TO THE NATION: Thomas Fletcher and Sidney Gardiner - TARA DONOVAN AT THE MET, WRIGHTSMAN GALLERIES FOR FRENCH DECORATIVE ARTS RENOVATED, NEW GALLERIES FOR OCEANIC ART, NEW GALLERY FOR ART OF NATIVE NORTH AMERICA, NEW URIS CENTER FOR EDUCATION, At the Morgan Library and Museum: DRAWING CONNECTIONS: Baselitz, Kelly, Penone, Rockburne, and the Old Masters, At MoMA/The Museum of Modern Art: RAW, MARTIN PURYEAR, GEORGES SEURAT: The Drawings, New Perspectives in Latin-American Art, -: Selections from a Decade of Acquistions, MULTIPLEX: Directions in Art, To Now, At the Neue Gallerie: GUSTAV KLIMT: The Ronald S. Lauder and Serge Sabarsky Collections, At the New York Botanical Garden: KIKI: The Art of the Japanese Chrysanthemum, THE HOLIDAY TRAIN SHOW, PLANTS OF JAPAN: In Illustrated Books and Prints, At the New-York Historical Society: LAFAYETTE'S RETURN TO WASHINGTON'S AMERICA, HERE IS NEW YORK: Remembering, LIFE'S PLEASURES: The Ashcan Artist's Brush with Leisure, At the New York Public Library BEATIFIC SOUL: Jack Kerouac On the Road, At Sotheby's: ARIANE DANDOIS: Remarkable Antiques in Molyneaux Rooms, At the Whitney Museum of American Art: Lawrence Weiner: AS FAR AS THE EYE CAN SEE, At the Armory with Sanford Smith Shows: Modernism, Art , Works on Paper: NY Art and Architecture Post-Scripts: Seven Projects for the Hudson Railyards: Most-Endangered Sites Cited by World Monuments Fund at Morgan Library

Ernie Gehr, The Rat Eater (2006), Panoramas of the Moving Image: Mechanical Slides and Dissolving Views from Nineteenth-Century Magic Lantern Show, The Museum of Modern Art, New York.
Rebooting & Getting-Started for the NYC Arts Season 2007-2008
At the Asia Society / THE ARTS OF KASHMIR / ZHANG HUAN ALTERED STATES / PIRANESI AS DESIGNER / PROVOKING MAGIC LIGHTING OF INGO MAURER / IDEO SELECTS Works form the Permanent Collections / National Design Awards / At the Dahesh Museum / At the Frick Collection / Fragonard Re-Hung / At the Galerie St. Etienne / LEONARD BASKIN Proofs & Process / At the Arnold & Marie Schwartz GalleryMet / GUILLERMO KUITCA Stage Fright / At the Guggenheim Museum / RICHARD PRINCE Spiritual America / Restoring the Guggenheim's Frank Lloyd Wright-Infrastructure / At the Jewish Museum / CAMILLE PISSARRO Impressions of City & Country / ISAAC BASHEVIS SINGER & THE LOWER EAST SIDE / Photographs by Bruce Davidson / At Madison Square Park / MAD. SQ. ART. WILLIAM WEGMAN / At the Metropolitan Museum of Art / ETERNAL ANCESTORS The Art of the Central African Reliquary / THE AGE OF REMBRANDT / Dutch Paintings in the Metropolitan Museum of Art / IMPRESSED BY LIGHT / British Photographs from Paper Negatives / ABSTRACT EXPRESSIONISM & OTHER MODERN WORKS / The Muriel Kallis Steinberg Newman Collection in the Metropolitan / In the Met's New Joyce & Robert Menschel Hall for Modern Photography / DEPTH OF FIELD Modern Photography at the Metropolitan / At the Morgan Library & Museum / PAINTED WITH WORDS Vincent van Gogh's Letters to Émile Bernard / At The Museum of Modern Art / PANORAMAS OF THE MOVING-IMAGE / Mechanical Slides & Dissolving View / From th Century Magic-Lantern Shows / ERNIE GEHR Moving-Image Minimalist / MoMA's Single-Gallery FOCUS Exhibitions Continue / FOCUS ELLSWORTH KELLY / FOCUS ALEXANDER CALDER / At the Municipal Art Society / JANE JACOBS & THE FUTURE OF NEW YORK / At the New York Public Library / GRAPHIC MODERNISM From the Baltic to the Balkans / - / At the Rubin Museum of Art / BON The Magic Word / BIG Himalayan Art / WUTIASHAN Pilgrimage to Five-Peak Mountain / At the Society of Illustrators / CUTTING EDGES Cartoon Art Defining the World / At the Whitney Museum of American Art / KARA WALKER My Complement / My Enemy / My Oppressor / My Love / Arts Beyond the Hudson / Exploring History & Artifacts in Madison / NJ.
Sculpture by Robert Morris, photo by Tom Wesselmann.
On the Outside but Occasionally Looking In: Documenta and some other European Summer-Shows
Photo-Archiving Architectural-Façades vs. Inspecting Museum-Interiors / HESSIAN KASSEL Hercules without a Head & Documenta 12 wo a Heart / DECADE BY DECADE IN MÜNSTER Sculpture Projects '07 / BREGENZ ON THE BODENSEE Angelika Kauffmann & Some Moderns / Celebrating Angelika Kauffmann / MYTHOS Beside the Bodensee / Kunsthaus-Bregenz Showcases Beuys & Barney & Twombly & Gordon / QWIK-STOP IN BERLIN The Story of Berlin-Mit Original Atomshützbünker / ON-VIEW AT THE GROPIUS-BAU Cindy Sherman & Scythian Gold / NEW IN MUNICH Jüdisches Museum München / OLD IN MUNICH Max Krug / Cuckoo-Clocks / FRIEDRICHSHAFEN-AM-BODENSEE The Zeppelin-Museum / Stop-Over in Prague Historic Churches & Monasteries as Virtual-Museums & Performance-Venues / IN WIEN Specialist-Museums & Collections Briefly-Noted / Sigmund Freud Museum / Arnold Schönbeg Center / Möbel Museum Wien / Technisches Museum Wien / Gemäldegalerie der Akademie der bildenen Künste Wien / Österrechische Nationalbibliothek Prunksaal / BEYOND THE VIENNA-WOODS Stift Kloster-Neuberg & the Essl-Museum / Kloster-Neuberg Where Heaven & Earth Meet; Faith / Wine / & Culture on Vienna's Doorstep / Essl Museum's Kunst der Gegenwart / VARIETY IN FESTIVE SALZBURG Baroque / Rococo / & Modern Share the Stage / Dom-Museum zu Salzburg Ewald Mataré in Salzburg / Dommuseum zu Salzburg Wunderkammer & More / Salzburger Barockmuseum Versailles-The Gardens of the Sun-King / Salzburg's Residenzgalerie Die Schöne und das Ungeheuer / MUSEUM DER MODERNE SALZBURG / MdM MÖNSCHBERG & RUPERTINUM Jan Fabre / Sammlung Mahjong / & Klimt to Krystufek / MdM RUPERTINUM Klimt to Krystufek Jan Fabre The Invested Time / Translating Jan Fabre / IN LONDON AT THE TATE-MODERN / Dalí & Film / Hélio Oiticica The Body of Color / Hockney on Turner Watercolours

Vincent Van Gogh
Self-Portrait / 1889
From Berlin to Van Gogh and Back to Broadway
MYTHIC CREATURES: Dragons / Unicorns / & Mermaids / THE UNKNOWN AUDUBONS: Mammals of North America / KINDRED SPIRITS: Asher B. Durand & the American Landscape / The Elizabeth A. Sackler Center for Feminist Art / Judy Chicago's THE DINNER PARTY / GLOBAL FEMINISMS / PHARAOHS / QUEENS / & GODDESSES: Feminism's Impact on Egyptology / ARCADIA & ANARCHY: Divisionism & Neo-Impressionism / THE SHAPES OF SPACE / RESTORATION OF THE GUGGENHEIM MUSEUM / TACITA DEAN: Hugo Boss Prize 2006 / THE SCULPTURE OF LOUISE NEVELSON: Constructing a Legend / THE NEW GREEK & ROMAN GALLERIES / VENICE & THE ISLAMIC WORLD: 828-1797 / POIRET: King of Fashion / FRANK STELLA ON THE ROOF / FRANK STELLA: Painting into Architecture / NEO RAUCH AT THE MET: para / THE CLARK BROTHERS COLLECT: Impressionist & Early Modern Paintings / FROM BERLIN TO BROADWAY / The Ebb Bequest of Modern German & Austrian Drawings / THE MORGAN ACQUIRES ARTIST PORTRAITS BY IRVING PENN / APOCALYPSE THEN: Medieval Illuminations from the Morgan / At MoMA - The Museum of Modern Art / RICHARD SERRA SCULPTURE: Forty Years / WHAT HAPPENED TO US? Dan Perjovschi: Projects 85 / FACING FASCISM: New York & the Spanish Civil War / VAN GOGH & EXPRESSIONISM / MAKING THE SCENE: The Midtown Y Photography Gallery: 1972-1996 / SUMMER OF LOVE: Art of the Psychedelic Era.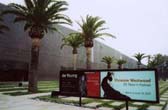 Marquis of de Young Museum.
A Trip to the San Francisco's Big Three Museums
Way Out West - Boulder & the Colorado Rockies / Bay-Area Museum Hopping / Bowles-by-the-Bay / Salinas & Steinbeck Country / Onward & Upward to Stanford / San Francisco's Big Three / SFMoMA / MH de Young & The California Palace of the Legion of Honor.
Jonathan Slaff / Publisher • copyright © 2011* *