CURATOR'S CHOICE SM
Museums and Exhibitions in New York City and Vicinity
| Home | | Museum Guide | | International | | Architecture and Design | | Theater |
GLENN LONEY'S MUSEUM NOTES
CONTENTS, November 2007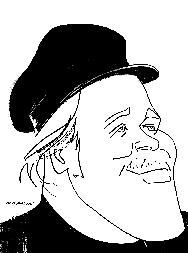 Caricature of Glenn Loney
by Sam Norkin.
Please click on " * " to skip to each subject in this index:
At the American Museum of Natural History: *
WATER: H2O=Life *
At the Bard Graduate Center Gallery: *
FAGILE DIPLOMACY: Meissen Porcelain for European Courts *
At Christie's: *
Headline: 1937 Matisse Sells for $33.6 Million *
At the Frick Collection: *
GABRIEL DE SAINT-AUBIN *
Fragonard Panels Re-Hung in Refurbished Fragonard Room *
At GalleryMet/Metropolitan Opera: *
Hansel and Gretel *
At the Guggenheim Museum: *
FOTO: Modernity in Central Europe, 1918-1945 *
At the Jewish Museum: *
FROM THE NEW YORKER TO SHREK: The Art of William Steig *
At the Leslie and Loman Gallery: *
STAGESTRUCK: The Magic of Theatre Design *
At the Lincoln Center Performing Arts Library and Museum: *
LINCOLN KIRSTEIN: Alchemist *
GRAZIELLA VIGO CAPTURES VERDI ON STAGE *
At the Metropolitan Museum of Art: *
TAPESTRY IN THE BAROQUE: Threads of Splendor *
GIFTS FOR THE GODS: Images from Egyptian Temples *
THE GATES OF PARADISE: Lorenzo Ghiberti's Renaissance Masterpiece *
SILVERSMITHS TO THE NATION: Thomas Fletcher and Sidney Gardiner, 1808-1842 *
TARA DONOVAN AT THE MET *
WRIGHTSMAN GALLERIES FOR FRENCH DECORATIVE ARTS RENOVATED *
NEW GALLERIES FOR OCEANIC ART *
NEW GALLERY FOR ART OF NATIVE NORTH AMERICA *
NEW URIS CENTER FOR EDUCATION *
At the Morgan Library and Museum: *
DRAWING CONNECTIONS: *
Baselitz, Kelly, Penone, Rockburne, and the Old Masters *
At MoMA/The Museum of Modern Art: *
RAW *
MARTIN PURYEAR *
GEORGES SEURAT: The Drawings *
New Perspectives in Latin-American Art, 1930-2006: *
Selections from a Decade of Acquistions *
MULTIPLEX: Directions in Art, 1970 To Now *
At the Neue Gallerie: *
GUSTAV KLIMT: The Ronald S. Lauder and Serge Sabarsky Collections *
At the New York Botanical Garden: *
KIKI: The Art of the Japanese Chrysanthemum *
THE HOLIDAY TRAIN SHOW *
PLANTS OF JAPAN: In Illustrated Books and Prints *
At the New-York Historical Society: *
LAFAYETTE'S RETURN TO WASHINGTON'S AMERICA *
HERE IS NEW YORK: Remembering 9/11 *
LIFE'S PLEASURES: The Ashcan Artist's Brush with Leisure, 1895-1925 *
At the New York Public Library: *
BEATIFIC SOUL: Jack Kerouac On the Road *
At Sotheby's: *
ARIANE DANDOIS: Remarkable Antiques in Molyneaux Rooms *
At the Whitney Museum of American Art: *
Lawrence Weiner: AS FAR AS THE EYE CAN SEE *
At the Armory with Sanford Smith Shows: *
Modernism, Art 20, Works on Paper: *
NY Art and Architecture Post-Scripts: *
Seven Projects for the Hudson Railyards: *
Most-Endangered Sites 2008 Cited by World Monuments Fund at Morgan Library: *
At the American Museum of Natural History:
[Central Park West @79th Street/NY, NY 10024/Phone: 212-769-5100]
[Closing 26 May 2008]
Water, not Oil, is the Lifeblood of our Planet. The new show at the American Museum of Natural History dramatically demonstrates why and how this is true.
Fog Curtain, water:h20=life, The American Museum of Natural History, New York.
Visitors to this fascinating exhibition enter through a Fog-Screen to begin a journey of discovery about how very important Water is to all forms of Life on the Planet: a fact few people ponder.
Yet fresh, uncontaminated water makes up only 3 percent of the Earth's water-total. But most of that is frozen, locked-up in glaciers, ice-caps, sea-ice, or deep underground.
More than a billion people around the world do not have dependable access to drinking-water, let alone to water that is free from Pollutants and Bacteria.
All aspects of the topic of Water are covered in this show. You can even see the mammoth Three Rivers Gorge Dam on China's Yangzte River, which has displaced millions of farmers and villagers.
The Erosive-Power of water and wind combined is dramatically demonstrated as you walk through a section of Antelope Canyon near Lake Powell in Arizona.
The importance of Water in the distant Historic-Past, as well as in our Immediate-Future, is vividly showcased in a variety of multi-media and interactive displays.
Sub-Prime Mortages on McMansions are not the only problem people have to face in the American Southwest. This epic-overbuilding is draining the Aquifiers which underlie sprawling cities like Los Angeles, Phoenix, and Albuquerque. With decreasing winter-snow melt-offs in the mountains, both ground-water and rivers are in danger.
Good News: Despite Global-Warming, there are Measures that can be taken! Some of these are explored in this exhibition.
After its exposure at AMNH, this show will make an International-Tour: North America, South America, Asia, and Australia. [Apparently, Europeans have no worries about the Future of Water: they should!]
The impetus for this stunning, challenging exhibition was a 2006 Museum Survey to find out what Americans really know about water. Most people questioned were concerned about Water-Issues.
But 96 percent of those queried did not know that less than one percent of Earth's water is readily available for human-consumption.
You cannot drink the Oceans dry because of the salt-content, not to overlook pollutants like mercury, degrading containers for radioactive nuclear-waste, and rusting undersea wrecks like the Andrea Doria.
At the Bard Graduate Center Gallery:
[18 West 86th Street/NY, NY 10024/Phone: 212-501-3000]
FAGILE DIPLOMACY: Meissen Porcelain for European Courts
[Closing 11 February 2008]
"White Gold" was the term used for the wonderfully-designed pieces of Porcelain produced by the Royal Saxon manufactory in Meissen, near Dresden. In the 18th Century, August II—August the Strong, both Elector of Saxony and King of Poland—sent gifts of these exquisite works to other Sovereigns in service of Diplomacy.
Tea service on a silver-gilt support, FRAGILE DIPLOMACY Meissen Porcelain for European Courts, the Bard Graduate Center Gallery, New York.
Soon other Royal-Houses were ordering tea and dinner-services, monumental urns, remarkable ewers, and even Porcelain-Portraits from Meissen to use as demonstrations of Regal-Regard or even as Peace-Offerings.
["As Our Crown-Prince is already married, so he cannot marry your princess-daughter to solidify Our Alliance, how about a Meissen dinner-service to avoid a Border-Skirmish?"]
Although Chinese Porcelains were already known in Europe in the 16th Century, only in Saxony, in 1710, was the secret of manufacturing hard-paste porcelain discovered. Before that time, elegant urns and platters had certainly been manufactured in Western Europe, but they were of gray, yellow, or brown clays.
The essential element to creating Meissen Porcelain was Kaolin, a pure white clay. Fortunately, August had just such a mountain of clay.
Soon, every King, Prince, Duke, Earl, or even Viscounts and Minor-Barons had to have at least a piece of Meissen.
There are now some 300 remarkable pieces of Royal Meissen porcelain on display at the Bard Gallery. Most of these are from major museums, but some are from private-collections.
The intricacy and delicacy of the modeling of flowers, leaves, human-figures, angel-wings, and heraldic-devices—with the flourish of the High-Baroque—on many of the Urns, Table-Garnitures, and Presentation-Pieces is amazing.
While here and there you can find a broken-leaf or two, it is also amazing that these pieces—both Miniature and Monumental—have survived the centuries in such excellent condition. The exceeding care required to pack and ship such porcelains to Bard from European Treasuries can only be imagined.
Even under the harsh rule of East German Communism, the Meissen Porcelain factory thrived [throved ?], as Your Reporter was able to visit it several times before the Fall of the Berlin Wall, even in the 1950s.
If you cannot come to Bard and these magnificent Meissens, you can order the exhibition-catalogue, published by Bard and Yale University Press. Phone: 212-501-3000. Or log-on: www.bgc.bard.edu
[20 Rockefeller Plaza/NY, NY 10020/Phone: 212-636-2000]
Headline: 1937 Matisse Sells for $33.6 Million
Well, there you have it! Or somebody with $35 million—there's always that pesky auction-house premium and commission to add-on—has it.
Whatever your take on the insanely-obscene multi-million-dollar Sale-Prices for Old and New Masters, this has been a Very Good Year for Christie's. On the other hand, Sotheby's got off to a shaky-start this past Fall: no one wanted to buy a Van Gogh! Not even for the Low-End, but still hefty, Reserve-Price on this not-so-hot canvas!
Can you imagine that? A Van Gogh available and No-Takers! Not even a Hedge-Fund-Manager or a Sub-Prime-Mortgage Maven! Nor a Toyota-Sony-Mitsubishi-Nagasaki CEO!
But that is Sotheby's Problem. Not Christie's. Their Fall sales have set records. Compared with the disappointing totals for Impressionist and Modern Artworks in Sotheby's first sale—they rallied on the next auction—Christie's did very well indeed: the Matisse cited above included, Total-Sales were $394.9 million!
An Amadeo Modigliani went for $30.8 million, while a Picasso—Femme accroupie au costume turc—fetched a fetching $30.8 million as well.
A subsequent sale of Moderns also did very well: new record-prices for Jeff Koons, Lucian Freud, and Gerhard Richter. Koons' Diamond (Blue)—estimated at $12 million for the sale—had been on display outside Christie's at Rockefeller Center for some weeks. It is an enormous Parody of a faceted Gemstone in a gold-pronged setting. In fact, it measures some 7 feet wide x almost 8 feet tall.
As with other notable Koons "sculptures," the actual art-objects are often fabricated by Old-World Craftsmen. Koons contributes the Concept and the Sketches. Still, with No Ideas, there would be No Art…
Larry Gagosian—Koons' dealer—bought the Diamond for $11.8 million, when no one else would bid on it. Perhaps this was a stratgem to establish an Auction-Record-Price for other Koons works Gagosian has in Storage?
Your Reporter does not want to Set a Precedent of providing Auction-Sales-Updates every so often.
[There isn't World enough and Time, with all the other projects in hand, including Glenn Loney's Show-Notes for the New York Theatre-Wire and organizing, labeling, indexing, and digitizing some 350,000 Loney INFOTOGRAPHY™ images: Half-a-Century of Archival-Photography Around-the-World.]
What I really wanted to emphasize—aside from the astounding-prices—is that anyone who lives in New York, or who has come in town for the Holidays, can come to both Christie's and Sotheby's to look at these often fabulous artworks for free.
With both of the Impressionist and Modern Artworks pre-sale Public-Showings, there were more impressive canvases and sculptures on view than you could hope to see on the walls of the Met Museum or MoMA—where you have to pay real money to see them!
And, because most of the artworks are from Private-Collections, going into other Private-Collections, you won't see them in Museums any time soon!
If you can manage to squeeze into the actual Auctions—you do not have to bid—these are Excitements in themselves. At the Koons-Event, you could have seen Sarah Jessica Parker and designer Marc Jacobs among the art-lovers.
Hugh Grant and Liz Hurley were also there, but out-of-sight. Grant had sent his Andy Warhol portrait of Elizabeth Taylor for auction. Christie's had used the work in its sale-ads and on the catalogue-cover.
Christie's had guaranteed the painting for Grant, at a sum said to be $20 million. In the event, it sold for $21 million—$23.5 Million, with Christie's add-ons. Considering the fact that Grant bought this very image at Sotheby's in 2001, for the piddling-sum of only $3.5 million, this sale was almost as rewarding as starring in a tawdry movie-romance.
With this kind of Profit, you could adopt any number of Orphans from Viet-Nam or Iraq! Or you could buy hundreds and hundreds of Prosthetic Arms and Legs for young American-Soldiers who have been maimed in the Iraqui Bush-War!
Speaking of the White-House-Warriors, are all those Tax-Cuts for the Rich being spent at Sotheby's and Christie's, instead of being used to Revive Our Dying-Economy?
Where is all this money that is supposed to be Trickling-Down from President Bush's Tax-Cuts for the Rich to Create-Jobs for the disappearing Middle-Class?
American Billionaires are not building New Factories in Detroit and Pittsburgh. They are closing them down!
Even the factories they have built in Mexico are being closed, in favor of factories in Thailand and Cambodia, where the Coolies will work for even less than Potential Illegal-Immigrants South of the Border…
As far as Art-Works are concerned, however, there may be an odd kind of Asia-Cross-Pacific Trickle-Down-Effect.
When Fay Walton bought the New York Public Library's Iconic Asher B. Durand painting—featuring William Cullen Bryant and a Kindred-Spirit staring off into the American Wilderness—the cash must surely have come from Wal-Mart-Profits, made possible by Chinese Wage-Slaves.
At least this historic painting remains in the US. You can see it in Fay's Museum down in Arkansas. Is the place called Crystal-Bridge or something like that?
Ms Walton did loan it back recently for a Manhattan show of Durand and Hudson River School Painters. [They did not paint schools—not even the outsides of schools—nor did they actually attend a Hudson River School: such phrases are merely Nominal-Conventions.]
[1 East 70th Street/NY, NY 10021/Phone: 212-288-0700]
[Closing 27 January 2008]
You will need very good eyes—or even a magnifying-glass, which the Frick can provide—to savor the intricate details of Gabriel de Saint-Aubin's delicate sketches of Daily-Life in 18th Century Paris. His small-scale but Grand-in-Scope Historical-Studies also require close study to appreciate his sweeping sense of Ancient History.
A collaboration with Paris' Louvre Museum—whence this exhibition will travel from Fifth Avenue—the show has taken years of Curatorial-Research to assemble and annotate. Although the Frick's rotating-show galleries are intimate, this intriguing insight into another century is deftly documented with some fifty of Saint-Aubin's delicate drawings, as well as a selection of his paintings and etchings.
Not only are there some quasi-salacious visual-satires on the Manners of High-Society, as in The Flirtatious Conversation—which are the equal of some sharp Hogarthian-English graphic-indictments of questionable-behavior in fine clothing—Saint-Aubin had a keen eye for the Arts of Others.
His small but spectactor-crammed watercolor of Lully's Opera "Armide" Performed at the Palais-Royal proves an impressive visual-document of Stage-Design, Theatre-Architecture, Performers in Place and in Costume, and Audience-Attitudes more than two-hundred years ago.
But consider Saint-Aubin's The "Salon du Lourvre" in 1765, with its wide view not only of the exhibition-hall, but also of many of the major works on display at that time.
This pencil, pen and ink, and watercolor drawing is only 24 centimeters by 46.7 centimeters. If you have a Conversion-Ruler handy—or if you can get to the Frick—you will see that this is not a large sketch. Yet consider how clear the details are of the various paintings preserved for Posterity by Saint-Aubin's discerning eye and delicate skills!
Saint-Aubin also liked to sketch in the margins of auction sale-catalogues. These are also important visual-documents, as it was impossible at that time to provide the high-tech reproductions now common in auction-catalogues.
Speaking of Catalogues, of course there is a handsome one of this exhibition, aptly titled Gabriel de Saint-Aubin, 1724-1780. It's published in paperback [$59.95] by Musée du Louvre Éditions, in English and French versions. Order from the Frick-Shop: Phone: 212-288-0700. Or log-on: www.frick.org
Fragonard Panels Re-Hung in Refurbished Fragonard Room
Recently exiled to the East-Gallery, as their decades-long venue, the Fragonard Room, was refurbished and re-lighted, the panels of Fragonard's Progress of Love are now back in place, lighted more subtly than ever.
Among the precious objects d'art in this luxurious chamber is a newcomer, Houdon's Diana, The Huntress. This is in fact a two-foot-tall plaster-model of the life-sized statue Houdon made for Herzog Ernst II of Saxe-Gotha. Though many copies have subsequently been made, large and small, this statuette is one of only two surviving that bear the stamp of Houdon's Atelier.
The Frick also owns a life-sized Diana by Houdon, but in terra-cotta.
What Life-Sized actually means in this context is difficult to decipher. Did the Goddess Diana actually sit for her Houdon Likeness? How large was she in Life? If she actually ever lived, other than in the imaginations of Superstitious Greeks and Romans?
At GalleryMet/Metropolitan Opera:
[Lincoln Center/NY, NY 10023/Phone: 212-870-7441]
[Closing February 2008]
If you haven't been to the Met—the Opera, not the Museum—lately, the old Ballet Box-office, on the left-facing side of the façade, has been turned into a Mini-Art-Gallery. Its new show honors the upcoming Christmastide premiere of an all-new Hansel and Gretel.
While some artworks are specific references to the Grimm Fairytale, others, such as John Currin's glowing roundel Stepmother portrait, refer more generally to traditional-figures in children's tales of Abandonment and Abuse.
As this show is a collaboration with the New Yorker magazine, Françoise Mouly, the mag's Art-Editor, was on hand at a press-preview to introduce some of the artists involved: Jules Feiffer, Lou Romano of Pixar-fame, Owen Smith, and Gahan Wilson.
Jules Feiffer—who genially posed for Your Scribe's lens beside his watercolor of H and G, Into the Woods—was especially interesting in discussing the Basic-Childhood-Fears that such old tales embody.
Unfortunately, William Steig—who also has a show current at the Jewish Museum—passed-over in 2003, so he was present only in cartoon-spirit.
William Wegman's favorite Weimareners strike a photographic-pose as Hansel and Gretel. One of these handsome hounds was also the Met's Poster-boy for the new Macbeth production!
Other artists in this intimate and amusingly-mounted exhibition include Bob Zoell, Christoph Niemann, Ed Koren, Anita Kunz, Lorenzo Mattotti, Ana Juan, Ian Falconer, George Condo, Eleanor Davis, and Roz Chast, with a wryly satiric watercolor-series of the Grimm-Narrative, Post-Modernly-Revisited.
Davis has created a clever cloth and wood Witch-House, with the Wicked-Witch peering down, under a hood-like roof, at the Lost-Children.
The show—which is open through February—was cleverly curated by Dodie Kazanjian and the New Yorker's Mouly. Not all the artists are regulars in the magazine that Tina Brown shook-up.
[1071 Fifth Avenue @89th Street/NY, NY 10128/Phone: 212-423-3500]
FOTO: Modernity in Central Europe, 1918-1945
[Closing 9 January 2008]
After Photography was first developed in the mid-19th Century, it was largely the province of wealthy amateurs and commercial portrait-photographers. Over time, it evolved into an important adjunct of news-reportage and archival-documentation.
Today, these early photographs not only retain their archival and documentary importance, but they are now also regarded as Artworks in their own right. And rightly so…
But it was in Mittel-Europa, between The Wars, that photography came into its own as an Art-Form. This arresting exhibition at the Guggenheim showcases some of the more striking of the photos that haave earned their place in art-galleries and museums.
FOTO: Modernity in Central Europe, 1918-1945 suggests the tremendous impact cameras and film had on creative artists as a new form artistic-expression, as well as on thousands of amateur photographers. It also demonstrates the power of such images—Modernity for the Millions—when used in books, ads, newspapers, and posters.
Some of the now-iconic images of László Moholy-Nagy, El Lissitzky, and Hannah Höch are on view, but lesser-known talents are also in the spotlight. Among them: Jaromir Funke, Karel Teige, Stefan Themerson, and Kazimierz Podsadecki.
The current show—which has Legs and will Travel—includes some 170 original prints, as well as printed-materials from Central Europe which show the photos in various kinds of uses.
The Anti-Nazi Collages of John Heartfield are, of course, by now well-known—lucky the collector who acquired some of those Agit-Prop newspaper front-pages pre-war—but collages were ingeniously employed by a number of artist-photographers who had different, if any, Agendas from Heartfield's.
Most Collage-Artists, however, didn't use their own photos, preferring to make their often sharply comic-satiric points by appropriating images from advertisting, news, and fashion photos.
Concentrating on photographers and artists from Germany, Austria, Hungary, and Poland, the show is segmented, not by Nations, but by Themes: Cut-and-Paste, both after the Great War and before the Second-Edition of Cannonical-Carnage, Modern-Living, New Women-New Men, Laboratories and Classrooms, Land Without a Name, and The Spread of Surrealism.
Airplanes and other evidences of Advanced-Modernity provided impressive subjects for Virtuoso-Lensing. Some of these images—many with a Sepia-inclination—may make you wish you could own one for yourself.
Owing to the ravages of War and Time, many actual prints and news-printed examples have disappeared. Either into the Mists of History or into Museums and Private-Collections.
But you can have the Next-Best Thing: buy the Catalogue, whose photo-illustrations are striking, even eminently Frameable, though that would damage this handsomely-bound book.
Its unsurprising title is: FOTO: Modernity in Central Europe, 1918-1945. It includes 192 color-images, but the 59 black-and-white photos are also impressive. Stacking-up at 310 pages, it costs $60 hardcover, $45 softcover. If you thumb through this fascinating Photo-Gallery often, you are wiser buying the hardcover edition. Softcover bindings do not stand the Test of Time.
Order from the National Gallery of Art bookshop: the show originated in DC and the NGA is the Publisher-of-Record. Phone: 800-697-9350. The Guggenheim can provide more Info: www.guggenheim.org
[1109 Fifth Avenue @92nd Street/NY, NY 10128/Phone: 212-423-3200]
FROM THE NEW YORKER TO SHREK: The Art of William Steig
[Closing 16 March 2008]
Norman Rockwell created a lot of cover-art for the Saturday Evening Post, but The New Yorker's quintessential cartoonist, William Steig, crafted some 120 ingenious-hilarious artworks that actually made it onto that magazine's cover. And Steig's sly humor trumps Rockwell's cockeyed-optimism every time.
A Dream of Chicken Soup
, William Steig, the Jewish Museum, New York.
Not all of Steig's Great-Imaginings for New Yorker covers were published. Fortunately, some of these amusing Rejects are now on view at the Jewish Museum. Steig also had 1,600 of his unique cartoon-drawings published in The New Yorker—that August and Elite Repository of Style and Substance that is by no means bounded by the fleeting concerns of Manhattan-Island.
William Steig was at work for the New Yorker for some 73 years. Obviously, someone was Counting…
But Steig was by no means limited to wry cartoons. His children's books became immensely popular. His Shrek! has become a Major Cinema and Stuffed-Animal Franchise. Shrek the Movie has already had two sequels, with a Broadway-Musical on the way.
My favorite Steig Image—dimly remembered from an unhappy-childhood—is of a poor wretch crammed into a crate, or barrel, with the caption: My mother loved me, but she died.
While most of Steig's cartoons have a special visual-appeal, it is often the New Yorker caption that defines them, that gives them Meaning. In fact, some Funsters have made it a Party-Game to re-caption Steig and other New Yorker cartoons…
This is the Steig Centennial, so the Jewish Museum is saluting him with over 190 original drawings and some interesting documentary materials. There is even an actual Steig Cartoon-Room you can enter, inspired by the Zabajaba Jungle Book.
Steig lived to be 95, no less, but he is still very much with us. And not only because of Shrek.
His books were not all designed for children, as he had Serious-Issues, relieved by the Post-Freudian theories of Wilhelm Reich—emerging in The Agony in the Kindergarten and Listen, Little Man!
Fortunately, this People's-Artist's books live on for children of all ages.
Stieg is also included in the New Yorker/Metropolitan Opera Gallery Hansel and Gretel show!
At the Leslie and Loman Gallery:
[26 Wooster Street/NY, NY 10013/Phone: 212-431-2609]
STAGESTRUCK: The Magic of Theatre Design
[Closing 22 December 2007]
Curated by the artist and scenic-designer Peter Harvey, Stagestruck: The Magic of Theatre Design, has two strong themes: all of the extremely Talented and in many cases Famed Theatre-Designers whose woks are on view here are also Gay! So this wide-ranging and colorful exhibition is both about Ingenious Artistic-Imaginations at Work and about their Sexual-Orientations.
But the Private-Lives of noted designers like Cecil Beaton and David Hockney are definitely not explored. Only their designs and those of many, many colleagues are on display. The Fact of their Sexualities—not the actual exercise of them—is a kind of Political-Statement, notes Peter Harvey.
In the current Political-Climate of Verbal—as well as Actual—Gay-Bashing by the Religious-Right, Family-Values Con-Men, Neo-Cons, the White-House, and Conservatives in general, Harvey and his fellow-designers have recognized the importance of showing the impressive Cultural-Contributions they have been making for many decades to the American People, to the Nation, and to the World beyond. Not to overlook the immense pleasure their set and costume-designs have brought to thousands and thousands of dance, opera, and theatre-goers!
Among the 60 designers on view, not all are Americans, but the opera and musical stage-visions of such talents as Hockney and Beaton have certainly influenced some of their American Cousins. If you are thinking French, how about Christian Bérard, Yves St. Laurent, and Raoul Pène Du Bois?
This handsomely-mounted exhibition offers 150 sketches, set-models, and props, spanning some 60 years, from the 1940s into the present, which is represented by Avenue Q and Curtains.
Here are the striking design-conceptions of Robert Wilson, John Lee Beatty, Robert Indiana, Zack Brown, Desmond Heeley, Paul Cadmus, Oliver Smith, Oliver Messel, Beni Montresor, Rouben Ter-Arutunian, Bob Crowley, Tony Straiges, Bob Mackie, and Martin Pakledinaz, for instance.
Nor are women-designers neglected. One of my favorites is Florence Klotz, who was not only a gifted designer but also a lovely human-being. The fabled Irene Sharaff and Anna Louizos are also on hand.
What a loss that there is no funding for a Tour of this show to those Major American Cities which have really exciting Theatre and Opera Scenes!
Not that such a Tour could not be arranged with Corporate or Not-for-profit Foundation-Support. Curator Peter Harvey might even be able to add more outstanding designers and artworks to such a touring show!
There ought to be handsomely-illustrated catalogue or an Art-Book for this show, but no publisher has come forward thus far. Not only would such a book be an attractive gift for those who love the arts of theatre, opera, and dance, but it would also be an invaluable reference-source for students, critics, and other theater-artists.
Coupled with comments by the artists about the specific projects illustrated in the book, this resource would be even more valuable. These could be created by inviting interested journalists and critics to conduct interviews with those theatre-artists who would rather draw than write.
As the Major-Purpose of the exhibition is to focus attention on the Contributions of Gay Theatre-Artists to the American-Theatre, there certainly should also be some Major-Essays or Op-Ed pieces on the topic by Major-Forces in the Theatre.
How about Tributes from Hal Prince? From Stephen Sondheim? From Mayor Michael Bloomberg?
Closely studying the design-plates, I gradually realized how many of these sixty artists I had been able, over the years, to interview for such journals as Theatre Crafts, After Dark, Dance, Opera News, and other performing-arts publications.
Frankly, I had never thought much about whether any of these admired theatre-designers was Gay, only that I liked their work so much that I hoped I might be able to get an interview. I have seldom interviewed anyone whose work I did not value: let someone else do a hatchet-piece. As a fifty-year-long Free-Lancer, I didn't have to do such dirty-work.
In fact, all the designers—Gay or Straight—that I have interviewed over time have proved very friendly and forthcoming in discussing how they get their design-ideas, how they develop them with directors and co-designers, and even how the sketches and models get built or constructed and tried-out onstage in performance.
What is more, a number of these designers generously came to my Musical-Theatre Seminars at the CUNY Graduate Center to discuss their work.
After the charming stage-designer Robert O'Hearn had showed my PhD candidates how he used a Sierra Club poster of California Redwoods for the Primeval-Forest in Wagner's Parsifal, they all accepted Sir Rudolf Bing's generous offer of free-tickets to see the actual Met production!
Well, at those prices, who wouldn't…
Some of the designers in the show have become personal friends. Curator Peter Harvey was one of the first, following an interview about his ingenious setting for Dames at Sea, staged in the old Bouwerie Lane Theatre. Titled Busby Berkeley on a Budget, it appeared in an early issue of Theatre Crafts.
Although Peter now prefers to express his imagination in watercolors and oil-painting, he has an impressive theatre-resumé, including Dames, Boys in the Band, and George Balanchine's Jewels, initially designed in 1967 for the New York City Ballet, then reprised in 1999, for the famed Mariinsky Ballet in St. Petersburg.
A generous lender to this exhibition is Paul Stiga, a discerning collector of stage-designs. When I was researching my 12-part series on dancer/choreographer Jack Cole for Dance Magazine, Paul was tremendously helpful in letting me study his archives.
This was even more valuable for my subsequent book: Unsung Genius: The Passion of Dancer-Choreographer Jack Cole. [Long out-of-print, with only half the manuscript actually published, the entire text has now been scanned, proofed, and will soon be available online in the Loney Book-Shop in ArtsArchive.biz…
Considering all the nascent and overt Prejudice and Hate against Gays that is Out There—which is also being used as a Psychological-Tool by ambitious and unscrupulous Politicians, to manipulate Voters out in the American-Heartland—it is obviously important that previously unsympathetic Americans come to recognize how much Gay Theatre-Artists have enriched their lives and given to our Culture and to the World at large.
Unfortunately, although American stage-designs have been seen worldwide on tours of American plays, ballets, operas, and musicals, this has had almost no effect in those Muslim-Dominated lands where any kind of theatre is condemned or forbidden.
In Muslim-Nations in the Middle-East, when Gays are discovered, they can be immediately stoned-to-death or Beheaded. Unfortunately, in the United States, there are some hate-focused groups and politicians who would not protest such punishments.
Fundamentalist-Muslims are forbidden the delights of Theatre: in Sa'udi-Arabia, there can be no representations of Humans or Animals in paintings and designs. Something to do with that Commandment against Graven-Images.
This Divine-Taboo offers an even more potent condemnation of Live-Theatre: as Images-in-Motion. So you can hardly expect the Taliban to spare a Gay stage-designer a fatal-stoning because he is a genius-artist.
Obviously, Pat Robertson and Pat Buchanan wouldn't Cast the First Stone—nor should Senator Larry Craig—but the Very Reverend Robertson did blame Homosexuality for God's-Anger, which permitted the 9/11 destruction of the World Trade Center.
These Conservative-Fanatics and Political-Opportunists have no sense of the Value of the Lives, Dreams, and Talents of the American Men and Women they so despise.
[When I was teaching Public-Speaking and English Comp in Sa'udi-Arabia in the late 1950s, we not only put on no plays in the American-Enclave in Dharan, we could not even have religious-services. Sunday was a work-day.
[But if images are forbidden, what about all these photos in our ARAMCO classrooms of the old King, Ibn-Sa'ud Abdul-Aziz? "Those are only photos. The Commandment is against graven images."]
The Leslie and Lohman Gallery is located way down in SoHo on Wooster Street—Performing-Garage territory—at No. 26. Hours for this exhibition are Tue-Sat/12-6 pm. Call 212-431-2609 or log-on to www.leslielohman.org.
Prepare for a Surprise—if you are not already a Regular—as Charles Leslie and Fritz Lohman specialize in Gay Art, most of it fairly Erotic!
At the Lincoln Center Performing Arts Library and Museum:
[40 Lincoln Center Plaza/NY /NY 10024/Phone: 212-870-1630]
[Closing 30 January 2008]
Rich-Patrons are always important in the founding and continued life of a Major Performing-Arts Ensemble. And they are essential for Minor Arts-Enterprises.
But it is not their Wealth—no matter how generously donated—that makes great Arts-Ensembles possible. There has to be an Original Creative-Vision to animate such a performance-troupe: George Balanchine's work with the New York City Ballet is an excellent example.
Even with a Balanchine, however, there needs to be a Managerial-Enabler of equal vision. Funding has to be found; programs have to be planned, advertised, and sold. The seats should be filled, as well as the box-office till.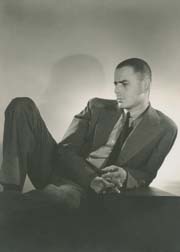 Portrait
, Lincoln Kirstein, The Lincoln Center Performing Arts Library and Museum, New York.
The late Lincoln Kirstein—whose Centennial is being currently celebrated—was at once a rich-patron, a managerial-enabler, and a dedicated advocate of Classical Ballet and Modern Dance in performance.
Without his vision and advocacy, the story of Dance in America, from the Depths of the Depression into the Post-War Wonderworld would be quite different. And possibly much less interesting…
The show's titular-description of Kirstein as an Alchemist in not as Faustian as it sounds. But he did indeed work wonders in helping to create five dance-companies: American Ballet, Ballet Caravan, American Ballet Caravan, Ballet Society, and the New York City Ballet.
The first ballet Your Reporter had ever seen—while attending UC/Berkeley—was thanks to Kirstein and the American Ballet Caravan over in San Francisco at the Curran Theatre. I was dazzled by Eugene Loring's Billy the Kid. Lew Christensen's San Francisco Ballet, then in development, obviously owed a lot to Kirsteinian-Inspiration as well.
Installed in the Lincoln Center Performing-Arts Library's Astor Gallery, costume-designs, stage-settings, photos, posters, costumes, props, programs, recordings, and film-clips amply document the developments of Kirstein's ensembles, as well as his relations with choreographers and dancers. The videos are especially interesting, as famed but now faded ballets are shown as originally rehearsed and danced.
Lincoln Kirstein was also an author, but more importantly for this show, he was a major force for the creation and funding of the Library's remarkable Jerome Robbins Dance Division. Nowhere else in America is there such an archive of texts, photos, designs, and performance-recordings and videos of American Dance.
There is a handsomely-illustrated and informative free-brochure accompanying the show. It includes some vintage George Platt Lynes dance-performance photos. If you cannot come to Lincoln Center for the show and the brochure, you might discover more—plus a copy of the brochure—somewhere in the electronic-entrails of www.nypl.org. Or you could phone the NYPL's Marketing-Office: 212-592-7700.
GRAZIELLA VIGO CAPTURES VERDI ON STAGE
[Closing 29 February 2008]
When Your Reporter arrived at the Lincoln Center Performing-Arts Library venue for Graziella Vigo Captures Verdi On Stage, it was 12:05 and the 10:30am Press-Preview was over. The doors to the Dorothy and Lewis B. Cullman Galleries were tightly locked.
With Press-Previews at 10am at the Jewish Museum, the Bard Gallery, and the New-York Historical Society, it was difficult to be in so many places at once. The GalleryMet Hansel and Gretel show was right next door to the Library, at 12:30, so that wouldn't be a problem. There would also be sandwiches and Jules Feiffer!
The Cullman Galleries were shrouded in darkness, as the show wasn't officially-open yet. I could barely glimpse what appeared to be large-scale photographs, suffused with remarkable light, of impressive opera-productions. What a disappointment to have just missed seeing them up close…
At that moment, a handsomely-attired lady came over to ask: "Would you like to see my photographs?"
The very gracious Graziella Vigo was waiting to show them to a friend, who fortuitously arrived at that moment. Thus, I was able to have a guided-tour of Signora Vigo's powerful images of Verdi operatic-productions on some major Italian stages.
These fascinating and atmospheric stagings are not the kind of co-productions that will eventually turn up at the Met. You'd have to go to La Scala in Milan, the Teatro Reggio in Parma, or even the Teatro Giuseppi Verdi in Bussetto to see such wonders.
All the photos were made during live-performances, with audiences watching. It is not easy to photograph a production in action—especially if you don't want to disturb the spectators.
Vigo pointed out to me what she calls "Rembrandt Lighting" in many of the photo-images. This is, of course, partly owing to the lighting-designs of the theatres' tech-staff, but it also has a lot to do with Sra. Vigo's choosing Moments and Details of the various productions that profit from subtle, soft lighting.
This works best in details, rather than in full-stage photos. But even those are occasionally Monumental!
Among the Verdi-Canon on view: Aida, Otello, Falstaff, Rigoletto, Macbetto, Trovatore, Traviata, and Un Ballo en Maschera.
The show is accompanied by Appreciations from Italian critics and theatre-experts. Notable is the Tribute from Franco Zeffirelli. There is also a full-color brochure. As above, try the electronic-entrails of www.nypl.org. Or you could phone the NYPL's Marketing-Office: 212-592-7700.
At the Metropolitan Museum of Art:
[1000 Fifth Avenue @82nd Street/NY, NY 10028/Phone: 212-535-7710]
TAPESTRY IN THE BAROQUE: Threads of Splendor
[Closing 6 January 2008]
Although the Met Museum has had some splendid Tapestry-Exhibitions—the richly golden-threaded hangings from Madrid's Palacio Reál was a dazzler, especially as it was accompanied by a Royal-Visit—but the new show, Tapestry in the Baroque: Threads of Splendor, cannot be matched.
Considering the weight, fragility, and virtually-priceless nature of most of the hangings on display, insuring, packing, shipping, and protecting such Treasures is now almost prohibitive. So not only a visit to the Met, but even a trip to New York, is advisable for anyone interested in the arts and crafts involved in creating these Masterpieces in colored threads.
The very scale of most of the tapestry-panels requires major rooms in the Met. To get the most powerful impression of an enormous tapestry, one must back-off—being careful not to connect with an equally-spacious woven-painting on the opposite wall.
Death of Decius Mus, Tapestry in the Baroque: threads of Spleandor, Metropolitan Museum of Art, New York.
From even a moderate distance, however, the intricate details of faces, fingers, eyes, ears, seashells, curling-hair, belt-buckles, serpent's-fangs, tiger's-whiskers will be melded into a composition more like a painting than a Masterpiece of the weavers' arts. Bring a Magnifying-Glass: you will be astounded at the way in which shadings of color, fullness of flesh, concavities of rocks, and other details have been suggested by the threads used in the tapestries.
Used for adorning—and insulating—great drafty Throne-Rooms, vast Ballrooms, or even Royal-Bedchambers, suites of themed-tapestries could travel with a Monarch from Castle to Palace to Residenz. They could also—with some years of planning-ahead—make wonderful Dynastic-Wedding-Gifts or Presents to Popes and Emperors.
Obviously, tapestries this grand and complicated did not come into being, based merely on a Master-Weaver's rough-sketch, or the ingenuities of the many skilled hands weaving the Great-Work. So the current show has Cartoons and Oil-sketches from such artists as Peter Paul Rubens, Giovanni Romanelli, Charles LeBrun, and Pietro da Cortona to demonstrate how styles and themes developed over more than a century.
The works on display begin with 1590, ending with 1720, effectually a 17th Century Survey. There are 44 rare tapestries, on loan from some 11 countries. Separate sections deal with Flemish-Weavers, the Brussels-Industries, the Paris-Workshops, and even the English Mortlake-Manufactory, staffed with Flemish-Weavers.
How about a tapestry devoted to the subject: The Triumph of the Church Over Ignorance and Blindness? Or Perseus on Pegasus Rescuing Andromeda? Or Christ Before Herod? Or The Audience with Cardinal Chigi?
In addition to your Magnifying-Glass, bring your Bible, your European History, and your Gayley's Classic Myths, to be prepared to Decipher and Understand Wonders!
GIFTS FOR THE GODS: Images from Egyptian Temples
[Closing 18 February 2008]
Many people attracted to the History and Art of Ancient Egypt know its Religious-Images and Symbols—if at all—from Monumental-Statuary or Decorations on Mummy-Cases.
Few have paid much attention to small votive figures, although the Met Museum has long had examples of these in its cases in the Egyptian Division. But William, the blue ceramic Hippo, is hardly in the same class as a small but stunning statue of Amun or Seth.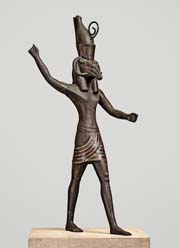 Seth, 19th-20th Dynasty, ca. 1295–1070 B.C, Gifts for the Gods: Images from Egyptian Temples, Metropolitan Mueum of Art, New York.
Small images of Gods and Kings, made of precious and semi-precious metals such as Gold, Silver, Copper, and Bronze [an alloy of tin and copper] are the focus of this small-scale show. There are some 70 statues and statuettes on view, on loan from museums and collections around the world.
These images were used in Ritual-Dramas in Temples and Chapels—which flanked the Nile and were also established inland, even in the desert—as well as in Festival-Processions.
Many have survived because, after long use, they were retired and buried in Temple-Deposits. Rather like burying old frayed Torahs… [Think of the Documentary-Treasures in the Cairo Genizah…]
THE GATES OF PARADISE: Lorenzo Ghiberti's Renaissance Masterpiece
[Closing 13 January 2008]
With the virtual Collapse of the Dollar vs the Euro, most of us can no longer afford to go to Tuscan Florence.
Adam and Eve relief, Gates of Paradise, Lorenzo Ghiberti (Italian, 1378/80-1455) from east portal of the Baptistery of San Giovanni, Florence, the Metropolitan Museum of Art, New York.
Fortunately, at least a precious part of Firenze has recently come to Manhattan! Three gilded Biblical-Narrative panels—or cells—from Lorenzo Ghiberti's "Gates of Paradise," created for the East Portal of the Florentine Duomo's Baptistry, are now on view at the Met Museum.
Four additional elements of the doors and their framings are also on display. More than a quarter-century has been required for the conservation of all the elements of Ghiberti's majestic 17-foot-high doors, which had badly weathered over five centuries since they were created. [World War II was also not kind to Florentine-Monuments…]
The three panels richly illustrate the fable of Adam and Eve, the tale of Jacob and Esau, as well as the myth-embellished battle of David and Goliath. They are marvels of modeling in both high and low-relief.
Winds from the River Arno are not blowing through the Baptistry—which has other sets of doors as well—while these Treasures are in New York. Ghiberti's original doors have long since been replaced with copies.
This is the first and last showing of these panels and portrait-heads in the United States. On their return to Florence, they will be restored to their original frames, hermetically-sealed in a huge glass-case, and preserved in the Museo dell'Opera del Duomo.
SILVERSMITHS TO THE NATION: Thomas Fletcher and Sidney Gardiner, 1808-1842
[Closing 4 May 2008]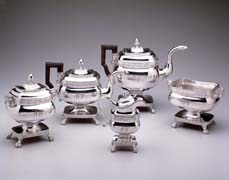 Thomas Fletcher (1787–1866) and Sidney Gardiner (1787–1827), Five-Piece Tea and Coffee Service, Philadelphia, 1812–20, the Metropolitan Museum of Art, New York.
In addition to admiring the remarkable handicraft of two of Young America's most important and creative Silversmiths—Thomas Fletcher and Sidney Gardiner—visitors to this small but dazzling exhibition will also be able to marvel at the Wonders of Versailles.
That's because much of this show is on display in the Oval-Room that houses John Vanderlyn's expansive Panorama of Versailles. Originally, as is the custom with Panoramas, it would have been installed in a circular-space, with viewers coming up into its center via stairs, with the vast circular painting lit from above, with both natural and artificial-light.
But it was not possible for the Met Museum to install the restored canvas accurately, owing to space-limitations. This also meant that doorways had to be cut at each end of the now-curving scene of the Sun-King's Palace and Gardens.
You won't really be able to savor much of Vanderlyn's skill as there are so many impressive F and G silver creations filling the space. Some of their silver-works are chastely elegant: a five-piece Tea and Coffee service, a handsome Pitcher.
But many of the works on view are Monumental Presentation Urns, Vases, Vessels, Platters, and Trays—richly adorned with miniature-sculptures and deeply-engraved Patriotic or Historic Scenes—to honor some Famous Man or Notable-Occasion.
The workmanship is astonishing, but no one was ever going to eat or drink from some of these Commemorative-Creations. Fortunately, those mugs, tea-pots, and cutlery actually made for practical-purposes are also less flamboyant in their design and decoration.
A Fish-Server visually advertises its function with a fish incised in its blade.
There are more than a hundred pieces of Fletcher and Gardiner silver on show, as well as 35 related drawings and designs. There is even a small two-roller silver-mill, through which a blank silver-strip could be cranked, emerging with a replicated-design impressed on the rollers.
These two talented men began their work in Boston, but moved their business to Philadelphia, which was more central to American-Citizens—suffused with Patriotism, Vision, Pride, Optimism, and Position—who could better-afford to pay for such often over-decorated Silver-Tributes than their Brother-Bostonians.
[Closing 27 April 2008]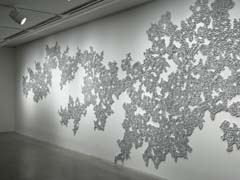 Tara Donovan at the Met, the Metropoilitan Museum of Art, New York.
Tara Donovan has her Very Own Room in the back of the Met Museum, just off the chamber with Andy's Mao and works by Saul LeWitt and Chuck Close.
This strange little isolated room—recently crammed with Nilo Rauch paintings—has been painted bright white, so that Donovan's Clotted-Constellations of tiny silver-metal rings, ovals, and circles will show to good-advantage.
Spread over three white walls—held in place by tiny nails driven into the walls between metal-joinings—these massed metal-shapes, defining central-voids, could suggest shoals of soap-bubbles, turned into aluminum-foil cookie-cutters.
Or, alternatively, Abstract-Maps of Great Land-Masses before the Continental-Drift of Massive Tectonic-Plates. Something Grand for this small space…
But there is NO ELEVATOR—only Stairs—up to and down from this area. Not good for Seniors or Wheel-chairs. But how many in Rollstuhlen are really interested in Decorative-Abstractions?
WRIGHTSMAN GALLERIES FOR FRENCH DECORATIVE ARTS RENOVATED
[Permanent Installation]
It is good to have the Wrightsman Period-Rooms open again. Apparently everything has been dusted, repaired, and polished, to overcome years of what may have been Benign-Neglect.
What Your Reporter immediately noticed is the lower levels of Light now in use. The rooms seem darker, dimmer than they were before The Restoration. Or is it my eyes…
Guess what? Here it is in the Press-Release: "All the candle-bulbs in the 17 chandeliers and many wall sconces have been replaced with bulbs to give a true sense of candlelight." [What: Bulbs replaced with Bulbs? Something missing there?]
There are also new dimmers, to reflect light at different times of day. Lights have been redirected off walls and ceilings and onto the Period-Furniture, thanks to Larry French of Auerbach Glasgow.
Of course, if the Met really wanted to give visitors an authentic Rococo-Experience, most of us wouldn't be allowed near these lovely and luxurious chambers. We'd be feeding the pigs on Marie Antoinette's petite ferme, if we got anywhere near Royalty.
In fact, you cannot enter some of the rooms: only peek in from a corner, a side, or a walk-through against a wall.
But Bless Jane Wrightsman for her initial donations of 18th century furnishings and continuing-support of the Museum, its Mission, and the handsome chambers named for her and her late husband, Charles Wrightsman!
[Permanent Installation]
Ancestor Figure, Leti Island, Maluku Tenggara, Indonesia, 19th– early 20th century, the Metropolitan Museum of Art, New York.
Michael Rockefeller was not eaten by Cannibals when he disappeared some years ago somewhere in the South Pacific, collecting Native-Artifacts for the Met Museum, which has named this entire Wing for him.
Although that story was whispered-about when he did not return to New York, it is apparently an Urban-Legend. If not a Micronesian or Polynesian-Legend…
A Museum-Staffer assured me that this old story was what we used to call a Vile-Canard, but people don't talk that way anymore, so he just said it wasn't true.
What is especially admirable about the new installation of the Oceanic Galleries is that they no longer seem so crowded with intricate and puzzling Artifacts. Formerly, it was difficult to know where to look next.
Considering the large number of Native-Cultures represented on the multi-island-dotted-map of the Pacific-Basin in the Galleries, it is a wonder that so much diversity of Art and Cult has been so well-selected and effectively-mounted.
NEW GALLERY FOR ART OF NATIVE NORTH AMERICA
[Permanent Installation]
Almost the same can be said of the new Gallery for Native North American Art, although there aren't nearly as many Tribal-Cultures to be represented as in the Pacific Areas. Nothing is too crowded!
If you favor the fascinating arts of the Tribes of the Northwest Coast over those of the Plains Indians, the Met certainly has some striking and handsome Artifacts.
Mask, 1820-1850 Alaska, Tlingit, the Metropolitan Museum of Art, New York.
But the ritual-works and practical items on view are no match for the collections of the Brooklyn Museum or the American Museum of Natural History. Then there's also the Museum of the American Indian, down at the old Customs House at the Battery! An Embarrassment of Riches: we now have more Indian-Artifacts in Manhattan than we have Indians…
[Permanent Installation]
New Uris Centre for Education, the Metropolitan Museum of Art, New York.
If you have ever been engulfed by a group of school-children when visiting a Major-Exhibition at the Met Museum, know that there are often many more of them down in the basement of the Met's South-Wing, in the Uris Center for Education, which has just re-opened with greatly enhanced rooms and resources for the study of Art in general and the Met's Treasures in particular.
Every year, the Met offers over 20,000 educational programs and events, so the new spaces and technologies will be in constant use. But the programs are not merely for students and teachers. They are also designed for use by scholars, researchers, and even journalists.
The new Nolen Library in the Center is the only Met library open to all visitors. There are, of course, many special divisional or collection-libraries, but access is limited to the experts.
Not only does the Nolen have art-references and other art-books, but it also has videos, online-programs, with a number of terminals, not to overlook wireless-access. High-speed communications-networks will permit instant contact with educators, students, and museums around the world!
Among other amenities in this expanded and state-of-the-art facility are the Art-Study Room, where the Met's Medieval painting of one of the Holy Three Kings—the African one—was on display for the edification of School-kids and the Press alike; the Sacerdote Lecture-Hall, seating 125; a Studio, two Classrooms, the Carson Family Hall, and the Teacher Resource Center, with materials for teachers, curriculum-designers, and art-resource specialists.
An interesting feature of several of the spaces are long low squared forms as benches—no backs—which can be easily moved about for varied seating-conformations.
At the Morgan Library and Museum:
[225 Madison Avenue @36th Street/NY, NY 10016/Phone: 212-685-0008]
Baselitz, Kelly, Penone, Rockburne, and the Old Masters
[Closing 6 January 2008]
This is another of those ingenious and cost-cutting Museum-Shows that relies largely on the Curating-Institutions' Permanent-Collections for its Substance. Usually, there is no Substance-Abuse involved.
But this is a Good-Idea for reasons other than circumventing the costs and difficulties of borrowing, insuring, and shipping Masterworks from the Hermitage or the Residenzgalerie: this sly practice brings valuable and interesting works, otherwise unseen, out of Storage.
Unlike some Focus-Installations—which are primarily about promoting the artworks of some neglected or insufficiently-publicized modern-artists and crafts-people—the Morgan Library/Museum's new show invokes both the names and the artworks of Living-Artists, who have been invited to spotlight much older artworks that inspire or intrigue them.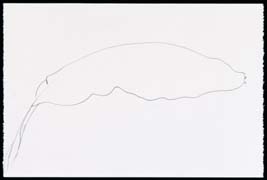 Banana Leaf, 1992, Ellsworth Kelly, Drawing Connections: Baselitz, Kelly, Penone, Rockburne and the Old Masters, the Morgan LIbrary and Museum, New York.
The Anointed-Four, in this case, are Georg Baselitz, Ellsworth Kelly—he currently has his Own-Focus at the Met, Giuseppe Penone, and Dorothea Rockburne.
Each of these Talents was invited to choose seven or eight drawings from the Morgan's collections of over 12,000 sheets of drawings and sketches. These choices are balanced by drawings by The Four, from the artists' own stock or New York private-collections.
What's oddly interesting is that some of the forms—not the subject-matter—of Old Master-drawings have been chosen to pair with the forms of the Selector's own work.
Thus, Rockburne has chosen Tintoretto's Man Climbing into a Boat, which is a kind of flipped-image of the form of her Conservation Class #9. Similarly, Ellsworth Kelly's Pine Branches II echoes the form of Watteau's Study of a Young Man.
Not a Great Fan of Baselitz, I much preferred the Modernist-Minimalist Geometric Form-Foldings of Ms. Rockburne.
But my favorite in the entire exhibition is a tiny Piranesi pen-and-ink sketch—you'll almost miss it, off in a corner—of Prison Interior of a Great Hall with Piers and Arches Pierced by Grated Oculi and Figures in Foreground. That is almost more of a title than this charming little drawing can carry…
At MoMA/The Museum of Modern Art:
[11 West 53rd Street/NY, NY 10019/Phone: 212-708-9400]
[Closing 3 December 2007]
The astonishing thing about this small-scale show is that the works on view were created by four artists who—in the inimitable words of MoMA's release-writer—CONSIDER THE WRITTEN-WORD AS A MEANS OF EXPRESSION. [italics and bold-face-added]
This is a Great-Breakthrough in Modern-Art! Who would have thought of Actual-Words—especially in literate-sentences—as a Means of Expression! Why aren't there Headlines about this discovery in the New York Times and even in The American Spectator? Not to mention Time and Newsweek?
But if you are familiar with the Word-Games of Jenny Holzer, you just know she had to be included in this show. After all, she's had her columns of words running up the walls of Kunsthaus Bregenz and even projected on Medieval Castles and convenient Austrian-Alps!
Holzer's Message is inscribed deeply into the stoney-flesh of a Sarcophagus. There's also an LED display to accompany her Lament (I Want to Live…).
[This recalls that Susan Hayward movie of the same title: I Want to Live! That real-life murderess lived down the road from Your Reporter's family-farm in far-off Nevada County, no less.]
Looking at the cold clear letters chiseled into the Holzer-Tomb, I wondered whether she had carved them herself? Or hired experienced Tombstone Epitaph-Cutters to do her work for her?
In the fashion and manner of Jeff Koons, whose Greatest-Works are often executed by competent craftsmen, even if they go at auction for Millions of $$$$$$$. Koons is also Very-Big at Kunsthaus Bregenz.
The show takes its brief title from Bruce Nauman's RAW-WAR, also on display. There is—according to the press-release—an "unsettling ambiguity in the simple symmetry of the mirrored words." And why not?
There are also Installations by Jonathan Horowitz and Natascha Sadr Haghighian. As with Nauman and Holzer's works, these "create tension and evoke notions of fragility through both form and content." Oh!
Well, when you have so much empty-gallery-space to fill, it's helpful if the artworks are doing Something, in addition to Considering the Written-Word as a Means of Expression.
Unfortunately, that Concept has been almost Totally-Discredited by the Printed-Texts of the Speeches of Geo. W. Bush…
[Closing 14 January 2008]
Bruce Nauman's towering rusted four-sided obelisk-point-on-point sculpture in MoMA's Mammoth-Atrium has had to give way to Martin Puryear's distinctive wooden-sculptures. They are vastly more intriguing, as well as putting much less weight on the floor.
Other floors and the gardens of MoMA are still recovering from the massive-weight of the Richard Serra sculptures they had to bear all summer. Fortunately, Puryear's imaginative artworks are Lightweight, often Playful. And they make charming—even Mythic, Mysterious—use of woods that otherwise might have Gone Up in Smoke, to coin a phrase.
Actually, Puryear also works with Wire-Mesh and Tar, Stone, Stainless-Steel, and Bronze. Some of his basket-woven-shapes are quite haunting. Some long rods along the wall fail to resonate, while some wooden-hoops were described by a critic as looking like failed Bicycle-Tires.
All these objects demonstrate Puryear's "commitment to Modernist Abstraction," according to the press-release. Some of the basket-weaves look like they could also be used as Animal-Traps.
What is defining in his work—aside from his Bizarre-Imaginings—is the solid fact that he makes these objects himself, unlike Koons, deriving his methods from Traditional Trades and Skills.
I found many favorites in Puryear's retrospective, especially the large-scale Atrium sculptures: Ladder for Booker T. Washington—a long skinny wooden ladder reaching up into the airy summits of the Atrium and Desire—an immense but skinny wooden-wheel, connected by a long straight rod with a basket-woven pillar.
Of the smaller sculptures, Lever #3, Bower, Old Mole, and Deadeye are of special interest. There are several works distinctively entitled Untitled, so it is impossible to praise them by name.
How many hundred-thousand Untitled-Works of Modern-Art are Out There to confuse future Art-History Archivists?
Despite its Abstractionist-Orientation, this is a Fun-Show, one to which you could bring the family over the coming Holidays. If you have a home-shop in the basement, seeing Puryear's constructions, you might want to try your own hand with that left-over firewood…
[Closing 7 January 2008]
Not having previously studied the drawings of Georges Seurat, Your Reporter wondered how Seurat could have achieved—if indeed he did—his famed painterly-effect of Pointillisme in his drawings and sketches.
As this effect was achieved by painting many tiny dots of primary-colors, to create effects of secondary-colors, this seemed impossible with dots of black on a white paper or card-medium.
Nonetheless, as in his study for his famed Masterpiece, A Sunday on La Grande Jatte, Seurat was able to create a somewhat similar effect in black-and-white by drawing with a Conté-crayon on a handmade textured paper called Michallet.
Its surface, with the crayon stroked, rushed, or rubbed over it, made possible a sense of an image composed of many black or gray dots, with intervals of light, so that the drawings have a special Luminosity about them.
Placing the dark next to the light achieved what Seurat called "Irradiation," a kind of Halo-Effect or Glow around his subjects. Nonetheless, many of these studies are still dark and deliberately blurry, rendering them immensely Suggestive.
Most of the 135 works in the current MoMA exhibition were made as independent artworks, not as studies for major paintings such as La Grande Jatte and Bathing Place, Asnières. Many of them will be entirely new experiences to those whose knowledge of Seurat is largely owing to the Stephen Sondheim musical, Sunday in the Park with George.
[Would a Sondheim musical about Jeff Koons increase Museum-Attendance or Koons' Auction-Sale prices?]
There are also useful background text-materials for the exhibition. Notably, four of Seurat's sketchbooks are on display. They have also been digitized, so visitors can go through them page-by-page on computer-monitors!
New Perspectives in Latin-American Art, 1930-2006:
Selections from a Decade of Acquistions
[Closing 25 February 2008]
Here is another cost-cutting show which has the added benefit of getting some important and seldom-seen artworks out of MoMA's drawers and basement storage-bins. Caribbean Arts are also included, but naming them would make the title too long.
Among the most fascinating for Your Reporter were the intricate designs of León Ferrari, notably his Cidade from Heliografias. But Helio Oiticica's strong blocks of color can be compelling, more so when they are massed on a wall, as at the New Tate in London, where he has been having a posthumous [d. 1980] retrospective.
For that matter, the design-intricacies of José Damasceno, Gego [Gertrude Goldschmidt] and Vik Muniz also enchant.
The eye is arrested by a tri-partite glass-case with a Violin, its lid displaced, but filled with corn-kernels that spill over the edges. Next to it, a case-section is filled with dull leaden-canisters with Red-Beans spilling out. The final case-section displays a worm-eaten chunk of Found-Wood. [Well, if Victor Grippo had not found it, this would be only a Two-Part Invention…]
This Seminal-Work—titled Life, Death, and Resurrection—by one of the "leading-figures in Latin-American Conceptualism" is regarded as "one of the most important achievements" in Grippo's artistic-career.
How very Minimal can be the satisfactions of artists in what some like to think of as the Third-World.
But Central and South America are not Third-World: perhaps Second-World, as no one seems to know what or where that World really is? Whatever their Economic and Political Problems, Brazil and Mexico are not quite Disaster-Areas.
Some artists may not be well-known North of the Border, but the names of Jésus Rafael Soto, Felix Gonzalo Torres, Guillermo Kuitca—who just had a show at GalleryMet, and Gabriel Orozco certainly resonate.
This colorful show opened in the immediate wake of an immense Latin-American Art exposition at Christie's, with many, many famous names on view, with their works up for Auction.
MULTIPLEX: Directions in Art, 1970 To Now
[Closing 28 July 2008]
And here is another MoMA Cost-Cutter, either plundered or selected from its vast trove of stored-treasures. Its All-Purpose-Theme permits—nay, encourages—the prominent display of a wide variety of Works, Trends, Styles, Movements, and Subjects
What would such a show be without Louise Bourgeois, William Wegman and Dogs, Daniel Buren, Gilbert and George, Nancy Spero, Zhang Huan, Lynda Benglis, Dorothea Rockburne, Giuseppe Penone, and Georg Baselitz—see also the Morgan show, Roni Horn, Richard Wright, David Hammons, Bruce Nauman, Philip Guston, Bill Viola, Kiki Smith, Paul McCarthy, Andreas Gursky, Mike Kelly, Barbara Kruger, Jenny Holzer, Cindy Sherman, Chris Ofili—who enraged President-Apparent Rudy Giuliani, Franz West and Andy Warhol. Did Andy start a Trend, or what?
Jeff Koons—or his Gallerist, Larry Gagosian—should sue. I couldn't find a Koons-Work anywhere in this confused collation of Famous Art-Names.
Actually, there is a lot to admire—even to enjoy—in this wide-ranging show. Your Reporter was again astounded at the austere majesty of Tacita Dean's huge signature-photographs of very black Ancient-Trees, with all the surrounding details rendered ghostly-white with gouache.
MoMA owns her Crowhurst—worth a trip to the Museum in itself. Dean recently had an important exposure at the Guggenheim as well.
Andreas Gursky's almost Surreal photo of odd rippling, curving black-and-white highways, surging over desert-sands, is titled Bahrain I. When Your Reporter was in Bahrain in 1958, there was nothing like this to be seen.
Luckily, I had just seen similar photos of a Camel Race-track in Dubai—or was it Abu Dhabi?
Go see this show: something for everyone except Rudy Giuliani, Mayor of 9/11.
[1048 Fifth Avenue @86th Street/NY, NY 10028/Phone: 212-628-6200]
GUSTAV KLIMT: The Ronald S. Lauder and Serge Sabarsky Collections
[Closing 30 June 2008]
It's not just the Magic of a Gustav Klimt Portrait that cost Ronald Lauder $135,000,000 at Auction that keeps drawing eager art-lovers to the Neue Galerie up on Fifth at 86th Street.
Although some spectators are certainly attracted by the Idea of seeing just what a Multi-Million-Dollar painting looks like and some others simply want to study the intricate mosaic-like detail of Die Goldene Adele, most viewers are more largely interested in the German and Austrian Expressionist Art and Artists that this magnificent museum was created to showcase.
Fortunately for all kinds of visitors, the current exhibition concentrates on some notable works by Gustav Klimt, owned by Lauder and his fellow-fanatic of Austro-German Expressionism, the late Serge Sabarsky.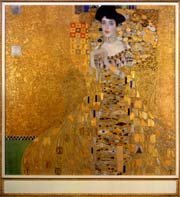 Adele Bloch-Bauer I, 1907, Gustav KLIMT (1862-1918), Neue Gellerie, New York.
Not only is the wonderful portrait of Adele Bloch-Bauer on view, but the Heirs of the Bloch-Bauer Family have recently made a gift of the two George Minne sculptures that flanked this famed picture when it was first exhibited, at the 1907 Internationale Kunstaustellung in Palatine Mannheim.
The sculptures, like the portrait, had been recovered from Vienna's Belvedere Museum. This required a legal-battle to restore Adele to her Heirs.
Other Klimt paintings owned by the Neue Galerie are also on view, as is a large assortment of Klimt Drawings, some of them studies for Adele and other portraits. There is also rare documentary-material, including Klimt's Cuff-links and the flowing gown he wore when at work in his studio.
The most impressive form of documentation, however, is the Reconstruction—with the actual Josef Hoffmann-designed Wiener-Werkstätte Jugendstil furnishings—of the Reception-Room of Klimt's Studio in Vienna's Josefstadter District.
This show's stunning brochure—as with all Neue Galerie exhibitions—features a handsome full-color reproduction of a striking detail from Klimt's 1907 Hope II, now in the MoMA collections. The distinctive Klimt mosaic-like decorative-effects are here in full-bloom. The brochure is free. Opened-up it makes a handsome poster!
There is also a Prestel Catalogue, titled Gustav Klimt. It features Die Goldene Adele on its cover. It is not free. For more information and free-brochures, try 212-628-6200, museum@neuegalerie.org, or www.neuegalerie.org
At the New York Botanical Garden:
[Bronx River Parkway @ Fordham Road/Bronx, NY 10024/Phone: 718-817-8700]
KIKI: The Art of the Japanese Chrysanthemum
[Closed Mid-November 2007]
If you missed the Japanese Chrysanthemums up in the Bronx at the New York Botanical Garden, do not despair. As staff-members even went to Japan to learn how to cultivate the amazing blooming plants that are involved in the Japanese Art of Kiku—the Japanese word for Mums—some these remarkable flowerings should be back next autumn.
What was most astonishing about this stunning flower-show was the Ozukuri Kiku, or Thousand-Bloom Chrysanthemum. This plant is grown from a small slip of Chrysanthemum, which becomes a single-stem, from which develop—thanks to intensive training—into a massive dome-shaped array of simultaneous blossoms.
Also on view were Ogiku Kiku and Kengai Kiku versions of Chrysanthemum-Culture.
The Ogiku bloom grows from a single-stem to a height of six feet or more. Each very large and perfect bloom is precisely balanced on its stem; they are arranged on diagonal lines that decrease from back to front. Colors featured are white, yellow, and pink. These are the Traditional-Hues of the Emperor's Horse's Bridle.
The Kengai, or Cascade, Chrysanthemums are small-blossomed flowers, trained on a boat-shaped form, so they can cascade down like a waterfall. This flower-fall can descend over six feet away from the root-ball!
Because the Chrysanthemum-Season in Japan is relatively short—while the exhibition in the Courtyards of the Enid Haupt Conservatory had to last most of the autumn—two sets of Ozukiri, Ogiku, and Kengai chrysanthemums had to be cultivated. One set was raised in relative darkness—to fool Nature.
In addition to special Japanese Garden-Pavilions for displaying the three kinds of cultivated Kiku, there was also a massive Japanese split-bamboo-sculpture in the Central Courtyard.
Your Reporter saw and photographed all three kinds of Kiku last autumn when he was touring Japan. But he had no idea of the intense training required to produce such astonishing blooms. Most of those caught by my lens were adorning the façades of temples.
There was also an International Ichebana—or flower-arrangement—competition in my Tokyo hotel! With contestants from Long Island, no less!
The Kiku is the National Flower of Japan. It is also the Crest of the Imperial Family.
[Closing 13 January 2008]
Yes, you may well have seen Model-Trains at Christmastide in New York. The vast and otherwise aimless Atrium of the Citicorp Building customarily hosts a handsome assortment of Engines, Oil-Tankers, Flatbed-Wagons, and Coaches, with Big-City Backgrounds.
But the Bronx does it better, with model-trains running in and around exotic plantings in the Botanical Garden's Enid Haupt Glass-Palace. Holiday Plantings are also worth the trip!
PLANTS OF JAPAN: In Illustrated Books and Prints
[Closing 13 January 2008]
As a corollary to the Kiku show, rare books and prints, featuring plants, trees, and gardens of Japan, are now on display in the LuEsther T. Merz Library of the Botanical Garden. Not only do they deal with the History, Culture, and Art of Japanese Gardens, but they also relate to the interchange, East and West, of information about Japanese plants and gardens.
The Merz Library, incidentally, has the largest collection of books on Botanical subjects in the world. Many are now extremely rare. Some historic volumes are distinguished by pressed examples of once-living plants and flowers.
At the New-York Historical Society:
[170 Central Park West @77th Street/NY, NY 10458/Phone: 212-873-3400]
LAFAYETTE'S RETURN TO WASHINGTON'S AMERICA
[Closing 19 August 2008]
Although the Marquis de Lafayette fought for both Freedom and Democracy in the American Revolution, when he returned to his native France, King Louis XVI imprisoned him. This unsettling event happened well before the French Revolution of 1789.
The teen-age Marquis went AWOL from his Regiment, bought and provisioned a ship, and sailed to the American Colonies to join General George Washington's staff, where he distinguished himself as Washington's aide and later in battle, contributing significantly to the defeat of the British at Yorktown.
Returning to France, Lafayette was a leader in the demand for reforms, but he was no Jacobin. His good fortune was to have been captured by Habsburg forces, supporting the embattled King—again imprisoned, this time for five years—which surely kept his head on his neck during the Reign of Terror.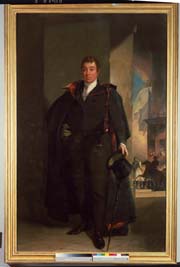 Portrait of Lafayette ( 1825-26), Thomas Sully, Lafayette's Reutrn to Washington's America, New-York Historical Society, New York.
Lafayette was no friend of Tyranny—whether of Parisian Mob-Rule or of Emperor Napoleon Bonaparte. His estates had been confiscated by Robspierre and the Revolutionaries, but Lafayette survived all the subsequent Political-Crises in France.
By 1824, his father-figure, President Washington was long dead. Lafayette was himself ageing. But he courageously embarked on an Epic-Visit to the States that had been Colonies when first he came to America.
Lafayette was the Last Surviving General of the American Revolution by 1824. He was also widely regarded as a French Founding-Father of the growing nation.
Lafayette's 13-month Triumphal-Tour of all 24 States made him a Hero in the flesh, where before he had been merely part of the Historical Narrative. His close relation with General/President Washington was especially valued by Americans who feted him at every opportunity.
It has been said that Lafayette and his Open-Admiration for what had become the World's First Modern Democracy—without a Monarch as its titular-head—helped Americans, with differing regional interests, come together as a Nation.
Now the New-York Historical Society has virtually reconstructed the Marquis de Lafayette's Tour-Route, with many details of banquets, odes, dedications, encomiums, and interactions with both ordinary Americans and those in High-Places.
Some places in the South forbade locals to allow their Slaves anywhere near the Lafayette-Procession. But at one point, a small Negro boy cheered Lafayette, who doffed his hat to him! A memory the boy treasured all his life. This fascinating exhibition retrieves many such memories.
It also features examples of the many Lafayette-Souvenirs created for the occasion: plates, platters, mugs, cups, handkerchiefs, gloves, snuff-boxes, clothes-brushes, punch-bowls, cards, prints, flags. The Key to the Bastille that Lafayette sent to President Washington is also on display.
The extent and depth of the Young American Nation's admiration and affection for the now very senior Lafayette—as the exhibition demonstrates—caused streets, hotels, schools, parks, lakes, villages, towns, counties, and cities to be named after the Marquis!
Arkansas has its Fayetteville, but Manhattan has Lafayette Street, which ends at Astor Place, where a section of the Colonnades still stands—across from the Public Theatre. This Neo-Classic Terrace once stretched the entire block—until the long-defunct Wanamaker's razed sections for a warehouse.
Lafayette called this splendid architecture "the finest residential block in America." [It could very much profit from some Preservation and Restoration-Attention now, perhaps in honor of the Marquis?]
One of the more unusual elements in the current exhibition is a Basket-Coach—of woven-wicker—in which Lafayette was driven from one New England town to another. The roads in New Hampshire way back in 1824 were virtually impassible in Winter; little better in Spring. Only three of these coaches survive, but not just because of decades of running on bad roads…
There are a number of interactive and multi-media aspects to this interesting show: mandatory for school-kids and sure to be fun as well as informative!
There is even a peephole rotating miniature-version of John Vanderlyn's Panorama of Versailles—as it looked in Lafayette's time. The original can be seen on the other side of Central Park, in the basement of the Met Museum's American Wing!
To salute Lafayette and the Historical Society's Exhibition, Hermès of Paris has created a limited-edition silk-scarf, depicting incidents from the Marquis' Life and Achievements. Just as such scarves were created back in 1824. Only they cost considerably less than the $325 price-tag. Part of the Hermès profits, however, will go to the N-YHS!
If you happen to find an 1824 Lafayette Souvenir-Scarf in that old trunk in the attic, it is now worth considerably more than $325…
Oddly enough, Your Reporter years ago found a badly-worn book on a London Used-Book-Barrow. The faded blue cover announced the volume as an Account of the Marquis de Lafayette's recent visit to the United States.
I must have paid about 50 cents for the book. I didn't know—before glancing through it—that the Marquis had ever returned to America.
It has been buried in the back of a closet for years now: there are no attics in East Side Coops! I intended to rebind it—along with many other coverless or damaged books—when I was Old and Retired. Instead, I am writing this column…
HERE IS NEW YORK: Remembering 9/11
[Closing 31 December 2007]
Although Members of the Press are often permitted to take photographs of Museum-Installations—if they don't give you a press-photo, how can you illustrate your report?—Vigilant-Guards at the New-York Historical Society went Ballistic when I took out my point-and-shoot Olympus mini-camera.
What I have now is a photo of a black hand in front of my lens…
Your reporter wished to record the impressive appearance of two rooms filled with many, many lines of color-photo-prints of Vignettes from the 9/11 Disaster, many of them very Human-Moments. There was a CD of images for Lafayette, but nothing for this Panorama of Horror and Sadness.
The images are from The Here Is New York Collection, which is an Archive of some 1,300 photos of 9/11 and its Aftermath.
This is said to be the largest Photo-Archive devoted to a Single-Event. [Actually, Your Reporter's INFOTOGRAPHY™ Photo-Archive of Christo and Jeanne-Claude's installation of THE GATES in Central Park is much larger, but it records the Project, start to finish. As with Your Reporter's INFOTOGRAPHY™ multi-image-record of Christo's Wrapping the Reichstag in Berlin…]
Also in the Historical Society's exhibition are damaged landing-gear from either American Airlines Flight 11 or United Flight 175 [markings unclear?], a section of a badly-dented Police-sedan, and a crushed-clock, stopped at 9:04 am. These are in the Society's Permanent-Collections.
LIFE'S PLEASURES: The Ashcan Artist's Brush with Leisure, 1895-1925
[Closing 10 February 2008]
If Your Reporter is still welcome at the New-York Historical Society, he has received no invitation to the press-preview of this potentially-interesting show. By the time this column is filed, it will have opened, so at least I should note that there are to be some 80 paintings by the likes of Robert Henri and William Glackens!
From the Society's Exhibition-Schedule: "An expressive and cosmopolitan group of painters, the Ashcan artists embraced a credo to paint what they saw around them; recording these images with quick brush-strokes, saturated pellets [sic: should this be palettes?], and heavy impasto." [bf added]
At the New York Public Library:
[5th Avenue @42nd Street/NY, NY 10018/Phone: 212-869-8089]
BEATIFIC SOUL: Jack Kerouac On the Road
[Closing 24 February 2008]
From the Acres of Paper now on view in the NYPL's majestic Gottesman Hall, it would appear that Beat-Poet Jack Kerouac never threw away anything he wrote.
The Berg Manuscript Division of the NYPL has been able to acquire all of Jack's Papers from the Kerouac Family. This occurred in 2001: it must have taken all these years to sort and catalogue the collection.
Most interesting for Your Reporter is the massive Scroll of On the Road. It runs the length of the Hall, leading up to an immense photo of an open-highway, a metaphoric-continuation of the 60-foot Road-Scroll. Actually, this is only part of the whole Scroll, owned by the owner of the Indianapolis Colts, no less!
Many of Jack's Notebooks are here: the random jottings are possibly of great interest to those who remember this brief era in American Letters and Social-Interactions with Nostalgia. Was this the Beat-Generation or the Love-Generation? Or both…
Face of the Buddha, Jack Kerouac, Beautific Soul: Jack Kerouac On the Road,New York Public Library, New York.
Jack's fascination with Buddhist-Thought and Symbology is spotlighted, as are his various published-works, of whatever quality. Jack liked to link Beat with Beatitude, something of a stretch for Guardians of Public-Morals, especially those policing mind-stretching use of LSD.
What many Kerouac Fans may not know about is Jack's interest in Art in general and Drawing in particular, for which he had a real talent, as well as a Fertile-Imagination. A variety of colorful Kerouac pictures and sketches are on view.
In this wide-ranging show, Jack's Comrades—whose photos and writings are also shared with the General-Public—are necessarily not neglected. They are all part of the Beat-Myth. Materials are drawn from other Archives in the Berg Mss. Division, such as the William Burroughs holdings—and from other NYPL Collections.
There is a free info-packed brochure for this show, available at the entrance to the Gottesman. Free show-brochures are now standard for almost all NYPL exhibitions!
The author of the censored Howl!, the amiable Allen Ginsberg, is also justly celebrated in this show. Although Allen and his Other, Peter Orlovsky, had a cabin near the Loney Ranch above Nevada City, Your Reporter kept his distance from this Motley-Crew.
That is until Allen was named Distinguished-Professor of English at Brooklyn College, where I was an Undistinguished-Professor of Theatre.
Allen delighted our President, the late Bob Hess [Uncle Leon Hess was Amerada-Hess!], by branding his students as Illiterate! He meant they had not read Keats—but writing complete-sentences was also a challenge.
My Oregon cousin, Mike Markee, had made two documentary-films on the poems and personality of Oregon's Poet-Laureate, William Stafford. Allen liked them and had the College purchase them for student-use.
But I do not forget one of those TV Talk-Shows—Mike Wallace?—featuring Norman Mailer, Allen Ginsberg, and other avant-garde advocates of Freedom of Expression. Allen was complaining about the Feds' repressive-interest in the activities and publications of the Man-Boy Love Association.
Norman grabbed him: "Allen, shut up! People are watching this!"
For the Record: Some of Your Reporter's Letters from the Famous are also in the Berg Collections. Notes from WH Auden and the entire correspondence from playwright Joe Orton. Joe was a kind of Pen-Pal, but this was before Computer-Dominance, so my banal answers to his very amusing letters have not survived.
I am sure Joe destroyed them before his Lover/Murderer could find them. Joe's biographer, John Lahr, assured me nothing was found. I loaned John Xerox-copies of my Orton-Letters for Prick Up Your Ears.
[1334 York Avenue/NY, NY 10021/Phone: 212-606-7100]
ARIANE DANDOIS: Remarkable Antiques in Molyneaux Rooms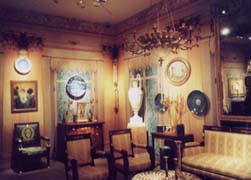 Ariane Dandois: Remarkable Antiques in Molyneux Rooms, Sotheby's. New York.
The famed Paris dealer, Ariane Dandois, recently decided to close Galerie Ariane Dandois, her fabulous maison des antiques in the fashionable rue de Faubourg Saint-Honoré. Her daughter, Ondine de Rothschild, had no interest in continuing her mother's profitable business.
Possibly the Paris Rothschilds have so many antique-chairs of their own, there's no need to hunt down the heirlooms of others to offer them for Public-Sale to a Discriminating-Clientele.
Rather than dissolve her business in a Paris Auction, Dandois decided on New York as the best city for eager, deep-pocketed Collectors and Interior-Decorators. She chose Sotheby's, rather than Christie's, of the two major metropolitan auction-houses.
This was because Dandois had a very original idea about the pre-auction presentation of her many treasures of Paintings, Tapestries, Period-Furniture, and Objects-d'Art, spanning the 17th to the 19th Centuries.
Juan Pablo Molyneaux created a large suite of roofless chambers, each designed in a different period, to showcase the furnishings and artworks. The walls of the largest of these sumptuous rooms were covered with enormous enlargements of Piranesi's Carceri, evoking a Baroque Rome.
Another majestic chamber was papered with images of the Grand-Staircase of the Hermitage in St. Petersburg. Yet another resembled the interior of a Swedish-Palace in Winter. The entrance-hall was like an immense Garden-Pavilion.
These magnificent fausse-chambres were crammed with some of the most handsome furnishings seen in one Manhattan location in years. They made the Wrightsman Period-Rooms at the Met Museum look undernourished, by comparison.
With over 800 lots to sell, the sale was expected to bring in $20 million, at the high-estimate. In the event, the sale achieved a record-breaking $32.2 million! There was an accompanying two-volume richly-illustrated catalogue, but it may now be sold-out. Catalogues for such memorable sales—Your Reporter has those for the Duke and Duchess of Windsor and Barbra Streisand!—soon become Collectibles in themselves.
Now Mme. Dandois and sa fille Ondine will be able to travel the world more frequently. They had just been camping in Mongolia before the Sale!
For the Record: As there are in Manhattan—not to mention the Bronx, Brooklyn, Staten Island, and Queens—so many Important Museums, covering every auction at the Major-Houses will not be a regular feature of Curators' Choice.
But this very special Sale was so impressive in the presentation of its Treasures, Your Reporter thought readers should be reminded of what surprises may be in store for them when they drop by Sotheby's or Christie's. You can also subscribe to catalogues for forthcoming Sales. Or buy remaining copies of past memorable auctions…
You do not have to pay admission to survey the artworks up for auction. Nor, if you choose to attend the actual sale, do you have to bid. Some of these shows at Sotheby's are more inclusive and extensive than exhibitions at the Met or the Brooklyn Museum.
But you do have to Keep-Posted in order not to miss the Best of the Sales. The Dandois/Molyneaux rooms were on view only from 20-24 October. Your Reporter arrived only in the last 45 minutes, before they were closed for the auction. This took place over two days, 25 and 26 October, making a Rich Dealer even more wealthy…
Sotheby's subsequently had a sale of Impressionist and Modern Art that disappointed. A Picasso and a Van Gogh failed to sell, among other lots.
Unfortunately, the auction-house had guaranteed the Van Gogh, with a low-estimate of $28 million to a high of $35 million. That means Sotheby's now owned the unwanted canvas, regarded by some as Second-Rate: The Fields (Wheat Fields).
With some other Guarantees not being met in the sale, the House Took a Hit, with a resulting 28 percent sag in its stock soon after. High-estimate for the entire sale had been $494.2 million, but the final total was only $269 million.
Still, a Gauguin canvas sold for $39.2 million. Paul could have used that cash…
[You could feed a lot of Hungry American Children with money like that—or perhaps even find Weapons of Mass Destruction in Anbar Province—but the money that flows through the major Auction-houses has little interest in Social-Justice…]
Fortunately, the next Sotheby's sale did quite well!
At the Whitney Museum of American Art:
[945 Madison Avenue @75th Street/NY, NY 10021/Phone: 800-WHITNEY]
Lawrence Weiner: AS FAR AS THE EYE CAN SEE
[Closing 10 February 2008]
Seeing the pristine white-walls of one entire floor of the Whitney boldly adorned with long lines of Printed Words—can these be in Helvetica, the fascinating Type-Face-subject of a current Documentary-Film?—one is immediately reminded of Jenny Holzer and her Sarcophagus, over at MoMA, where the novel idea of Words as a Means of Expression has been spotlighted.
For those who do not want to Scroll-back, here is a reprise of Your Reporter's comments on: "…the inimitable words of MoMA's release-writer—CONSIDER THE WRITTEN-WORD AS A MEANS OF EXPRESSION. [italics and bold-face-added]
"This is a Great-Breakthrough in Modern-Art! Who would have thought of Actual-Words—especially in literate-sentences—as a Means of Expression! Why aren't there Headlines about this discovery in the New York Times and even in The American Spectator? Not to mention Time and Newsweek?"
Of course, neither Lawrence Weiner—at the Whitney and elsewhere in the so-called Civilized-World—nor Jenny Holzer, nearly everywhere, is promoting the Spoken-Word. We are talking about Printed-Words, which recall that old educational-chestnut, Words-As-Pictures!
Weiner's Whitney Retro covers his nearly 50-year-long-career, including some early doomed-experiments with Painting and Constructions. But the Massive Visual-Thrust of this show is huge Block-Letters, forming Words, which coalesce into often Sententious-Sentences.
These are Fraught with Meaning, if not in the Eye of the Beholder, at least in Weiner's Eyes and Mind. As well, obviously, in the Eyes and Mind of this show's Curator. If this were not so, why the show and the handsome catalogue?
As some of Weiner's Texts are in German, it is small wonder that he is so popular in German, Swiss, and Austrian venues!
Nor are these English and German Weinerisms limited to Walls. A show-photo shows SINK OR SWIM YOUR ASS GETS WET as a transfer-tattoo on a bare-midriff. Wow!
The bold-face text AS FAR AS THE EYE CAN SEE was shown as an Installation at the Kölnischer Kunstverein, in—where else?—Cologne, where they make 4711!
But that is not a Word, but a Number: Actually decreed by Napoleon Bonaparte, when he conquered this part of the Rhineland, where houses had not previously been numbered! [Another Victory for Western-Civilization: House-Numbers!]
How about a Weiner-Text like: ONE QUART EXTERIOR GREEN INDUSTRIAL ENAMEL THROWN ON A BRICK WALL? The Keen-Observer will note that only Words—not Punctuation—have the Power to be a Means of Expression. [George Bush certainly knows about the Verbal-Traps of too much Punctuation, even that expressed in Pauses, rather than Printed-Symbols!]
Oh oh: I spoke/wrote too soon. I forgot about Weiner's Ellipses: …IN AS MUCH AS/IN AS MUCH AS…
Not to Neglect: CATERED TO/FOR or OFTEN REPLAYED (PLAYED AGAIN) or ENCASED BY + REDUCED TO RUST…
How about Weiner's own ExplAnAtIOn [is this Typography fun or what?] for his Conceptual-Art Artifacts: ART IS THE EMPIRICAL FACT OF THE/RELATIONSHIPS OF OBJECTS TO OBJECTS/IN RELATION TO HUMAN BEINGS and NOT DEPENDENT UPON/HISTORICAL PRECEDENT FOR EITHER USE OR LEGITIMACY?
Is there such a Word in Weiner's Lexicon as VERBOSITY?
There is a really handsome free brochure accompanying this astonishing exhibition. You will learn why Weiner's Work is so Important!
Following Laurence Weiner's Example, Your Typist-Reporter has crafted below a Quasi-Artwork, in which THE WRITTEN-WORD IS A MEANS OF EXPRESSION:
MANIFESTO OF MANIFESTOS OR STATEMENTS OF VIRTUAL FACT
PIGEONS ON THE GRASS ALAS WILL NOT SAVE THE MARIE-CELESTE
A SUCKER IS BORN EVERY MINUTE BUT YOU CAN FOOL FOOL FOOL FOOL
SOME OF THE PEOPLE ALL OF THE TIME WHEN IN DOUBT DOUBT ABOUT
THE FUTURE FUTURE FUTURE FUTURE OF INNOCENCE IN AGORAPHOBIA
POE QUOTH THE POE RAVEN POE QUOTH NEVERMORE POE NEVERMORE POE NEVERMORE QUOTH POE NEVERMORE POE NEVERMORE QUOTH POE NEVERMORE POE NEVERMORE POE QUOTH THE POE RAVEN NEVERMORE QUOTH THE POE RAVEN NEVERMORE POE NEVERMORE RAVEN NEVERMORE
Or Words to That-Effect. Well, you get the Idea. You get the Picture: the Words-As-Pictures?
WHATEVER WHATEVER WHATEVER WHATEVER WHATEVER WHATEVER WHATEVER WHATEVER
At the Armory with Sanford Smith Shows:
Modernism, Art 20, Works on Paper:
Actually, Sanford Smith's Works on Paper at the Park Avenue Armory was also the 17th Annual Print Fair of the International Fine Print Dealers Association, or IFPDA. Under either rubric, this show is regarded as the Most Important of the Year for all kinds of artworks on paper, not only Engravings and Posters, but also Watercolors and Photographs.
Sanford Smith also offered the always-popular Modernism—all the Art-Deco and Moderne you can imagine—as well as Art 20: 1900 to Contemporary, another International Art Fair.
This column is already too long, but I had previously intended to comment on some very special works on view and sale in these wonderfully varied shows, as well as specific Dealers' handsome booth-installations. Some booths are not only so packed with impressive works but are also so well-designed that they could be Decorator-Rooms or even Museum-Displays.
Nonetheless, I must mention the Tandem Press of Madison, Wisconsin, which not only publishes powerful prints but also prints-out elaborate images on paper that then are fashioned into Room-filling Installations by Nicola López.
The Wigmore Gallery's handsome Freedom To Experiment catalogue has stunning images of eye-baffling Op-Art. London's Sims Reed Gallery offers an even more impressive catalogue of Modern Master Prints and Illustrated-Books.
Other galleries with impressive artworks depicted in striking brochures and catalogues include: Meredith Ward Fine Art, Rehs Contemporary, Galerie Henoch, Gerald Peters, Jack Ruttenberg Fine Arts, Katharina Rich Perlow, St. Etienne, Simon Capstick-Dale, Stone + Press, Durham Press, Paulson Press, Ursus Books, Kunsthandel Jörg Maab, and Estampes Anciennes and Modernes.
In January, Sanford Smith will once again stage Outsider Art at the Puck Building. Watch for it!
NY Art and Architecture Post-Scripts:
Seven Projects for the Hudson Railyards:
All those Acres of open Railroad-Trackage on the Midtown West-Side are up-for-grabs. Mayor Bloomberg's Mammoth Stadium-Sports-Arena-Project having failed to win approval—it would have been like a Great Wall of China between Midtown and Downtown—the area will now be developed with high-rise commercial and residential properties, plus parks and other amenities for Manhattanites.
There are Seven Firms contending for the site. As with the World Trade Center design-competition—for which Project-Models were shown to the Public near the site—seven models for development of the Hudson Yards are now on view in an empty-shop-space at the side of Grand Central Station.
But—unlike Daniel Libeskind's winning-design for a Freedom-Tower and other structures at the 9/ll Disaster-Area—one of these new projects will surely get built. And Green-Architecture is a Watchword in all the proposals.
The exhibition-space is small, so it's best to plan your visit outside Grand Central Rush-Hours. Several of the projects have handsomely-illustrated brochures for your consideration. You do not get to vote on the bids: that is the task of the MTA, which owns the sites.
The Tishman Speyer/Morgan-Stanley proposal has been developed by famed architect Helmut Jahn and landscape-architect Peter Walker.
The Durst/Vornado proposal—which has the most colorful brochure—has been developed by Pelli Clarke Pelli and Fxfowle Architects. An outstanding feature will be a Kunsthalle, for those who like their Culture with a German twist.
Much better than brochures or Project-Statements, however, is the Collectible from Skidmore, Owings and Merrill. Unfolded, it is a very large poster of Manhattan's West-Side, showing where their proposed gleaming, glistening glass-clad towers will rise. In this projection, they promise to dwarf other buildings nearby. The verso of this large prospectus has ground-plans and computer-generated pictures of How Wonderful It Will All Be!
The available acreage is in two parcels: the Western and the Eastern Railyards. They are bounded by West 33rd Street to the North and West 30th Street to the South, stretching from the Westside Highway to 10th Avenue to the East. This is probably the last vast expanse of Buildable-Land in Manhattan.
The currently-developing High-Mile Gardens—also making use of defunct, though elevated, railroad-trackage—will be somewhat peripherally integral.
Most-Endangered Sites 2008 Cited by World Monuments Fund at Morgan Library:
Almost more interesting than the World Monuments Fund's annual Paul Mellon Lecture—delivered recently at the Morgan Library—was the WMF's 2008 List of 100 Most Endangered Sites. These are depicted and described in a very handsome publication you might very well want to add to your collections!
The full-color photos of historic buildings and sites in danger are often striking. Turin's Fenestrelle Fortress, with its zig-zagging walls snaking up a snowy mountainside is especially impressive.
Since its founding in 1996, 544 sites in 117 nations have been included in the WMF's List, issued every two years. Not only does the site-designation focus Attention, Funding, and Preservation-Action in the named nations, but it also galvanizes the WMF itself and its members to contribute.
For the Record: 225 Watch-Sites in 78 counties have already received WMF grants of more than $49 million, which in turn leveraged another $125 million from other sources. Unfortunately, this doesn't seem like a lot of money—though it goes a long way to aid projects in Third World countries—when Ronald Lauder can pay $135 million for a single Gustav Klimt portrait.
Currently, the nation with the most Endangered-Sites is the United States, with a total of merely Seven. If you have traveled around the nation lately—with its Rotting-Infrastructure and Hurricane Katrina damage—you will realize there are many more sites that desperately need attention.
Historic Route 66 is On The List, as is the Salk Institute in picturesque La Jolla. If you remember the NY World's Fair of 1964-5, you may have thought the New York State Pavilion was empty and ugly. But it is still standing beside the Long Island Expressway and weathering badly.
Ordinarily, World's Fair Architecture is not supposed to survive. But some structures, like the Singer Stadium and the Pavilion, were intended to grace what was to become a Major New York Amenity, as Flushing Meadows Park. The Park is there, as is the Queens Museum, but none of these has been an immense Magnet for the Public.
The Geographic-Distribution of 2008 Sites is: Africa 17, Antarctica 1, Europe 35, The Americas 25, the Middele-East 6, Asia and the Pacific Rim 16.
The Rock-Niches in Afghanistan, where the Taliban destroyed the two monumental Buddha-images, are in danger of collapse.
Some Preservationists want to reconstruct the images from surviving fragments, but this may be a Fool's-Errand. Graven-Images representing Men or Gods are Anathema to Fundamentalist-Muslims. Rebuild the Buddhas and they will be blown-up again!
And how about desperately poor Cambodians severing heads of sacred-statues that are already replacements for previous Vandalism? Angkor Wat and Angkor Thom are too vast to police night and day… And there are always Eager-Dealers in Paris, London, Berlin, and New York.
The Mellon Lecture was delivered by Sir Tom Shebbeare. Sir Tom—who is Director of the Charities of Charles, Prince of Wales—discussed some current preservation/restoration projects, accompanied by slides and videos.
For copies of the 2008 List—as well as for more information on the work of the World Monuments Fund—you can phone the Manhattan Office: 646-424-9594. Or go online at: www.wmf.org
Copyright © Glenn Loney 2007. No re-publication or broadcast use without proper credit of authorship. Suggested credit line: "Glenn Loney, Curator's Choice." Reproduction rights please contact: jslaff@nymuseums.com.
Return to Curator's Choice Table of Contents