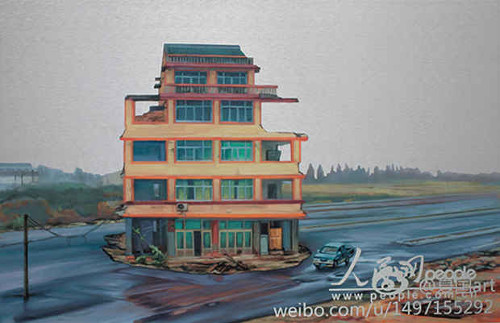 Xie Xiaoze: October 19, 2007, L.M. 2012. Oil and acrylic on canvas.
Multiple Perspectives: New Works by Xie Xiaoze.
The exhibition is a mixture of paintings of old stacks of Chinese newspapers or documents, front pages of world known newspapers with horrifying current news stories and a room with seven small paintings of minor and big disasters.
The multiple perspectives of the world are made by Xie Xiaoze, who graduated from Tsinghua Univeristy and the Central Academy of Arts and Design and who is now a professor in Art at Stanford University, CA. His paintings are inspired by photography and Xie Xiaoze has also stated that he "seeks to engage the dialogue between painting and photography, the discourse of the social and political potential of art, as well as critical issues of Conceptualism and aestheticism."
Xie Xiaoze uses a special way of painting as he paints in both acrylic and oil in several layers, which gives the paintings a richly layered effect.
Xie Xiaoze combines his interest in Chinese history and current world events which ends up in an exhibition with a lot of contradiction: digital meets analog and old, archived Chinese documents and books meet the current news world and big world catastrophes meet x rays in a hospital room.
The paintings of the front pages of The Herald Tribune and Le Monde are the most colorful, unpleasant and touching paintings in the exhibition. The front page of Le Monde states that 130 people are dead in Pakistan while there is a big news photo of a burning car and hurt and dead people on the ground. The front page of The Herald Tribute is the lower part of a photo of a police force blocking the way with their shields. The shields are black except for splashes of paint which has been thrown at them. Both of the front pages are painted exactly like a real news paper down to the smallest detail: one can even sense the smear from the other pages.
The contradiction between the papers from the archives and the fresh colorful, yet awful news papers is evident as the difference between the small room with seven small paintings and the large room with large paintings which only underlines the thoughts behind the project.
To a degree, Multiple Perspectives may be viewed as an installation which powerfully evokes the changes that have taken place in means of communication as printed matter gives way to the internet, and as the paintings does not hold any titles, it is up to the guest to interpret the exhibition and what to gain from it.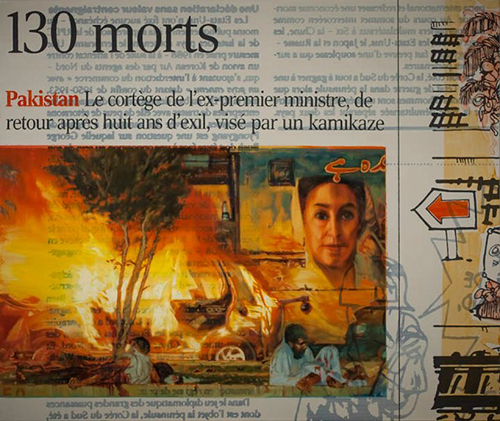 Xie Xiaoze: November 21, 2012, Wenling, Zhejiang (Nail House No. 1), 2013, Oil on aluminum panel.
If you go:
Multiple Perspectives
New Works by Xie Xiaoze
Chambers Fine Art
522 West 19th Street
www.chambersfineart.com
February 22 – April 12, 2014
Free admission