PAULANNE SIMMONS
Janet Ruttenberg's Paintings
Celebrate Central Park
Picturing Central Park
Janet Ruttenberg
Museum of City of New York
1220 Fifth Avenue (at 103rd Street)
Open seven days a week from 10:00 am–6:00 pm
Reviewed by Paulanne Simmons, Sept. 17, 2013
Although Janet Ruttenberg was born in Dubuque, Iowa and educated in Chicago, one of her greatest loves is Central Park. In fact, she has been painting this New York City treasure for over 12 years. Ruttenberg explores three locations: Sheep Meadow, Literary Walk around the statue of Shakespeare and Augustus Saint-Gaudens' equestrian statue of General Sherman, which stands in the north half of Grand Army Plaza.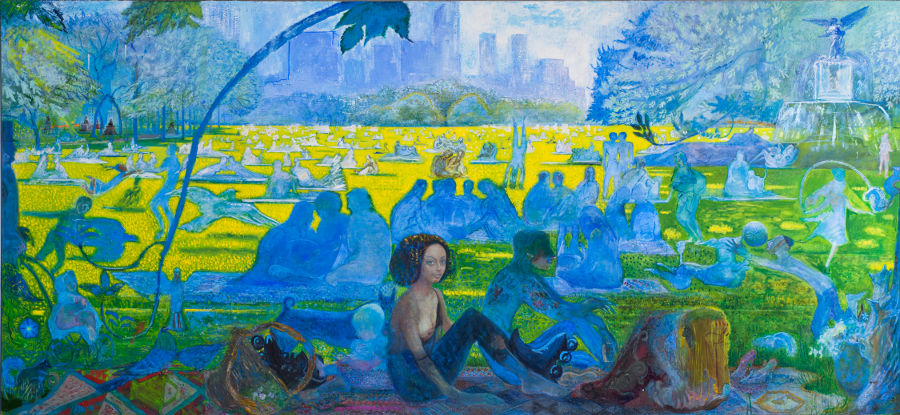 "Roller Blades," oil on canvas, 7' x 15'2"
From "Gatherings," Janet K. Ruttenberg, published by Pointed Leaf Press. Photograph by Antoine Bootz
"Picturing Central Park," at the Museum of the City of New York, includes 17 major works, that range from realistic to fantastical, monumental to more intimate, mixed media combinations, to traditional oils and watercolors. All of the works are bold, chromatically intense and innovative.
"Study #8," graphite, watercolor, gouache, fluorescent acrylic, gold leaf, and applied watercolor collages on paper, 7'10 ½ x 15'
From "Gatherings," Janet K. Ruttenberg, published by Pointed Leaf Press. Photograph by Malcolm Varon.
In "Morning Glories," flowers escape from the frame onto the cellophane packing which Ruttenberg used instead of the canvas. In "RollerBlades," a woman sits in the Sheep Meadow, surrounded by figures that reference famous works by Seurat, Raphael and unknown Egyptian artists. The composition itself pays homage to Manet's "Le déjeuner sur l'herbe."
"The Judgment of Paris with Morning Glories," Oil on canvas with applied photographic and painted fragments, 6'8" x 16' ½"
From Gatherings, Janet K. Ruttenberg, published by Pointed Leaf Press. Photograph by Antoine Bootz.
"Judgement of Paris" mixes fantasy and photography. And in Ruttenberg's depictions of General Sherman's statue, she focusses on the glorious white-blooming Callery pear trees that surrounded it before a freak storm felled them in October 2011.
Two of Ruttenberg's most fascinating works incorporate video. "General Sherman" has a video of bathing birds in its eyelike center. In "Shakespeare," Ruttenberg's tribute to the Saturday night tradition of dancing beneath the statute of Shakespeare, the artist projects videos of dancers onto a dork canvass of painted figures. As the moon and a streetlamp preside over the scene from opposite ends of the canvas, the viewer becomes mesmerized by this surreal landscape of the imagination.
Ruttenberg's work is far from the idyllic or romantic depictions of parks one sees in traditional European work. Although the paintings, with their lush green leaves and twisting branches, celebrate nature in all its glory, they are also pure New York and quintessentially urban. Her subjects lie on blankets, play on the grass and engage in romantic pursuits. They are bare-chested and tattooed.

"In Bloom," oil and graphite on canvas, 31 x 101 inches
Although Ruttenberg has been steadily producing pieces in paint, paper, and stainless steel for decades, it was Central Park that, late in her life, gave her the inspiration she had been seeking. Ruttenberg has chosen never to show or sell her works, and this is her first museum exhibition. After seeing these impressive paintings, one can only say, "It's about time!"