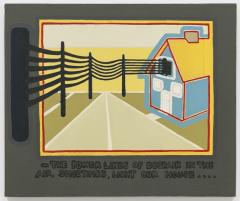 Gene Beery, "The Power Lines," 1966.

While it still is too chilly for a springtime, the Algus Greenspon Gallery offers a warm refuge where sunny light pierces through the ceiling windows. Located in the heart of the pleasant West Village neighborhood, the gallery presents an exhibition of early paintings and recent photographs by Gene Beery until April 27, 2013.

A Wisconsin native, Gene Beery moved to New York and started to paint in the 1950s, when he was a guard at the Museum of Modern Art. He witnessed the development of both Pop and Conceptual Art and these deeply influenced his artistic work. He continued to cultivate this middle ground when he left New York for California in 1964.
Gene Beery, "Agony, Ennui," 1961.
This mix of influences gave birth to the early paintings on display, all from the late 1960s or early 1970s. At a time when the lines defining Pop Art, Minimalism and Conceptual Art began to be scrambled, Beery's work appears as a significant example of this artistic interchange.
Beery's work as a painter is mainly composed of simple texts written in a curved and colorful font that could be used for an advertisement for candies. He uses short sentences as slogans, juxtaposed with colorful representations of everyday life scenes or objects: power lines near a house, bunches of flowers...
Gene Beery, "Untitled," 1990s/2000s.
Besides the references to various artistic waves, his works reflects different geographical influences, from his New York roots to a Bay Area, where he relocated to. The pivotal work of this exhibition takes us back to his New York years. It was the centerpiece of his debut at the Alexander Iolas Gallery in 1963. "Agony, Ennui" represents a naked female body overlain by words evoking boredom and loneliness.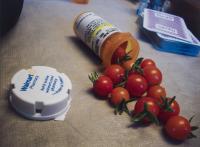 Gene Beery, "Untitled," 1990s/2000s.
The second half of the gallery is devoted to Beery's work as a photographer. During the 1990s and 2000s, he began to take snapshots of his home, travels, family and friends. It feels like slices of American life, with people looking like everybody and houses looking as abybody's. However, some pictures catch the eye and seem to upset the familiar. A slice of bread is spread with black and red paints, a box of drugs is full of cherry tomatoes. As we can read on one of the photographs, to Gene Beery: "Life without a sound sense of art can seem like an incomprehensible pun."
If you go:
"Early Paintings and Recent Photographs"
By Gene Beery
March 16 to April 27, 2013
Tuesday to Saturday: 10AM to 6PM
Algus Greenspon Gallery
71 Morton Street (at Hudson St)
Free Admission
Adèle Bossard is a free lance writer from Saumur, France.