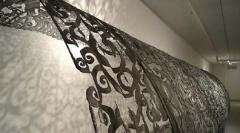 "Gutter Snipes I," 2011 Aluminum coated steel sewer pipe, by Cal Lane. Photo Courtesy of the Gallery.
Cal Lane's "Ammunition"
The title of Cal Lane's show, "Ammunition,"conjured--at least linguistically--an image of the military preparing for an attack. Though it might be too fanciful, the show is a curiously elegant juxtaposition of metallic lace-like sculptures with industrial materials like steel beams, oil drums and ammunition boxes. Lane's work is hovering between loftiness of religious imagery and the poverty of the utilitarian object. All of her works have a sensual and immersive quality and like much of Lane's work, a geometric simplicity. By Eva Ostrowska.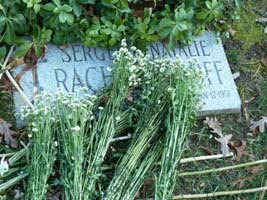 Chamomille Flowers on Rachmaninov's gravesite in Valhalla. Photo by Eva Ostrowska.
Why not perform with a run of 33 miles?
If you are tired of superficial, quick and easy exhibitions which seem to be oriented to market desires, the work of Guido van der Werve should come as something of an antidote. A week after the N.Y.C Marathon, Dutch video artist Guido van der
Werve comes with a mission: carrying a bouquet of chamomile flowers on a run of 33 miles from the Luhring Augustine Gallery in Chelsea to composer Sergei Rachmaninov's gravesite in Valhalla, New York. It was obvioulsy not a case of one artist running privately for over thirty miles, but truly the work of what French critic Nicolas Bourriaud could have called an "intersubjective exchange" as the "substrate" for his work. By Eva Ostrowska.
Stefanie Gutheil in her exhibition "Dreckige Katze." at Mike Weiss Gallery.
Stefanie Guthreil's "Dreckige Katze"
Stefanie Guthreil's exhibition, "Dreckige Katz," comprising installations, paintings and sculptures, felt true to her reputation for narrative vision and provocative phantasmagoria. Her new work requires an exploratory approach, as if navigating in bizarre humorous nightmares, oscillating between psychedelic violence and very bad taste. Guthreil's paintings are characterized by small and huge weird figures, caricatures of people she knows in her everyday life, that she uses to create surreal atmospheres and often grotesque pictorial stories. All her creatures, most of the time cats, are regurgitating or vomiting unexpected objects. A cow disgorging a pearl necklace, a black cat ejecting from his teeth a green, red and white rainbow; a masturbating monkey and other animals are displayed on wall-sized canvases. The whole exhibition is a muddle of sexual scatology, political references, kitchy violence and the vague depravity, giving rise to an ambiguous sense of anxiety and unease. By Eva Ostrowska.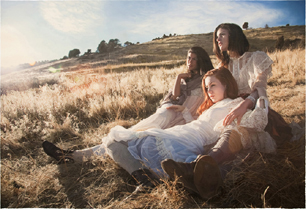 "Yigal Ozeri: Garden of the Gods"--Untitled, 2011, oil on paper, 42x60in.
"Yigal Ozeri: Garden of the Gods" at Mike Weiss Gallery
Yigal Ozeri explores personifications of youthful innocence, visualized as lovely young maidens cum goddesses, in his new exhibition that runs until June 11 at the Mike Weiss Gallery. Ozeri captures the essence of young girls, unaware of their true feminine nature. He masterfully transforms the Southwest landscape into a universal terrain of the mind, where red replaces green in a hot alien zone. The artist seems especially inspired by the 19th century painter Eduard Manet, who molded the subject of the female figure in the landscape with his personal stamp. Ozeri captures that indescribable time in life, when girls verge on becoming the future. By Mary Hrbacek.

Anne Ferrer.
Cloth Sculptures Set to Music in Anne Ferrer's "Billowing Beauty"
French-born Catalan artist Anne Ferrer presents her first exhibition in New York City "Billowing Beauty" at the LAB Gallery on Lexington Avenue and 47th Street through June 3. Curated by Edward Rubin and with musical accompaniment by Los Angeles Carol Worthey, Ferrer's new series of colorful cloth sculptures break the boundary between the gallery viewers adn the curious public who stop to wonder at the eye-catching array of indescribable shapes and forms. The organic shapes, warm harmonious hues, and rhythmic organization interact, infused with vivid joyous fun. By Mary Hrbacek.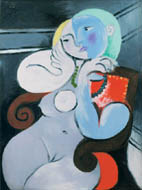 Pablo Picasso-- Femme nue dans un fauteuil rouge, 1932.
Picasso and Marie-Thérèse: L'amour fou, an intimate and new journey of Picasso's art
With "Picasso and Marie-Thérèse: L'amour fou," the Gagosian Gallery, situated in Chelsea, brings us into the secret intimacy of Pablo Picasso, the man and the artist. You don't have to be French to understand "Crazy love," the meaning of "l'amour fou," and why it is a fitting title for the exhibition. The entire gallery is filled up with renderings of Marie-Thérèse in drawings, paintings and sculptures from 1927 to 1940. Picasso's love leaks out of each piece of art. By Agate Elie.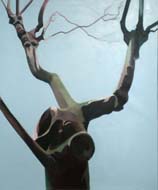 Mary Hrbacek--
Light Search 2010 Acrylic on linen, 42 x 46"*. Photo by Courtesy of CREON Gallery.
Mary Hrbacek at the CREON Gallery in New York City
Working in this naturalist mode is artist Mary Hrbacek whose anthropomorphic portraits of trees are currently on exhibit at the Creon Gallery in New York City through April 30. Curated by Richard Pasquarelli, under the title Entwined, Hrbacek's tree paintings are not only transcendent but speak directly to the heart, reminding us, a bit surreptitiously at that, that we are all walking trees. Our spines are trunks, our legs and arms are branches, and sooner or later, with twisted limbs and weathered bones, we too shall be planted. By Edward Rubin.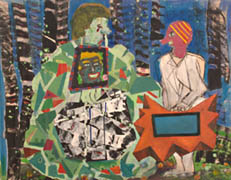 Painting and photo by David Fludd, 6'x5'. Acrylic on canvas 2005.
Hatch Billops Collection presents David Fludd for "Artist and Influence"
The Hatch Billops Collection is a not-for-profit research library founded in 1975. Its mission is to collect and preserve materials about Black Cultural Art for artists, scholars and the general public. Throughout the year, Hatch Billops presents "Artist & Influence." This event hosts African American, Asian and Spanish artists talking about their work in the form of an interview. These oral stories are recorded and become part of the Hatch Billops Collection archives. By Agate Elie.
"And Then, They Finally Came for Me"—by Michael Patterson-Carver, Ink, pencil and watercolor on paper - 10 x 14 1/4 inches (25.4 x 36.2 cm), 2010.
No More Rights in Republicanland
Michael Patterson-Carver's new solo exhibition, "Loose Lips Do Sink Ships," is more than a dozen small drawings hanging on walls and all looking like the work of children, but only for the first quick look. As we get closer to these cartoonlike drawings, we understand that there's a childish drawing style, but the content is clearly satire against Republicanism and Right-Wing Authoritarianism of all stripes. Suddenly the work is no longer naïve. By Eve Jégou.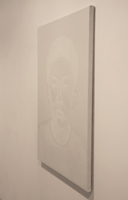 Shi Jing - "Liu Chao," 2010
Coutesy of the Artist and Chambers Fine Art.
Exhibition by Qiu Shihua and Shi Jing, the Magic of Imagination and Interpretation's Possibilities
Entering Chambers Fine Art's gallery was like being in an empty white room. Yes, you could see painting shapes hanging on the walls but nothing visible on the actual canvases. The "Fugitive Visions" painting exhibition by Qiu Shihua and Shi Jing will surprise you along your journey. Both artists are from China: Qiu Shihua from the Sichuan Province and Shi Jing from the Yunnan Province. At first glance, their work seems to have the same monochromatic palette but the closer you get, the stronger color nuances reveal and shapes appear on the canvas. By Agate Elie.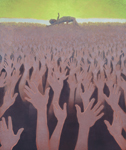 Out of Touch, 2010, 92 x 77
inches
New Solo Exhibition of California Artist Christian Vincent
When we push the door and step in to the Mike Weiss Gallery, we enter a place that is very austere, impersonal and unwelcoming, which probably influences our interpretations of "Christian Vincent: Tunnel Vision," the new solo exhibition of the California artist Christian Vincent at the Mike Weiss Gallery, 520 West 24th Street, until February 12th, 2011. By Eve Jégou.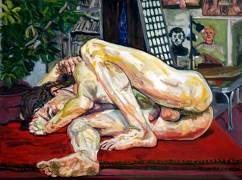 Expo, Oil on linen, 2000, 30 x 40"

Carlo Pittore's paintings and pastel drawings
Carlo Pittore, who died in 2005, was a gallery owner and painter who also worked as an advocate for gay artists in New York and Maine. The first major New York exhibition of his paintings and pastels is being presented through January 22 at Leslie Lohman Gay Art Foundation, 26 Wooster Street in SoHo. By Eve Jégou.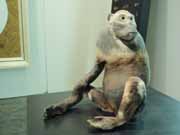 "THE FOUNDING OF THE CENTER" -- "Pig" by Daisy Youngblood. Photo by Rajdeep Bhathal.
"The Founding of the Center" Exhibits Diversity Under a Common Artistic Theme.
"Five Decades of Passion" is a multifaceted artwork exhibition being held at the Fisher Landau Center for the Art, located in Long Island City, Queens. Part two, "The Founding of the Center," highlights founder Emily Fisher Landau's unique vision in compiling the Center's collection of artworks. It features groupings of pieces that Landau collected, presenting visitors a window into her creative endeavors. On view until April 2010. By Rajdeep K Bhathal.
Top Secret Hamburger, by Liao Yibai, 2009. Stainless steel, 330 lbs. 37 x 66 x 66 inches. Photo by Mike Weiss Gallery.
Liao Yibai's reminiscences of a childhood torn between two words.
What seem to be funny, cartoon-style, large, steel, Chinese sculptures in fact deal with important politics and historic issues of the past century in Liao Yibai's exhibit "Imaginary Enemy." These original sculptures, made by an artist who grew up in China during the Cold War, will be at Mike Weiss Gallery in Chelsea, from May 8 to August 15, 2009. By Suzanne Trouve Feff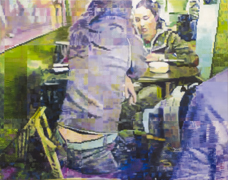 "Apetite" by Enda O'Donoghue. 2008, oil on canvas. Photo by Irish Arts Center.
Pixelize Me.
Be careful the next time you post your pictures on Facebook, you could become a work of art. The Irish artist Enda O'Donoghue had the good idea to paint scenes of daily life inspired from pictures exclusively found on the web. The Irish Art Center of New York is presenting his works until June 19, 2009. By Suzanne Trouve Feff.
"Boy Scout Salute," 2009
Oil on canvas 46 x 38 in. By Mike Cokrill. Photo by Kent Gallery.
Children are seducers in Chelsea
"Sentiment and Seduction" is a new exhibition by Mike Cockrill, open from April 9 to May 29 at the Kent Gallery in Chelsea, New York. Lightly provocative, most of the paintings illustrate the sometimes-shocking theme of children confronting sexuality lovingly. In a society where we often question whether our children are discovering sex too young, Cockrill may be pushing our buttons with his innocent paintings. By Suzanne Trouve Feff.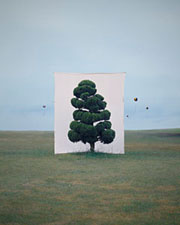 Tree #2 Archival Inkjet Print 2006 by Myoung Ho Lee. Photo by Yossi Milo Gallery.
Myoung Ho Lee is honoring trees in his soothing photograph
The Internationally known photographer Myoung Ho Lee is exhibiting his photographs at the Yossi Milo Gallery in New York until April 18, 2009. The Korean artist photographs trees all over the world, in different landscapes and seasons, but following the same complex concept: a large canvas of approximately 60 by 45 feet is placed behind a solitary tree, as if to isolate it on a painted canvas. By Suzanne Trouve Feff.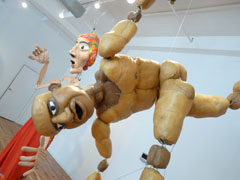 "Circumpstance" and "9 Windows." Latex, Cotton Foam Acrylic. Federico Restepo, 2009. Photo by Suzanne Trouve Feff.
Meet Clandestinos Puppets at La MaMa Galleria.
If you walk between First Street and Bowery, you should stop and have a look at those huge impressive puppets hanging from La MaMa Galleria's ceiling. This is the new mix-media installation by Federico Restepo, "Clandestine/Clandestino," to be exhibited until April 26. By Suzanne Trouve Feff.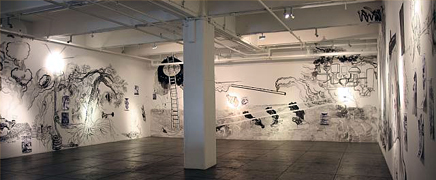 "Mochou: Recent works by Qiu Zhijie." Photo by Chambers of Fine Art, New York.
Chinese artist Qiu Zhijie resorted to painting the walls of Chambers of Fine Art.
Having opened on March 12, the exhibit "Mochou: recent works by Qiu Zhijie" will be presented until May 9 at the Chambers of Fine Art in Chelsea. The artist rose to an unusual challenge. What do you do if your paintings are not available 24 hours before the opening of your exhibit? It happened to Qiu Zhijie and the Chambers of Fine Art in New York last month. By Suzanne Trouve Feff.
Girl Groups #13 by Georgia Mash, at the Senior and Shopmaker Gallery.
Watercolor and pastel on paper 22 x 30 inches. 2007.
Exhibition at the Senior and Shopmaker Gallery explores the essence of drawing.
The Senior and Shopmaker Gallery, situated near Madison square Garden, presents the exhibition, "Drawings and Watercolors." This exhibition presents artwork from very different artists, but exclusively drawings. By Suzanne Trouve Feff.
Jonathan Slaff / Publisher • copyright © 2011* *