The Gallery Gazetteer

Children are seducers in Chelsea
"First Love", 2008 Oil on canvas 66 x 66 in. By Mike Coktrill. Photo by Kent Gallery.
"Sentiment and Seduction" is a new exhibition by Mike Cockrill, open from April 9 to May 29 at the Kent Gallery in Chelsea, New York. Lightly provocative, most of the paintings illustrate the sometimes-shocking theme of children confronting sexuality lovingly. In a society where we often question whether our children are discovering sex too young, Cockrill may be pushing our buttons with his innocent paintings.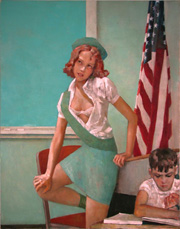 "Flag Day," 2008 Oil on canvas 64 x 50 in, by Mick Cokrill. Photo by Kent Gallery.
With a similarity to Norman Rockwell's style, Cockrill presents a mix between Naïve Art and adult themes. Naïve art is a painting movement characterized notably by an important sense of detail, "happy" color and an ingenuous representation of people and objects. The result is very lively and colorful.
"Boy Scout Salute," 2009
Oil on canvas 46 x 38 in. By Mike Cokrill. Photo by Kent Gallery.
What is fabulous about his paintings it is the way Cockrill can create Naïve Art paintings that are beautiful and seem to be for children, but at the same time are very provocative. This is for me the ingenuity of Mike Cockrill. From an artistic point of view, the colors and the drawings are remarkable and Cockrill reproduces children's expressions wonderfully.
A graduate of the Pennsylvania Academy of the Fine Arts, Cockrill has exhibited in New York since 1981. At the beginning of his career, he was much criticized for the shocking aspect of his drawings and paintings. His Baby Doll/Clown Killer series in 1995 made his international reputation. This new exhibit expresses his vision of the transition between childhood and adulthood, inspired by his personal experiences. He describes his childhood awakening as the thought that "Everything I've been told by adults is a lie. Parents are hiding something — a hidden room I have not yet entered. I was 10. Toto had pulled back Oz's curtain."
Mike Cockrill is described by Kent Gallery as a forerunner of the current interest in nostalgic figuration. These works are provocative, surprising and magnificent. [Suzanne Trouve Feff]