The Gallery Gazetteer

"The Founding of the Center" Exhibits Diversity Under a Common Artistic Theme.
by Rajdeep K Bhathal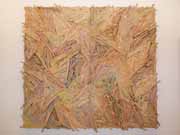 "THE FOUNDING OF THE CENTER" -- "Severed Ties" by Charles Arnoldi, made with acrylic, modeling paste, and sticks. Photo by Rajdeep Bhathal.
"Five Decades of Passion" is a multifaceted artwork exhibition being held at the Fisher Landau Center for the Art, located in Long Island City, Queens. The exhibition highlights founder Emily Fisher Landau's unique vision in compiling the Center's collection of artworks. It features groupings of pieces that Landau collected, presenting visitors a window into her creative endeavors. Installed on two floors of the newly renovated Center, the exhibition stages a visual interaction between the artists presented and offers an understanding of the perspective of the collector who identified each distinct work on display as unified under a common artistic theme.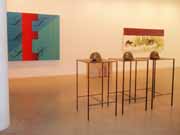 Combat Helmets on display in "The Founding of the Center." Photo by Rajdeep Bhathal.
"Five Decades of Passion" is divided into parts, each of which showcases a specific time frame during the period of collection. Currently on display at the Fisher Landau Center through April 2010 is the second installment, "Part Two: The Founding of the Center." Part Two covers 1989-1991, featuring about 120 of the nearly 400 assorted works that Landau had collected in those years, mainly done by female artists. Works are displayed freestanding, on tables, and mounted onto the walls and floors, including both still images and three-dimensional creations. No didactic panels are found in the exhibit, challenging viewers to devise their own unique interpretation of each piece. The artworks encompass multiple artistic mediums including: photography, graphic prints, sculptures, paintings, collages, and carving. All were created with varied combinations of design materials such as graphite and gunpowder on paper, casein on lead, oil on canvas, ceramic, modeling paste and sticks, silkscreen on floral paper, neon lighting and even steel mesh with motors. Different examples of random artistic subjects are depicted alongside one another within the gallery, examples of which include: a skull gallery, clown, combat helmets, and floor plating. All of the works presented attest to the wide scope of Landau's interest and engage visitors with a broad array of creative output.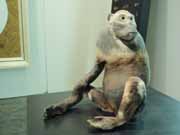 "Pig" by Daisy Youngblood. Photo by Rajdeep Bhathal.
"Troupeau de Moutons" by Francois-Xavier Lalanne. Photo by Rajdeep Bhathal.
An affinity for animals is one of the themes Landau garners in "The Founding of the Center," as shown by the varied images of wildlife presented in this installment. Replicas of sheep titled "Troupeau de Moutons" are placed at the entryways of both the Center and the first floor of the exhibit. The replicas are made from bronze and concrete by artist Francois-Xavier Lalanne. A fish lamp by Frank Gehry is featured, constructed with formica, wire, wood, glass, and light, that illuminates a figure of a scaly fish. Animal sculptures by Daisy Youngblood are displayed, including one titled "Pig," which resembles a gorilla missing an arm and another titled "Romana," showing a figure of a female torso with an elephant-like trunk. These selections are complemented by still images of animals and their natural environment in the galleries.
Untitled by Barbara Kruger. Photo by Rajdeep Bhathal.
Several works feature prose as Landau is most intrigued by art and language and enjoys the ability of the artist to use text in an artistic form. An untitled work by artist Barbara Kruger shows the pledge of allegiance to the American flag printed in a bold, white font set against a solid red background. One might contemplate as to why Kruger did not include any blue elements in the visual, possibly wanting viewers to omit the color's significance of vigilance, perseverance, and justice in interpreting the American flag. Other works featuring prose pose questions to viewers. Another work by Kruger, titled "Heart," shows an enlarged photo of a section of the human heart with a question printed on it, asking "[d]o I have to give me up to be loved by you?" Simple phrases are also featured. An oil on canvas work by Edward Ruscha depicts a sunset upon which the phrase "[t]he act of letting a person into your home" is printed. It can inspire visitors to think of acts of kindliness such as letting one in one's home to be peaceful and calming like a blazing red sunset.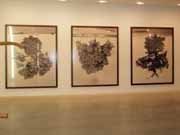 Tree Pictures featured in "The Founding of the Center". Photo by Rajdeep Bhathal.
Parts of Landau's collection attempt to challenge conventional manners of perception. On the second floor of the exhibit stand three enlarged life-size photos mounted next to one another, each a portrait of a single unique tree photographed in a field, all hung upside-down. These tree photographs compel viewers to contemplate a common element of our surroundings from a different angle. Another such work is a completely solid gray canvas mounted to the wall with a miniature staircase placed directly in front of it on the floor below, inviting the viewer to envision walking into its gray abyss. Next to the gray canvas hangs a similar piece, a smaller solid black canvas. Both the gray and black canvases offer viewers an alternative to one another in the form of its cousin, the black canvas being the more obscure and constrained of the two, as defined by it smaller size and darker color.
Other artists featured in "The Founding of the Center" are: Carl Andre, Sherrie Levine, Simon Linke, John Baldessari, Richard Artschwager, Annette Lemieux, Donald Baechler, Saint Clair Cemin, Lorna Simpson, Joseph Kosuth, Charles Arnoldi, Neil Jenney, Katherine Bowling, Andrew Lord, Richard Artschwager, Andy Warhol, Philip-Lorca DiCorcia, Gary Hume, Jon Kessler, Marisol, Jenny Holzer, Ellen Phelan and Chris Wyllie.
Black Canvas. Photo by Rajdeep Bhathal.
Grey Canvas with staircase. Photo by Rajdeep Bhathal.
The first installment of "Five Decades of Passion," "Part One: The Eye of the Collector," was held from January-April 2009, featuring works obtained between 1968-1988. The next installment of a subsequent time frame of this exhibit at the Fisher Landau Center will begin in the Fall season of 2010. The Center is a private arts foundation devoted to the exhibition and study of the contemporary art collection of Emily Fisher Landau. Landau is a prominent contributor in the arts community. She has served on the Painting and Sculpture Committee of the Museum of Modern Art, the Board of Trustees of both the Whitney Museum of American Art and the Georgia O'Keefe Museum in Santa Fe, and is a generous donor to other institutions. The Fisher Landau Center features contemporary masters and emerging artists with over 1,200 works spanning from 1925 to the present. It is a member of the Long Island City Cultural Alliance (LICCA), a group of non-profit cultural organizations dedicated to the enrichment of the local artistic community.