The Gallery Gazetteer

Exhibition at the Senior and Shopmaker Gallery
explores the essence of drawing.
The Senior and Shopmaker Gallery, situated near Madison square Garden, presents the exhibition, "Drawings and Watercolors." This exhibition will close on April 4th and presents artwork from very different artists, but exclusively drawings.
The gallery is on the second floor of a building on 26th street, just in front of Madison Square Park, which is actually not known to be an Art Gallery area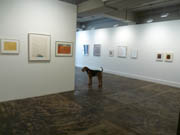 The Senior and Shopmaker Gallery. Photo By Suzanne Trouvé Feff.
When you will open the door, a big adorable dog will give you a hearty welcome.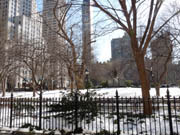 Madison Square Park near the Senior and Shopmaker Gallery. Photo bySuzanne Trouvé Feff.
The place opened in 2000 is superb. This is quite a big gallery with different spaces; the place is luminous and peaceful. There is a nice atmosphere here! There is a table in the middle with some art books where you can have a sit, and you almost feel at home. If you wonder why the curator chose this neighbor for his gallery, you will understand when you will see the place and its beautiful view on the park and New York. The gallery is very pleasant. Larry Shopmaker, Betsy Senior and the people that work there seem to work with passion and happiness.
The theme of the exhibition is interesting. What does the term drawings mean exactly? Why is it different from painting? To draw is, in fact, to use a drawing instrument to make marks on a surface, creating an image that may be representative or not; a form, or a shape. The act of drawing is different from painting by the fact that drawing is usually the first step of a painting; it is exploratory art for an artist. Moreover, drawing use usually done with pure colors, on the other hand, a painter prefers to mix colors in order to find a new one.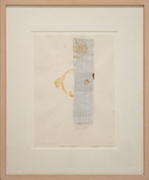 Gabriel Orozco-Untitled
1992 graph paper collage, coffee stains on paper, 11 x 8 inches
The drawings in this exhibit were diverse but most were abstract. Gabriel Orozco offered a collage of paper surrounding a coffee cup mark.
Georgia Mash's Girl Groups #13 2007
Watercolor and pastel on paper 22 x 30 inches.
Georgia Marsh's memorable drawing "Gils Groups," is a precise drawing of flowers; the colors and the lightness of the brush trail are impressive and the disposition of the flowers is harmonious and moving. This American artist has exhibited other drawings like this in shows in France, Italy, and the United States.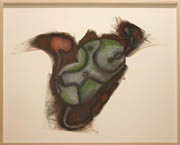 Elizabeth Murray-Untitled 1990
gouache, collage on paper
39 1/2 x 49 inches. In this painting presented you have an interesting mix of realistic and abstract work; she creates an illusion between dream and reality and the colors created form a harmonious and moving whole.
Some other pieces were interesting, notably the work of Elizabeth Murray. This New York artist is one of the four women who had a retrospective at the MoMa in New York City in 2006, for her 40-year career. She is usually known for her compositions with abstract, colorful shapes and representative objects.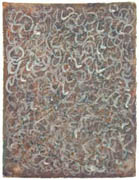 Mark Tobey Untitled
1971 tempera on paper. 23 5/8 x 18 7/8 inches.
There was also a piece by Mark Tobey, the American abstract expressionist painter from Seattle, who is well knowns for his style of "white writing," where calligraphy of different colors and styles are superimposed in order to create a magnificent result.