The Gallery Gazetteer

I would have whispered
by Eve Jégou
Upon entering "Carlo Pittore: A Posthumous Debut" at Leslie Lohman Gay Art Foundation in Soho, the lacquered parquet creaks under your feet with each step, there are columns in every corner of the gallery, a radio is connected to fine classical music and there is a smiling team offering hot beverages. The brightly lit gallery is a typical New York place.
Visions of Silenus, Oil on linen, 1998, 48 x 4o"
Carlo Pittore's paintings and pastel drawings are on exhibit. It is the first New York exhibition of his works to-date (although in his lifetime, he had solo exhibitions in Italy, Belgium, Chicago and Maine). There was no jostling, no long lines, shouts or hours of wait to discover Carlo Pittore's world.
I walked between paintings as I would in a place of worship. If I had been accompanied by someone, I am sure that we would have whispered.

Portrait of Brandon (from the Red Box Series), Oil on linen, 1994, 72 x 18"
Pittore was born Charles Stanley in Queens in 1943. He lived and studied in the South of Italy at the end of the 70s and when people took to calling him Carlo Pittore (Charles the painter in Italian), he liked it and kept the name. He was trained in figurative art, a style which uses as models real objects, deforms them or changes them to express a message. He also trained under Joan Semmel at the Brooklyn Museum Art School. . He was a pioneer of the Mail Art Movement, encouraged by Bern Porter. He also participated actively in the Performance Art movement of his time. Now his work resides in many private and institutional collections.
Pittore opened one of the first independent art galleries in the East Village, in New York, The Galleria dell ' Occhio. When he later abandoned Gotham for Maine (driven out by the sadness of the AIDS epidemic), he established the Academy of Carlo Pittore in Bowdoinham in 1987, where he organized shows, taught and was a tireless advocate for artists. He was instrumental in the creation of Maine's Percent for Art program
Although Pittore died of a cancer in 2005, today we can savor his work and reflect on his life with a coffee or a tea in hand, in this intimate place, without being hampered by a crowd. There are colorful portraits that make you feel you are being stared at. There are erotic fantasies. One particularly striking portrait is a study of the nose of Bern Porter from the underside. A similarly surprising study was of a female nude, rendered from high above. Overall the works are sometimes surprising; their colorfulness illuminates the place and we feel comfortable with this. We actually enjoy the power of colors.
The subjects of the paintings include such well-known personalities as Keith Haring and such unknowns as "Sarah," "Alex" and "Brandon," who look at us and question our feelings and our most hidden fantasies.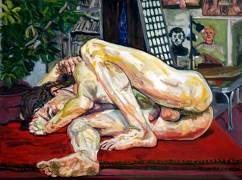 Expo, Oil on linen, 2000, 30 x 40"
With unusual postures, the subjects confront us with perspectives of their nudity which, in other paintings, are most often hidden, such as a man lying on his side who is partially iding his face, but revealing his genital area from the underside. Only strong colors are used for outlining. By following the lines of the artist, we rediscover the beauty of bodies. Faces shine with all these colors but nobody smiles. Surprising.
The male figure has multiple aspects: as a man-object without a face to reveal the animal side in us; in a thoughtful mood, dressed, looking straight at us; tortured in mind in a fetal position; possibly as the fantasy of a woman masturbating. Each is a reflection of powerful feelings; Pittore reminds us how much life is full of feelings. They are witnesses of the society in which the painter lived: a society where AIDS and homophobia did not leave much of a place for dignity and freedom of speech among gay and artistic people.
The exhibition is free and open to the public at the Leslie Lohman Gay Art Foundation, 26 Wooster Street (between Canal Street and Grand Street) until January 22, 2011. Hours are Tuesday through Saturday from noon to 6:00 pm. [Eve Jégou]