The Gallery Gazetteer

Pixelize Me.
Be careful the next time you post your pictures on Facebook, you could become a work of art. The Irish artist Enda O'Donoghue had the good idea to paint scenes of daily life inspired from pictures exclusively found on the web. The Irish Art Center of New York is presenting his works until June 19, 2009.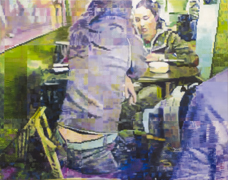 "Apetite" by Enda O'Donoghue. 2008, oil on canvas. Photo by Irish Arts Center.
Since the creation of photography, it has become quite common for artists, professional or amateur to use pictures as a model. You may wonder if it is legal to use a picture found on the web and reproduce it more or less realistically. The answer is no, but, reassure yourself, O'Donoghue always found the owner of the picture, and made sure to have his/her authorization before using it. He is thus respecting the copyright of the picture.
Having studied first computers, then art, Enda O'Donoghue has exhibited since 1997 in Europe, notably in Germany, Ireland and France; but also in China and in the United States. Irish born, he has lives and worked in Berlin since 2002.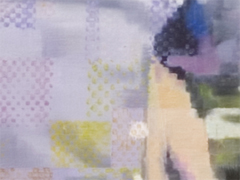 Detail of "Apetite" by Enda O Donoghue. 2008, oil on canvas. Photo by Irish Arts Center.
This thirty-something artist succeeds in creating a link between technology and fine art. With his "pixelise" style, he renders banal scenes of our lives in little squares, representing the pixels of a computer screen. What was impressive about those paintings is that if you get closer, they seem to be just an amazing mix of bright colors and small squares. When you move back, you can see the scene being formed. It's a form of expressionism that would not be possible 20 years ago.
The artist used to speak about his work as "In between," especially when he refers to the locations represented on his work. The coffee shop, an airport corridor, or the queues in a fast food restaurant, all banal spaces, are for him neither public nor private.
For me, redrawing anecdotal events of the daily life brings a special importance to those moments. They seem to be banal, but actually are not. As the Egyptians drew their hieroglyphs, O'Donoghue expresses himself about our civilization, our habits, and our virtual lives.
The creation process of his artworks is quite complex. The photographs found are modified and corrected on software, and then painted on the canvas.
The mission of the Irish Arts Center, since 1972, has been to promote Irish Art and culture in New York. The center has a little gallery and a theater as well. Note that the gallery is open only by appointment, and they will be delighted to open for you the door to the fantastic virtual-artistic world of Enda O'Donoghue. Call 212-757-3318. [Suzanne Trouve Feff]