The Gallery Gazetteer

Myoung Ho Lee honors trees in his soothing photographs.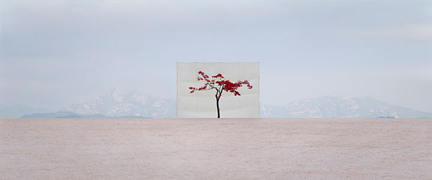 Tree #5 Archival Inkjet Print 2007 by Myoung Ho Lee. Yossi Milo Gallery.
The Internationally known photographer Myoung Ho Lee is exhibiting his photographs at the Yossi Milo Gallery in New York until April 18, 2009. The Korean artist photographs trees all over the world, in different landscapes and seasons, but following the same complex concept: a large canvas of approximately 60 by 45 feet is placed behind a solitary tree, as if to isolate it on a painted canvas.
The canvas makes the trees easier to observe and notice their details, composition and colors. The artificial frames, that seem to be hung by magic in the middle of a natural environment, draw the attention of the viewers to the trees. This is a beautiful, strange and poetic vision of nature.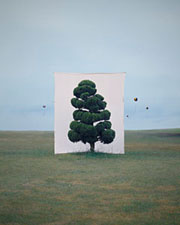 Tree #2 Archival Inkjet Print 2006 by Myoung Ho Lee. Photo by Yossi Milo Gallery.
The trees become an artwork on his canvas. As the artist says: "Simple in concept, complex in execution, it makes us look at a tree in its natural surroundings, but separates the tree artificially from nature by presenting it on an immense white ground, as one would see a painting or photograph on a billboard. The work demands thoughtful analysis."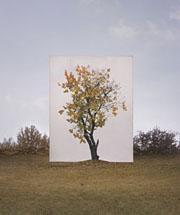 Tree #8 Archival Inkjet Print
2007 by Myoung Ho Lee. Yossi Milo Gallery.
Mr. Lee, now 34, was a student when he had his first international success with his exhibit, "Tree," in 2007. He has received the first Young Photographer's Award from the Photo Artist's Society of Korea (in 2005), Korea's Photography Critics Award (2006) and an award from the Culture and Art Fund from the Arts Council of Korea (2007). He lives and works in Seoul. The exhibit at Yossi Milo Gallery is his first solo show in the U.S.
As Mr Lee says, "The trees are massive. It's big work. It's a performance to take this picture." That's' why his photography is defined as Act Photography, rather than photography.
This is an inspiring work that deals with environmental issues and the relationship between humans and nature. If only humans spent more time painting or photographing trees than cutting them... [Suzanne Trouve Feff]