CURATOR'S CHOICE SM
Exhibition Reviews
| Home | | Museum Guide | | International | | Theater |
Jay DeFeo Retrospective at the
Whitney Museum of American Art
By Edward Rubin
Jay DeFeo (1929–1989), Crescent Bridge I, 1972. Synthetic polymer and mixed media on plywood, 48 × 66 1/2 in. (121.9 × 168.9 cm). Whitney Museum of American Art, New York; purchase with funds from Daniel C. Benton 2002.279. © 2012 The Jay DeFeo Trust / Artists Rights Society (ARS), New York. Photograph by Jerry L. Thompson
On February 27, 2013, I went to the Jay Defeo press opening at the Whitney Museum of American Art and I was blown away by DeFeo's work, almost all, save for her iconic The Rose painting which weighs 2300 pounds, I had never heard of, much less seen.
One powerful series in particular, triggered by her many dentals problems - having been there done that, and who hasn't - hit me between the gums.

Wanting to write about DeFeo's retrospective but bogged down by my reviews and articles in the pipeline, and not having the time or energy, I was somewhat saddened.

Then, after hearing Dana Miller, the curator of the DeFeo exhibition, as well as the curator of the Whitney's permanent collection welcoming us journalist to the opening with a small talk on DeFeo and her work, I had the bright idea of asking her if we could publish her talk.

Jay DeFeo (1929–1989), Landscape with Figure, 1955. Oil on canvas, 18 × 14 in. (45.7 × 35.6 cm). Private collection. © 2012 The Jay DeFeo Trust / Artists Rights Society (ARS), New York. Photograph by Ben Blackwell
Miller liked the idea. However, since the Whitney is knee deep in planning their move to their new location in the meatpacking district of downtown Manhattan in 2015 which has Miller running hither and yon, and I was art tripping in Paris, Indianapolis, Washington DC, and Philadelphia, it has taken many weeks for Dana and I to get the text and images ready to post.

Luckily this "must see " exhibition, to date, the definitive showing of the work of Jay DeFeo (1929–89), runs through June 2, 2013. At the outset of her career in the 1950s, DeFeo was at the center of a vibrant community of Beat artists, poets, and musicians in San Francisco.

Although best known for her monumental painting The Rose (1958–66, now in the Whitney's collection), which she spent eight years making and which later languished hidden behind a wall for two decades, DeFeo created an astoundingly diverse range of works spanning four decades. Her unconventional approach to materials and intensive, physical process make DeFeo a unique figure in postwar American art who defies easy categorization.

The full breadth of her work is being presented for the first time in this exhibition of more than 130 objects. This astonishing array of collages, drawings, paintings, photographs, small sculptures, and jewelry will illuminate DeFeo's courageous experimentation and extraordinary vision.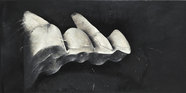 Jay DeFeo (1929–1989), Crescent Bridge II, 1970–72. Synthetic polymer and mixed media on plywood, 48 × 96 in. (121.9 × 243.8 cm). Whitney Museum of American Art, New York; purchase 2002.329. © 2012 The Jay DeFeo Trust / Artists Rights Society (ARS), New York. Photograph by Sheldan C. Collins
Dana Miller's Press Preview Remarks
Jay DeFeo: A Retrospective
Press Preview, February 26, 2013
Whitney Museum of American Art, New York
Jay DeFeo (1929–1989) set a fiercely independent course, and the astoundingly diverse range of art she created over more than forty-five years defies categorization. She made works that can be measured either in inches or in feet, in ounces or in tons, and which range from painting, drawing, jewelry, and photography to various hybrids that confound traditional classifications.
Jay DeFeo (1929–1989), Reflections of Africa No. 8, 1989. Charcoal and graphite on paper, 11 5/8 × 17 1/8 in. (29.5 × 43.5 cm). The Jay DeFeo Trust, Berkeley. © 2012 The Jay DeFeo Trust / Artists Rights Society (ARS), New York. Photograph by Ben Blackwell
Born Mary Joan DeFeo in Hanover, New Hampshire, she moved with her family as a toddler to the San Francisco Bay Area, where she remained for most of her life. After receiving undergraduate and graduate degrees in studio art from the University of California, Berkeley, she came to the fore professionally as part of a vibrant community of avant-garde artists, poets, and musicians active in San Francisco in the 1950s, a moment often referred to as the Beat era.
By then DeFeo had established a set of visual concerns that can be traced across her career: a primarily geometric vocabulary, the presence of a central form or imagery, an attention to surface texture, and groupings of works that explore varying expressions of a seminal idea. Her early work was frequently three-dimensional, including the delicate metal sculptures and jewelry pieces seen in the first room.
In 1954 DeFeo married fellow artist Wally Hedrick, and the following year they settled into a flat with studio space at 2322 Fillmore Street in San Francisco. The building was inhabited by a rotating cast of fellow artists, poets, and musicians, and it would be a hotbed of creative activity in the city for the next decade. In the mid to late 1950s DeFeo made a group of enthralling large-scale works using a palette knife to apply layer upon layer of paint. The highly textured surfaces would become hallmarks of her oil paintings and would culminate in the creation of works such as The Jewel and The Rose.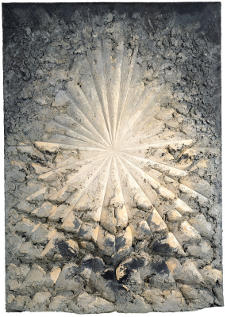 Jay DeFeo (1929–1989), The Rose, 1958–66. Oil with wood and mica on canvas, 128 7/8 × 92 1/4 × 11 in. (327.3 × 234.3 × 27.9 cm). Whitney Museum of American Art, New York; gift of The Jay DeFeo Trust, Berkeley, CA, and purchase with funds from the Contemporary Painting and Sculpture Committee and the Judith Rothschild Foundation 95.170 © 2012.
The Rose occupied DeFeo almost exclusively for nearly eight years and when she finished the work it is estimated to have weighed more than 1500 pounds. As an aside, no one really knows how much the work originally weighed as it was never officially weighed so all of the figures you seen throw around are really just guesses or estimates. The work was exhibited publicly only twice during DeFeo's lifetime, both times in 1969, and both times against a wall painted black. The Rose was then brought to the San Francisco Art Institute where it was installed in a conference Room. In 1974 when it became apparent that The Rose was in need of conservation, a plaster coating was applied to the surface of the painting, in what was meant to be a temporary stabilization measure. But five years later, with no further progress on the conservation effort, a false wall was built in front of the painting, completely obscuring it for the next 16 years.
The removal of The Rose from DeFeo's Fillmore studio in 1965 was a catalyst for several major upheavals in the artist's life. She moved to a small cottage in Marin County, her marriage ended, and she ceased making art for nearly four years. Among the first finished pieces DeFeo made was the delicate and mesmerizing After Image (1970), a work on paper inspired by a photograph of a ribbed shell. The work signaled the direction ahead with the use of acrylic paint and a mimetic representation of an image or object taken from her surroundings.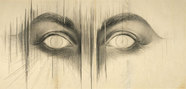 Jay DeFeo (1929–1989), The Eyes, 1958. Graphite on paper, 42 × 84 3/4 in. (106.7 × 215.3 cm). Whitney Museum of American Art, New York; gift of the Lannan Foundation 96.242.3. © 2012 The Jay DeFeo Trust / Artists Rights Society (ARS), New York. Photograph by Geoffrey Clements
In 1970 DeFeo incorporated a new medium into her practice: Photography. DeFeo's students at the San Francisco Art Institute, where she was then teaching, introduced her to the basic fundamentals of photography and in 1973, a National Endowment for the Arts grant allowed her to buy a medium-format camera and set up a darkroom in her home. She spent the next three years working intensely in photography, producing works using a variety of techniques, materials, and processes.
DeFeo continued to push the traditional boundaries of media throughout the rest of the decade and into the 1980s. Her imagery was often derived from man-made items in her surroundings: her camera tripods, a tape dispenser, and her swimming goggles. She treated these mechanical objects in an organic manner so that the final images transcend their humble origins. One is often unclear when looking at a DeFeo work if her initial model was animal, vegetable, or mineral.
In the 1980s she enjoyed growing commercial success and she joined the Art Department at Mills College. She moved to a large new studio space in Oakland and returned to oil paint after a hiatus of more than fifteen years, creating large-scale, brilliantly-hued paintings. In the spring of 1988 DeFeo was diagnosed with lung cancer but she continued to work prolifically, producing smaller scale oil paintings and works on paper, often with distilled silhouettes but always with luscious surfaces. DeFeo lost her struggle with lung cancer on November 11, 1989, at the age of 60.
DeFeo believed that her art was best understood when considered comprehensively. Certainly, The Rose functioned as DeFeo's compass as she labored over it for those eight years, but it is only once the myth of The Rose, seductive as it is, has been dispatched, that can one see the scintillating, fearless work of a career that lasted four decades. In taking such an expansive view, this retrospective demonstrates in an unprecedented manner the captivating sweep of DeFeo's heterogeneous work, illuminating her extraordinary vision and the groundbreaking, experimental nature of four decades of her art.