PAULANNE SIMMONS
"Killer Heels, The Art of the High-Heeled Shoe"
Killer Heels, The Art of the High-Heeled Shoe
Curated by Lisa Small
The Brooklyn Museum
200 Eastern Parkway
Wednesday: 11 a.m.–6 p.m, Thursday: 11 a.m.–10 p.m, Friday–Sunday: 11 a.m.–6 p.m
(718) 638-5000, www.brooklynmuseum.org
Suggested Contribution: $16 Adults, $10 Seniors & Students
Reviewed by Paulanne Simmons Sept. 10, 2014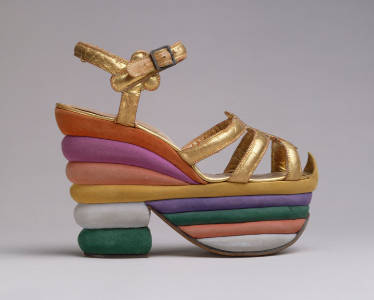 Salvatore Ferragamo (Italian 1898-1960) Platform Sandal, 1930, Leather, cork. The Metropolitan Museum of Art, New York.
With long gowns, with short dresses, with pants, even with shorts, there's nothing sexier than the high-heeled shoe. Women have been wearing them for a long, long time, even though they are uncomfortable and can sometimes cause serious damage. It seems many women are happy to trade comfort for provocative good looks, and "Killer Heels: The Art of the High-Heeled Shoe," at the Brooklyn Museum through Feb. 15, shows why.
Lisa Small, curator of exhibitions as the Brooklyn Museum, has organized Killer Heels into six thematic sections.
Revival and Reinterpretation goes all the way back to mid-seventeenth century Italian chopines, made of silk, leather and wood; and reminds as that the first people to wear elevated shoes in more modern times were men of leisure. Salvatore Ferragamo's platform sandal show just how far this style has come.
Rising in the East exhibits nineteenth-century cotton and silk embroidered Manchu platform shoes from China, which don't look like anything anyone would actually want to walk on, as well as a very comfortable-looking Turkish evening slipper.
Glamour and Fetish displays some dangerous-looking stilettos such as those worn by Marilyn Monroe or the calfskin and leather spikes called "Metropolis." "Printz," by Christian Louboutin combines a platform sole with a heel as think as a carpenter's nail.
Architecture shows how shoes, and buildings and other structures work with similar issues of support and load-bearing that can be exploited artistically. Here one finds a "Skyline Heel" and an "Eiffel Tower Pump."
Metamorphosis demonstrates how shoes can change the personality of the wearer and can change themselves into something else. Elsa Schiaparelli's iconic "Shoe Hat" dominates this section.
Finally, Space Walk takes shoes into the modern age of space travel and high tech. These shoes are made of all sorts of unusual materials, including organic glass, stainless steel and titanium. Some of them look like they're about to take off by themselves.
"Killer Heels" presents works on loan from established and emerging designers, as well as works from the Bata Shoe Museum and the Brooklyn Museum Costume Collection at the Costume Institute at the Metropolitan Museum of Art.
The exhibition also features six short films with shoe-related content that were specifically commissioned for this exhibition. But older visitor may take special delight in the scene from Billy Wilder's "Some Like It Hot" in which Jack Lemmon and Tony Curtis, both dressed as women, try to catch a train while stumbling and tripping on high heels.
"Killer Heels: The Art of the High-Heeled Shoe" is vast and comprehensive. When you go see it, wear flats.