THE PROGRESS MADE IN 100 YEARS OF GRAPHIC DESIGN
By Quinn Calcote
Entrance to Poster House. Photo by Stephanie Powell.
Poster House
119 West 23rd Street, NYC 10011
Wednesdays through Mondays 11:00 Am to 6:00 PM
www.posterhouse.org
Posters are something that most people have at some point in their lives seen. The purpose of posters ranges from their use in mass persuasion to the more personal uses for inspiration or self-identification. As ubiquitous as posters are, people may not stop to think about the history of posters or the process that they go through to be made. Poster House is the first museum in the United States dedicated to the art, history and impact of posters.
Poster House's opening features a total of 106 pieces of work by late 19th century/early 20th century graphic designer Alphonse Mucha and the early work of the German graphic design collective, Cyan. This is a landmark in the world of posters, being the first exhibit to feature Mucha's work in America since 1921 and the first American exhibition of Cyan's work. These exhibits are on view through October 6.

Alphonse Mucha's poster for "Gismonda."
Photo by Quinn Calcote.
First, a brief lesson in the art of poster making. Traditionally, posters were made via the stone lithograph process, where limestone was ground and chemically treated before being drawn upon with a wax crayon. From there ink (normally primary colors) would be applied to the stone. The image would then be repelled or attracted to a given area, creating a negative of the desired image. When a sheet of paper is pressed over that stone, the image transfers in reverse creating the positive image. This process is repeated for every color in the single poster, so the alignment would have to be perfect for the image to be readable.
The first part of the tour is dedicated to Alphonse Mucha (1860-1939). In the beginning of his career, Mucha was a struggling illustrator in Paris, living in poverty. Not until 1893 did he start becoming successful in his work. On Christmas Eve of that year, Mucha became aquainted with actress Sarah Bernhardt, who was in need of a poster for her play "Gismonda" reopening on New Year's Day. Mucha had previously seen the play and was the only artist available on short notice. From there, Mucha's success as a graphic designer continued to grow.
After Mucha's poster for Bernhardt appeared on the streets, there was a rush to enlist him for all sorts of products from cookies to bicycles, many of which featured images of powerful and emboldened women. Mucha was a master of the persuasive power of women in a time when women were becoming more liberated. For him, the client's product was secondary to its sumptuous and elegant image.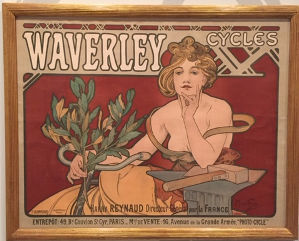 Alphonse Mucha's poster for Waverley Bicycles.
Photo by Quinn Calcote.
Although Mucha used the traditional stone lithograph process, in many of his works he also used metallic inks. This gives many of his work a certain radiant detail. However, metallic inks are fairly unstable, making the current condition of Mucha's work all the more impressive.
Later in the tour, you see posters from Cyan, a German graphic design collective, founded by Daniela Haufe after the fall of the Berlin wall in 1992. Around this time, personal computers had become more accessible worldwide. This gave Cyan an unprecedented freedom of design, neither having to worry about Communist state censorship nor having to acquire supplies from third parties.
Using digital software, Cyan created a new kind of poster aimed toward a "design-savvy" community. The process was similar to the stone lithograph method where ink is only attracted to certain parts of the paper. What makes this process different is that there is a rubber buffer in between the image and the sheet, so the image comes out facing the same direction as the original design. This process is more efficient that the stone lithography method in its speed and labor intensity.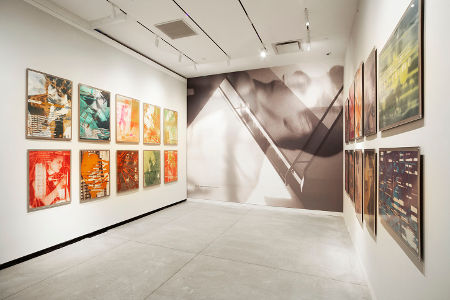 View of Cyan exhibit. Photo provided by Poster House.
In addition to the Cyan and Mucha shows, Poster House provides families with a number of interactive exhibits where you can learn more about posters. There's a photo booth where visitors can become an actual poster, a poster machine where you can think like a designer, and for their younger visitors an installation where kids can learn about the colors that go into the making of a poster.
The tour at Poster House is a truly unique experience. It will leave you with a deeper understanding and appreciation of the complexities that go into deceptively simple looking posters that you see on the streets or in your home.
IF YOU GO
You can see Poster House's current exhibit at 19 W 23rd St, New York, NY 1001 from June 20 to October 6, 2019. For more information, visit https://posterhouse.org/. Open Wednesday through Monday from 11:00 AM to 6:00 PM. Adult tickets are $12 per person. Students, seniors over 62 and visitors with disabilities are $8. Kids 18 and under are free.