STUDIO SHARES
Practical, Comfortable Co-Working Space for Artists in a Difficult Real Estate Market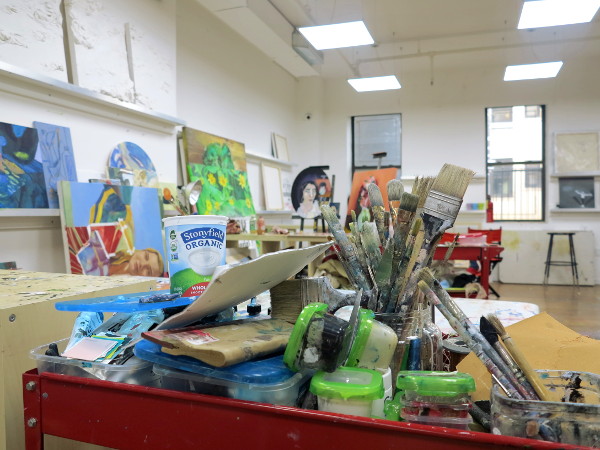 Photo by Kamoier Williams
People know about time shares for sharing vacation rentals, and gym memberships for shared workout spaces, but who has heard about studio shares for art studio rentals?
It is extremely difficult for artists to afford studio space with rising rents pushing businesses and families out of New York City.
That's where SmART Space Studios comes in.

An interior section of SmART Space Studio. Photo by Kamoier Williams
After graduating from Georgetown University, SmART Space owner Victoria Milo moved to New York City and ended up in the teeth of that predicament -- working after college and commuting full-time, having large scale paintings, hoping to find an art studio in such an artistic city, but ending up disappointed and out of luck.
She remembers, "I couldn't believe there was nothing affordable and convenient. All my friends and I who majored in art wanted something convenient, affordable, and somewhere comfortable that we could feel inspired." With no space to hold her painting materials, and no access to a gallery, she decided to study how small, successful art studios were developing in New York.
While working in advertising, she distributed surveys to get public feedback on the issue,and she inquired about severa membership options. A business plan for her own art space began with the advice and support of entrepreneurs, marketers, lawyers, and realtors within her family and friends. These resources, along with her education and experience as an artist working in advertising, led to her concept for SmART Space Studios.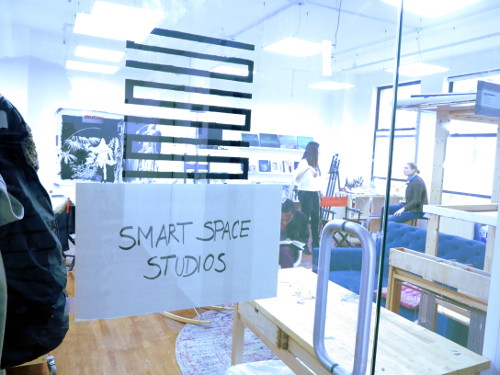 Studio Entrance. Photo by Kamoier Williams
SmART Space Studios is located on the fourth floor of 1178 Broadway, at 28th street. It is a large, co-working studio space that will accept anyone above 18 years old. Its website says, "Aside from different styles, every artist has a different schedule, amount of materials, setup style, and monthly rental commitment level. We understand that no two artists are alike, so we ditched the sterile white box and set out to build an artist studio space flexible enough to work for all creative types." It continues, "The spaces are professional, semi-private and come equipped with easels, stools, storage, and tabletop workspaces."
Like a gym membership, people can order one of three SmART Space memberships: a Basic Membership, Premium Membership or a Weekend Membership. Unlike other art studio spaces, this membership is monthly. For example, if you only need access on the weekends, the weekend membership will give you Saturdays and Sundays. There are twelve semi-private studios available, all with personal lockers, lighting, access to material storage carts, security, storage, easels, seating, wifi, use of common areas, and kitchen access.
The Basic Membership offers all the above but only weekday usage. It also offers communal storage, drying racks for three paintings and a locker. The Premium Membership gives all of the above plus unlimited monthly usage (days and weekends) plus drying racks and communal storage for two additional paintings. Each member gains 24-hour access to the studio within their membership agreements.You can book your membership online or discuss your options with Victoria. Storage can be arranged if you want to hold your materials there while you travel.

Katita Miller - Painter working at SmArt Space. Photo by Kamoier WIlliams

Four painters were present during my visit at the studio and they were very productive, yet friendly and conversational. There is definitely a feeling of being within an artist community. Some of the painters graciously allowed me to photograph them while they were at work.
Victoria is cheerful with her tenants and gives them feedback and encouragement. She explains, "We have a lot of painters and we also have people who just want to sit here and color. It's up to you. It can be any potential artist as long as we have space for them. All of our gallery shows are completely optional and they are open to our entire studio. We are not really curated, and sometimes it's just having the confidence to grow."
How did current SmART Space artists learn about the studio? Some of them learned through listings on New York Foundation of Arts website, Craigslist, the Listings Project, and other websites. Others have of course, learned through word of mouth.
SmART Studios Pop-up exhibition. Photo by Kamoier Williams

SmART Space organizes showings that are open to all its artist members. Their last exhibition was a gallery pop-up show located at 251 West 30th street, conveniently located three blocks away from Penn Station. The gallery had two floors; the second floor was an open balcony overlooking the ground floor.
I attended the last show and I was very intrigued by the other attendees. The crowd included architects, marketers, ad agency execs, photographers' reps, teachers and students, most of whom were family or friends to the artists. They seemed excited about the artists, their work, and the show's convenient location being near Penn Station. Some enjoyed a sip of wine while glaring at the paintings, while others shared their thoughts in conversation.
While sitting down with Victoria, I looked around the studio and said, "I'm seeing a lot of larger canvas work like I saw in the show, and now I even see a mix of sculpture attached and some are even suspended on canvases. There is another peice with a mix of thick layers of paint and carpet fabric." She responded, "Yes we have a lot of 3D transmedia pieces. Some are pastels or drawings with just lines. You can do anything in this space and the artists really learn from each other and trade ideas".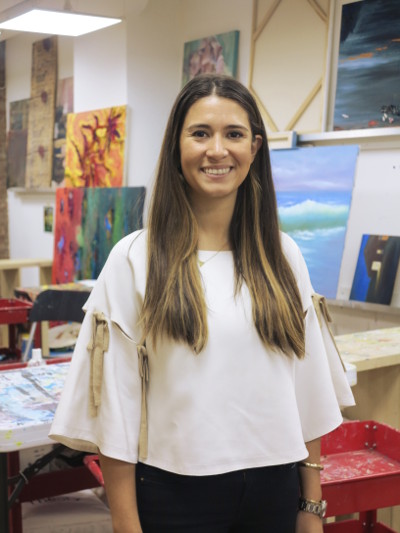 Victoria Milo - SmART Space Studio Owner.
Photo by Kamoier Williams
Victoria's aims to open more SmART Space Studio locations. She reflects, "The greatest and most rewarding thing I would say is meeting people who otherwise would not have connected had it not been for this space."
She credited her artists for the success of the show. "We are able to work with each other and support each other in each show. Everyone essentially produces the show together, and they share their techniques and learn from each other. The work has been pretty amazing."