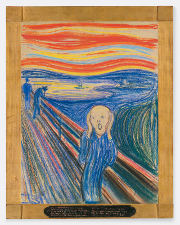 Edvard Munch. The Scream. Pastel on board. 1895. © 2012 The Munch Museum/The Munch-Ellingsen Group/Artists Rights Society (ARS), New York

The Mona Lisa. Starry Starry Night. American Gothic. These are just some of the most memorable and iconic paintings from art history, notably seen and spoofed in movies, book covers, and even wallpapers on laptops and iPhones. No list of historical paintings would be complete, however, without including the hauntingly beautiful, and truly paradoxical portrait of Edvard Munch's "The Scream." This impressionist painting sets the imagination afire with its lone figure, staring out of the canvas, mouth agape, with its orange sunset and brightly manipulated waters.

Whether it is through a classical education, a fine art intrigue, or just the comical parodies offered by Saturday Morning Cartoons, exposure to this piece of artwork comes in a variety of forms, I myself only discovered what this painting was at a young age due to my fondness for shows like "Animaniacs" and "Looney Tunes." Now, over fifteen years later, New York's Museum of Modern Art gave me the opportunity to see this historic piece of art of myself, and what is offered by this exhibition is no less than a subtle, but stunningly simple change of intrigue and perspective.

It is always stunning to me to witness the sheer reality of an image that has been so grossly enlarged in my brain over many years. Type "The Scream" in any Google or FlickR search engine and you'll fine high res, full color, large images that take up entire widescreen computer monitors; you'll even find distortions, photoshopped edits, and variations on the original that some artists and fans make themselves. But much like any celebrity you happen to see in Times Square or even on a Broadway stage, they always seem to appear so much smaller in person. Such is most certainly the case with Munch's "Scream." Sitting on a cardboard canvas, measuring only 36"x30" (roughly), the seemingly meager and diminutive reality of this paintings true size is in itself worthy of note.

There are actually four versions of "The Scream" that were made by Edvard Munch. Three of them are currently under lock and key in the National Gallery in Oslo, Norway. MoMA offers us a look at the fourth, which was purchased at Sotheby's Auction for a whopping $119 million, the highest nominal price paid for a piece of art for its time. "The Scream" has also been targeted in multiple thefts, though the ones in question were the copies currently held in the Munch Museum and the National Gallery. All have been recovered from their captors.

It seems ideal that this exhibition would open during the Halloween season, after all, it is a holiday where screams are abundant, but the exhibition itself will run through April 29, giving its viewers a chance to see its haunting expression through the changing seasons, and into the new year.

Truly, it is the expression itself that captures the mind and ensnares the viewer into an examination of what the image is trying to evoke. What exactly is the figure so appalled at? Is it a scream of frustration, sorrow, or joy? Is the world surrounding him, with its blood red clouds and reflective patterns, a figment of the imagination, or is the world turning these shades as a representation? Are the figures in the distant side of the bridge aware of the same sights as our central figure is? These questions are all evokative of the painting itself, and maybe is the countless unanawerable questions this painting asks that provide such a stimulus for the viewer, and maybe it is the unknowable answers that draw us into the horror or intrigue of "The Scream." Its effect echoes loudly and clearly, long after leaving the halls of MoMA.

Surely a piece of history such as this is a sight to behold, and should be viewed by as many as possible, and maybe the most poignant questions still lingering is, "'How can a 'scream' last for over a hundred years, yet still be heard so clearly?"

Edvard Munch's "The Scream" is on display at the Museum of Modern Art, from October 24 - April 29, 2013, on the Fifth Floor. 11 West 53 Street, New York, NY 10019. Admission is $25 for Adults, $18 for Seniors (65+), and $14 for Students (w/ ID). Children and Members get in Free.