John Singer Sargent (American, 1856-1925). "A Tramp," circa 1904-06.
For most people, John Singer Sargent, the American ex-patriot artist who lived and worked Europe, is a leading portrait painter of the Edwardian era. But Sargent also painted more than 2,000 watercolors whose subject matter ranges from Venice to the Middle East to the Italian Alps.
A good number of these paintings are in the collections of the Brooklyn Museum and the Museum of Fine Arts, Boston. For the first time, the Sargent watercolors of these two institutions have been united in the exhibition, "John Singer Sargent Watercolors," now at the Brooklyn Museum until July 28, 2013.
Brooklyn's Sargent watercolors were purchased en masse from the artist's 1909 debut exhibition in New York. Their subjects include Venice scenes, Mediterranean sailing vessels, intimate portraits and Bedouin subjects. The watercolors purchased by the Museum of Fine Arts, Boston in 1912 were painted by Sargent specifically for Boston and include scenes from the Italian Alps the villa gardens near Lucca and the marble quarries of Carrara, as well as portraits.
John Singer Sargent (American, 1856-1925). "In a Medici Villa," 1906.
In total, ninety-three watercolors are on exhibition. Also on view are nine oil paintings, including Brooklyn's "An Out-of-Doors Study, Paul Helleu and His Wife" (1889) and Boston's "The Master and His Pupils" (1914).
Sargent's watercolors were painted while he was on vacation with friends and family. Some of them were executed hastily, yet they all demonstrate the artist's mastery over his medium. Sargent's fascination with light and shadow, texture and the human figure are all abundantly evident in these paintings. But in them one also sees the artist's interest in nature, architecture and exotic people. In some of his work we can see Sargent flirting with abstraction.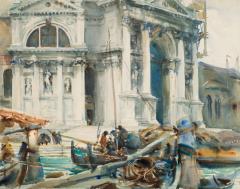 John Singer Sargent (American, 1856-1925). "Santa Maria della Salute," 1904.
Particularly impressive is Sargent's ability to capture the Mediterranean light and the dazzling varied tones of white on buildings and statues. Whether Sargent is depicting men at work or women lying on the grass, he gives his subjects a singular inner dignity and outer grace.
In addition to the works of art, the exhibition features a special section that deconstructs the artist's techniques, based on new discoveries about his pigments, papers, drawing techniques, paper preparation and application of paint. And selected works throughout the exhibition are paired with videos that show a contemporary watercolor artist demonstrating some of Sargent's working methods.
"John Singer Sargent Watercolors" is an exhibition of both historical and educational significance. But, just as important, for the museum goer, it's an opportunity to see some truly gorgeous works of art.
If you go:
"John Singer Sargent Watercolors"
Brooklyn Museum
200 Eastern Parkway, Brooklyn
Museum Hours: Wed& Fri: 11am to 6pm, Thurs: 11am to 10pm, Sat& Sun: 11am to 6pm
First Saturday of each month: 11am to 11pm
Admission: Suggested contribution $12, students and older adults $8
Exhibit runs through July 28, 2013
Reviewed by Paulanne Simmons April 4, 2013