From the Smith Street Print Project
In April 2012 the four creative souls behind the Smith Street Tattoo Parlour in Brooklyn decided to close their shop for one week to focus on their artistic development. They participated in the first Raking Light Projects artist-in-residence program at Mullowney Printing , San Francisco, where they were guided by the Print Master himself, Paul Mullowney.

For seven 18-hours work days the four artists would etch and carve sensitive sheets in order to make true fine art prints. The work has resulted in four individual amazing projects that when put together form an even greater common artistic project, which is defiantly worth defying the cold to see.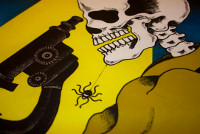 From the Smith Street Print Project
When you first enter the room you see a lot of different prints-some are just sketches, some are carved in metal plates and some are printed on paper and framed. The overall style is tattoo art inspired by indigenous Mexican art and Japanese Koi art. The exhibition includes series of 18 copper plate etchings, including one hand painted print by each artist.

At first glance the exhibition only seems to contain some colorful drawings a tattoo-artist would make before perpetuating it into someone's body, but when wandering around the exhibition one can't help but being intrigued by the obviously different universes that somehow form a greater whole.
The fascinating about this exhibition is not the prints as such, but more how four different artist can make four individual works that when put together shows how much these artist think alike and are able to form an even more compelling work together.
From the Smith Street Print Project
The Smith Street Print Project is the first time the artists will exhibit the complete body of work created during their stay at Mullowney Printing in San Francisco and even though you are not into tattoo art the exhibition is definitely worth seeing.

If you go:
"The Smith Street Print Project"
ArtNowNY
548 W 28th Street 2nd Floor, New York, NY 10001
February 6, 2014 - March 1, 2014
www.artnowny.com
Free admission