Speaking Colors:
The Extra Ordinary Art of Haile King Rubie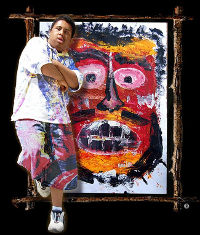 Haile King Rubie and "Rage" (2015)
"Haile King Rubie: Speaking Colors"
July 27 to August 17, 2016
Clara Francis Gallery, 2070 Adam Clayton Powell Jr. Blvd.
(7th Ave. @ 123rd Street), NYC 10027
(closed)
Reviewed by Ed Rubin
After spending the better part of an hour studying the paintings of Haile King Rubie at his first solo show Speaking Colors (July 27-August 17, 2017) at the newly opened Clara Frances Gallery in Harlem, I was struck by the depth of feeling that Rubie was able to paint into each of his canvases. It is rare to find a painting that not only feels alive and talks to you, but works its way into your heart. And here, in this exhibition with a welcoming, smiling sun-shining painted floor, designed by the twenty-six year old, Harlem based artist, we are gifted with 12 such paintings plus, each one telling a story that deeply mirrors his own life experiences, inside, out, and around. Add to this curator Julia Slaff's intelligently written story-telling wall texts and labels and what you have is a near-perfect installation.
While the press release, as well as Slaff's introductory text informs us that Rubie is living with developmental issues, this due to Down Syndrome, we are also made acutely aware by Slaff, as well as the paintings themselves, that it is these same so-called "issues" that give the artist "a heightened receptiveness to color, music, and movement that are elements reflected in his paintings" all of which enable him to express his "unique perspective of the world." To quote Rubie's teacher, mentor, and fellow artist, Haitian born, Carl Thelemaque—"When art lives in you, you live with spirits who never stop talking to you." No doubt, this same sort of magic also can be applied to Rubie.
| | |
| --- | --- |
| | |
| "Girl" (2007) | Snapshot at exhibition showing wall text. |
Though a few of Rubie's paintings like "Sunset" and "Rage" boldly expose the artist's innermost emotional states, others like "Girl," give evidence of his art history knowledge. Still others, "Dance," "Market" and "Sax Player," all teeming with life observed, signals Rubie's strong interest in capturing the fullness of life as it is happening around him. The many Harlem life and soul-enhancing parades, celebrations, and cultural events, as well as the musicians and hip hop performers that populate, 125th Street and Marcus Garvey Park, work their way beautifully into Rubie's paintings. Also playing into this mix is the artist's Costa Rican and Liberian heritage, as well as his love of the Haitian and Jamaican Caribbean cultures.
| | |
| --- | --- |
| | |
| "Sax Player" (2009) | "Balloons" (2007) |
The three earliest paintings in this exhibition cover three of the artist's prime territories, from a single individual, a joyous group setting, and an introspective painting—ones that leads us back into the deep recesses of the artist's mind. In "Girl" (2007), a cubistic portrait – perhaps a tribute to Picasso - a young girl is seen with both eyes intently looking to the right. Avoiding looking at us, she appears to be worried. In "Balloons" (2007), highly reminiscent of the work artist Jacob Lawrence (1917-2000), a family of three figures at play, are seen joyously releasing balloons into the sky. Backed by an all encompassing blue sky, the figures, whether they are on the standing on solid ground or on wet sand at the beach, is up for grabs.

Painted floor of the exhibition. Photo by Ed Rubin.
In "Night Shadows" (2008), dynamically rendered acrylic painting in black and white, we are faced with a mystery. What exactly is taking place? Who are the figures in the picture? What are they doing and why are they there? It could be a dream sequence. It could be a nightmare being lit by a moon in the upper right hand corner. It could also be a darkened theatrical stage set. In any case, the painting jumps out from the wall and whether you like it or not, both of your eyes are immediately pulled into this riveting scene. It is the only monochromatic painting on view which serves to heighten its stand-alone- power.
| | |
| --- | --- |
| | |
| "Night Shadows" (2008) | "Market" (2013) |
"Market" (2013), another many-figured painting of colorfully clad woman is based on a photograph sent to the artist by Carl Thelemaque from Haiti. It comes with a back story. It seems that following the 2009 earthquake in Haiti, Rubie's father Bernard, and Thelemaque, were both involved in the Haitian relief efforts both here and abroad, thus the photo sent to Rubie. Rather then painting the downsides of the earthquake Rubie chose to focus, using vividly striking colors usually associated with the Fauvists, on the bright side of life. As Slaff points out in her informative text, "Rubie's colorful and gestural brushstrokes rendering the sky, and the robes of the woman shopping, imbue the atmosphere, suggesting a spiritual connection between the humans and their environment."
| | |
| --- | --- |
| | |
| "Rage" (2015) | "Sunset" (2013) |
Jumping to the personal and introspective are "Rage" (2015) and "Sunset" (2013), a couple of Rubie's "states of being" canvases, each featuring two diametrically opposed behavioral aspects of the artist. In Rage, triggered by the death of a family member, as I was informed by a family member, we see the artist's emotion-filled face about to explode. Like the artist himself we are made to feel fear, fright and then anger. In Sunset, the most contemplative, not to mention most wondrous painting in the exhibition, one that makes the viewer think, a solitary figure, the artist himself, surrounded by a beautifully painted blue impressionistic sky appears to be lost in thought. Most likely Rubie, in a calming moment, is counting his blessings, as well as thinking about his next major painting. And to tell you the truth, so am I!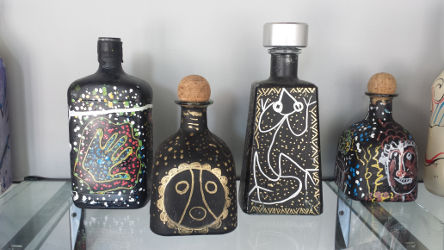 Painted bottles on translucent shelves. Photo by Ed Rubin.
Nicely capping the exhibition is a series of recently painted bottles which bring to mind the familiar marks and symbols used by Jean-Michel Basquiat, as well as other graffiti artists. Here, Rubie, showing that nothing is safe from his brush – I am still thinking of the gallery's beautifully painted floor – gives us ten eye-popping bottles, each one sporting a painted black background decorated with a bevy of playfully rendered fanciful faces and figures. One bottle in particular features a blue-dotted, free-floating waving hand. I like to think of it as the artist's hand saying hello, goodbye, and thank you for coming to see my show. As a parting salvo, one could not ask for a more delightful way to end an exhibition.