April, 2015 RAMBLES REPORT FROM SAUDI ARABIA IN MARCH 2015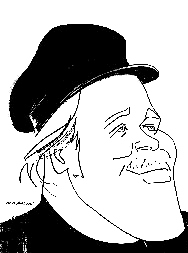 Caricature of Glenn Loney by Sam Norkin.

CONTENTS
To navigate to items in this table of contents, click on (*)

AFTER 56 YEARS, A RETURN TO ARABIA'S DESERT SANDS… *
SOME SIBILLANT SAUDI SYLLABLES… *
Danger for Security Police Who Wear Black Uniforms! *
Visual Equality Among Sa'udi Men:Everyone Looks Alike-Even Some Princes! *
ABSOLUTELY NO THEATRE IN THE SAUDI KINGDOM! ALSO NO ALCHOHOL-TRY MINT TEA OR COCA COLA© INSTEAD! *
How Can You Make a Selfie When You Are Sheathed in Black from Head to Toe? *


AFTER 56 YEARS, A RETURN TO ARABIA'S DESERT SANDS…

Way back in 1957 or so, I was ordered to go to Sa'udi Arabia, to teach Our Troops & ARAMCO Personnel in Dhahran, Abqaic, & Ras Tanura.

I had been teaching Public Speaking & English Comp to USAF Officers & Enlisted Men at Burtonwood Airbase, midway between Liverpool & Manchester.

Almost every Weekend, I'd drive down to London to see Shows in the West End.

My Heidelberg HQ had promised me South Ruislip as my Next Assignment.

This was our USAF London Base.

But our U of Maryland Overseas Program had Died the Death in Dhahran because they had sent out a Maryland Professor who was a Notorious Alcoholic.

Officially, there was-still is-No Alcohol in Sa'udi Arabia, but, somehow, this Thirsty Prof had managed to find some Liquid Lightning in the ARAMCO Compound.

I had No Intention of going off to the Middle East-long, long before ISIS & Iraq's Weapons of Mass Destruction.

So I immediately went down to London & got an Israeli Visa in my Passport…

That didn't work: 24 Hours Later, I was on a Sa'udi Airlines Plane!

Nonetheless, this Posting proved to be one of the most Interesting & Important I had during my Entire Time Overseas.

At night, ARAMCO was a Fiery Inferno of Hydroformer Flames, but sometimes, during the day, I'd get to fly out with Engineer Explorers.

They were only interested in finding New Spots to Drill for Oil.

But I was fascinated to see the Long Dried Out Traces of the Irrigation Canals that once made this Now Barren Land the fabled Green Paradise known a Thousand Years Ago as Arabia Felix.

No One was the least bit interested in Archeological Exploration.

Later came news that Ancient Nabatean Tombs had been discovered in the North, not far from Nabatean Petra, in Jordan.

Having been to Petra several times, I was eager to return to Sa'udi Arabia to explore its own Nabatean Remains.

The Stanford University Alumni Association announced just such a Tour in 2001.

I signed up immediately, as did a number of Alums with Archeological Interests.

If you Cancelled, you lost your Costly Registration Fee…

Unfortunately, in September 2001, some Rogue Sa'udis flew Hijacked Airplanes into the World Trade Center, the Pentagon, & into a Field in Pennsylvania.

Everyone cancelled but Yours Truly: I was determined to see the Nabatean Tombs.

As the Destined Departure Day drew close, I was Packed & Ready for Action.

Then, a Representative from the Sa'udi UN Delegation appeared at my door with a Full Repayment of my Original Registration.

The Sa'udis appreciated my eagerness to travel, but they "could not Guarantee the Safety of an American in Sa'udi Arabia."

This March, however, Stanford Alums were welcomed with the Proverbial Open Arms!

Thanks to our resourceful Irish Born-but Sa'udi Dwelling-All Knowing Guide, Bree, we were able to meet Three Important Sa'udi Princes in Three Days!

Speaking of Sa'udi Princes, there are now supposed to be Three or Four Thousand Princes, but no less than Seven Thousand Princesses…

More important for Americans, however, is the Amazing Number of Sa'udis who are now studying in the United States, at Stanford & at other Major Universities.

Currently, there are some 80 to 90,000 Sa'udi Students, working for AB's & Advanced Degrees.

This represents some Two Billion in US Dollars per year!

ARAMCO Oil keeps on Pumping, so that all Sa'udis now have Cars, Homes, Free Public Education, & Free Health Care.

Unfortunately, this also means that some Sa'udis do not have to Work at all-unless they feel like some Filing & Sorting…

Not only those Sa'udis who had recently returned from Stateside US, but also Our Genial Princes & Major Officials spoke American Inflected-even Colloquial-English.

This is something that many Americans cannot do with ease & skill, alas.

Close Down US Embassy in Riyadh!

Shutter US Consulates in Jeddah & Dammam!

Credible Terrorist Threats to US Citizens in Sa'udi Arabia!

We were scheduled to meet with US Embassy Officials early on, but these Conferences had to be cancelled.

When we went Down South to Abha, we were getting close to Yemen, which is now a Fracturing Disaster.

Somehow, even though we were Potentially in Danger, that did not keep us from the Bountiful Buffets.

Nor, for that matter, from the Souks, where some of our American Ladies found Endless Treasures.

SOME SIBILLANT SAUDI SYLLABLES…

World Class Camel Races are Great, but how about some Toilet Paper in the Men's Room?

Danger for Security Police Who Wear Black Uniforms!

Guess What? In 104 Degree Heat, Black absorbs Heat, leading to potential Body & Circulatory Damage!

So Security is better clad in Pristine White.

What No One seemed to notice in this Color Alert was that all the Sa'udi Women are always swallowed up in Black Abiyas-with Narrow Slits for their Eyes.

It was explained to us that Black is what the Women prefer, even though they can wear White instead, if they so choose.

In any case, many Sa'udi Women live most of their Lives inside their Homes, so Searing Heat in Broad Daylight is Not a Problem…

Visual Equality Among Sa'udi Men:Everyone Looks Alike-Even Some Princes!

In America, we say: Dress for Success or Clothes Make the Man.

You can easily spot the Difference between Macy*s & Prada.

Not so in the KSA-or Kingdom of Sa'udi Arabia.

All Men wear what looks like a Long Sleeved White Shirt that just kept on growing longer: The Abiyah…

Their Heads are swathed in Red Checked Scarves or Aghuls, held in place by Circular Gutrahs.

Of course, Some are More Orwellian Equal than Others, especially if they have Golden Gutrahs.

ABSOLUTELY NO THEATRE IN THE SAUDI KINGDOM! ALSO NO ALCHOHOL-TRY MINT TEA OR COCA COLA© INSTEAD!

Because the Prophet-Blessed Be His Name!-forbade any Reproduction of an Image of Man, Animal, Fish, or Fowl, there was never any Theatre in Sa'udi Arabia.

Nor is there now: Story Telling was always the Creative Outlet.

Think of Sheherazade & The Thousand & One Nights…

Oddly Enough, despite all the Prohibitions of Live Theatre, the TV Monitors are Alive with the Sound & Sight of Music, Dance, Sit Coms, & Major Motion Pictures.

56 Years Ago, ARAMCO would bleep out any Offensive Audio in a Hollywood Movie shared with Sa'udi Guests, like Sheik Ibn Jaluwi, the Emir of the Eastern Province.

But the Sa'udi Authorities are still busy protecting the Innocent from Moral Corruption-even on the Return Journey to the United States.

Instead of Audio Bleeping, we were treated to the Spectacle of Cleavage covered by Shimmering Fuzziness.

Any Young Lady in a Short Skirt was shown with her Lower Legs almost Radioactively Glowing.

This Bizarre Practice actually Called Attention to the Naughty Knees…

How Can You Make a Selfie When You Are Sheathed in Black from Head to Toe?

Even if only their Eye Slits show, Sa'udi Women will still smooth their Skins, use Botox, Pluck Eyebrows, & even use some Glitter for their Closeted Close Up…

Copyright © Glenn Loney 2015. No re publication or broadcast use without proper credit of authorship. Suggested credit line: "Glenn Loney, Curator's Choice." Reproduction rights please contact: jslaff@nymuseums.com.