Melissa Murray, "An Offering," 2012.
I first heard of the Montreal/Brooklyn partnership while visiting an art gallery in Toronto, Ontario, where the blue and red postcard caught my attention. It is now Brooklyn's turn to host the collection that I approached through one part of the exhibition at the Causey Contemporary Gallery exhibition.
The artistic partnership between Brooklyn and Montreal is the first one in a decade to bring together artists of these two leading north American cities. First on display in Montreal in the fall of 2012, the exhibition has just arrived in Brooklyn, with 40 artists featured in eight different venues.
The Causey Contemporary's participation in the exhibition has opened in suite 212 of the huge art center at 111 Front Street, in the neighborhood of Dumbo. This artistic complex hosts 14 independent art galleries in a building that seems to me to be the typical Brooklyn space; a huge warehouse converted into a nice arts center.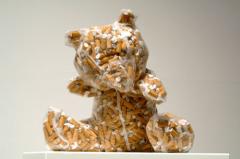 Patrick Bérubé, "Dependance," 2010.
Patrick Bérubé, from the Galerie SAS in Montreal, and Melissa Murray, from the Causey Contemporary Gallery, are the two artists showcased by the Causey Contemporary Gallery.
Bérubé's work is mostly comprised of installations and scheming juxtapositions of objects. The one that caught my attention is a child's bed, with two teddy bears made of butts of cigarettes. A mobile is also hanging from the ceiling, over the bed, composed of four black industrial trucks. Bérubé describes his work as dealing with references of our everyday life, giving to it a worrying or disturbing dimension. His intention is to thwart expectations and to highlight the frightening or mysterious part of reality. This is what also exudes from another project, representing a sink overflowing with a black liquid that splashes on a white wall.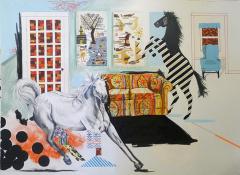 Melissa Murray, "The Best Laid Plans," 2012.
Melissa Murray's work is a collection of drawings and paintings. Her aim is to freeze a dream, a thought. It has given birth to colorful scenes mostly mixing houses and animals, as in "The Best Laid Plans," displaying two horses inside a living room. But her work also is a game on forms, on lines, on perspective. This gives motion to the painting and borrows the perspective of a dream. It is also worth noting that a wild animal can be found in every of her paintings exhibited in the show. If it be a bear, a doe or a wolf, it seems to be a touch of nature, of wildness inside a house: something that cannot be tamed inside the most domestic place.
A bone to pick: nothing in the gallery tells you the identity of each work, not even its artist. The show's intended objective is presented as highlighting the artistic differences and similarities of the two cities. That comparison is not easy to get without knowing what to compare.

If you go:
Brooklyn/Montreal – Contemporary Art Event
Exhibition in Brooklyn closes February 2, 2013.
8 venues including the Causey Contemporary Gallery
January 10 to 31, 2013 in suite 212 at 111 Front Street, Brooklyn
Wednesdays to Sundays, 11:00 AM to 6:00 PM
Free Admission
Adèle Bossard is a free lance writer from Saumur, France.