Carrie Mae Weems: The Louvre (from "The Museum Series"), 2006-present.
Carrie Mae Weems at The Museum Series at The Studio Museum in Harlem

The Studio Museum in Harlem is a small museum you hardly notice when you go by unless you are looking for it.

Last weekend I went looking for this hidden gem and was amazed by all the different art works and installations I found.
The museum has a permanent collection of photos, paintings and sculptures that presents the work of African-American artists and artifacts of the African diaspora. The Studio Museum in Harlem's permanent collection represents more than 400 artists, spans 200 years of history and includes over 1,700 works of art, including paintings, drawings, sculptures, watercolors, photographs, videos and mixed-media installations. The permanent collection in itself is worth going for, but at the moment Carrie Mae Weems "The Museum Series" is on display and it is absolutely breathtaking.
Carrie Mae Weems is known for letting gender roles, the histories of racism, class, and various political systems sound in her artwork and this exhibition is no exception. The black and white photos are wonderful and with each photograph by virtue of size and physical position, the viewer is asked to question the manner by which cultural institutions affirm or reject certain histories (race and sex) through their collecting and display decisions.
The Museum Series is a collection of photos of Carrie Mae Weems standing dressed in black with her back turned to the camera in front of the world's leading museums and cultural institutions as Philadelphia Museum of Art, the Tate Modern in London, the Pergamon Museum in Berlin and the Galleria Nazionale D'Arte Moderna in Rome. The photos and buildings are grandiose compared to the small woman standing in front of them, which makes you think about the relationship between artists and cultural institutions.
Luckily, Carrie Mae Weems isn't rejected by these cultural institutions (at least not anymore) and this exhibition is definitely a must see this spring!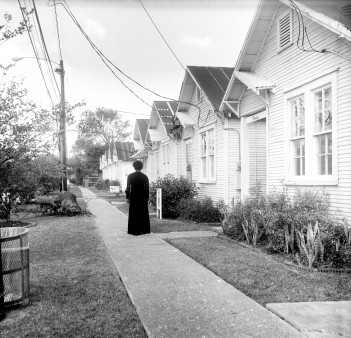 Carrie Mae Weems: Project Row Houses (from "The "Museum Series"), 2006-present.
If you go:
The Museum Series?By Carrie Mae Weems
The Studio Museum in Harlem
144 W 125th st
www.studiomuseum.org
Jan 30, 2014 - Jun 29, 2014
Admission: Suggested donation $7, students/seniors $3