North of History: Finding the Crossroads
Between Theater and Art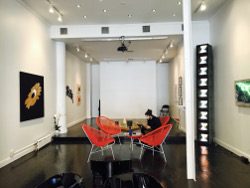 Gene Kaufman's new space: North of History. Photo by Rachel Beck.
Tucked in cozy corner literally north of history, the smell of fresh paint and new floors waft out of Gene Kaufman's 1,000 square foot pop up gallery by day, theater by night. Just a short walk away from various subway stations, and nestled in a cozy corner of the upper west side, "North of History" is cleverly named based on its geographical location to the Museum of Natural History, and dons a bright orange and grey sign that catches the eyes of people passing by.
Having been in North of History prior to its grand opening, I was able to take in the space sans beautiful artwork, artistic chairs, and the buzzing of a projector on the ceiling. However, with my recent return, I was even more impressed. What once was an echoing and empty hall with shiny black floors and impeccable white walls has transformed into a beautiful, aesthetically pleasing, and artistically exciting space of creativity and inspiration.
I am someone who finds solace in the big halls and cavernous rooms of old museums. I find comfort surrounded by classic works of Monet and Rodin, and appreciate impressionist oil paintings and giant wall murals, such as those that cover the walls of the Orozco mural room of my college's main library. It has always been difficult for me to appreciate and understand modern, experimental, and non-traditional forms of artwork. However, "North of History" beautifully combines a mix of those pieces that speak to me, and those that I must speak to in order to understand.
"The Dance of Life 1" (left) and "The Dance of Life 2" (right) by Alice Mizrachi. Photo by Rachel Beck.
As to be expected, I appreciated and generally liked some of the artwork more than others. Natalie Collette Wood displayed a giant and colorful painting that immediately caught my eye. The blending colors beautifully muted against the wall to transform me to a different time and place entirely. Slightly down the room, however, I was transported back to current day with the flashing of boxy, old Samsung TV monitors switching from image to image. Named "Hands 1", Benton C Bainbridge and Clebs' electronic display was piled high along a corner wall; the red blinking light of the power button served as wonderful contrast to the scenic and detailed painting that originally caught my eye.
"Breakfast Dance" an acrylic, oil, gauche, and mixed media painting by Natalie Collette Wood. Photo by Rachel Beck.
While walking around more it was nearly impossible to keep from imagining the space at night, with its capability to transform into a theater space. I can only imagine that sitting in the space, watching theater, while also being surrounded by such beautiful artwork is quite a unique experience. One can only wonder how the artwork will play into the era and genre of the show being presented.
Carol Carter as Sadie and Edythe Jason as Bessie in "Having Our Say," directed by Edgar Chisholm, presented by The Morningside Players as the inaugural theater production of North of History. Photo by Edgar Chisholm.
North of History is set to debut its theatrical capabilities with an upcoming production (February 14 to March 4) of "Having Our Say: The Delaney Sisters' First 100 Years," a play written by Emily Mann, directed by Edgar Chisholm, and performed by the Morningside Players. As two daughters of a former slave, in their old age living in Harlem, discuss their lives with audiences, we will be forced to come face to face with stories of racism, injustice, and personal growth.
Simply put, I avidly look forward to being able to experience such a powerful and statement-making play in such an inventive and original creative space. And my visit to the art gallery side of North of History was more than satisfying.
Gene Kaufman writes: "Due to rising real estate prices and business licensing obstacles, maintaining an art space in New York City is increasingly difficult, even though the art itself is alive and well. As a result, we must expand the definition of 'gallery,' 'concert venue' and other terms in an effort to fully integrate the arts into neighborhoods across the city."