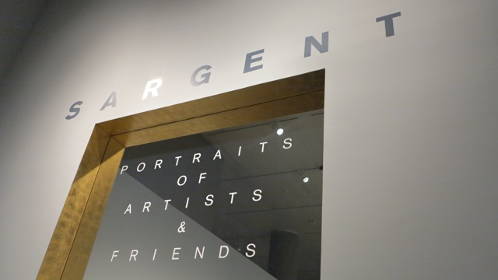 The opening room of the exhibition. Photo by Julia Slaff
An Afternoon at the MET
Sargent: Portraits of Artists and Friends
John Singer Sargent is one of the greatest portraiture artists America has ever known. He is the focus of the exhibition "Sargent: Portraits of Artists and Friends," which opened on June 30, 2015 at the Metropolitan Museum of Art. Like "Van Gough: Irises and Roses," a reunion of the post-impressionist artist's four flower studies painted prior to his Saint Remy institution, Sargent's show concentrates on his experimental process through portraits he painted of his friends. Many of the portraits Sargent rendered of artist, actor, musician and writer acquaintances vary in their moods and evocations, from highly charged to sensual and from humorous to remorseful. On now until October 4, 2015, "Sargent: Portraits of Artists and Friends" compiles around ninety of these unique portraits, from the Metropolitan archives and loans from private collections, to investigate how the portraits of whom he had great admiration for had extra feelings that make their paintings almost spring to life.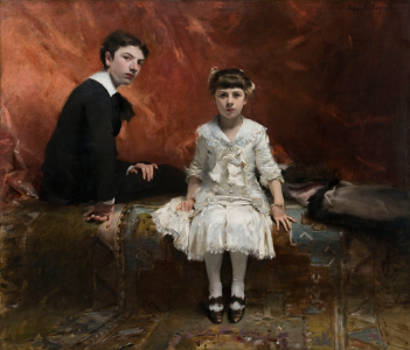 John Singer Sargent (American, Florence 1856 - 1925 London) Pailleron Children, 1880. Oil on canvas, 60 × 69 in. (152.4 × 175.3 cm) Des Moines Art Center Permanent Collection. Purchased with funds from the Edith M. Usry Bequest, in memory of her parents Mr. and Mrs. George Franklin Usry, the Dr. and Mrs. Peder T. Madsen Fund, and the Anna K. Meredith Endowment Fund
Upon entering the exhibition, one is greeted by a collection of beautifully clothed figures elegantly seated within elaborate gold frames. Orderly crowds line up to visit each painting, viewing each work intently, not missing a single detail or brushstroke. Each portrait evokes its own emotional intensity, as though viewers are interrupting intimate theatrical performances walking from painting to painting. A striking portrait of two elegantly dressed children, "Pailleron Children" (1880), is placed near the exhibition's entrance. The painting depicts the children of playwright Édouard Pailleron and his wife Marie. This was one of Sargent's first portraits of this kind. The emotional potency "Pailleron Children" evokes was unusual for Victorian depictions of children. It captures Sargent's deft skills for rendering luscious fabric and capturing the gaze of a disinterested young girl tired after long sittings and costume adjustments.
The show originates from the National Portrait Gallery of London. It is a recorded history in paint of Sargent's long career as a student and master, which took him to Paris, London, the English Countryside, the United States - particularly Boston and New York, the Alps and other European sites. It includes the paintings that supported his luxurious lifestyle, such as a the portrait of the celebrated gynecologist Joseph Pozzi and the portrait of the Parisian socialite Madame X.
Commissioned works that are emblematically Sargent-esque reside near mere studies in the section of works from his early years, when he was studying and forming relationships with artists in Paris. Sargent painted "Dr. Pozzi at Home" for a wealthy gynecologist who worked for medical advancement and assurance of women's safety. Sargent's reverence for this cosmopolitan man is evident in his depiction of Pozzi in a ecclesiastical manner, suggestive of a pope or cardinal. His crimson robes, rendered in the Sargent manner, teased into existence with strategic paint layers, appear touchily satin. The costume of the sitter, the surroundings and his face are unique to him. Even his long fingers allude to his surgical expertise and the sensual nature of his chosen profession.
| | |
| --- | --- |
| | |
| John Singer Sargent (American, Florence 1856 - 1925 London) Madame X (Madame Pierre Gautreau), 188–84 Oil on canvas 82 – 1/8 x 43 – 1/4 in. (208.6 x 109.9 cm) The Metropolitan Museum of Art, New York, Arthur Hoppock Hearn Fund, 1916 (16.53) Image: © The Metropolitan Museum of Art, New York | John Singer Sargent (American, Florence 1856 - 1925 London) Dr. Pozzi at Home, 1881 Oil on canvas 79 – 3/8 ×40 – 1/4 in. (201.6 × 102.2 cm) The Armand Hammer Collection, Gift of the Armand Hammer Foundation. Hammer Museum, Los Angeles |
"Madame X," a long time favorite in the MET collection, strikes a powerful and sultry pose near the outskirts of this section of his early works. It shows Virginie Avegno Gautreau, a Louisiana expatriate and Parisian socialite, who was an acquaintance of Sargent. The artist painted her portrait without a commission, yearning to achieve a bigger name in the Salon. The painting evokes the self-centered glamor that this woman projected. Her body-tight gown contrasts with her alabaster skin, demanding the attention of the room. The gold strap of Virgine's gown was originally painted slipping off her shoulder to show off her style, but Sargent repainted it after the Salon due to controversy. In spite of outcry, Salon critic Louis de Fourcaud noted that the portrait suggested a new type society woman who used her style as a means of obtaining celebrity.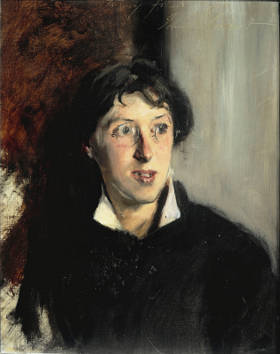 John Singer Sargent (American, Florence 1856–1925 London) Vernon Lee, 1881.Oil on canvas 21 – 1/8 × 17 in. (53.7 × 43.2 cm) Tate: Bequeathed by Miss Vernon Lee through Miss Cooper Willis 1935 Photo: © Tate, London, 2015
A childhood friend of Sargent and successful writer hangs in a frame proximal to the monumental Parisian debutante. This spectacle wearing, sexually ambiguous individual is Vernon Lee, whose birth name, "Violet," was inscribed into wet paint across the top of the canvas. She was a feminist and pacifist, a modern woman by 21st century standards, and a brilliant scholar known for her vast knowledge of the Italian Renaissance. Lee also dabbled in fiction, psychology, aesthetics, literary criticism, novels and plays. The painting is an intimate portrayal of a childhood chum, evident from Sargent's depiction of her in her preferred sexually ambiguous attire. There is a wise and intelligent quality oozing out of this portrait, as though she could spring from the canvas and debate with you in iambic pentameter. The fact that Sargent could render her likeness, physically and emotionally, in paint in under three hours proves that he knew his brilliant friend very well.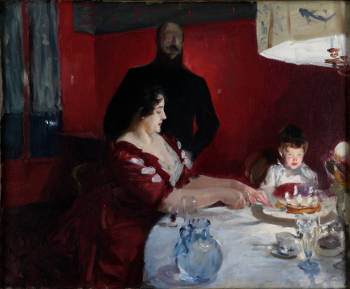 John Singer Sargent (American, Florence 1856 – 1925 London) The Birthday Party, 1887. Oil on canvas 24 × 29–3/4 in. (61 × 73.7 × 1.9 cm) Lent by the Minneapolis Institute of Arts, The Ethel Morrison Van Derlip Fund and the John R. Van Derlip Fund
There is a scene of a birthday party where the walls and figures are in dramatic competition. Depicted are French artist friends of Sargent, painter Albert Bensard and his wife sculptor Charlotte Dubray, celebrating a new year for their eldest child, Robert. Sargent renders the familial dynamic with stylized accuracy. The child, who one would think should be the central focal point of the portrait, is secondary compared to his strong domineering mother, who is purposely placed in the closest foreground. The father, whose own "environmental" portraits involved the sitter as representational to one's surroundings as to oneself, is rendered as almost blending into the rich crimson panels that make up the room. The fanciful drawing room, with its decorative curtains and Asian-themed lamp covering, reflect the family's artistic identity, comparable to a family crest.
John Singer Sargent (American, Florence 185 - 1925 London) Ellen Terry as Lady Macbeth, 1889. Oil on canvas. 87 × 45 in. (221 × 114.3 cm) Tate: Presented by Sir Joseph Duveen 1906. Photo: Tate, London, 2015
During Sargent's London years from 1889 to 1913, he solidified his importance as a portraitist. Sargent mixed with the British social elite and was deeply immersed in the cultural life of London. He was the Anne Lebowitz of the city's music scene, promoting young performers such as Shakespearean actor Ellen Terry in paint. "Ellen Terry as Lady Macbeth" has an old master regality with a drama and flamboyance we see today in celebrity photo spreads for "Vanity Fair." This commemoratory portrait, typically reserved for royalty or a member of parliament, had been unseen outside of governmental contexts until this time. In the portrait, Sargent depicts Ellen Tracy queening herself. However, Terry did not actually crown herself in her production of "Macbeth," nor was such an action suggested in the Bard's play. Sargent made it a motif for her own strong personality in the character. Obscuring where the actress ends and Lady Macbeth begins shows Sargent's true understanding of the actress' identification with the role.
Sargent traveled around Europe where his career thrived, but always considered the Untied States his true home. He frequently exhibited in New York and Boston, finding patrons in wealthy American families due to his international fame and painterly talents. He mixed with the bohemian crowds of New York and Boston, socializing with artistes including Henry James and Edwin Booth. James, whom he met during his Parisian escapades, introduced him to his most generous patron, Bostonian Isabella Stewart Gardner, who kept him working painting a large mural for the Boston Public Library. In New York he painted three actors' portraits for The Players Club, including one of its founder, Edwin Booth in 1890.
The portrait of one of Sargent's greatest benefactors, Isabella Stewart Gardner, is striking in a different way from that of the seductress Madame X. Sargent depicts a woman not of intense beauty or style, rather, rather one of great admiration and respect. Gardner is rendered in a straightforward position, with an unflinching gaze, which has the command of a great leader. Her dress in simple, but the Venetian brocade behind her alludes to the Italian Renaissance style palazzo museum she built in Boston. Along with her glowing skin and elegant jewelry, she is portrayed as an icon, which startled Bostonian viewers who were not used to such bold representations of normal people.
| | |
| --- | --- |
| | |
| John Singer Sargent (American, Florence 1856 – 1925 London) Edwin Booth,1890. Oil on canvas. 87 – 1/2 × 61 – 3/4 in. (222.3 × 156.8 cm) Amon Carter Museum of American Art, Fort Worth, Texas | John Singer Sargent (American, Florence 1856 - 1925 London) Isabella Stewart Gardner,1888. Oil on canvas. 74 – 13/16 × 31 – 1/2 in. (190 × 80 cm) Isabella Stewart Gardner Museum, Boston |
After 1900, he forsook portraiture for landscapes, traveling with close friends during summer and fall seasons to the Alps, Venice and southern Europe. He recorded his friends amid nature, blurring the lines of the natural world and the sitters.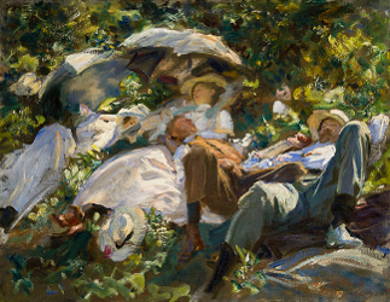 John Singer Sargent (American, Florence 1856 – 1925 London) Group with Parasols (Siesta),around 1904 - 05 Oil on canvas. 22 – 3/8 × 28 – 9/16 in. (56.8 × 72.5 cm) Private Collection
This environmental portraiture is especially seen in his work "Group with Parasols," done between the years of 1904 to 1905. The painting shows Sargent's four friends asleep in an Alpine meadow on the Italian Matterhorn. Like Cezanne's bathers, the slumbering friends blend in with their surroundings so much that it is challenging to discern where they begin and the countryside ends. The two women, Dos Palmer and Lillian Mellor, snooze elegantly beneath white parasols. Leonard Harrison sleeps in Mellor's lap and his brother, painter Lawrence Harrison, dozes beside him. The portrait is not intended to be a sensual depiction of lovers lying, rather, of people submitting to total relaxation. The strange composition, with foreshortening and unusual light sources, leaves much to the imagination of a viewer and seems to be the closest this realist artist got to abstraction. [Julia Slaff]

IF YOU GO:
"Sargent: Portraits of Artists and Friends"
The Metropolitan Museum of Art
1000 Fifth Ave.
Sun -Th 10:00am - 5:30pm , Fri-Sat 10:00am -9:00pm
June 30 - October 4, 2015
www.metmuseum.org