Brooklyn Museum Sheds Light on Caribbean Impressionists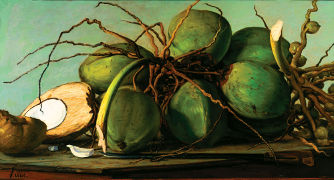 Francisco Oller (Puerto Rican, 1833–1917). Still Life with Coconuts (Naturaleza muerta con cocos), circa 1893. Oil on canvas, 273/4 x 441/4 in. (70.5 x 112.4 cm), framed. Private collection, New Jersey.
Impressionism and the Caribbean: Francisco Oller and His Transatlantic World
Brooklyn Museum
200 Eastern Parkway
(718) 630-5000 or www.brooklynmusuem.org
Oct. 2, 2015 - January 3, 2016
Reviewed by Paulanne Simmons Sept. 30, 2015
For most of us Impressionism calls to mind French painters such as Claude Monet, who specialized in delightful scenes of the French countryside, or Edgar Degas, whose paintings captured dancers in their most intimate moments. If we think of the Caribbean at all, it might be in reference to Camille Pissarro, a Danish-French impressionist who was born on the Island of St. Thomas but spend most of his life in Europe. Now, thanks to Brooklyn Museum's Impressionism and the Caribbean: Francisco Oller and His Transatlantic World, many of us will know better.
The exhibition, which brings together masterpieces from the museum's collection and paintings from private collectors in Paris, Puerto Rico, Miami, Washington, D.C., and the New York City area, focuses not only on the Puerto Rican painter Francisco Oller but also his predecessors and his contemporaries in the Caribbean, Europe and the United States. Thus we see side-by-side or nearby landscapes by Oller, the French Paul Cézanne and the American Frederic Edwin Church.
Other highlights of the exhibit include works by Oller's mentor, the Afro-Puerto Rican artist Jose Campeche, portraits of prominent Spaniards by Oller and his contemporaries, and the still -life paintings of lush, tropical fruits which many consider Oller's greatest work.
Oller, who spent twenty-one years in Europe, where he studied with masters in Spain and France, created work that is sometimes indistinguishable form the artists with whom he exhibited: Pissarro, Cézanne, Monet Renoir and Courbet. In fact, many considered Oller a disciple of Courbet. However, one could argue that Oller's greatest inspiration came from the Caribbean.
"Hacienda La Fortuna" documents the decline of sugar production in Puerto Rico. "The School of Master Rafael Cordero" depicts Cordero in the simple classroom of the school he founded in Puerto Rico, the first for male children of enslaved persons as well as freed slaves on the island. In Oller's beautiful and evocative still-life paintings he depicts plantains, coconuts and pineapples, fruits native or transplanted to the Caribbean.
Artistically, Oller incorporates realism, impressionism and naturalism. In his work, one sees echoes of French impressionists, but also Flemish still-life paintings and historical compositions from Spain's Golden Age.
It is totally fitting that Brooklyn Museum, which often presents work from a variety of cultures, should present to us an artist whose work reflects and combines so many influences from both sides of the Atlantic.