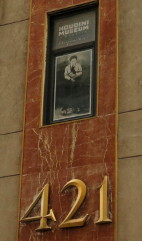 The Houdini Museum frontage, at 421 Seventh Avenue in New York. Photo by Adèle Bossard
Houdini Museum of New York
at Fantasma Magic
421 Seventh Avenue (Entrance on 33rd Street)
212-244-3633, http://www.houdinimuseumny.com
Mon to Sat, 11:00 AM to 6:00 PM; Sun 11:00 AM to 5:00 PM
Admission is free
As the CEO of Fantasma Toys, Inc., Roger Dreyer created the Midtown magic shop "Fantasma Magic" in 2001. He has always been a great fan of Harry Houdini, the famous illusionist and magician, and has spent a major part of his life gathering the world's second-largest Houdini collection. (The largest is the illusionist David Copperfield's collection of Houdini memorabilia at the International Museum and Library of the Conjuring Arts in Las Vegas.) After his collection was displayed at the Jewish Museum in 2010, he decided to transform the hall of his Fantasma Magic shop into the first Houdini Museum in New York.
The aim of this museum is to capture Houdini's whole career, from his early life and first tricks to his famous escape shows, from the handcuff break outs to the toughest challenges. Some two hundred of the most important pieces that were used and personally belonged to Harry Houdini are exhibited. The museum's location is just across from Penn Station.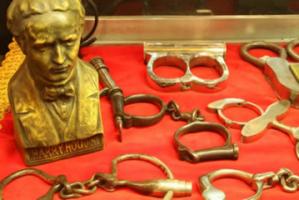 Houdini's famous handucuffs on display. Photo courtesy of the Houdini Museum.
I had never heard of Houdini before in France, my native country, where he is not well known by those who are not especially interested in magic. Through this museum, I was introduced to Harry Houdini himself. Born as Erik Weisz in Budapest in 1874, he arrived in the United States in 1878 and settled in New York at the end of the 1880's. Once he became a professional magician, he began to call himself Harry Houdini, in reference to the influence of Jean-Eugene Robert-Houdin, who was (ironically for me) a famous French magician. The first name "Harry" has been assumed to be an homage to Harry Kellar, an American magician he admired.
After a year of touring the top US vaudeville houses, Houdini began to perform all over the world and became widely known as the "World Famous Self-liberator" and the "Handcuff King." Indeed, he discovered that almost all handcuffs can be opened with a single key or a piece of metal and focused his shows on "escaping" from not only police handcuffs but also from tricky handcuffs brought by spectators.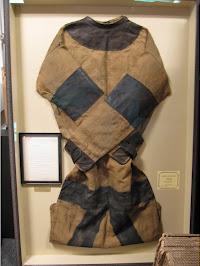 Houdini's straitjacket from which he dangled from the ceiling. Photo courtesy of the Houdini Museum.
The Houdini Museum has several of those handcuffs on display, as well as a straitjacket, from which Houdini dangled from the ceiling, and some rare publicity posters. It also features a professional magic staff performing magic tricks and teaching you how to do them. The one I saw consisted of making appear, disappear and multiply some folding knives. I could not get a clue of how the trick was performed.
If, like Roger Dreyer, you are a Houdini fan yourself, you will certainly be delighted with this exhibition. There is almost everything you will want to see about your idol and you will even be able to practice a few magic tricks. Being new to Houdini, I found there was not enough biography on display to draw me in and make the museum a complete "immersion experience." I had to fill in my curiosity by researching him in other sources.
Roger Dreyer has decided to display his own massive Houdini collection to the public for free, which is praiseworthy. However, this interesting collection is exhibited in the hall of a magic shop, which leads it, for me, to lose some of its genuineness, the huge collection being scattered between different, and sometimes unrelated, offerings for sale.

Adèle Bossard is a free lance writer from Saumur, France.