"Irises and Roses," a revelation of color by Vincent van Gogh.
A Dutch woman in New York savors her favorite artist's exhibition at the Met.
By Rosalie Baijer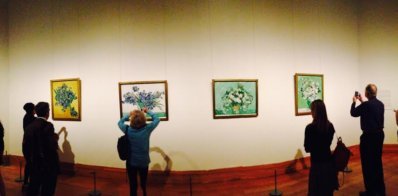 Panorama "Van Gogh: Irises and Roses". Photo by Rosalie Baijer.
When one of your favorite painters from your home country is shown in the Metropolitan Museum, there is no doubt your of going. I have been enchanted by the art of Vincent van Gogh since I was a little child. I was intrigued by his contrast of colors and his extraordinary technique of painting, but mostly by his personality. His paintings say so much of his personal story. This man was mentally ill, but a really inspiring artist. He has so many different paintings that I really can't tell which one I like to most, but I do know these flowers were the start of his success. Van Gogh is seen today as one of the great painters of the 19th century. Unfortunately this recognition came late, after his death.
Vincent van Gogh, "Irises" (1890)
The exhibition "Van Gogh: Irises and Roses" is just four paintings on one wall. They look very similar, until you really look at the colors and techniques. Having only four paintings really invites you to discover the elements of their total beauty. The descriptions posted next to the paintings explain to us their back stories and their meanings. The four paintings were among the last works before his death. They brought tranquility into his life before he left it..
Vincent van Gogh, "Roses" (1890)
After his "Twelve sunflowers in a vase,"one of the most popular paintings in art history, he wanted to do more experiments with painting flowers. So he continued creating still life paintings infused with brilliance and vitality. You see the same picture, but in different techniques, colors, flowers and effects. How much he could do with subtle change is truly magnificent. In "Irises" (1890), he uses the same background color as the vase, but the vase is a little darker and still is so clear. Multiple brush techniques can be seen in his thick use of paint. When I saw "Roses"(1890), the first thought that popped up in my head was, "why are the flowers dead?" I found my answer in his quotation: "flowers wilt quickly and it's a matter of doing the whole thing in one go." Only in this picture do we see fallen fronds and broken stems. That's life, nothing is permanent.
Under the French southern sun, Van Gogh painted his most remarkable works at a feverish pace, sometimes several in one day. However, this happened in his last two years of life, accompanied by dramatic crises. He was tormented by what he called "the voice of the terrible lucidity." His greatest artistic triumphs of that period were painted under by the intense play of light from the south through heat-torn clouds. The paintings of that period are the highlight of his short career. "Color more arbitrarily in order to express myself forcefully," he wrote. By creating and using colors of the same tint, or completely contrasting colors, using thick, vigorous brushwork, he extracted the savage beauty of the flowers, which were densely packed into an earthenware vase. It really is a revelation of color.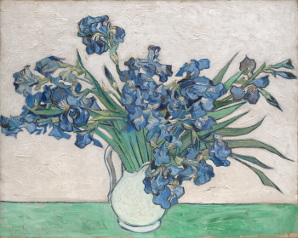 Vincent van Gogh, "Irises" (1890)
IF YOU GO
You can see the exhibition at The Metropolitan Museum of Art at the Robert Lehman Wing, Gallery 955, 1st Floor, 1000 Fifth Avenue at 82nd Street, New York, NY 10028. From May 12–August 16, 2015. For more information visit: http://www.metmuseum.org. General admission is $25.


Rosalie Baijer, from Holland, is an Assistant Editor of Curator's Choice.