"Pains Indians: Artists of Earth and Sky"
Landmark exhibition of Plains Indian Art is a beautiful and honest look over four centuries.
By Rosalie Baijer
Walking through the Metropolitan Museum to go to the "Plains Indians: Artists of Earth and Sky" exhibition, you pass by a lot of other impressive art. Nevertheless, when I entered the exhibit, I was struck with an unexpectedly powerful feeling. This unique historical experience offers an introduction to of Native American life and history that is often unfamiliar to Europeans, like myself. I've been attending a variety of Native American performances lately and I'll admit, this exhibition helps it all fall into place: the history of Native American dance and Native Culture's music, power and beauty. The exhibition takes us into Native American art through the centuries and it's a bigger experience than reading a history book, since it engages all your senses.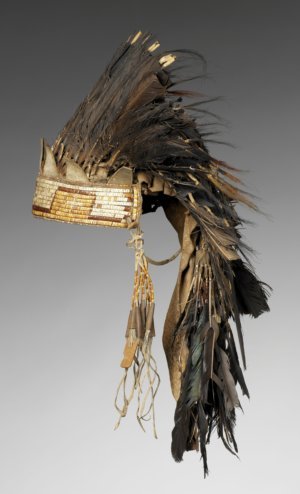 Feather Headdress (18th century) , Eastern Plains or Western Great Lakes artists. Photo by Musée du quai Branly/Patrick Gries, Bruno Descoings.
The evolution of Plains aesthetic traditions over four centuries is presented through more than 150 works drawn from public and private collections, many from Europe. The earliest surviving art by native North Americans left America long ago when soldiers, traders and priests bundled it up and shipped it across the sea to their home continent. Much of the art we see was preserved in Europe hundreds of years ago and has finally came home.
These objects reflect profound connections to both the natural and the spirit worlds and to the forces of the earth and sky. The first pieces you see date from around the first century B.C. The beginning of the distinctive Plains vision is reflected in stone tablets, an ancient pipe and some painted robes. These objects are showing us the function of traditions over time. The pipe was used as a gesture of intimacy and trust, so it was an important art piece and richly decorated. An underwater panther carved in a stone tablet is a mythical spirit of the underworld, in control of the animals and the whirlpools of powerful rivers.
At the end of the 16th Century, horses were introduced by the Mexicans and became the most efficient means for hunting buffalo. The influence of animals upon art is seen in the hunting materials, including weapons, clothes and robes of buffalo leather, all illustrated with stories of the culture. I was impressed with the Woman's Robe, which is very pretty but especially functional, with its sides split for riding a horse. Everything is so clever and thought through. Figures on big robes tell us a story of war with the Europeans. We see warriors, battles, visual energy and action. The story is drawn on the robe like a child would have imagined it, yet it is understandable and clear.
In the time period of 1700-1820, the artists use materials from nature, like buffalo leather, wool and pigment, to raise the spiritual powers of animals. What we see is art, full of inspiration from animals, but we equally recognize war, fighting and defense in the pictures and works of art. "Robe with Warriors 1780," "Shield with Buffalo Bull" and "Thunderbird and Oaks Shield" show us history in art, telling us adventures that these peoples were living through. Plains people had to move frequently and carried everything with them. Men and women had different responsibilities and this was clearly seen in the art. Men did the hunting and hard work; his pride in taking care of the community is shown on the robes. The bead-work and tanning are executed by women. These job required more attention to detail and beauty for its own sake.
From 1820-60, war became an integral part of Plains Indian Life. They had to fight for honor and status. Ceremonial clothing, headdresses, weaponry and horse gear represented the achievements and the threatened life of the Plains Indians. A feather headdress by an artist named Oglala Lakota catches your attention, radiating bravery and leadership. Its made with a variety of materials (raven feathers, porcupine quills, native tanned leather, deer hair, metal cones) and looks like an object rigtht out of a fairy tale.
Kiowa Sun Dancer,(1930) Spencer Asah, Kiowa. Photo by Fred Jones Jr. Museum of Art, the University of Oklahoma, Norman; Acquisition.
From 1880 -1910, artists used new techniques to maintain traditions and support community life. Even while adopting the new American lifestyles and social norms, Plains Indians maintained the creativity of their existence. In art showing dances and religious movement, we see the meaning of various rituals, such as in the painting "Sun Dance," made by a Lakota artist, where we see people singing, dancing and praying.
In the period of 1910-65, there was a struggle for survival and for control of their lands, education, religious rights and culture. The artist are asserting that their culture is totally different from the Euro American culture through their art and clothing. Artworks tell of the continuance of Native traditions and of gathering for feasting.
In the period of 1965- 2015, the most recent pieces of art combine modern media with the story of the Plains Indians. Photography, film and graphic design show how life has been for them, on the one hand, being one with nature, and on the other hand, being in a state of loss and sadness. A video documentary displays the rhythm, music and sounds of artistic and spiritual life by showing hands playing a rattle in a four-channel video installation piece by Dana Claxton (b. 1959, Hunkpapa Lakota) called "Rattle" (2003). Artist Bently Spang made a protective "war shirt" with family snapshots and pictures, as if to say that we all wear our histories. Wendy Red Star superimposes photos of people over paintings to show the Indian being at one with nature. She draws on daily surroundings, aesthetic experiences, collected snapshots past and present, and stories that are both real and imagined.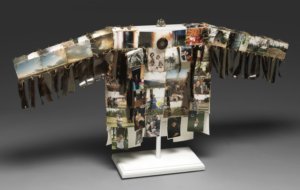 War Shirt, (1998)Bently Spang. Photo by Sandra Spang Collection/Joshua Ferdinand.
I left the exhibition having had a powerful, but sad experence. As a young European and newcomer to New York, I have witnessed how the city is almost all imigrants, but I realize my ignorance of the New World's struggles between the Indians and the European invaders and their descendants. Native American art is unique; it has its own beauty. The story behind it reveals the true history, emotions, and spirituality of these people. This really touched me.
IF YOU GO
You can see the exhibition at the Metropolitan Museum of Art, 1000 5th Avenue, New York 10028, where it is located at Iris and B. Gerald Cantor Exhibition Hall, Second Floor, Gallery 999 from March 9 to May 10, 2015. For more information visit: www.metmuseum.org. General admission is $25.


Rosalie Baijer, from Holland, is Assistant Editor of Curator's Choice.