"Needlepoint" and "Chambers Review II"
Chinese artists innovation and inheritance of Chinese traditional culture
By Tianxue Bian
May 3 to June 22, 2019
"Needlepoint" and "Chambers Review II," presented by Chambers Fine Arts
522 W 19th Street, New York
Tuesday through Saturday 10AM-6PM
Chambers Fine Arts has a unique setting. It is a spacious and bright space that immediately grabs your eyes when you first enter. I attended two exhibitions that the gallery presented at the same time: "Needlepoint" and "Chambers Review II"
The overview space of Chamber Fine Arts. Photo by Tianxue Bian
"Needlepoint" is an exhibition of works by six artists in China: Cui Fei, Fu Xiaotong, Hong Lei, Lucy Liu and Wu Jian'an. They utilize traditional Chinese art as the theme to create their own works. Some of them are inspired by nature and create a masterpieces to respond to the natural world: some of them develop the traditional art of Chinese paper-cutting. When you observe all these works, you marvel how these Chinese artists continue to bring Chinese traditional culture to an international platform.
However, the six artists in this exhibition have different backgrounds, so viewers are able to observe the similarities and differences among Chinese artists who came to maturity in 1990s, inluding those who have continued to live in China, such as Hong Lei, and those living in Europe, like Cui Fei.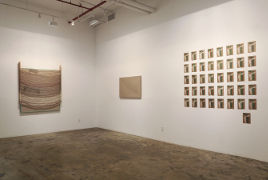 "Needlepoint" presented by Chambers Fine Arts. Lucy Liu's works from left to right:"World Inside Rainbow" (2012), "Belong" (2010), "41" (2010). Photo provided by Chambers Fine Arts.
If you look closely at a work of Lucy Liu, titled "World Inside Rainbow" (2010), you will know why it has that name. The materials are thread, wood and embroidery on canvas. In representing the tools of making textiles, she seems to take us back to ancient China. Traditionally, women used needles to sew clothes for their children, husbands, and families. They had to do it all day long because the status of Chinese women was very low. It leaves the viewers to wonder if there is another life out there besides the hard work of sewing day and night.
"Chambers Review II," basically has the same concept as "Needlepoint." The only difference is that in "Chambers Review II," they have more artists, who include Cui Fei, Fu Xiaotong, Gama, Guo Hongwei, Hong Lei, Ho Sintung, Lucy Liu, Wu Jian'an and Zhao Zhao.

"Chambers Review II" presented by Chambers Fine Arts. From left to right:" Tracing the Origin IX-I-iv" (2012) by Cui Fei; "Diary in the Water" (2008) by Guo Hongwei; "Calendar" (2012) by Cui Fei. Photo provided by Chambers Fine Arts.
In "Calendar,"(2012), created by Cui Fei, the little dots in the 12-month calendar that people see are all made of seeds. Cui Fei is always inspired by nature, and her raw materials includes twigs, vines, and more. Through her career, she has recognized the vital role that calligraphy plays in the development of Chinese civilization, she uses it in most of her works.
Tianxue Bian originally from Chengdu,China, is a graduate student in arts and cultural management at Pratt Institute.