Brooklyn Museum
200 Eastern Parkway, Brooklyn, NY, (718) 638-5000, brooklynmuseum.org
March 27 through July 5, 2009
Museum Hours: Wed. – Fri. 10 a.m. to 5 p.m.
Suggested Contribution: $8 adults, $4 students and seniors
Reviewed by Paulanne Simmons, March 26, 2009
Gustave Caillebotte (1848-1894) was a key member of the Impressionist circle and a major patron of the arts. He supported his colleagues and friends financially and collected an impressive body of works by artists such as Renoir, Monet, Degas, Sisley and Pissarro.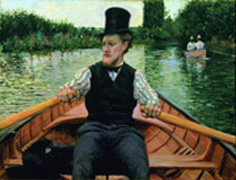 Gustave Caillebotte (French, 1848–1894) Oarsman in a Top Hat, 1877–1878. Oil on canvas 35 7/16 x 46 1/16 in. (90 x 117 cm). Private collection

But Caillebotte's status as a painter has often been eclipsed by his reputation as a yachtsman and builder of boats. This is a pity, because his extraordinary ability to depict light on water, his startling use of perspective and his innovative portrayal of men at work should put him in the highest rank of late 19th century painters.
Brooklyn Museum's "Caillebotte: Impressionist Paintings from Paris to the Sea"is the first major showing of Caillebotte's work presented in New York City in more than thirty years. The breathtaking exhibit includes the artist's well known cityscapes alongside his painted scenes of outdoor life on the coast of Normandy and in the rural villages of Yerres and Petite Gennevilliers, where he and his family maintained estates.
The exhibit traces Caillebotte's metamorphosis from a rather tradition painter of indoor scenes (Portrait of Mme. Caillebotte) to his embracing of the impressionist moment. This was an especially difficult break for an aristocrat like Caillebotte who believed it was undignified for a painter to be seen at work outside the studio.
For the above reasons, House Painters, one of his earlier canvasses depicting men at work, was actually executed in the studio from sketches made while Caillebotte was hidden in his carriage. The exhibition includes several studies that show exactly how Caillebotte was able to perform such a feat.
Caillebotte was equally intrigued with people at play. His Oarsman in a Top Hat is painted from the perspective of someone sitting in the boat facing the rower. The artist's use of perspective draws the observer irresistibly into the picture and the movement of the boat.
Caillebotte's remarkable use of perspective is most striking in his scenes of Paris. In such paintings as Boulevard Haussmann, Snow, energetic diagonals dominate the canvass; in A Traffic Island, Boulevard Haussmann, ovals, rectangles and diagonal lines turn Pairs into a geometry of elegance.
Commentary on the exhibition is provided via a cell phone link. And children, along with their parents, are invited to learn more about interpreting a work of art through Eye Spy cards.
What better way to celebrate spring than to take a short trip over the sparkling East River to this major exhibit in a major museum right next to the luscious greenery of the Botanic Garden? Indeed this would be any Impressionist's dream. [Simmons]