CURATOR'S CHOICE SM
Museums and Exhibitions in New York City and Vicinity
| Home | | Museum Guide | | International | | Architecture & Design | | Theater |
Lucy Komisar
The intriguing past and present of the Place Vendôme in Paris
Place de Vendome and obelisque viewed from Hotel de Vendome. Photo credit: Lucy Komisar.
There's a curious silence to the Place Vendôme, a sense that this 17th-century architectural gem has successfully defeated the noise and traffic of modern Paris. Yes, cars and pedestrians do move through the cobble-stones, but they seem hardly noticed by the statue of Napoleon sitting atop the bronze obelisk at the center. It's as if the elegant stone mansions that ring the square were guarding the place and fending off intruders. And inside those mansions, you can imagine whispering gossips telling the intriguing tales of the past occupants.
This is the site of the ancient manor of the Vendôme family, of César, 16th century Duke de Vendôme, who was the legitimized son of King Henri IV of France and a duchess. In centuries past, inhabitants or visitors to the dwellings included Napoleon himself, prominent aristocrats and even Chopin. So don't hurry too fast past this elegant square on your next walk from the Louvre (minutes to the south) north along the Rue de la Paix to the Opera.
Think for a moment about the history of the "octagon" commissioned in 1685 by King Louis XIV (the Sun King) and designed by Jules-Hardouin Mansart as an "ornament" for the city. Mansart is the great architect who created Versailles and the dome of the Invalides.
The mansions that surrounded the square would be inhabited by the rich and powerful of Paris. It was initially a clever real estate scam of just 27 lots with Potemkin Village-style facades: Corinthian columns, 110 arcades, two stories of high windows - and nothing behind. From the front, the "hôtels" (in French a grand dwelling) are identical, all of beige stone, with steeply pitched slate roofs dotted with dormer windows. When the king ran out of money, the project was taken over by banker John Law, who completed the homes in 1720 and sold them to wealthy bankers and aristocrats.
Number One Place Vendôme was built in 1723 for Pierre Perrin, secretary to King Louis XIV.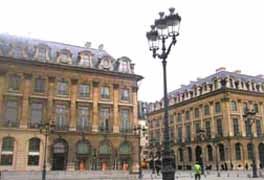 Lef:t Place de Vendome 4 (residence Napoleon II during 2nd empire) and hotel.Photo credit: Lucy Komisar.
When Napoleon II presided over the Second Empire, he lived in the Hôtel du Rhin, at Number 4-6.

The treasurer of Louis XVI's Navy lived at No. 12, which is also where Napoleon III met his future wife, Eugénie de Montijo, and where in 1849, the composer Chopin died.
The French Chancellery took over No. 13 in 1718. No. 11 and 13 now house the Ministry of Justice. 1898 became the Hotel Ritz.
And the builder, John Law, took No. 23 for his own in 1718.
The bronze spiral column at the center of the square was constructed in 1810 by Napoleon to celebrate the French army's victory at Austerlitz five years earlier. A copy of Trajan's column in Rome, it is 144 feet high and allegedly made of the bronze of 1,200 cannons captured at the battle. However, history reports say there were only 120 cannons taken! Typical political hyperbole! Bas-reliefs show scenes from the Austrian campaign. The statue at the top is Napoleon dressed as a Roman emperor. It was pulled down in 1871 by militants of the Paris Commune led by artist Gustave Courbet and restored a few years later with a copy of the original.
The Place Vendôme is still a haunt of the rich, but since the turn of the century, new names have arrived: the world's premier jewelers, designers and perfumers, as well as prominent banks, which manage the money of the luxury shops' patrons.
In addition to the tenants mentioned earlier, here are the "neighbors."
No. 2 holds Guerlain perfumes. No. 3 and 5 are owned by the sultan of Brunei, best known for donating $10 million to the Nicaraguan "contras" at the behest of the Reagan administration. The latter was constrained by Congress from supporting the rebels fighting to overthrow the Nicaraguan government and so turned to a "friend." What he got in return is still not clear.
No. 4 holds the jeweler, Buccelati, and No. 6 the designer Armani. At No. 7 is jeweler Cartier and French bank BNP (Banque Nationale Paribas). Cartier also has No. 23.
No. 8 is the address of Sullivan and Cromwell, a powerful American law firm which represents the interests of the Bank of New York, the investment bankers Goldman Sachs and Microsoft. No. 10 is occupied by the jeweler Bulgari.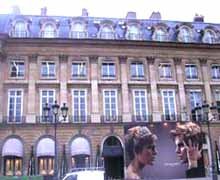 Place de Vendome 12 Chopin died here in 1849. Photo credit: Lucy Komisar.
No. 12, the former embassy of Russia, now houses Chaumet jewelers and the Arab Bank.
Another bank, Morgan Guaranty Company Trust, is at No. 14. No. 16 accommodates the jeweler Piaget and the designers Comme des Garçons and Giorgio Armani (Emporio Armani is at No. 25), No. 18 holds Chanel, No. 20 is the address of jeweler Mauboussin, and No. 21 of the designer Schiaparelli.
No. 22, once the home of Madame de la Parabère, the Regent's mistress, in 1906 was taken over by jeweler Van Cleef & Arpels, which also has No. 24, along with the permanent delegation of the Republic of San Marino. at UNESCO. San Marino? With a population of 28,000, this "microstate" in northeast Italy is Europe's second-smallest country, after the Vatican City. A couple of years ago, Western governments suggested that the enclave - a tax haven -- do something to stop crooks from using its banks for money-laundering, always a lucrative business.
No. 26 (since 1893) is home to the jeweler Boucheron and No. 28 to designer Charvet.
Hotel de Vendome outside.Photo credit: Lucy Komisar.
So how would you like to live, for a while, in one of these stunning mansions? I'm talking about the 18th-century hotel at One Place Vendôme. After passing through the hands of King Louis' secretary Pierre Perrin, it was owned by various French notables and from 1842 to 1843, housed the Embassy of the Republic of Texas. President Bush, now so aggrieved with France, most likely doesn't know that it was first to recognize the independence of the Lone Star State, which didn't join the American union until 1845.
Number One became a real hotel in 1858 and five years ago was bought and refurbished by Lebanese jeweler Robert Mouawad. The House of Mouawad, with a collection that includes eight of the fourteen most valuable diamonds in the world, was the main sponsor of the 'Diamants' Exhibition at the Paris National Natural History Museum a few years ago. Monsieur Mouawad also owns the famous Grand-Hotel du Cap-Ferrat in that exquisite spot on the Côte d'Azur.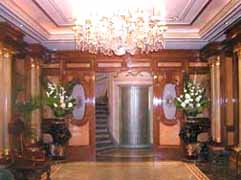 Hotel de Vendome lobby. Photo credit: Lucy Komisar.
Hotel de Vendôme, a true boutique 5-star deluxe hotel, steps rights out of the world of the Sun King, with 29 rooms dripping in gold, marble, stained glass, crystal chandeliers and period furniture.
Even the bathrooms are bathed in pink, gray and beige marble on floors, walls, sink and tub. My room had light gray-green tapestry walls, a rich red patterned rug, a tiffany lamp, and chairs covered in luxurious soft pink and green.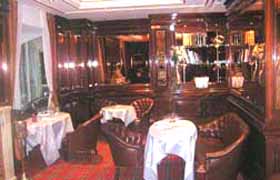 Hotel de Vendome restaurant. Photo credit: Lucy Komisar.
The Café de Vendôme is dressed in cool brown leather and gilt, soothing for breakfast, lunch, dinner and a drink at the bar. Wednesday, Thursday and Friday evenings from 7:30 to 11, you can listen to Jean-Claude Orfali playing cool jazz piano. The sounds echo as a murmur through the halls and lobby.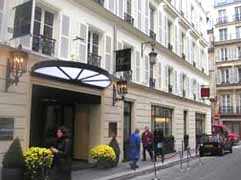 Plaza Paris Vendome façade. Photo credit: Lucy Komisar.
The haute couture of the square and of the nearby Rue du Faubourg St Honoré brings designers, models and buyers to the neighborhood. And they have discovered a brand new elegant boutique hotel of 97 rooms that just opened in October: the 4-star deluxe Plaza Paris Vendôme at 4 rue du Mont Thabor, on a quiet street just two blocks south of the square. (The name Mont Thabor commemorates a 1799 Napoleonic victory over the Austrians.)
General Manager Florence Carcassonne conceived it as a niche hotel for the couture trade and international models and for women who travel alone. It is, says Madame Carcassonne, "chic and cozy." Safety is assured by a scale that is intimate and small enough to prevent wandering strangers from being unnoticed.
Plaza Paris Vendome lobby. Photo credit: Lucy Komisar.
The hotel, in an 1830 building, has a stunning modern design, contemporary, inspired by the 1930s and 50s, with sleek lines and tasteful Paris furnishings in the lobby (under an atrium) and guest rooms, all in cool beiges, blacks and shades of muted red. There is modern art everywhere, even to the elevator's comic trompe l'oeil painting.
The owner, Gilles Marang, a Paris real estate developer, took an old hotel and ordered a two-year renovation, with interior design by Pierre-Yves Rochon who also did the George V in Paris.
The Pinxo Restaurant features modern cuisine directed by Alain Dutournier, a chef with two Michelin stars for his "Le Carré des Feuillants," Mme Carcassonne said, "It's made for women because it's light and presented in bouchons" - mouthfuls. Diners can choose small plates or full dinners. Open till 11:30 p.m., the room has black leather chairs and banquettes and white walls with touches of black marble. Tables are of dark wood and black granite. Large glass vases hold huge white Calla lilies, and cool black and white photographs hang on the wall.
Plaza Paris Vendome manager Florence Carcassonne in the «China Bar». Photo credit: Lucy Komisar.
Perhaps the Plaza Paris Vendôme is especially sensitive to the needs of women because its top staff is all female. Mme Carcassonne, in the hotel business for 26 years, notes that of the 60 general managers that belong to the club of managers of Paris 5-star hotels, she is one of only four women. Her head concierge is one of two in France. Her bartender is one of three women chief "barmen" in the country. The commercial director is also a woman.
Mme Carcassonne built her career from night reception at the Plaza Athenée (the first woman working in a 5-star hotel), moved to be director at the George V, ran the Royal Mansour in Casablanca (a Forte "leading hotel of the world"), and was director or general manager of several other top class hotels in Paris. Now, with the chance to create a hotel from the beginning, she is bringing a new kind of "revolution" to the Vendôme neighborhood.[Komisar]
Lucy Komisar is a New York journalist who writes about international affairs.
If you go:
Hotel de Vendôme
1 place Vendôme
75001 Paris
33 (0)1 5504 5500
Fax 33 (0)1 4927 9789
http://www.hoteldevendome.com
reservations@hoteldevendome.com
Singles from € 350 to €490
Doubles from € 380 to €640
Ask about special promotions.
Phones have computer ports.
Café de Vendôme, lunch and dinner from 12 noon to 10 pm, €35 to 40.
Hotel Plaza Paris Vendôme
4 rue du Mont Thabor, 65001 Paris
Tel 33 (0)1 4020 2000
Fax 33 (0)1 4020 2001
http://www.plazaparisvendome.com
(for English) http://www.plazaparisvendome.com/en/default.asp
reservations@plazaparisvendome.com
Singles €350-380
Doubles €380-410
Ask about special promotions.
Pinxo Restaurant, open daily for breakfast and from 12 to 2:15 and 7 to midnight. 33 (0)1 4020 7200; main courses from €16 (tuna filet) to €25 (shrimp). An average meal costs €40 to 45.
Free wifi in the lounge and lobby, free high speed internet connections in the rooms.
Fitness center with pool open 7 a.m. to 9:30 p.m.
Dogs accepted.
Metro for both hotels is Tuileries