GLENN LONEY'S TRAVEL NOTES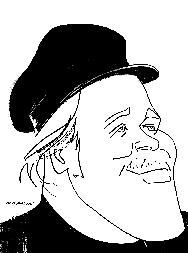 Caricature of Glenn Loney
by Sam Norkin.
CONTENTS, November, 2002
[01]
Prologue to Images of South Africa & Zimbabwe
[02]
Back To Africa
[03]
Dreaming of The Blue Train
[04]
Mines of Kimberley/World's Biggest Hole
[05]
Majesty of Victoria Falls
[06]
Taste of Tribal Zimbabwe
[07]
Zulu TV Shakaland
[08]
Kruger Park Photo-Safari
[09]
Brigadoon in Critchley Hackle
[10]
Bourke's Luck Potholes
[11]
Pilgrim's Rest/Robber's Grave
[12]
Ostrich-Egg Omelets for All
[13]
Chuffing Along on the Choo-Tjoe
[14]
Mossel Bay & Bartolemeo Dias
[15]
Picturesque Arniston Fishing Village
[16]
God's Window & Storms River
[17]
Atop Cape of Good Hope
[18]
Cape Agulhas: Southernmost Point of Africa
[19]
Boer & Huguenot Heritage
[20]
Wine-Tasting in Cape Winelands
[21]
Exploring Cape Town
[22]
Depressing Downtown Durban
[23]
Pretoria: Jacarandas & Muggers
[24]
Voortrekker Monument
[25]
Desolate Downtown Johannesburg
[26]
South Africa: A Trip To Remember!
[27]
Potential Disaster-in-Progress?
You can use your browser's "find" function to skip to articles on any of these topics instead of scrolling down. Click the "FIND" button or drop down the "EDIT" menu and choose "FIND."

Copyright © 2002 Glenn Loney

For editorial and commercial uses of the Glenn Loney INFOTOGRAPHY/ArtsArchive of international photo-images, contact THE EVERETT COLLECTION, 104 West 27th Street, NYC 10010. Phone: 212-255-8610/FAX: 212-255-8612.
EXPLORING AFRICA--Dr. Livingstone "discovers" Victoria Falls. Photo: ©Glenn Loney/INFOTOGRAPHY/2002.
POINT & SHOOT!
Images of Zimbabwe & South Africa:
Prologue:
All the World's a Stage, said the Bard. But in some parts of the world, the men, women, and children are not merely Players. Life, for them, is no stage-fiction—with a Happy Ending in view. In much of the so-called Third World, life is not a game, not a playscript.
Of course, none of us gets out of this alive. But some of us certainly have a much better time of it while we are so briefly strutting this mortal stage.
My own good fortune—beginning in the mid-1950s—was to be able to teach, travel, and photograph widely outside the United States. I spent the first 26 years of my life in California, so when the world opened up to me, it was an ongoing astonishment.
Aside from an initial summer teaching in Newfoundland—where time seemed to have stood still since the mid-19th century—my first shocking encounter with the Remains of the Past was in Frankfurt-am-Main. Bombed-out buildings and homes were still to be seen.
Devastated ruins of historic structures were being painstakingly rebuilt. So—rather than photograph picturesque people—I concentrated on making a visual record of what remained. And what was being constructed—as though I feared even this would be in its turn destroyed in time.
Fifty years have passed, and Historic Germany has been restored—and amplified with the gleaming high-rises of Frankfurt and Berlin. But—as New Yorkers learned on 9/11—insolent skyscrapers which proclaim the wealth of the First World are looming targets for some of the dispossessed, angry, and envious peoples of the Third World.
Every summer since I returned from Europe, North Africa, and the Middle East to teach in America, I have gone back to Europe to report on the major festivals.
I did make photo-safaris to Central and South America, Asia, and Africa as well, But I now believe I should have visited and photographed more places in the Third World—and much earlier.
The World is closing down for travelers. In some notable nations, it is not even safe for the indigenous peoples.
I made some remarkable photos in Nigeria in the early 1970s, but it was dangerous for an American with a camera even then. But it was even more dangerous for some Nigerian tribal groups, in the wake of their savage civil war.
Before my recent trip to Zimbabwe and South Africa, I had been planning to go next to Indonesia, Malaysia, and Myanmar/Burma.
Visit Bali? Are you joking? Instead, I'm taking my cameras to Australia…
Back To Africa:
But in Another Time & Place—
My first encounter with Africa was a brief cross-Mediterranean visit to Morocco in 1957. I left my blue VW Beetle in a Costa Brava parking-lot and took ship for Tangiers and other exotic centers. Lee [Radziwill] and Truman [Capote] were having a party. But I passed up a dockside invitation from a total stranger as I'd never been introduced to these trendy celebrities.
After a teaching-stint in Saudi Arabia, Aramco made it possible for me to tour the Middle East and spend time in Egypt. June is not the month for photographing Luxor or the Valley of the Kings…
Six months before King Moulay Idris was displaced by Col. Khaddafi, I was able to photograph the ancient cities of Leptis Magna and Sabratha in Libya. I wrote a "Scene" about this for LIFE magazine.
In 1972, I had the good fortune—thanks to Air Afrique—to visit Senegal, Liberia, Sierra Leone, Côte Ivoire, Ghana, Nigeria, and other West African countries. I now wish I had been able to spend more time there.
But I did write a book about Arts in West Africa—including an interview with Nigerian playwright Wole Soyinka. This was long before he won the Nobel Prize for Literature.
In his Little Theatre at the University of Ibadan, Soyinka asked me to help him write letters of recommendation to Hunter College so two of his students could get scholarships!
My manuscript—with astonishing photos—was never published. I was told several times, in effect: "Only a black man should write such a book. What do white men know of the Black Experience in Africa?"
Well, there is no One Black Experience in Africa.
And, oddly enough, I found myself more welcome as a White American in West Africa than were Black Americans at that time. Some of them had offended by offering unsolicited advice on how to be more like their "Bros" from the United States.
Because of the obvious evils of the South African policy of Apartheid, I made no effort to visit that vast nation. Having just returned from there, however, I now see that I could have photographed much more—and more effectively—during this repressive era than is now possible.
Downtown Johannesburg is basically Off Limits. On our Globus Tour, we drove through so swiftly in our van that I could not get a clear shot of anything.
Don't even think about stopping, getting out, and looking around for good shots with a visibly expensive Nikon and a Leica…
As for regaling regular readers of this column with a report on New York Drama Desk Award-winner John Kani in Nothing But the Truth at Johannesburg's famed Market Theatre, sorry. This is Kani's own play, which he also staged.
But—as it's not wise to go out alone after five o'clock, even in Cape Town—I had to pass up this event. Instead, our tour-group had a farewell dinner at the high-rise Sandton Sun Towers, in a prosperous white enclave outside Johannesburg.
Instead, I will see John Kani on stage again—but in New York. In the same award-winning drama—The Island—which introduced him and his fellow-actor, Winston Ntshona, to Manhattan audiences when Apartheid was at its height. This play was developed by the two actors and the poet/playwright of Anti-Apartheid, Athol Fugard.
The duo returns to New York to re-enact the horrors of Robbin Island Prison—where Nelson Mandela was confined for years. They will be appearing in Brooklyn at BAM, from 1-13 April 2003!
[I once told the late Jack Kroll—Newsweek's senior critic—that almost the worst thing about Apartheid was having to sit through the plays of Athol Fugard. That was a stupid joke, a cheap-shot, and Jack said so in no uncertain terms.]
Apartheid was a horror—and a horrendous political mistake—for which all South Africans have not yet begun to pay the price.
So do visit South Africa now! It is a desperately beautiful country—but one in perilous transition.
How about ELEVEN Official Languages? Only one of them is English, so you can understand why there is no longer a repertory theatre ensemble in Cape Town's handsome modern civic theatre.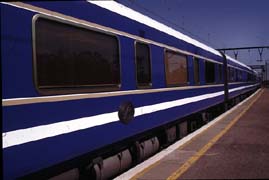 LONG VIEW OF THE BLUE TRAIN. Photo: ©Glenn Loney/INFOTOGRAPHY/2002.
Dreaming of THE BLUE TRAIN—
Actually, I have wanted to visit South Africa since the 1950s. London friends who had been there—and some South Africans who had even at that early date fled for England—all extolled the luxurious wonders of a trip on The Blue Train.
I am mad about trains—especially old-style steam-trains. It was my good luck to be included in the press FAM trip on the then new Orient Express—departing for France from Victoria Station.
So my initial reason for visiting South Africa was quite simply to take a trip on The Blue Train.
But had I waited too long—not wanting to visit while Apartheid was still in force?
One old London acquaintance told me in the 1980s that it wasn't what it once had been: "The butlers are getting cheeky!"
As he was an unreconstructed Colonial Officer—British Army in India, in fact—I discounted his discontent with the service.
From my recent experience on The Blue Train—from my butler, Jerry, and all the wonderful staff—what Colonel Blimp mistook for "cheekiness" is what we Americans call friendly service, advice, and assistance.
Originally, this celebrated train ran only between Cape Town and Pretoria—which are like twin capitals of South Africa. It was known worldwide for its luxury and service.
When Nelson Mandela became President—in order to foster tourism and increase inflow of foreign currencies—he suggested creating new routes for the train. These include the Garden Route, from Cape Town to Port Elizabeth, and the Valley of the Olifants, from Pretoria to the jungles of the Northern Province.
There is/was also the Zimbabwe Spectacular, from Pretoria to Victoria Falls, running through Botswana. I wanted to take this train, as well as the Pretoria/Cape Town run.
Unfortunately, Zimbabwe's quixotic President Robert Mugabe has recently banned this form of rail-travel. It is certainly much too expensive for any of his suffering citizens, black or white.
As the Pretoria/Cape Town trip cost me $900—for a day, a night, and another half-day—you can imagine what two days and two nights to Zimbabwe would have cost. Of course, I was traveling alone—with my Luxury Suite all to myself—so the journey cost me more than it would had I shared.
Even had there not been breath-taking vistas of varied South African landscapes streaming by my large window, the suite itself was worth the price. And there were only three suites in our entire rail-car!
Inlaid woods, fine brass fittings, a handsome sofa with side-tables, a window-table and chair, footstools, a wardrobe, a TV with one channel on the track ahead and current Hollywood films constantly on tap. Vases of flowers. Snacks and drinks in the suite on call at no extra cost.
In the handsomely appointed bathroom, a full bathtub the width of the suite. Special towels and soaps. In the middle of the night, I took a bath as the moonlit scenery glided by. De Luxe Suites only have showers…
When I was at my six-course dinner—unique Blue Train linens, crystal, porcelain, and silver—my sofa was transformed by Jerry into an especially soft bed with super-soft snow-white sheets.
I didn't sleep much for I didn't want to miss anything of interest outside, no matter how dimly seen.
Breakfast, luncheon, and dinner all had multiple courses—with cutlery to match. I lost count of courses, for—when given a choice of appetizer or entrée—I was allowed to sample several!
Of course, thanks to the English Experience in South Africa, there was Afternoon Tea, with cakes, cucumber sandwiches, and other delicacies.
I was able to take some great photos through the window of my suite—The Blue Train glides smoothly along noiseless trackage at a pleasant pace. But pictures taken from the great rear-window of the Observation Car were even more spectacular.
There is also a luxuriously appointed Club Car—for smokers—and a Lounge Car for non-smokers. As well as a Kitchen Car and a Dining Car. Laundry is done on call in the Personnel Car. In all, there are 18 cars on the two sets of Blue Trains.
In any of the public cars, one can read, chat, snooze, and have free drinks and snacks at any time. One no longer dresses for dinner in tux and formals. But coat-and-tie are required.
We had a six pm stop-over for the Diamond Mine at Kimberley. But more of that later.
Obviously, this special train doesn't make daily runs between Pretoria and Cape Town. One has to book far ahead for the various routes and runs.
If you are interested in The Blue Train Experience on this state-owned and operated train, here are Cape Town contact numbers:
·Phone: 011-27-21-449-2672

·FAX: 011-27-21-449-3338
·Internet: http://www.bluetrain.co.za

·E-mail: bluetrain@transnet. co.za
I'm told there are Cape Town travel-agents who can provide bookings on The Blue Train at lower cost than the official government rate. They also book luxury hotels at both ends of your journey. Ask your travel-agent!
For the record, mine is MERCATOR—opposite Grand Central Station—which has made excellent arrangements for me on trips to China/Tibet and Thailand/Angkor Wat/Singapore. Phone: 212-682-6979.
There is also another South African luxury train, but with vintage carriages: Rovos Rail. [The Blue Train cars date from 1994.] I do want to try Rovos as well, but only after I take The Blue Train on the Garden Route.
Of course I am going back to South Africa. Even if I was mugged on my first day in Cape Town on a main street in broad daylight… More of that later…
I have just found a brochure for something called African Rail Romance, which also offers vintage carriages. With attendants in starchy white uniforms and pith-helmets! Their trips are from 5 to 9 days length. Try them at: www.arr.co.za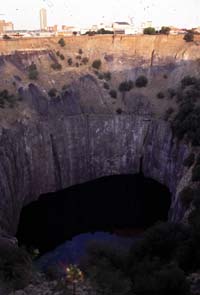 KIMBERLEY DIAMOND MINE--World's Biggest Man-Made Hole. Photo: ©Glenn Loney/INFOTOGRAPHY/2002.
The Mines of Kimberley &
The World's Biggest Hole—
Actually, The Big Hole of Kimberley is only the biggest man-made hole in the world. It's in the Guinness Book of Records.
Its perimeter is one mile around. It covers 43 acres. Although now half-full of greenish water, it goes down some 2,600 feet.
This is the former Kimberley Mine, the most famous of the four diamond mines in the area. After diamond-pipes were discovered in 1871, millions and millions of dollars-worth—or South African Rand—of gem-quality diamonds were mined in Kimberley.
I had always wanted to visit Kimberley, not so much for its historic mines, but because my father's first-cousin, Charles Stocks, must be buried there.
A mining-engineer in Grass Valley—North Star & Empire Mines: The Bourne Inheritance—he went out to Kimberley at the conclusion of the Boer War. He caught cholera and died there—1903-04 or so…
When I realized The Blue Train would make a special stop in Kimberley, I thought of Cousin Charles. His widow, Cousin Barbara Loney Stocks, gave me his silver-mounted hair-brushes way back in 1936. And then she died…
On our bus-trip to the Big Hole and the Kimberley Mining Museum, we passed a sign listing notable sites in the city. Two of them were cemeteries, but we obviously had no time for me to search among the tombstones.
At the museum—which still has a great looming headframe with a giant hoist-wheel—we got to sift through black sand, hunting for diamonds. Most of the site—aside from the immense hole—is a reconstructed mining-town, very like those you can find in the High Sierras today.
In fact, it reminded me very much of my two home-towns—the sister-cities of Grass Valley & Nevada City—before World War II, when they were still survivals from the California Gold Rush of 1849.
In the museum, we saw a replica of the Cullinan Diamond, the largest ever found. Then, back to the diamond-quality luxury of The Blue Train.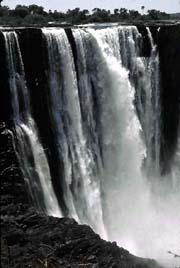 THUNDERING VICTORIA FALLS. Photo: ©Glenn Loney/INFOTOGRAPHY/2002.
The Majesty of Victoria Falls—
Dr. Livingstone, I Presume?
You do indeed presume, sir!
Henry Stanley, thou shouldst be living in this hour!
Instead of scoring a Victorian London tabloid coup by tracking down the "Discoverer" of Victoria Falls, you could be chronicling the ongoing human, economic, and environmental disaster in progress in Zimbabwe.
The brutal dispossession of white farmers by the troops of President Robert Mugabe—directly resulting in agricultural collapse and failure of the coffee harvest—would surely be worth a headline or two?
I made a point of adding Victoria Falls to my South African adventure—partially because of the Stanley & Livingstone Connection. But also because it is one of the Wonders of the Natural World. The Seventh or the Eighth…
As travelers so often discover, famous sites and monuments in actuality do not look as large or as magnificent as they do in photos. That's certainly true of Lake Louise in the Canadian Rockies.
On first encounter, it is also true of Victoria Falls. For two reasons: The wide, placid Zambesi River flows gently over the sharp edge of a very deep, narrow, and lengthy chasm. Facing a section of the Falls on the edge of the opposite side of this rocky canyon, you cannot get the full effect of the majesty of the thundering waterfall.
Nor do you immediately realize how extensive the Falls actually are. They are segmented, unlike the great Falls of Niagara. As you slip and slide along the damp narrow path following the Falls toward the border of Zambia, you see a series of amazing small falls.
And the misty spray which rises from the narrow canyon fogs camera-lenses and turns the vegetation into a mini-Rain Forest. You also have to be very careful not to fall off rocky promontories at the very edge, trying to shoot down into the chasm.
What was most astonishing—seen from the opposite side of the Falls—was to observe some tourists swimming at the very brink of one waterfall. In fact, at this point—which connects with dry land—the water has worn a kind of shallow pool into the rocky riverbed. Still, this is a scary stunt!
To behold Victoria Falls in their full majesty, you really need to take a helicopter flight over them. Only in this way can you see their full extent and recognize what a great Natural Wonder they are.
My good fortune was to be put in the seat next to the pilot. The plexiglass bubble permitted me to get some wonderful shots right down between my legs. My shoes frame a few photos, but I cropped them.
Our pilot swooped low so we could inspect the great bridge which crosses high above the river and links Zambia to Zimbabwe. Bungee-jumpers were having a high old time, leaping off the center of the span.
With all that falling water, why wasn't there a power-house somewhere? Finally, from the helicopter, we could see one on the Zambian side.
We also got to explore the ranges of the river from above the vast Zambesi. The previous evening, we had floated upon it in a river-boat, waiting for submerged hippos to surface.
Herds of elephants, zebras, and giraffes roamed here and there. We eased down to get some good shots at close range. At least I did. The Japanese in the cabin were not so fortunate in their sight-lines.
There is of course a life-sized bronze statue of Dr. Livingstone at the Falls—which I duly photographed (see above). No memorial for Stanley.
FALL KINGDOM HOTEL--Five-Stars in the jungle. Photo: ©Glenn Loney/INFOTOGRAPHY/2002.
Almost more impressive than Victoria Falls was the Kingdom Resort Hotel. This extensive five-star spread is more amazing than any Disney World Jungle Fantasy.
But it is hardly the only accommodation in the village by Victoria Falls—which is still a major tourist-destination. Reached by air, rather than Blue Train…
There are even huts for backpackers at very low rates. I heard the figure of $5 per night.
But this has to be tallied against the official and the actual value of the Zimbabwe Dollar.
The stated rate of exchange is about $50 Zimbabwe to one US dollar. At local money-changers, however, you can get a rate of $440 to $1.
But the currency is so devalued that hotels, restaurants, and curio-shops will knock as much as 70 percent off listed prices. At a tiny shop, the charming lady gave me $800 Zimbabwe to the US dollar to make the sale.
Street-boys will offer you $1,000 to the dollar, but you will soon discover you have two real bills and a core of old newspapers, cut up bill-size.
Signs are prominently posted to warn you of such scams, as well as street-crimes, and other dangers. The footpath from the Kingdom Hotel to Victoria Falls takes only ten minutes or so, but it is lined with boys trying to do currency deals or sell carved giraffes.
Because there are always two policemen patrolling this path, the boys do not try to do more. Several wanted my Converse sneakers, but that was true all over South Africa.
And what are these energetic young entrepreneurs to do anyway? There are no jobs for them. No industry. No agriculture. Only tourism.
ZIMBABWE TRIBAL HUTS--Not five-stars. Photo: ©Glenn Loney/INFOTOGRAPHY/2002.
A Taste of Tribal Zimbabwe—
Although there were no stage-productions of Shakespeare—or even Athol Fugard—on view, every evening talented native performers provided a variety of tribal costumes and dances in the Kingdom Hotel's spacious open-air dining-room.
Even more impressive was the evening show of suites of dances from various Zimbabwe Tribes in the Native Village. My favorites were dancers in giant animal costumes or immense fantastic masks.
During the daytime—when not getting drenched at the edge of Victoria Falls—one could also savor native dancers performing for any passerby on a street-corner.
Such curbside dance performances are a commonplace all over South Africa at major tourist-sites. This could be seen as demeaning, as the dancers—like street-buskers in the West—are essentially begging for pennies. But then, in such places, there is virtually no other opportunity to make money enough to feed the family.
You might want to fly out to Victoria Falls just after Thanksgiving. There is going to be a Total Eclipse of the Sun! An immense billboard proclaims this 4 December event at the entrance to the town.
Meanwhile, the currency slips deeper and deeper into Terminal Eclipse. Some older people with whom I talked are telling their young folks to leave. One woman sadly said: "It's too late for us. We can't start over somewhere else now."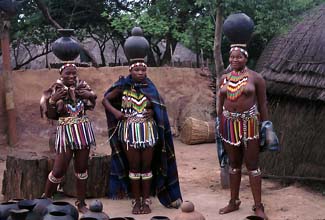 WOMEN'S WORK IN SHAKALAND--Zulu beauties balance water-vessels. Photo: ©Glenn Loney/INFOTOGRAPHY/2002.
Thatched-Hut Luxury
In TV's Zulu SHAKALAND—
There was an immensely successful South African TV series based on the tribal histories of the Zulu Nation. It was called Shakaland. An entire semi-historic Zulu Village was constructed for the shooting of the series.
In order to achieve as much authenticity as possible in hut-construction, tribal decorative motifs, and daily-life, older experts in these dying arts and crafts were recruited to train young Zulus in the re-creations.
Once the series was completed, it was wisely decided to turn the premises into a tourist-venue, where the arts and crafts—and even traditional rites and dances—would be demonstrated for bus-loads of Japanese, French, Dutch, Germans, British, and even Americans.
Wild game and native vegetables are served up in traditional recipes. Carvings, bead-work, weavings, and paintings are also a source of income from tourists. The evening show of Zulu Dances is tremendously powerful. The energy on display is almost intimidating.
The noble Zulu men were once great warriors. Against the Boers, the English, and other black African tribes…
But what are the mass of them to do today? Making War is now a no-no. At least at the moment in this corner of South Africa.
Even if the Zulu men had been—as were males of many other African tribes—Hunter-Gatherers, they have almost nothing left to hunt. Nor to gather from an increasingly arid Nature.
Fortunately, there are now prosperous farms, some of them vast, with a wide variety of crops. But these can hardly sustain thousands of Zulu families as farm-laborers.
And how many Shakalands can the tourist-trade sustain?
I must say, however, that Shakaland was a wonderful experience. Our Zulu hosts were talented, gracious, and friendly in the extreme.
And the experience of spending a night in a Zulu hut—mud & thatch over an intricate network of curved saplings—was something very special.
But our huts weren't like the ordinary ones we could see elsewhere, with hard mud floors, cracks in the walls, and porous thatch.
Mine had a baronial bed with an imperial canopy. Highly decorated African furniture and fabrics enriched the room and its separate bath-room. Yes, I had a bath-tub in my Martha Stewart-style mud-hut.
Unfortunately, many black families in South Africa—and not only Zulus—do not have tub, shower, toilet, or even electricity and running water.
The stark contrasts between five-star tourist-accommodations and the mass of ethnic housing show a visible gulf between cultures: Western Haves and African Have Nots.
It is clear—at least to an Outsider from the New World—that things cannot continue this way.
Thousands and thousands of black men, women, and children are leaving the poverty of their tribal lands and "Townships" to flock to miserable shanty-towns on the immediate outskirts of major and minor cities.
They seek work, but there is little on offer. Especially to hordes of men with little or no education and minimal skills… Connect the Dots…
Big Game Photo-Safari
In Kruger National Park—
Our five-star jungle-style hotel in Kruger National Park reminded me of several incredibly luxurious resorts I recently visited in Northern Thailand. Against such lavish display for tourists, poverty is everywhere apparent. In both Asia and Africa…
Even the landscape in the vast natural game reserve that was named for the great Boer Leader, "Om" Paul Kruger, looks increasingly wan, withered, and dry. The great Flood of 2000 AD has left wide river-banks strewn with immense clumps of uprooted trees.
Spring was just unfolding, but many of the sparse trees and bushes looked just this side of extinction. Elephants do not help, as they like to strip off the bark and eat it. Pushing over trees to nibble at their tender roots also leaves a wide dead swath through an already meagre forest.
Our Globus Tour group entered Kruger and promptly left our own van for a special open vehicle with four tiers of seats, three people to a row. In this, we left the main road for a vast network of dirt tracks, looking for camera-ready wild animals.
We saw enough impalas to last a lifetime: "Look! What's that moving in the bushes? Oh, it's only some more impalas…"
Families of vervet monkeys were also numerous and often amusing. Males were easy to identify as they like to stand or sit tall so females can easily see their almost incandescent blue-green testicles.
Our driver-guide was constantly on his cell-phone to other drivers. Had anyone spotted a spotted leopard yet? An elephant? A giraffe? Even a warthog?
Alerted to a site where a leopard had just made a kill, we drove around and around—almost in circles it seemed—but no leopard.
JUNGLE LUNCH-TIME--Kruger Park baby zebra suckles. Photo: ©Glenn Loney/INFOTOGRAPHY/2002.
After several hours of impalas, termite-mounds, dying trees, and immense elephant turds by the roadside—but No Major Big Game—I wistfully called out: "Please, God. Let me see a zebra!"
In that instant, a family of zebras crossed the track right in front of us. My prayer was so successful that I was entreated to try again.
This time I asked for—and we got—elephants! A herd of them!
We saw the rear-end of a recumbent lion in the riverbed. But nothing up close.
Fortunately, I got some wonderful shots with my Canon digital-camera of zebras, giraffes, elephants, rhinos, hyaenas, bushbucks, warthogs, impalas, kudus, and even a family of wild dogs, driven off by hissing honey-badgers.
Unfortunately, I don't have the computer-software on this ancient machine—now twelve years old—to transfer these images to this column. Prints and slides will have to do it for now…
Crammed in our 4x4 as we were, I got some very good photos of my fellow-tourists' elbows and hats, framing the zebras and kudus.
At a movie-set-like jungle retreat, a yellow-billed hoopoe flew down onto my shoulder and grabbed my sandwich. It was gone before I could grab my trusty Leica.
Friends from Mexico City have great photos of lions and leopards in verdant Kenyan backgrounds. Maybe I'll make the trip to Kenya's Treetops, but photographing Big Game is not a major focus of my photography. This Kruger Expedition was merely an extra visual dividend.
A Little Bit of Auld Scotland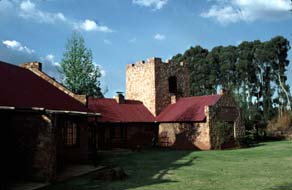 BRIGADOON IN MPUMALANGA--Critchley Hackle Trout Lodge. Photo: ©Glenn Loney/INFOTOGRAPHY/2002.
At Critchley Hackle—Plus Fly-Fishing—
Passing burning fields on our way out of Blyde River Canyon—impressive but not as grand as Grand Canyon—we came to the Boer-named town of Dullstroom. It proved anything but dull: rather picturesque, in fact.
But the most amazing thing about Dullstroom is its major hostelry: Critchley Hackle Lodge. This elegant complex—with double-suite stone cottages flanking a lovely man-made lake—could be a Scottish village.
Together with the matching stone & mortar village adjoining the Lodge, it seems almost a Brigadoon fantasy in this landscape. Especially as trout fly-fishing is the big attraction of the Lodge and its lake—which is named for its own special trout-fly.
Trout are not indigenous to South Africa. They have to be cultivated to feed the sporting instincts and appetites of South African and foreign sportsmen.
Critchley Hackle's comfortable dining-room—hung with tapestries, no less—and lounges seem right out of Country Life. As this area of Mpumalanga Province is known as the Eastern Highlands, it's small wonder that the genial manager, Shaun Winkler, likes to cultivate not only trout, but also the illusion that visitors are in the Highlands of Scotland!
For a demented moment, I thought we were Out of Africa. Way out…
GOLD IN THE POT--Tourist coins in Bourke's Luck Potholes. Photo: ©Glenn Loney/INFOTOGRAPHY/2002.
Good Luck To Bourke's Luck Potholes—
Falls and a river have converged for centuries at this spot to wear away a narrow canyon known for its strange pothole formations. Of course, as in far off California, over time rivers can wash particles of gold downstream into crevices and cracks in the riverbeds.
I thought I'd spotted exactly this in one glittering pothole. But its gleaming gold was only all the coins tourists had thrown into it.
Three Coins in the Fountain, they say. So I threw nothing into Bourke's Luck Potholes. One visit was quite enough… Rome, on the other hand, is worth a return-visit. I've been too long away from Fontana di Trevi…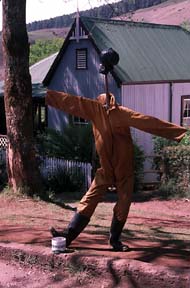 PILGRIM'S REST BUSKER--Black skull & dancing yellow body. Photo: ©Glenn Loney/INFOTOGRAPHY/2002.
Pilgrim's Rest Now Trendy Tourist Trap—
Unlike the reconstructed Kimberley Mining Town, Pilgrim's Rest is the real thing. But this gold-strike survival is a lot less Victorian than Kimberley's mock-up. There were the usual street-side souvenir-sellers. And women in print dresses shuffling about in something like a tribal dance.
My favorite street-entertainer was a young man who wore a yellow costume, topped by a black skull. He danced and jigged in anticipation of Halloween—which was only days away. Most of the tourists who crowded the main street ignored him, but I thought the Photo-Opportunity was worth at least a few devalued South African Rand.
Making archival photos of historic cemeteries is one of my camera-specialties. So I could not resist taking a shot of The Robber's Grave. It was easy to find in the old cemetery, for those words were all that had been carved on the solitary stone.
Ostrich Egg Omelets for All—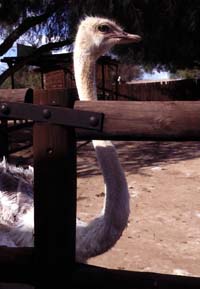 I'VE GOT MY EYE ON YOU--Ready for the Ostrich Race. Photo: ©Glenn Loney/INFOTOGRAPHY/2002.
What is wrong with me? On our visit to the Safari Ostrich Farm—as everyone else dug into the scrambled ostrich-eggs and savory chunks of ostrich-meat—I couldn't finish my portion.
I was thinking: This is like eating Bambi's Mother…
Actually—even though Walt Disney had ostrich ballerinas dancing with Ben Ali Gator in Fantasia—they aren't nearly as lovable as Disney's deer. In fact, ostriches have rather nasty dispositions. You do not want to get kicked by one of those powerful long legs.
It was instructive to see some 24 chicken-eggs set alongside one ostrich egg. The two-dozen cackle-fruit equal the contents of one huge ostrich ova.
As I avoided riding elephants in Northern Thailand, so also did I refrain from mounting an ostrich. Nor was the ensuing Ostrich Race thrilling enough to post an On-Track bet.
During our ostrich-feast, a group of tribal women moved among the tables of famished tourists to sing native chants. This sort of indigenous entertainment seemed the rule, rather than the exception at various tourist-sites.
But pulling the tail-feathers out of ostriches isn't the industry it once was…
Before World War I, ostrich feathers were worth much more than their weight in gold. Women's fans, hats, gowns, and boas were lushly ostrich-feathered.
The Great War cut off the feather-trade from South African ostrich-farms. After the war, styles had changed. Farmers who had built elaborate mansions were bankrupted.
Today Show Biz—both Broadway and Las Vegas—is the main market for the feathers. So they have had to exploit other aspects of the ostrich for profit. As with pigs in the Chicago Stockyards, use everything but the squeal.
I did buy some huge hollowed-out ostrich eggs decorated with African Animals. But a plain egg cost me only $5—and I think it's really more impressive than the one with a big-eared blue elephant on it.
UNDER STEAM ON THE GARDEN ROUTE--The Choo-Tjoe in Knysna. Photo: ©Glenn Loney/INFOTOGRAPHY/2002.
Chuffing Along on the Choo-Tjoe—
The Blue Train is now pulled by an electric locomotive. Not so the wonderful old Choo-Tjoe steam-train between Knysna and George. Truly a Scenic Route—an especially handsome segment of the Garden Route.
We chuffed along from Knysna only as far as Sedgefield, as we had already been in historic George. This oddly named town was once the domain of a mysterious Englishman—who may have been the illegitimate son of King George III.
The Duke of Edinburgh once paid George's descendants a call. So who knows?
Knysna has a touristy Waterfront which could make San Francisco jealous. It is also near the impressive Featherbed Nature Reserve. And we stayed at a very handsome and modern hotel between the train-tracks and the Waterfront.
But, in fact, both on the Globus Tour and my own wanderings, it was five-stars all the way! At home, I opt for Motel 6…
BARTOLOMEO DIAS' VOYAGES--Stained-glass allegory in Mossel Bay. Photo: ©Glenn Loney/INFOTOGRAPHY/2002.
Maritime Mossel Bay:
Bartolemeo Dias Remembered—
The famed Renaissance Portuguese explorer, Bartolomeo Dias, has his very own museum in Mossel Bay. The local Portuguese Community is understandably proud of this courageous man who found the sea-route around South Africa to India.
Centerpiece of the museum is the sea-worthy replica of his caravel. This was constructed in Portugal and was then sailed around the Cape of Good Hope to Mossel Bay in 1988, to mark the 500th anniversary of Dias' notable expedition.
Other sights include the Post Office Tree. In the 16th century, sea captains and sailors left messages for others in an old shoe hung from the immense ancient tree.
THIS COULD BE IRELAND'S GALWAY--Arniston fishing-village on the south coast of Africa. Photo: ©Glenn Loney/INFOTOGRAPHY/2002.
Picturesque Arniston: Artists' Ideal Fishing-Village—
The white-washed fishing-cottages of Arniston look rather like similar sea-coast villages in the far west of Ireland. Artists flock here to paint the picturesque scenes. It is understandably also a popular destination for photographers.
Our hotel was a series of attractive suites on two levels sited around a handsome pool—with the breakers of the bay just beyond. An old Woody Allen film was on the telly.
The colorful fishing-boats did not once put out to sea. But they provided a good Photo-Op.
Fogged-Over God's Window & Dashing Breakers at Storms River—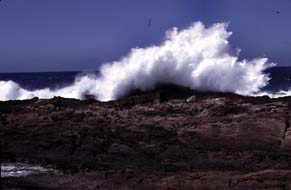 BREAKERS AT STORMS RIVER. Photo: ©Glenn Loney/INFOTOGRAPHY/2002.
Unfortunately for those who wanted an immense panoramic view from God's Window, the entire area was filled with a vast white fog. Impressive in its way, but not as great as what had been promised.
In the parking-lot below, African ladies in print-dresses moved rhythmically in a quasi-dance for tourist lenses. They stopped when no one was watching. When I was on my way to the men's, they started up again for my benefit. Why do I find these penny-begging displays so distressing?
When we came to the mouth of Storms River, we found thundering waves breaking on strangely eroded stone ridges. These stone formations looked very like the Burren in Western Ireland, which were shaped in the same way over centuries of stormy seas.
I could well believe the report that a professional photographer had shot several rolls of film only of the breaking waves. Very impressive indeed!
LIGHTHOUSE ATOP CAPE OF GOOD HOPE. Photo: ©Glenn Loney/INFOTOGRAPHY/2002.
Atop the Cape of Good Hope—
From the crest of the rocky peaks at the Cape of Good Hope, you can look out toward Antarctica. But you won't see it. It is too far off.
The ill-fated expedition of Robert Falconer Scott—Scott of the Antarctic—sailed from the Cape—not from the tip of South America, as I had wrongly imagined.
There is a majestic lighthouse at the highest point. But the Cape of Good Hope is not in fact the southernmost point of the Continent of Africa.
I discovered a warning sign with a cobra image on it. I took a photo, but did not ask to see the cobras. I didn't think they were native to South Africa anyway.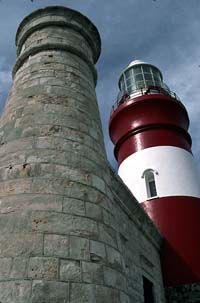 CAPE AGULHAS LIGHTHOUSE--Africa's southernmost point. Photo: ©Glenn Loney/INFOTOGRAPHY/2002.
Southernmost Point of Africa:
The Stony Beaches of Cape Agulhas—
Here is a photo of the even more impressive lighthouse at Cape Agulhas. It is set in a structure which was obviously inspired by the architecture of Pharaonic Egypt. Would Neo-Gothic have been more appropriate when it was built?
In any case, the stormy seas have eroded much of the detail on the sea-facade. You wouldn't want to have been the lighthouse keeper here a century ago…
DUTCH/BOER GABLED CHURCH IN PAARL. Photo: ©Glenn Loney/INFOTOGRAPHY/2002.
Boer & Huguenot Heritage
Lives On In Paarl & Stellenbosch—
I knew long before I came to the Cape that the South African Boers were descendants of Dutch seamen, farmers, and unemployed workmen who settled the land from the 17th century onward. Cape Town was originally only a port for the Dutch East India Company. What I did not know—even though my relative-by-marriage Winston Churchill made himself something of a hero in the Boer War—was what the word Boer actually meant.
Our remarkably well-informed tour-guide, Ron McGregor, explained that it simply meant—as does Bauer in German—"Farmer." The Boers—and the French Huguenots, who sought refuge from religious persecution—proved themselves adept farmers. They took largely unoccupied lands—the indigenous Hottentots roamed about, not settling in one place—and developed impressive farms and vineyards.
Today, many of the vast tracts of forest-land are not native trees. So much in South Africa's impressive agriculture has been imported from elsewhere. Left to themselves, neither the Hottentots nor the Zulus would have done this.
In the Cape Winelands, especially in the cities of Paarl and Stellenbosch—home of the Boer University, where Afrikaans is the language of instruction—many of the churches, mansions, and public buildings are in the Dutch gabled-style. Echoes of Old Amsterdam and Dordrecht in the days of Rembrandt and Hals.
CAPE WINELANDS GRAPE-PRESSES. Photo: ©Glenn Loney/INFOTOGRAPHY/2002.
Multi-Glass Wine-Tasting
In Verdant Cape Winelands—
If you have Diabetes II or are seriously overweight, you need to avoid sugar in its various forms. Grapes, raisins, and wine are Mega-Death to Diabetics.
So I watched in wonder as my fellow-tourists sat down to a spartan wooden table with gleaming glasses filled with various vintages of subtly varying hues.
I did regret that I wasn't able to sip or swallow with the rest. But sugar, sugar, sugar, and more sugar…
Many of the beautiful wine estates we glimpsed on our way into Boer/Huguenot territory were distinguished by Dutch-gabled white manor-houses and outbuildings.
As Black Empowerment is a frequent theme in the newspapers, will some of these estates some day be sequestered by the black majority government and given to black managers?
There is already a mandate for 25 percent of South Africa's mines to be owned and operated by empowered blacks in five years. Will these mines be purchased from their current white corporate owners? If so, how will the purchase-prices be generated? Or will they be Nationalized?
During our tour of South Africa, much was made of the fact that some 2 million of the citizenry constitute the majority of tax-payers. Then there is the immense body of some 60 million black voters—newly enfranchised by the demise of Apartheid—who do not have the farms, homes, businesses, or employment to provide enough income to have to pay taxes. Or so we were told… This does seem like too many millions of people to be living well below the poverty-level.
Interestingly, white South Africans make a distinction between blacks and "colored." The colored South Africans—as I understood the term—include citizens whose ancestors immigrated from Malaysia, India, China, and the descendants of the Cape's indigenous peoples, the Hottentots. The blacks are all the rest of the tribal peoples—so long contained and repressed by Apartheid.
This mass of humanity—like Edwin Markham's allegorical Man with a Hoe—may still largely lack education, skills, employment, and adequate housing. But it is no longer a sleeping giant.
It is awake and stirring, the resentments generated by years of Apartheid still festering.
And those thousands and thousands of blacks who have left tribal lands and the Townships now live in miserable shanty-towns on the borders of South Africa's cities. Often without running-water, toilets, and electricity.
When they venture into the hearts of the cities or into white residential enclaves—which they previously did not, except as servants—they are often confronted with the spectacle of magnificent mansions, villas, and castles. Almost all of these are surrounded by high walls, razor-wire, electric fences, and equipped with watch-dogs.
Both businesses and homes feature large enameled signs proclaiming their protection and security by major firms.
One of these is Chubb, which in New York is an insurer of major corporations and business-ventures. Chubb has a desk in Lloyd's of London—I have even sat at it when I was permitted to photograph the famous Lutine Bell. But in South Africa, its public face seems more dedicated to watching for intruders and robbers.
How long can this contrast between the pathetic poverty of millions of voting black citizens and the visible prosperity of a much smaller group of whites continue, undisturbed by civil or uncivil action?
Small wonder that Princess Diana's brother, the Earl Spencer, no longer lives in South Africa. Those who fear the future have been selling their properties—if they can get a fair price—and emigrating to Canada, Britain, and Australia.
Weekend editions of the leading newspapers feature large ads for important technical, medical, professional, and management positions. Unfortunately, most of these are not in South Africa, but abroad. Even some upwardly mobile blacks want to make their careers and lives elsewhere…
In my wanderings around Cape Town and elsewhere—when I was not with our travel-group—I had the opportunity to talk with a variety of people, black and white. Some of their stories were very disturbing.
I was also struck with the intelligence, courtesy, and hope for a better future among the black people I was able to meet. But who is going to make that future happen in a vast land that is largely agricultural?
Even if many factories could be constructed to employ millions of poor but striving blacks, what would they make that could be sold domestically and exported in a depressed World Economy?
Community or family initiatives such as making beadwork, Christmas ornaments, hand-printed fabrics, and wood-carvings are admirable. But they won't provide a decent standard of life for the millions.
Touring through tribal areas, our group often saw long ranges of shanty-stands thronged with dark brown and black carvings of various jungle animals. These one also sees on the sidewalks of all the cities.
But how many wooden giraffes—in all sizes—does one really need? I used to buy these as party-gifts—and lions, tigers, and zebras—for 99 cents at Jack's 99-Cent Stores.
I thought they must be made—like so much else—in China. But no. From our van, we often saw men busily hewing and carving a large giraffe out of a section of branch or trunk.
In Zimbabwe, I photographed several men with axes and machetes hewing a tree trunk—pushed over by a hungry elephant—into the likeness of a very tall giraffe.
And at Cape Town's International Airport, I actually saw an American man struggling to bring two of these giraffes on board. They must have been four feet tall. The steward had them stowed with the cargo fortunately.
I settled for four decorated ostrich eggs. They proved bulky enough in the overhead bin.
Hand-carved giraffes and beadwork are not going to do it for South Africa's desperately poor black majority.
But whether a shanty-town family is ready to run a Cape Winelands estate is quite another question.
DOWNTOWN CAPE TOWN SCENE--Street boy lifting drunk's wallet. Photo: ©Glenn Loney/INFOTOGRAPHY/2002.
Explore Historic Cape Town:
But With Extreme Care & Caution—
When I flew into Cape Town, I was surprised to see how the heart of the city is magnificently protected by imposing mountains at its back, with a fascinating harbor and Waterfront before it.
It was also a surprise to discover how compact the historical city center really is. You can visit all the historic sites, monuments, and buildings on foot in less than a day. That is, if you don't go inside to look at the decors, artifacts, pulpits, furnishings, or exhibitions.
I had arrived three days in advance of my Globus Tour of South Africa. This was so I could make archival photographs of major buildings and statues, without unduly annoying fellow-travelers: "Glenn! Get on the bus! Don't you have enough photographs by now?"
My base was the Hotel St. Georges, across the main avenue from the Central Railroad Station. I unpacked my Nikon and my Leica and set off to record the facades of many very interesting buildings. I avoid photographing people, both to respect their privacy and for issues of copyright.
As I strolled past the train and bus-station, I saw a black man lying face down on the lawn, obviously in a stupor. What caught my attention, however, was a small black boy tugging at the drunk's rear pocket to get the wallet out.
On the sidewalk nearby, two black men were watching. One shook his head. No one told the boy to stop what he was doing.
I moved on and took a shot from a distance. Little did I suspect I would be the next victim…
The central city was bathed in bright sunlight. I was by the Groote Kerk, the Mother Church of the Dutch Reformed Confession.
But it was five o'clock, the time when the many Cape Town street-vendors pack up their stalls for another day. A group of them had just stored their wares as I was looking up to photograph a second-story historic frieze on the building across the street from them.
Suddenly, I was aware that I was being rushed from three sides by three street-boys. I was immediately concerned to protect my cameras, as they are very heavy, and the boys were trying to knock me down.
As they came from behind me, I did not get to see their faces. So I could not have identified them, even if there had been any police nearby to apprehend them.
The black vendors just watched. No one said a word or made a move to aid me. So there was no point in calling for help. The street was otherwise empty.
My arms were scratched, my shirt was torn. Suddenly, one of the boys managed to tug my wallet out of my very tight front pants-pocket.
With all my money and credit-cards in it, as I had just come from the airport and had not taken time to put them in the hotel-safe. But I was still more concerned about the cameras: three weeks in South Africa and no cameras to take photos?
The boy dropped the wallet. As he stooped to pick it up, a tourist couple came round the corner: French, I believe. The man shouted at the boys and rushed them. They ran off, leaving the wallet where it was lying.
Only at this point did the black vendors come alive: three women and a man. The man bent down and handed me my wallet: "Open it and see if they took anything," he ordered me.
As it had a heavy rubber-band around it—to make it very difficult to fall out or remove from my pocket—it clearly had not been opened in the brief moment the boy had it in his hand.
So I was not about to open my wallet in front of this man who had made no move to prevent the theft and bodily harm.
The couple walked me back to my hotel, telling me things were worse in New York City. As I live and work in NYC, I let this pass.
On this afternoon, there were no police in sight anywhere. Two days later, the central city was thronged with them, black men and women smartly uniformed. And even black police on horseback!
At the hotel, the friendly staff consoled me. The concierge suggested that the vendors might have been in cahoots with the teen-muggers.
The porter cheered me up immensely: "You were lucky they didn't stab you!"
It was only then, in my hotel-room, that I found a notice advising visitors NOT to go out alone at any time. Only in groups. And not to go out after five o'clock; certainly not after sundown. And never wander around with expensive cameras exposed to view.
But how can you take pictures without taking the cameras out on the streets? And how can you be in a group when you are initially traveling alone?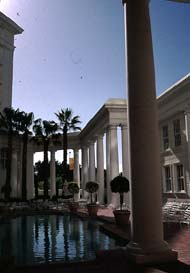 TOURING SOUTH AFRICA--The Cullinan, Diamond of Cape Hotels. Photo: ©Glenn Loney/INFOTOGRAPHY/2002.
When I joined our tour later—at the elegant Cullinan Hotel—our guide noted that black muggers tend to prey on whites, rather than their own people.
Cape Town has a very handsome civic center with an arts complex—ArtsCape—that includes a large state-of-the-art opera-house and an only slightly smaller theatre.
After the mugging, I was not inclined to walk over to the theatre at night. But there was nothing scheduled in either of the great playhouses anyway.
When there is, people drive and park in the complex.
Unfortunately, with eleven official languages, it is impossible to sustain a drama ensemble which could perform in all of them. And the black majority government has been steadily slashing arts-budgets.
There are far more pressing concerns for the immense poverty-stricken black communities pressing in against the cities.
I was asked in New York to make contact with playwright-performer Pieter-Dirk Uys, who has his own theatre in the suburb of Darling. Two of his plays about the problems of South Africa had been presented in New York by Adusah Boakye's Africa Arts Theater Company in the '90s.
Uys is also South Africa's Dame Edna, in the parodic persona of Evita Bezuidenhout. This Boer-ish Evita is ambassadress of the fictitious country of Baphetikosweti. From which lofty post she is able to satirize South African manners and morals, making mock of foibles and fanatics.
Evita's Darling theatre is called Evita se Perron. It is a former rail-station—"Perron" is rails or tracks in Afrikaans—so this nom de théâtre is a natural.
Unfortunately, Uys had just gone off to Australia. But not permanently, as have so many South Africans…
GREAT MOSQUE IN DOWNTOWN DURBAN. Photo: ©Glenn Loney/INFOTOGRAPHY/2002.
Ghandi Worked in Durban:
Now Work Is Harder To Find—
Durban has the largest Indian population outside Asia. The young Mohandas Ghandi came here to practice law before he became India's International Icon.
From 1860 to 1911, some 150,000 Hindi and Tamil were shipped to Durban as indentured laborers. The cane-fields required cheap labor.
When their five-year obligations were completed, they could return to India. Many opted to remain, becoming solid citizens of Durban.
This was the main reason I had always wanted to visit Durban—to discover how the Asian influences had shaped the look and life of the city.
Unfortunately—as in other major cities—you should not walk about alone with cameras. We stayed in an elegant high-rise hotel facing a beautiful beach. But we were warned not to go out for an evening stroll along the promenade.
Actually, Durban has some handsomely developed tourist complexes on its South and North Coasts. As we had also discovered in Cape Town and all along the Garden Route to Port Elizabeth.
As in other major cities, Durban has an impressive concrete Arts Complex in the heart of the city. We did not leave our sea-side hotel to sample Durban culture, however.
Our van took us on a rapid tour through the city center on a Sunday. Sidewalks were lined—as on any other day—with vendors offering bananas, vegetables, and baseball hats to a sprinkling of pedestrians. No one looked eager to buy, nor did the sellers seem especially animated.
There were few Asians to be seen. And no whites. Our van passed a Victorian building which identified itself as a venue for the "Hindoo" community.
The Victoria Street Market had few stalls open on this Sunday. And only our van and a much more travel-worn bus to provide souvenir-seekers. More wooden giraffes!
Nearby was a great mosque and a smaller Christian church. I took photos with the zoom lens, not wanting to be left behind when the van took off.
We visited the harbor and the Botanical Garden. So much for Durban—where the black population is said to envy and resent its Asian South Africans.
PRETORIA--THE JACARANDA CITY. Photo: ©Glenn Loney/INFOTOGRAPHY/2002.
The Pretorian Capital:
Jacarandas & Muggers—
When we reached Pretoria—on our way west from Zulus, Swazis, and Kruger's wild animals—we admired the hundreds of blooming jacaranda trees lining Church Street. And we admired the South African government's Union Buildings and the equestrian statue of Prime Minister Louis Botha.
Facing the great park in which both the statue and the noble edifice are sited is the five-star Sheraton Towers Hotel. Here I was to stay when I had returned from Zimbabwe and Johannesburg, as The Blue Train would depart the following morning from Pretoria's Central Station.
I was warned, however, that just a block beyond the hotel there was danger of muggers and worse. When I returned after Victoria Falls, hotel personnel discouraged me from strolling down the block to see for myself.
But our Globus group on this day was just passing through on our way to Johannesburg. Fortunately, my pleas to have at least one Photo-Op in the historic heart of Pretoria were rewarded.
We drove too rapidly by Boer President Paul Kruger's home for me to take a picture.
But we did stop in Church Square—the city-center—where I got a good shot of the statue of "Om" Paul. His widow had requested that his top hat have no lid so that birds could dip in for a sip of water. They continue to show their gratitude by making deposits on his bronze frock-coat.
We also were able to see the impressively monumental City Hall and the Palace of Justice, where Nelson Mandela was sentenced to his very long imprisonment.
Pretoria has a very handsome State Theatre complex, in Japanese style. It boasts not one, but five, theatres. But you don't really want to be downtown after dark…
On our way out to Johannesburg, we passed the vast complex of Post-Modernist buildings of the University. On a promontory overlooking the city, this is surely one of the most visually impressive institutions of Higher Education.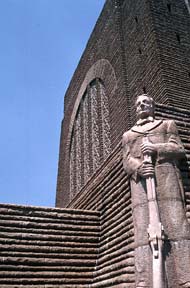 BOER HERO GUARDS VOORTREKKER MONUMENT. Photo: ©Glenn Loney/INFOTOGRAPHY/2002.
Trekking To The Voortrekker—
Actually, our Globus group arrived at the Voortrekker Monument in our smart white van. We did not trek there. For the Voortrekkers—the Boer Pioneers who made the long trek from the British-dominated Cape on foot, horse, and wagon—the journey was much more hazardous.
Flanking the four sides of this immense memorial are large statues of Boer Leaders. Inside the great domed Hall of Heroes are four marble friezes of the saga of the Boer People, making a new Afrikaans-speaking nation for themselves in the heart of South Africa. A great tapestry in the undercroft celebrates specific scenes of the long journey.
The British victory in the Second Boer War put an end to all that, of course. But the descendants of the founders do not forget. Hence the Monument, begun in 1938, the centenary of the decisive Boer Battle of Blood River
What the black majority will think of this massive memorial in years to come can only be imagined…
Desolate Downtown Johannesburg:
White Flight & Abandoned High-Rises—
Two months before I was able to experience modern downtown Johannesburg, I had read in a London newspaper that the great skyscrapers had been largely abandoned by the banks and businesses that had built them.
Homeless squatters, it was reported, were now camping in them, paying rent or protection to street-gangs.
Once again, as I was intent on getting some photos of the city interior, our van did make a rapid pass through the downtown. Sidewalks were, as elsewhere, lined with street-vendors, though they didn't seem to have many customers.
But many store-fronts seemed empty. Some were boarded-up. I did glimpse several white people moving briskly along, but they were almost lost in the throng of black Johannesburgers.
We drove through the streets so swiftly I didn't get any clear shots.
My impression, however, is of Downtown Houston, with its many gleaming Post-Modernist high-rises.
But of a Houston where all the white executives and office-workers had fled, leaving the great buildings almost hollow shells. Rather like Enron everywhere!
Our group had its Farewell Dinner that evening in the luxurious high-rise Sandton Sun Towers Hotel. In one of the handsome, prosperous white enclaves ringing the downtown area.
Louis and Monica were having their wedding-party that very night in the hotel, so we saw many elegant couples—prosperous men in tuxes, sleek blonde women in formal gowns—leaving their hotel suites for the party.
I know about the newly-wedded couple only from the notice on the events-board in the handsome Sandton Mall. It appeared that many party guests planned to stay the night in our hotel, rather than drive home so very late.
If you remember that recent Johannesburg Conference—where Third World delegates presented First World leaders with their wish-lists, or demands, for aid and loans—you ought to know that it was not held in Downtown Johannesburg. Too dangerous…
My New York travel-agents had suggested that on my air-return from Victoria Falls, I should take a train to Pretoria from the downtown central-station in Johannesburg.
But our Globus guide warned me: absolutely not! Do not take the train, especially by yourself. So, on his advice, I took a licensed van from Johannesburg Airport to The Sheraton Towers in Pretoria.
And the next morning, the hotel van took me to The Blue Train Departure Lounge. The hotel's transportation office discouraged me from going out on the street and hailing a cab, jacarandas in bloom or not.
Visit South Africa Now!
A Trip To Remember—
I found my expedition to South Africa so interesting I plan to return soon. Not only do I want to travel the Garden Route on The Blue Train, but I'd like to take a trip on Rovos Rail as well.
Studying my DK Eyewitness Travel Guide: South Africa, I realize there are a number of important sites and sights I did not see. Not only in towns and cities not on the Globus Tour, but also museums, monuments, theatres, and gardens in places we did not have time enough to explore.
I barely glimpsed Port Elizabeth, for instance. I'd like to return to Kimberley to search for Cousin Charles Stocks' grave. If he is indeed buried there…
I mention the Eyewitness Guide over all others—and not only for South Africa—because it provides hundreds of color photos and detailed maps, wonderfully organized by area and city. As with my Eyewitness Guides for Thailand and Ireland, this book has been invaluable in helping me identify and label the hundreds of photos I took during my three-week visit to South Africa.
The day after my Cape Town mugging, I was back in the streets again, photographing major buildings—but never people, to avoid copyright and privacy issues. But this time I had a only tiny point-and-shoot camera, shabby clothes, no money, and no touristy camera-bag.
Next time, I will make sure I am again on a scheduled tour in a group. Or I will have one organized for me. It costs a lot more to have a van, a driver, and a guide all to yourself. But at least you don't have to jump back on the bus before you have seen and/or photographed everything you want to.
I would also want to have Ron McGregor for my tour-guide. He is a charming, resourceful guy, full of information about South Africa's past, its peoples, and its post-Apartheid present. He also knows the land and the cities very, very well, which can be most useful to tourists who want to see more than the standard tour sites.
He has his own website where he regularly posts news and views on what's happening in his beautiful homeland of South Africa. If you want to check it out: http://users.iafrica.com/r/ro/ronmac
His e-mail address: ronmac@iafrica.com
One of the many things that impressed me about Ron McGregor—who looks like a jungle guide ready for Ernest Hemingway in his bush-gear—is his faith in South Africa's future.
NELSON MANDELA GATEWAY--Robben Island and Apartheid are in the past: What lies ahead for South Africa? Photo: ©Glenn Loney/INFOTOGRAPHY/2002.
A Potential Disaster-in-Progress?
From the windows of our van, the farms and forests of South Africa looked like a fertile paradise. Which indeed they are, exporting enough agricultural produce and materials to be a major pillar of the economy.
But such large-scale agri-businesses do not need thousands—or even hundreds—of unskilled, unemployed, even uneducated black laborers. Nor do modern automated factories…
With the government's program of Black Empowerment, what will be the future of white-owned and operated ranches, tourist-resorts, forest-tracts, mines, factories, industries, banks, and businesses?
Will the great farms and winelands be chopped up into tiny parcels of land? On which a single family could not raise enough to support itself for a year…
This is what has happened in Zimbabwe. And it is already a disaster. Will this economic mistake be repeated in the Cape?
Apartheid was itself an immense disaster for South Africa, although unperceived as such by Boer-ish politicians. Millions of black people—whose various tribes were by no means behaving like brothers—were repressed and contained, away from the eminently enfranchised white population.
Today, these millions have equal rights at the polling place, but hardly economically. And the tremendous gulf between the white and the colored peoples' well-being and black poverty are everywhere to be seen. Especially in the great cities…
Oddly enough, with all the razor wire, high walls, and attack dogs, it now seems that the wealthy whites are their own victims of a new kind of Gated Community Apartheid.
On the surface, however, concerted efforts are being made to promote racial integration and harmony in various aspects of life. The television series, Madam and Eve, is one highly visible and popular example.
As in the domestic comedies of Molière and Menander, the black servants or employees are the only characters with common sense and know-how. The wealthy white employers are shown as dithering, clueless, but harmless folks.
One segment I watched showed Madam trying to join an elitist white women's club, dedicated to supporting black aspirations. Her next-door-neighbor chum had bought her Nelson Mandela's autobiography and some native craft-work to show the membership committee her personal interest in the group's goals.
Madam's first mis-step is to order her black maid, Eve, to bring in tea for the ladies. She covers by pretending her aged mother, sitting near her, is Eve and she has shouted—not out to the kitchen—but so her deaf old ma can hear her.
The real Eve takes advantage of this to put on a glamorous gown and join the ladies. She insists that Madam and she are the best of friends, which makes quite an impression. Eve also corrects the faltering Zulu accents of the white upper-class ladies—who of course are really patronizing phonies.
Madam and Eve is also a newspaper comic. Other television series and special programs show South Africa's multi-racial society just trying to get along.
High-powered TV musical revues featuring dynamic black talent are also an important means of increasing black social visibility above the level of house-help and office-workers.
Traveling around South Africa in our van—and on my own—I was interested to see black, white, and colored students amiably interacting outside their schools—and at the University in Cape Town.
Between Johannesburg and Pretoria, my taxi-van took back roads for some reason I did not understand. Probably to avoid a toll on the main highway.
But this gave me a chance to see middle-class black and white housing estates. And black and white kids in school-uniforms walking home from class. Fun and close friendships were obvious among a number of clusters of students we passed. This augurs well for the future.
But what about food, decent housing, education, and employment for millions who exist on next to nothing? How will that vast problem be solved? And how soon? It really cannot wait much longer, can it?
Of course, any well-informed South African—white, black, or colored—could ask the same question of America's federal, state, and city governments.
America is so immense that the many thousands of jobless, homeless, helpless, and hopeless are not so visible at home as such unfortunates are to an American tourist in South Africa.
And, like the cities of South Africa, every American city—and even some small towns as well—has its gated-communities with 24-hour patrols. People who live in high-walled, razor-wired, watchdog-protected enclaves and drive every place almost never have to confront poverty.
At least those super-wealthy who live in Post-Modernist Glass Houses now know how dangerous it is to throw stones…
So do go to South Africa. Witness its breath-taking natural wonders. Admire its vast farms and forests.
Enjoy its beach-resorts and villas. Sample its excellent wines—revitalized with California root-stocks. Luxuriate in five-star hotels—even out in the jungle. Study its historic architecture and monuments.
But also observe the stark contrasts between downtown hotels and the shanty-towns on the fringes of the cities. And look out for those furtive street-boys…
What will the Future bring? Che sera sera? [Loney]
Copyright © Glenn Loney 2002. No re-publication or broadcast use without proper credit of authorship. Suggested credit line: "Glenn Loney, Curator's Choice." Reproduction rights please contact: jslaff@nymuseums.com.